How to develop your eCommerce Mobile App correctly to improve sales? Everyone is familiar with this long process of shopping in shopping centers. A long road back and forth and the same long process of choosing the right things. All this takes a lot of time and energy. Nevertheless, what do you think about using your mobile device for shopping?
The presence of a mobile apps will guarantee the prosperity of the business for sales. There is some statistic of mobile retail commerce sales in the US, according to which from 2013 to 2018, the percentage of sales on the Internet increased from 16% to 39%.
To be more precise, the data looks like this:
2013: 16%,

2014: 19%,

2015: 26%,

2016: 33%,

2017: 37%,

2018: 39%,

2019: 43%.
According to this statistic, people are increasingly using mobile applications for shopping purposes. And every year, its percentage steadily growing. Now is the ideal time to develop mobile applications for purchases, as only 1/10 sellers offer mobile apps for their buyers.
Why do I need to promote my mobile application?
It promotes sales growth.

Mobile stores are available to every mobile user regardless of his location.

Shopping in one click.

This contributes to the growth of the number of customers, so the profit also grows.

Easy communication with the client.
Also read our article: Freelancer vs Development Company. Your Business Choice [2018].
If you:
Have your own design company for mobile app development;

Want to know how to develop your eCommerce mobile app correctly to improve sales

Want to increase the revenue of an existing application

Want to improve the design skills for making an amazing interface.
Here are the best tips just for you!
Do less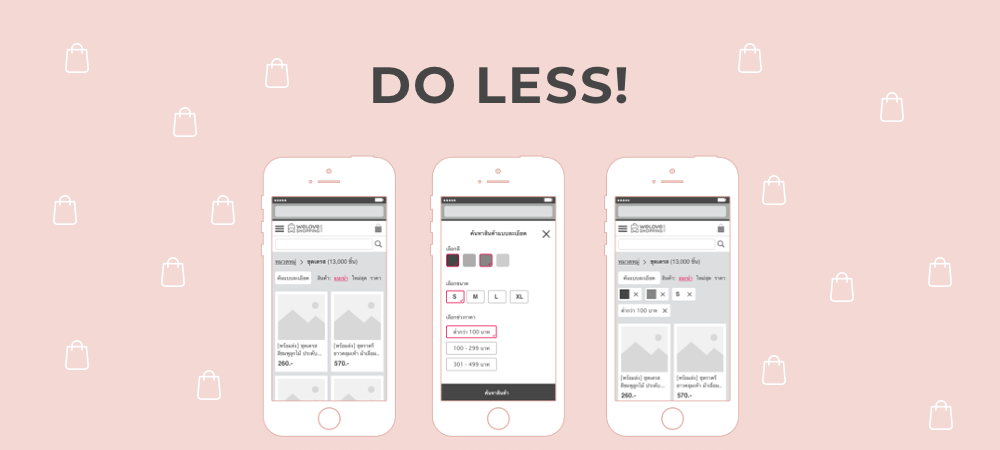 Mobile apps for tablets and smartphones must be much smaller than apps for other personal devices. To create an appropriate UX design, which implies the proper placement of the menu and various buttons, the user should be the most convenient to use your application.
The interface should be thought through to small details - so it should look nice and neat (without piled text and pictures).

Put the short information you need without overloading the context.

Key buttons and functions should be in the area of the thumb.
Simpler and clearer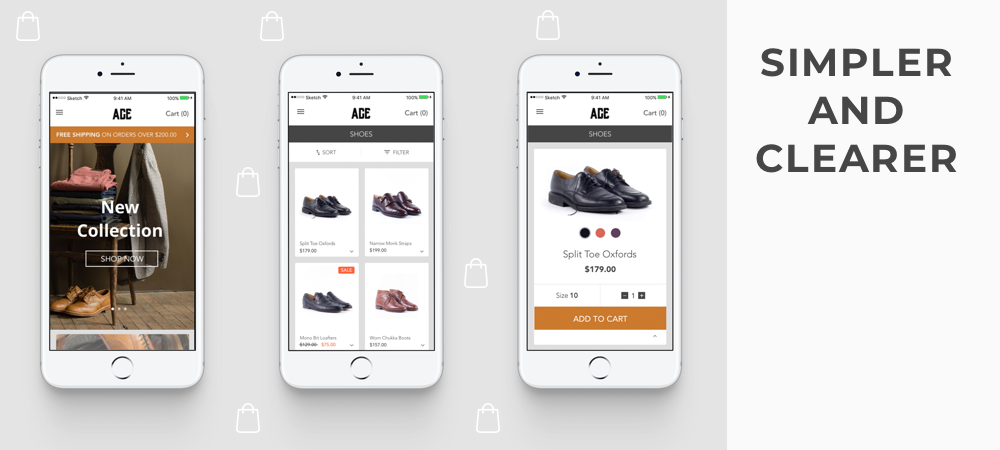 Create your design as simple as possible. This will simplify the search for many people who have chosen your application. Take care of new users. A well-formed application should not include complex instructions. The interface should be as clear as possible. The best example of this tip is a "Free people" application.
Also, consider the features of different mobile OS and style your app in such a way, that it will look native with the appropriate platform: use Material Design for Android, and Human Interface Guidelines for Apple devices.
Also, to achieve the most correct design of the user interface, use a variety of design patterns (Popups and overlays, Action bars, discoverable controls, etc.). Of course, you can use your own templates, and thereby attract and surprise users with an unusual design.
The main thing - stick to one color scale of the application on all pages. That is, find the right combination of colors, and assign the main elements of the page its own color.
Recently, the design in the style of "minimalism" is the main trend.
Also read our article: Main Features of eCommerce Marketplace in Development App like Wish.
Make the purchase process much easier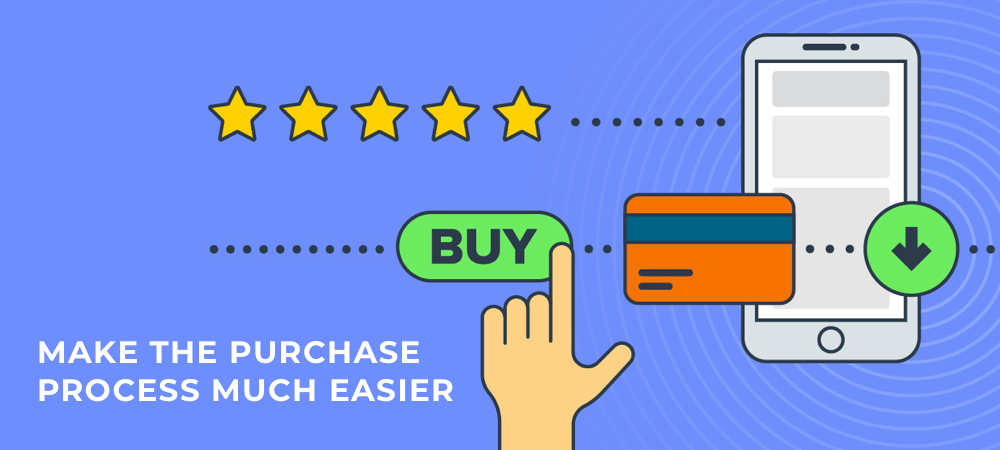 It is very important that a person does not spend a lot of time in ordering the goods. Many buyers are quick to decide to buy this or that product, and you need to catch this moment. Therefore, when the buyer decides to buy your product, make the purchase process as quick and convenient as possible. So do not forget about the items like "add to cart", "buy in one click" that will be very useful. So that the chance to stay without a purchase was minimal.
The price should be visible to the user. People need to understand what they want to buy. Also, a nice addition to them will be a list of popular products or promotions.

Do not be lazy to describe the product (make information about the manufacturer, table of sizes and colors, product composition, warranty and storage conditions, and reviews).

Comfortable features like a "wish list", "comparison of goods" and "favorites".

Easy and understandable "product search" and "navigation menu" (the main rules are a small size, description consisting of one word, a list of only the most important categories of goods).
Registration must be as simple and fast as possible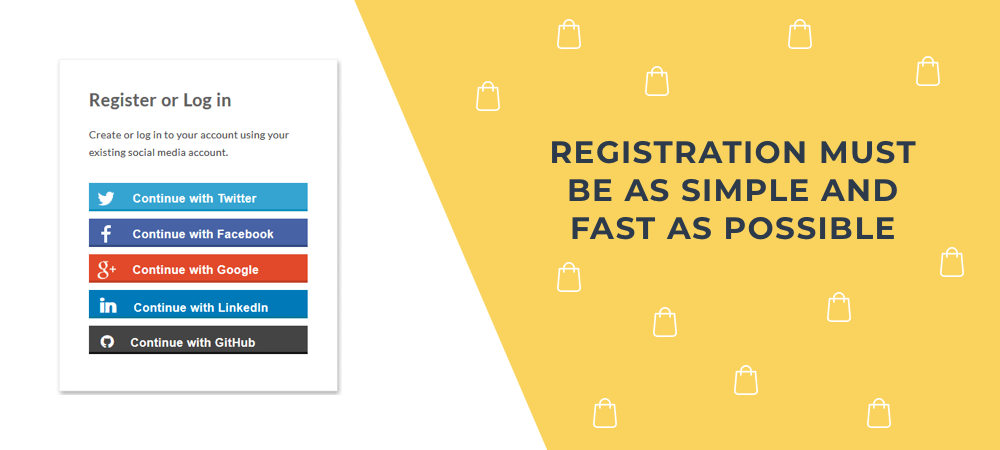 Any user won't like a long multi-level registration. Therefore, we need to make this process as simple as possible.
It is easiest to use social media advantage. Thus, your system will receive the necessary information about the user, and the person himself will go through the registration process in one click. Moreover, buyers will be able to share their purchases in social networks (like Instagram or Facebook), see who else bought such a product, and read reviews of other users, as is done in the Amazon.
In addition, it will not be superfluous to increase security level and establish trustworthy relationships with users. be sure that your customers will appreciate it.
Speed is the key to success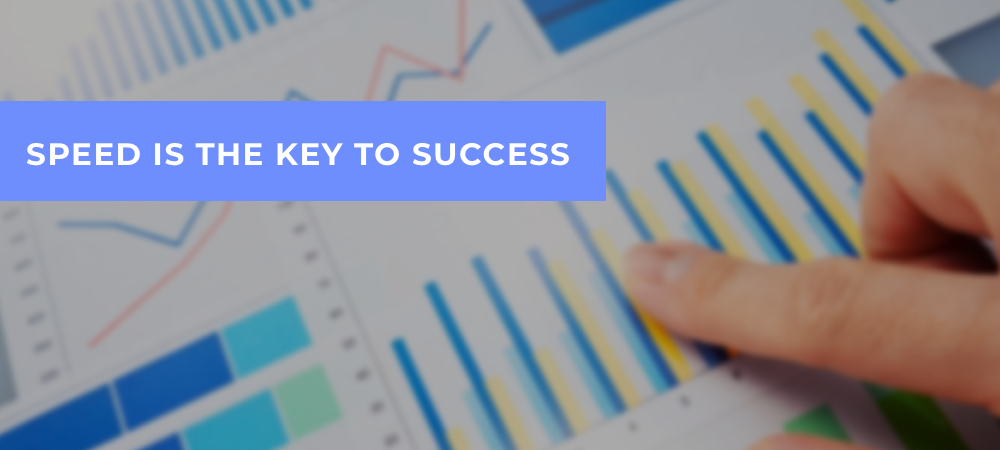 Nowadays, people value their time very much, and the performance of the application will play a very large role. Take care of the speed in advance, so that the created application is equally fast when working with hundreds or thousands of clients.
It is important to provide basic information about your application during the first 5 seconds. Specify the name, main features, and things that you can offer.
In addition, people pay attention to the feedback and application response. Various animations associated with changing colors, inscriptions, "thumbs up", notifications - attracting your users and make them act.
If the purchase phase consists of several stages, let the user know at what stage it is located. And if the client needs to wait for a while, then make this process as pleasant as possible - add music or an animation element.
Create an attractive interface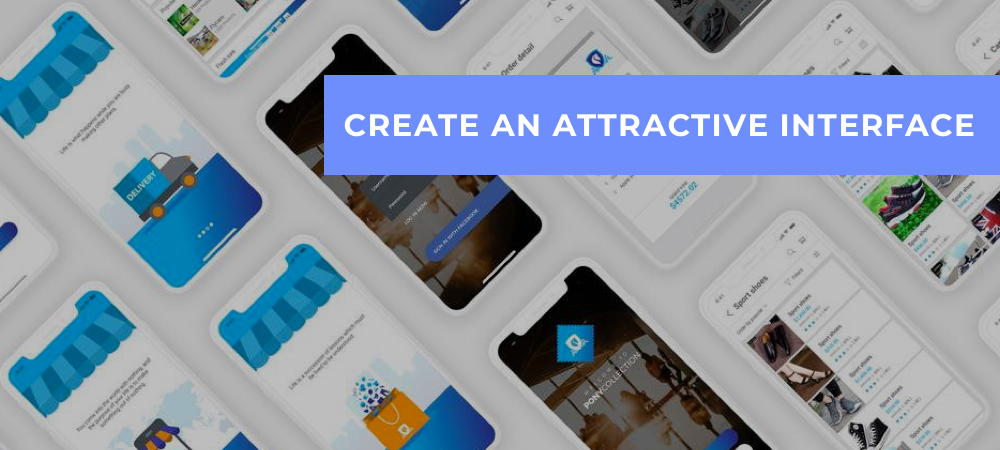 An attractive interface is a key to success. Small icons, font, color, and graphics - everything matters. Hire a professional, and do not spare money to pick the right design. Your costs will pay off. After all, users are always critical of your interface.
Make your app competitive. Follow the trends and adjust to the large eCommerce market. Now the most relevant are "material design" and "minimalism". Therefore, be flexible and support the new standards of a world of style and design.
Conclusion
So, let's sum up what rules we should follow when developing a mobile application to increase your sales.
The interface should be as pleasant as possible to the user (small menu and small information you will need).

The application should be easy to use (so make it simple and clear).

Do not forget to provide the buyer all the necessary information about the products (prices, colors, sizes, key features, guarantee information, etc.), as well as a list of popular products and special offers.

The application must cope with a large volume of sales.

Speed should be a priority.

Fast registration and check-up.

Modern design with different design patterns.

Feedback from customers for correcting mistakes and receiving feedback.

Bassicly, you should think like a customer to achieve the best results.
Got left any questions or suggestions, feel free to contact us and we will assist you in any inquiry!