In the modern world, people have to constantly balance between career, friends and personal life and, unfortunately, there is less and less time for the latter. In addition, the COVID-19 has completely turned the dating game upside down. Due to the pandemic, all romantic relationships went online. People not only meet in apps, but also go on dates, watch movies, and cook breakfast online.
The global dating services market is growing rapidly, and according to forecasts of financiers, the total market volume by 2024 will exceed US$ 9.911m. If you are thinking about developing a dating app, then the best time to launch is right now, as there are many vacant niches on the market.
We decided to share with you step-by-step instructions on how to make a dating app like Tinder, how much it costs, and how long it takes to develop.
Please visit our Behance page for more information about the dating app development.
Where to Begin with the Dating App Development?
The first rule is to find your niche, identify potential users and the type of service you plan to develop. Maybe you want to create an app for dog lovers and match them to the breed they prefer? Or look for a pair based on political convictions - with liberals, democrats, or conservatives. The key to success is finding your audience and deciding on the functionality that will bring maximum benefit.
You probably feel like the dating market is overcrowded, and players like Badoo and Tinder won't give a chance to the newly emerging dating app. And if I say that this is not true, and it all depends on whether you work with a common market or with small stories tailored to a specific target audience?
Find Your Niche
When building dating apps, you have two choices: bet on a big market or a small niche. Tinder took the first one, as it had the new matching algorithms. If you have an idea or technology that will help you stand out in the market and quickly gain popularity, go for it.
But if you don't have such a plan, create a niche project. A large market is in a state of oversaturation with large players. That makes it quite difficult to succeed in this industry, especially if you do not have a lot of money or other resources. While it is much easier to win a specific niche and, ultimately, to have the higher ROI.
If a user likes a certain category of people (for example, wealthy people, residents of a certain country or region, and even pilots), he/she will be happy and enthusiastic about using a service tailored to his/her tastes. For instance, in the USA, the dating apps for African Americans - RBL, for the elderly - Our Time, or bearded men - Bristlr, for three-some - 3nder are quite popular.
What's Your Target Audience?
The target audience should be neither too large, nor too small. The Tinder app was aimed at tech-savvy millennials who value their time and choose impossibly simple services like SnapChat to meet and chat. Before jumping into the development process or even starting your pitch, try to do user research. It's always better to conduct user interviews to create a user persona. As a result, you'll found out the needs and pain points of the potential user.
What are the Types of Dating Apps?
Dating services can be divided into 4 categories depending on how their matching algorithms work:
To develop a dating app that will be successful, you need to tag in several categories at once. For example, the French service Happn matches pairs by geolocation and audience - they match users who visit the same places.
Project Timeline
The project should be divided into four main stages: discovery, design, MVP development, and testing. Before proceeding with the direct creation of your Tinder-like app, you need to conduct a discovery phase. This will help provide answers to key questions:
What target audience should you target?

How to fill the application with profiles of real people?

What to do in various unpleasant situations?

How to make money on dating apps?

How to achieve long-term success?
During the design phase, the designer creating prototypes of the app. This stage of app development is divided into three main parts for better visualizing and giving an overview of events.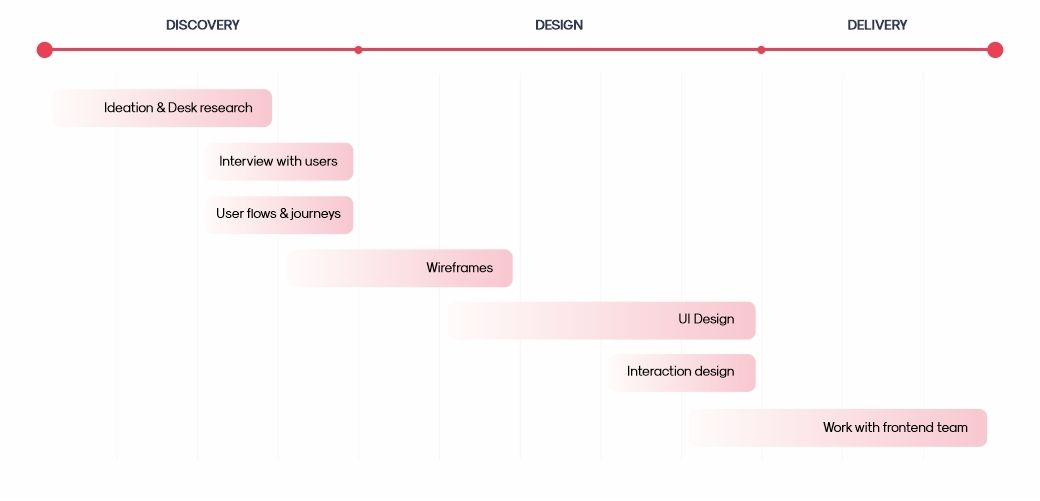 Once the design is approved and prototypes are created, the project is delivered to the software developers to build an MVP of the app.
Key Features for a Dating App
"What to include in a dating app?" This is the question we hear most often. Once you've decided on a category, it's time to think about the key elements.
Registration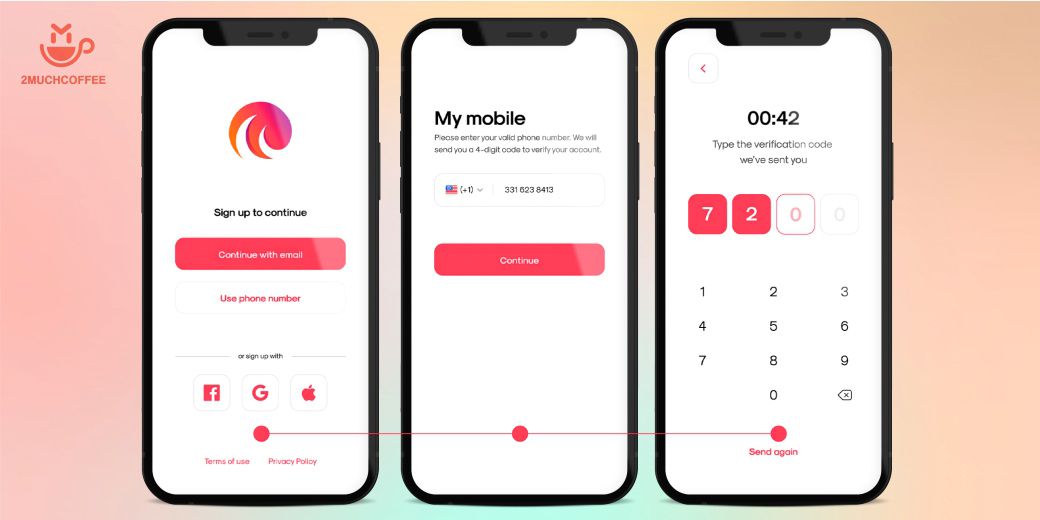 Sign up using the user's phone number or email address is a common way to set the registration. Take into account that Twitter, Facebook, and Google Account are popular ways to quickly sign up for many services and applications. Since users of dating services are interested in chatting and meeting real people, signing up for apps like Tinder is usually done using Facebook.
Profile creation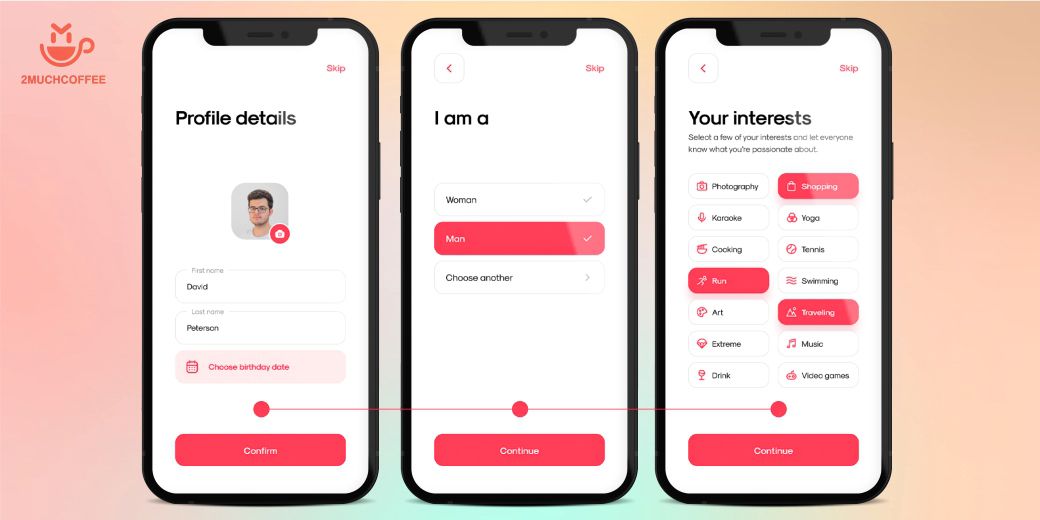 Immediately after registration, users should be directed to the "Profile" section. Here, new members should indicate their age, location, interests and briefly describe themselves. That is, specify the information that other users will see.
Integration with social networks
Users can integrate their Snapchat and Instagram accounts with their Tinder profiles. Viewing users on social networks should open after a match of likes.
Geolocation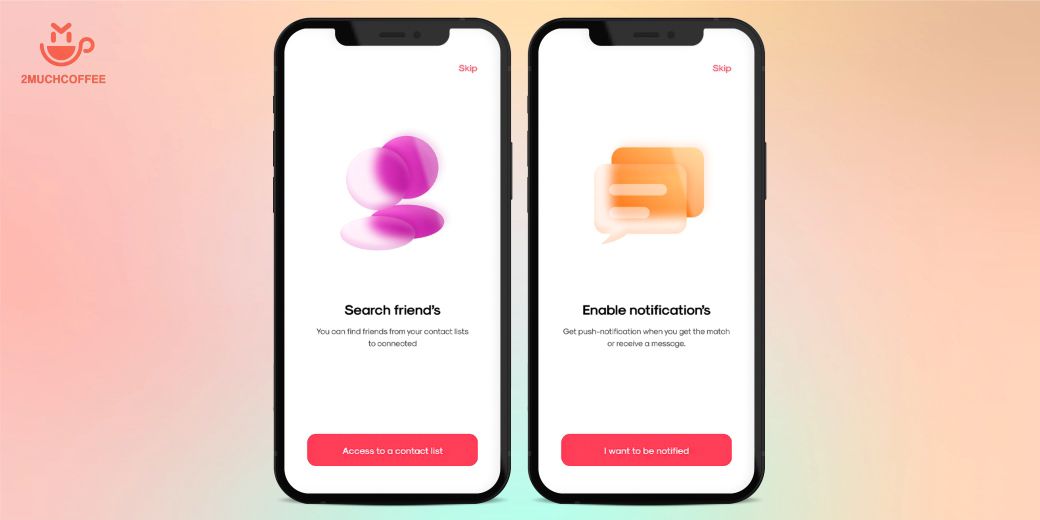 Let users decide where they look for love - in their neighborhood, city, or across the ocean. The implementation of the function increases the customer retention rate (CRR) - every time users increase the radius (100, 500, 1000 km), they open new profiles that need to be swiped and scrolled. In order to determine the location, Tinder uses the phone's GPS navigation or data from a WI-FI connection.
Push notifications
This feature helps increase the engagement rate (ER) of the dating app. This could be new message notifications or just a friendly reminder of new users. We recommend using Apple's Push Notification Service for iOS and Google Cloud Messaging (GCM) for the Android app as a push provider.
Algorithm for selecting a pair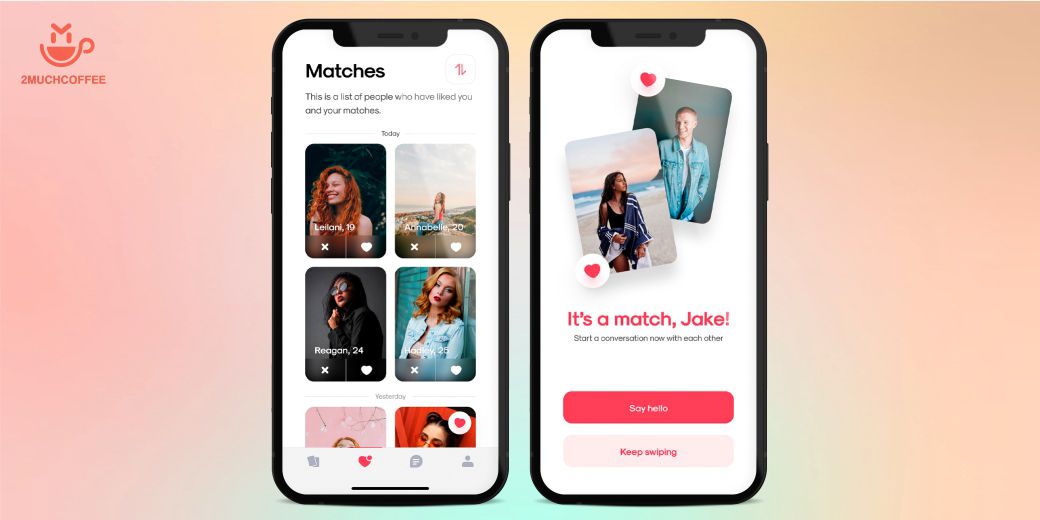 Before you decide to build a dating app, you need to determine two things - how to match couples and how often to suggest new options. For example, some dating apps use profiles where people talk about their lifestyle, hobbies, work, goals, and romantic preferences. Tinder uses swipe technology - swipe to the right if you like the person and to the left if you want to see others. When both users swipe to the right, a match happens and a chat window opens.
Real-time events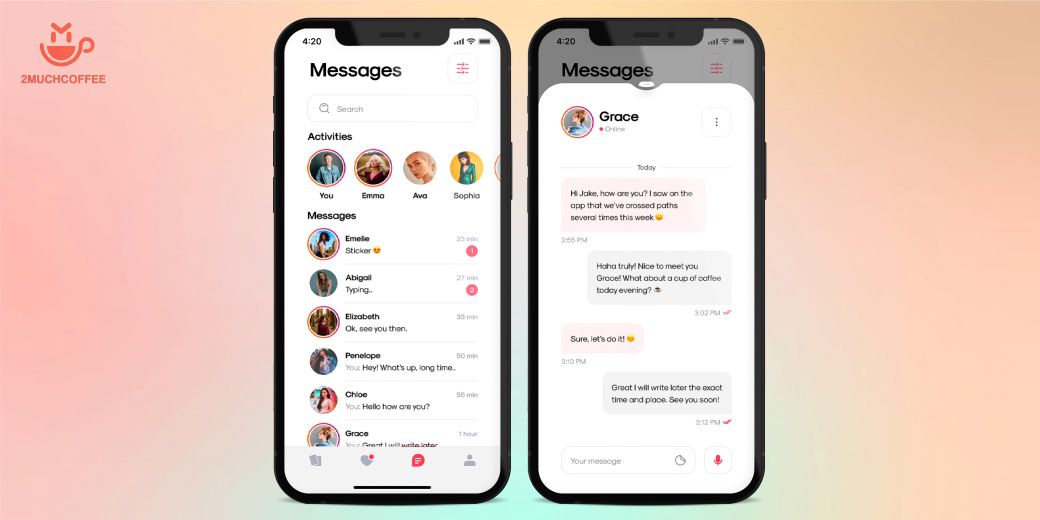 The era of one-way communications, when the answer sometimes had to wait for hours, is gone. Today everyone wants to know about important events right away. Therefore, real-time events are just as important a function of Tinder-like apps. When a user receives a message or mutual like, this information goes to the server. And depending on whether the user is online or offline, he immediately receives a push notification to his device or an email.
App Monetization
Dating apps can be monetized in countless ways. They completely changed the dating industry: people spend a lot of time with their smartphones, and this is one of the most convenient ways to find a soul mate. Adding any additional feature to an app does not mean that it will be profitable. In the long term, a dating app needs to be flexible to adapt monetization strategies. In general, the strategies for monetizing dating services can be divided into three categories:
Subscriptions - the user has to pay a certain amount to access the app's features for a limited period. Most likely, payments will be repeated.

Ads - This is where third-party companies want to place ads on the dating service.

One-time payments or in-app purchases are spontaneous purchases. Users can buy talk tokens, virtual gifts, daily matches, and so on.
Let's discuss them using the example of Tinder - the company recently published its annual report for 2020 and said that its profit was $ 1.4 billion. The service makes money in several ways:
Paid subscription. There are three options in the app, Tinder Plus, Tinder Gold, and Tinder Platinum, and each has its own terms and conditions. For example, Tinder Gold allows users to expand their search, search for people in different cities and countries, and see who has liked their profile.
Interface upgrade. The same principle of work - for example, you accidentally swipe a handsome guy or a girl of your dreams in the wrong direction and now you are tearing your hair out. As soon as you try to undo an action, Tinder will prompt you to upgrade your plan to access additional features like rewind. You can also buy individual features, such as super likes, to show your potential partner that you really like him.
Advertising between swipes. Advertisers love dating services for their granular targeting capabilities. The developers have a detailed dossier for a wide audience - age, preferences and user behavior, so you can choose the appropriate segment for each brand.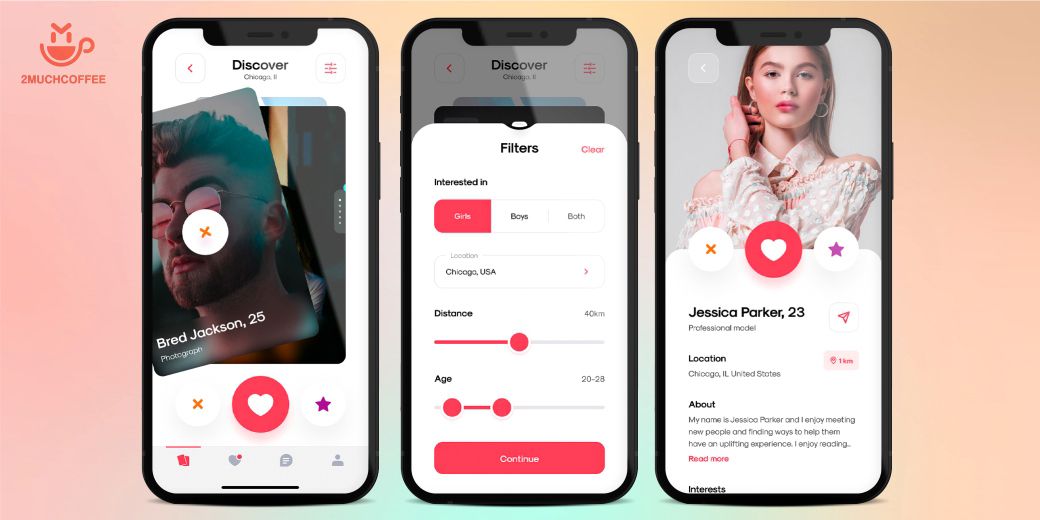 How Much Does it Cost to Develop a Dating App?
First, you need to decide on the tech stack for your application. For example, we recommend hybrid app development. As a result, you get a mobile app that works perfectly on major platforms including iOS, Android, Windows, and macOS. With this approach, there is no need to look for two teams that will develop a service separately for each platform. At 2muchcoffee we are highly skilled at Ionic app development and React Native app development.
We try to make the development process as transparent as possible, and we always openly discuss prices, terms, and next steps. The average time to build a dating app at 2muchcoffee will depend on the complexity of the project, the number of features, and the needs of the client.
If you want to make a dating app from scratch, a team of at least 5 people will work on the development process:
Project manager;

UI / UX designer;

React Native/Ionic frontend developer;

Backend developer;

QA specialist.
If you have any questions, our team is here to answer them.
Final Thoughts
If you decide to build a dating app...
Pay attention to the big players in the dating industry and small projects included in the AppStore and GooglePlay ratings. See what they are doing and in which direction. Market analysis will allow you to understand which niches are not occupied and which of them have good potential for development.

Immediately try yourself in the mobile applications segment. The usual online dating is divided among the big players. And his time is gradually passing.

Try working with a B2B platform to create a dating application. In such a partnership, part of the work will be taken over by specialists who have already created dozens of financially successful applications.

Focus on Western or Asian markets. In terms of profit, they are more interesting.

Come up with a chip around which your product will be built. It can be related to both functionality and design or positioning.

Reach out to a specific target audience. Speak the language of your niche and you will succeed.