Do you need to find name for your developed marketplace? Haven't you taken up this case yet, or do not you like any of the ideas proposed before? Let's look at the main ways of creating a name for the new marketplace together.
If you ask me what's harder to come up with - a slogan or a name, I'll definitely choose the latter. Because the right name can help you attract new customers, solve many key tasks related to marketing goal and communication.
Also read our article: Best way to calculate your marketplace business:is it cost to start?
It should be easy to remember and be familiar to everybody.
It is very easy to let go of sarcastic comments about the creativity of names, but when you are faced with the task of inventing something genius and extraordinary, the brain turns on the freezing mode and you feel like a dull and boring vegetable that is not able to give out a great NAME.
In fact, all ingenious is simple. The history of great brands (like PayPal, MailChimp, and Accenture) proves that successful companies were named for fairly obvious principles. Therefore, to begin with, decide on the idea of your project, think about the feelings and innovations that are associated with your new marketplace and perhaps the idea will immediately appear in your head.
Here the different styles of marketplace name. So, choose the best one to find the perfect name for your business.
·Classic style. For those, who want to create a high-end marketplace for the ages.
·Fun brand names that associated with the interests of potential buyers.
Therefore, success often brings names that evoke rich visual associations. Because in the modern world images and sensations speak louder than words.
·Descriptive. A unique name that describes the features or benefits of your marketplace. Unexpected and intriguing name that attracts new customers. An unusual name is not just a name, but also a lifestyle. To seem special, you need to declare your uniqueness.
·Emotion. A bright, emotionally colored brand name that triggers a direct or indirect association with your marketplace. Psychologists and marketers have long established: the more the name is felt, the more associations it causes and the more familiar it will become.
Also read our article: Best registration and design tips for great Mobile Ecommerce App 2018
Choose marketplace name carefully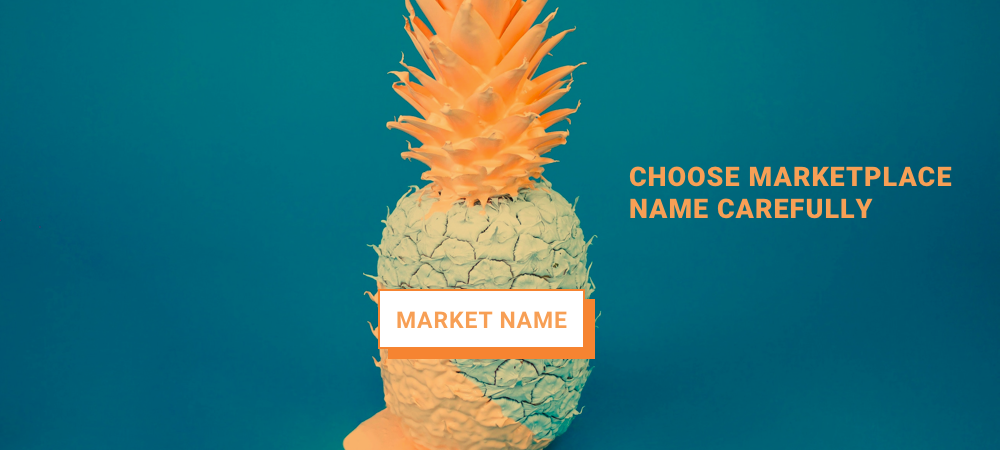 When you have decided on a possible name, discuss your ideas with as many people as possible. Hire special people to create a team, and discuss your plans with family members and friends.
Although you should not always rely on others, because the opinions of all people are quite contradictory. Your close friends, relatives, and employees cannot always adequately assess the business idea. And in some cases can even confuse.
Do some testing. Finalize the requirements of what you want and how you can implement it. Make a list of the criteria by which you will be guided when choosing the ideal name for your marketplace.
And then check each of them.
Decide for yourself which companies you would like to know most about (for example, about peer-to-peer marketplaces for rental services, etc). This will allow you to understand how the brand name can stimulate people's interest.
Conclusion
The properly chosen name is the key to success. So we hope that these tips will help businesses develop names. So think carefully and decide on the goals to make the right choice among the many potential marketplace names. When creating a name, you should realize that the name is primarily a contribution to your image and reputation.