Intro
Nowadays the market is overflooded with platforms for creating websites. Business owners have to pick from so many options that sometimes they get lost. You should consider some factors and in this article, we tried to take all of them into account to simplify making a decision for you.
E-commerce platform is a software helping to create and run your online business. With its help, you build your website and manage it.
Some platforms offer free versions or free trials, some have low or high level of pricing.
There is Ecommerce software which fits large businesses and several platforms also fit small enterprises.
Why did the e-commerce platforms reach such popularity?
You shouldn't make the functionality on your own. With the emergence of these platforms, you can start developing your store very quickly.

Of course, developing the site from scratch is much more expensive than using the ready solution.

You are focusing on your business and shouldn't spend time on hosting, technical questions etc.
Also read our article: What are the major benefits of e-commerce to your business?
eCommerce Best platforms for startups and businesses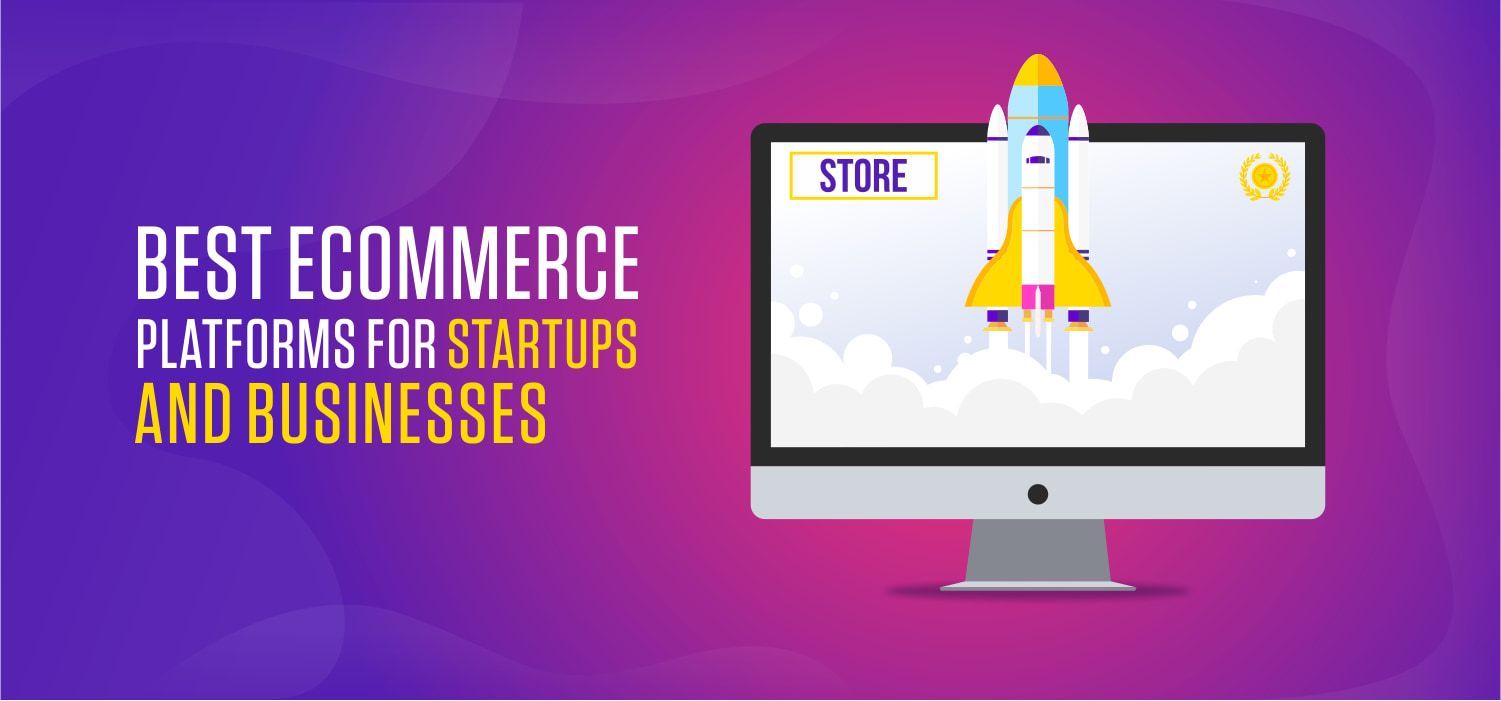 The platforms will be compared in their prices, customizability, and ease of use in the table below. The price matters especially if you want to begin with a small enterprise and can't invest much money in a selling platform. The ease of use matters for a simple and quick creating your online store. It's important especially if you aren't skilled in coding and want to launch your online business very fast. Сustomizability offers flexibility so that you can configure many components and may have any features for creating a unique store.
Here's a comparison of the Ecommerce best website builders.
| Name | Price $/month | Ease of Use | Сustomizability |
| --- | --- | --- | --- |
| Shopify | $9 -$299/month | Easy | One of the most customizable platforms |
| BigCommerce | $29.95 - $249.95/month | Easy | High |
| Wix | $5-$25/month | Easy | High |
| Volusion | $15/-$135/month | Easy but sometimes challenging in the front-end navigation | Medium |
| SquareSpace | $12-$40/month | Easy | Medium |
| Magento | from $2200/month | Difficult | Medium |
| OpenCart | You can download and install it for free | Difficult | High but some coding knowledge is required |
| Selz | $17- $35/month | Very easy | High |
| WooCommerce | The price depends on the website option and consists of some parts | Easy if you understand WordPress | High |
| BigCartel | $0 -$29.99/month | Very difficult | Medium |
Also read our article: Guide on how to Start your eCommerce Business from Scratch
1. Shopify

It belongs to top e-commerce and the most well-known websites. But its prices are very affordable.
Pros:
The first benefit is that it offers a 14-day free trial. The signup is very quick, you only need to enter your email and can sell right away. The interface of your online store is very simple and you are offered many beautiful themes.

The other advantage is that no coding knowledge is required.

You can get support via phone, email, live chat, and Twitter.

Additionally, this platform offers third-party payment gateways.
Cons:
Costs accumulate and it can come to the rather high sum because you will have many additional costs e.g. pay for plugins, themes, features or transaction fees.

Besides, Shopify uses its own markup language "Liquid" based on Ruby on Rails. If you want to make changes by your own it can be difficult.
This platform is highly customizable and helps the beginners to start with their stores quickly thanks to the easy learning curve. It offers very reasonable prices.
2. BigCommerce

This platform is rather similar to Shopify. It can serve as a full SAAS platform or you can use it as a shopping cart system for other websites.
Pros:
The main pro of BigCommerce that it is a feature-rich solution with flexible shipping options (unlimited product variants, options to handle returns). This platform offers integrations to social networks or such popular selling platforms as Amazon or eBay and hosting websites, analytics tools, marketing features, open architecture interface etc.

About 40 payment processing options are offered to business owners but no transaction fee is required.

The live support is available.
Cons:
You can choose from 7 free templates. Other ones are paid and rather expensive.

As the platform owns no native POS features the business owners have to pay for advanced features what can be rather expensive.
It's a good platform for beginning your business especially if it is expecting quick growth.
3. Wix

Wix is very easy to use. It is not expensive, very user-friendly, offers many templates and themes and even if you choose paid themes they are affordable, as well.
Pros:
This platform is very easy, cheap and user-friendly.

You don't need to be skilled in coding.

The stick images and over 500 templates are offered. Using this platform you get an integrated shopping cart. There are direct payments without commission.

Besides, Wix functions on any device and takes care of hosting itself.
Cons:
One of the drawbacks is an impossibility to change the chosen template if the website has already been published.

Wix is a kind of a website builder that's why the capabilities are a little limited and if you have got high requirements Wix may not meet your demands.
If you are beginning with a small business and don't have special requirements for your future online store Wix is a good solution.
4. Volusion

It is a cloud-based solution which offers 11 free and many paid themes.If you are a beginner in sales and want to build a simple eye-catchy website you can easily begin with Volusion.
Pros:
It's a customizable website builder with many themes which provides e-commerce and product management tools. There is integration with payment providers. It helps you to build a fully-functional online store.

Concerning SEO the platform offers a great reporting (abandoned cart summaries, ROI tracking & reports, product views, RMAs etc.)
Cons:
There is a bandwidth limit depending on the chosen plan. Additional traffic will cost $7/GB.

The business owners need to pay for SSL additionally. Besides, premium templates are rather expensive. And there is no capability to add a blog and you can only add links to other blog sites.
5. SquareSpace

It's a kind of a drag-and-drop website builder which becomes a full-fledged e-commerce platform. Its interface is very user-friendly and it will do for beginners. It fits both individuals and businesses.
Pros:
This website is focused on design and aesthetics what is useful for selling products which require high-quality representation. There are all usual options e.g. product variants, unlimited products, coupons, shipping. You can use many marketing tools and a built-in SSL. The site offers an easy navigation.
Cons:
On every sale, the business owners have to pay a 3% transaction fee.Besides, if you are planning to build a big online store the number of features may be not enough for you.If you want to customize your store with coding or markup you encounter limited customizability.
If you are a beginner in sales, if you don't want to create a big store or if you want to build your own website you can pick SquareSpace.
6. Magento

This platform is an open source software you can install on your servers. For small businesses, it is very expensive because its price starts at $2200/month. You should pay for the domain and hosting although Magento is a free e-commerce platform. This E-Commerce platform is written in PHP so either you need to have skills in it or hire somebody who helps you.
Pros:
Product owners if they are skilled in coding can modify functionality, design and server environment. Otherwise, you may pick the cloud edition.

This platform fits if you need to integrate your store with CRM or ERP.

For the offered price Magento provides a long list of features: subscriptions, recurring payments, discounts, there are many plugins and themes, ability to build a multilingual website as well as the great support.
Cons:
Magento developers are more expensive because of a steep learning curve.

The price is meant for Enterprise clients and large businesses and can be very high for the small ones.
Magento meets demands of enterprise businesses and can be too expensive for small ones.
7. OpenCart

OpenCart is available to download and install on your server. It doesn't offer a lot of features in its basic version. Additionally, there is a cloud version. If saying about support you can choose from documentation and forums.
Pros:
If you want to have a lot of products and product categories this E-Commerce platform will help you.

There is a possibility to create and control a few online shops from one interface because you can view every important data point of your store.

Many themes and plugin extensions are offered and a lot of payment gateways is supported.

Choosing the cloud version you get access to the necessary theme and a plugin store.

The SSL certificate is offered for free.
Cons:
Firstly, you need to learn how to use this platform because it needs skills to work with it. Sometimes OpenCart is not so easily customizable.

If we talk about native marketing features the default SEO capabilities could be better.
It doesn't matter if you are launching a small or large enterprise you will succeed with this platform but you need some WordPress knowledge.
8. Selz

It fits those who are planning to start their small businesses, save money with an affordable platform and have 24/7 support.
Pros:
Selz is a good idea for beginners. You are offered round-the-clock customer support, user-friendly tools, and many customization options, besides, you don't need additional coding skills for work with Selz.

If you are trying to sell with social networks or from other websites Selz is an affordable choice.
Cons:
It's a good option for small businesses. But if you are planning to scale your business it's maybe not the right platform. You can hardly customize it for a growing business.
9. WooCommerce

This Ecommerce solution is actually a WordPress plugin and plugs to this platform. To work with, you need to know Wordpress. Users should take into account that no live support is present. You get documentation and forums.
Pros:
It gives the full control over the website functionality. Besides, WooCommerce doesn't take any transaction fee.
Cons:
You need to have some knowledge of Wordpress. If some questions appear you'll have to search through documentation or write on forums trying to find the answer.The expenses for this platform accumulate and are difficult to count at once.
10. BigCartel

This e-commerce software fits for small ventures and offers free themes.
Pros:
It offers a quick setup and you don't need to have coding knowledge. There are features matching the small business: Sell in-person, Sell on Facebook, five images per product, Inventory tracking etc.

If you have questions you can ask for help a Support Center.
Cons:
The free version is limited and medium customized. The platform is probably not the best option for large enterprises.
CONCLUSION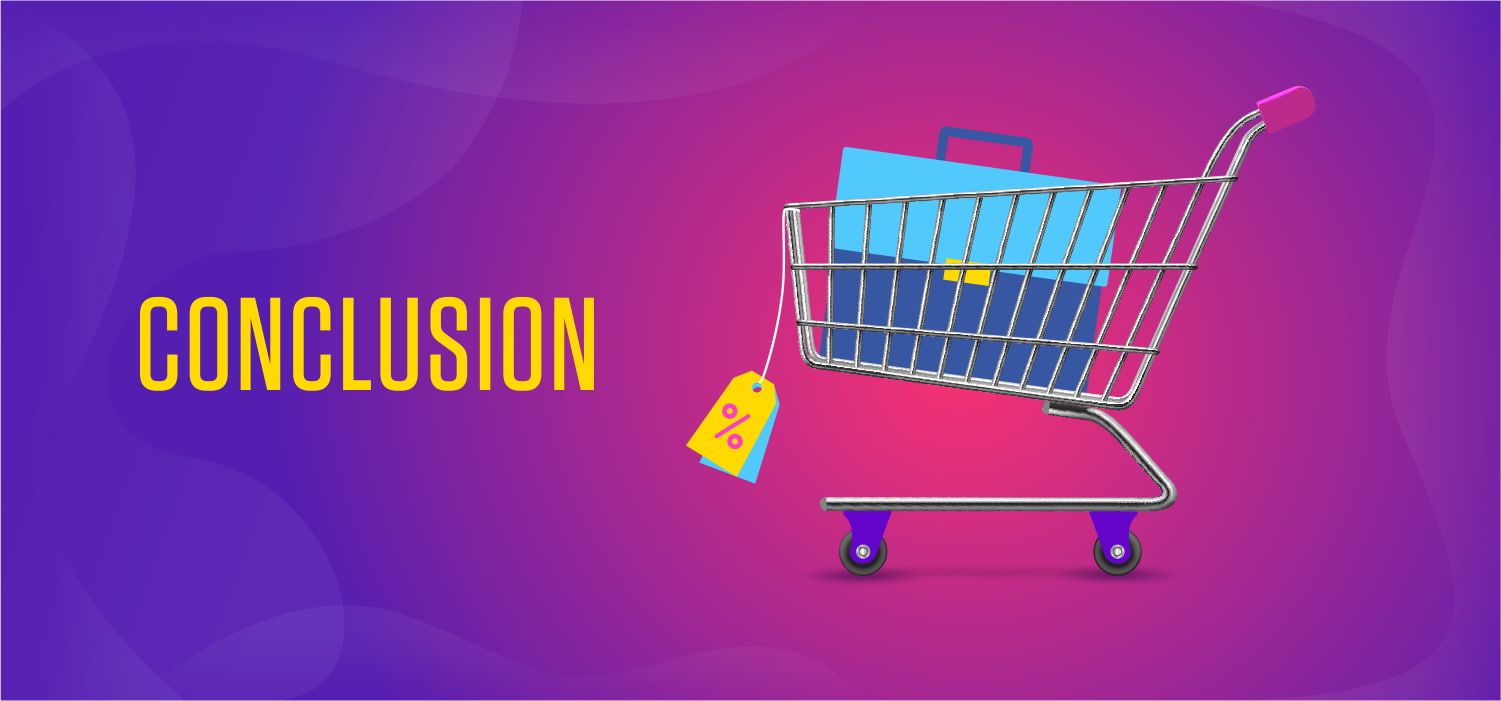 In this article, we considered the main Ecommerce platforms, their advantages, and disadvantages.Some of them help for small enterprises, others meet demands of large businesses, some are affordable, the others are more expensive. Take into account your coding skills or their absence, as well!
If you want to learn more about every selling platform, read more precisely about each of them, find reviews from other business owners. Additionally, most of the platforms offer trials where you can find out if this solution meets your demands. Depending on your money and feature demands you'll find the right platform.
If you need help when developing your store or website, feel free to contact our team!