Short description of the article
Intro
Guide for starting an online business
Define your Ecommerce niche
Appropriate research
Identify your image and target audience
Establish your business
Time to build the eCommerce store or e-commerce website
Search for clients or customers
Market your goods or services
Conclusion
Nowadays many product owners are interested in building their eCommerce businesses from scratch because of various reasons. In this article we are going to consider these reasons and the steps for creating an online business in order to help you with it development.
In 2017 global e-retail sales reached 2.3 trillion U.S. dollars. Online shopping has become one of the most popular online activities in the world, and among the countries which belong to the fastest growing online retail markets, there are India, Indonesia, Mexico, and China.
The online business is really profitable but highly competitive. Actually, the number of online buyers is growing, too so don't get upset.
Retail e-commerce sales as a percent of global retail sales from 2015 to 2021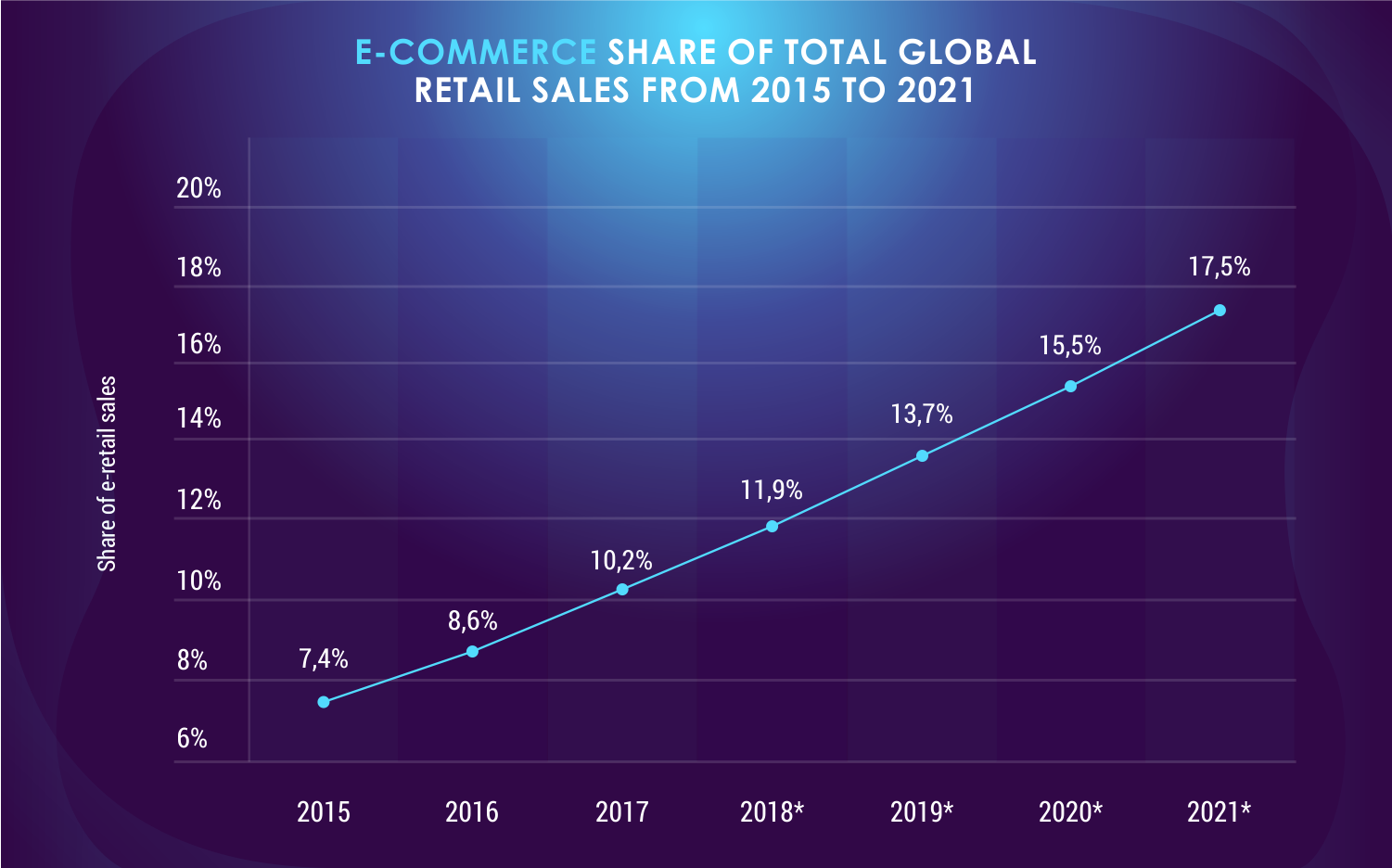 As you can see from the statistic, in 2015 e-retail sales accounted for 7,4% of all retail sales worldwide. This figure is expected to reach 17.5 percent in 2021.
Number of digital buyers worldwide from 2014 to 2021 (in billions)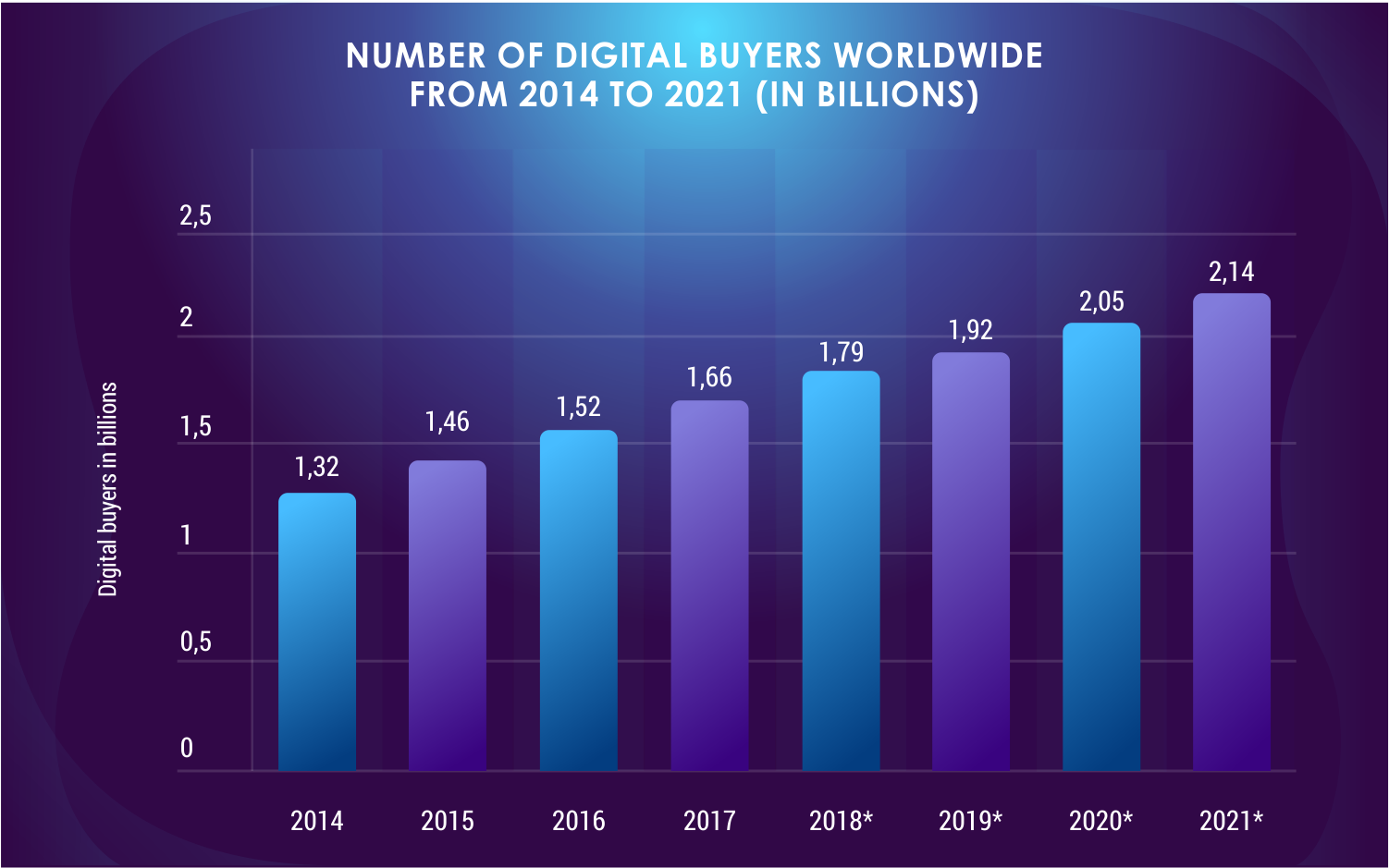 According to the forecast, the number of digital buyers will be increasing and is expected to reach 2,14 billions in 2021. And thus the demand on e-retail sales is growing in accordance with the buyers what is the rationale behind developing an online business.
Let's move on to the steps for starting your online business.
Guide for starting an online business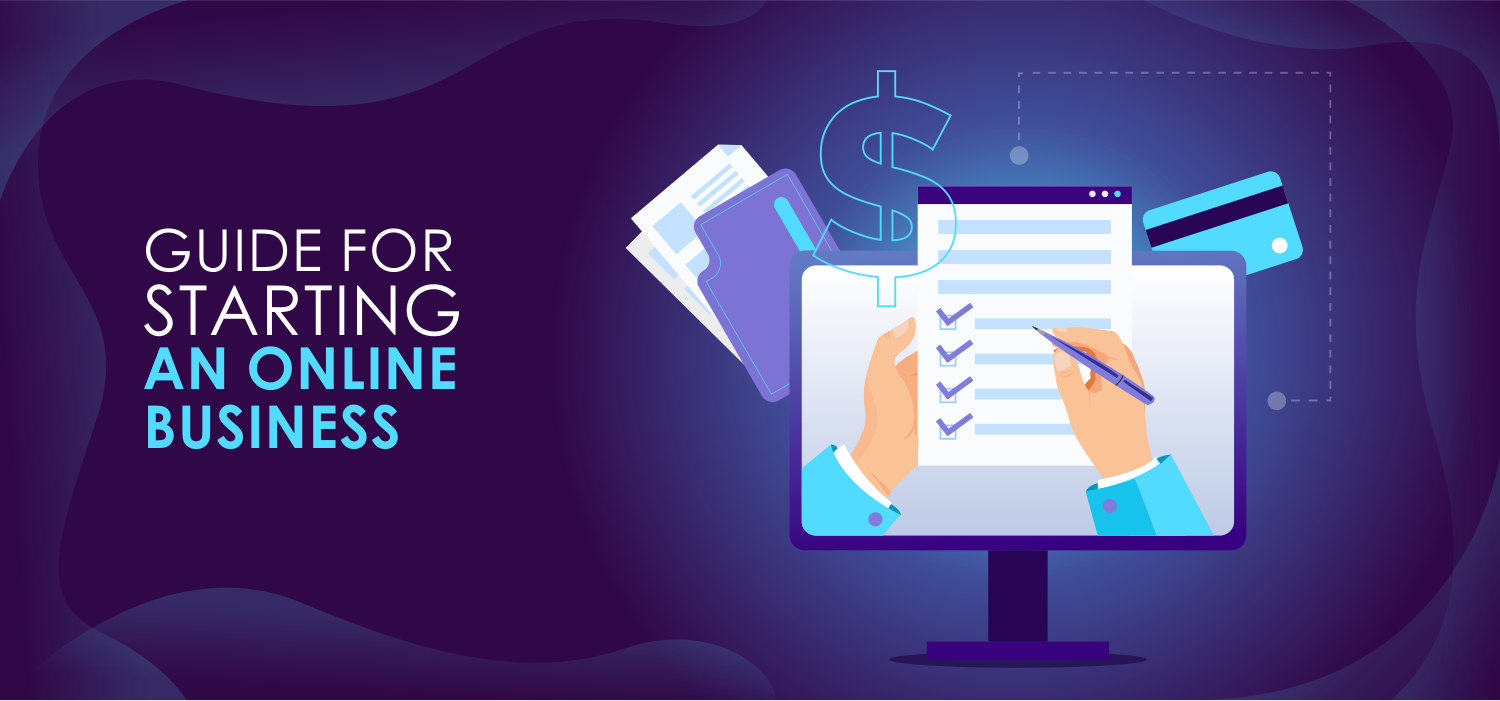 As many businessmen realize developing business from scratch doesn't begin with buying and selling and it shouldn't be launched in a hurry. Look at the following steps you have to take in that order:
1. Define your Ecommerce niche
At the first stage, it is advisable to choose your niche with definite products or goods/services. If you sell everything for everybody it just defocuses you unless you have a massive budget, a lot of time and personnel.
The beginning business owners in their actions can take an example from successful companies already working in this area. But remember to invent new features which make your store different!
If you don't find competitors in the chosen area it may indicate an absence of demand in the market. In this case, you should research if somebody needs services or goods you are going to offer.
Be careful about starting your business in the very competitive niches: you'll have to spend a lot of time and money before you manage to keep up with them. It would be better to choose a middle competitive niche and to focus on it.
Remember to examine the activities of the top competitors in your niche, read about their pros and cons. Correct your own mistakes by others' faults.
Don't expect to come on top from the very beginning but take every opportunity to grow your customer base and to promote your goods and services. E.g. when you are selling sports clothes you can work together with niches, related to what you do, such as websites with fitness programs, sports clubs etc.
2. Appropriate research
There are many business models depending on what you do, develop or sell. Different businesses have specific characteristics and firstly, you should endeavour to find out about them. For example, if you offer any kind of services you'll do it differently than running product sales.
Dropshipping is a good choice if you want to sell products without placing them in your warehouse. The ordered product is shipped from a third party directly to the customer. Another advantage of this model is little investment at the start.
Wholesaling is another sale model which has its advantages but requires some place to store goods.
White label branding (sometimes called "white labeling") is a good choice when you've got an interesting product idea which can be sold under your brand.
Subscriptions let users get access to a product or service for a definite period of time. Having ordered this service once customers get used to it, of course if you offer high-quality goods or services.
Besides, you can make money from affiliate marketing - this model allows you to earn a commission from the promotion of other company's products.
3. Identify your image and target audience
You should meet expectations of your consumers or clients with everything you have: brand, website, goods, and image. That's why knowing who your ideal customers are is crucial.
Before you invest in the product, you should use ways to validate the demand.
One of these ways is to create an MVP (minimum viable product). Its task is to collect feedback from initial users for making a further strategy.
Also read our article: How to create an MVP (Minimum Viable Product): your Step-by-Step Guide
You can also begin with affiliate marketing, e.g. after defining your niche, you create content to send traffic to affiliate products. With its help, you'll understand whether to create your brand of such goods.
In short, you need to:
Learn as much as possible about your target audience!
Consider expectations of the consumers;
After that decide upon your brand name;
Test yourself products or services you are going to sell or ask some people to evaluate them (it's important to realize their pros and cons).
4. Establish your business
Now it's time to regularize this business. Look at the steps for establishing your business which should follow in such an order:
Firstly, you should register your company and your business name. You may get legal protections when doing it.
Choose your brand name if it's not the same as your business name. Research the niche, consider some options and choose the most appropriate one. Take into consideration that it's an advantage when the brand name and the business name are consistent.
Get your EIN (Employer Identification Number) to open a business bank account. This number will identify your business.
Get permits and business licenses which are needed in your country and your city.
Search for right vendors if you offer products or goods. It's important to decide upon such vendor you are ready to work for a long-term cooperation. Choosing a proper eCommerce software belongs here.
Make your logo. Read about creating the right logo and inform yourself what it should include.
Decide upon colors representing your brand, upon fonts etc.
5. Time to build the eCommerce store or e-commerce website
If all the business licenses are ready it's time to register the domain name. Remember that the design for your business should be compatible with your e-commerce software.
So what should you take into account when choosing e-commerce platforms? Consider such parameters like the loading speed, features, compatibility with different payment gateways and with your business structure, your web developer skills, SEO-friendly features etc.
Depending on your budget you can either hire professionals to help you or do everything on your own. Each choice has its pros and cons.
If you want to build the website from scratch you have to make sure that your developers have already worked with building e-commerce websites. Feel free to ask how long it takes to launch your site.
If you want to take the easy way out, choose such a marketplace like Amazon where you won't have difficulties with taking credit card payments.
6. Search for clients or customers
As in the previous step, you can either choose to hire help or do everything on your own.
Your website has to be SEO-friendly to stay competitive enough in the market.
The keywords should be present in URLs, in ads of your website, on each page. But remember if you try to manipulate a page ranking with keyword stuffing,
Google and other search engines will penalize your site.
Think about how to drive traffic to your website.
A lot of elbow grease is required if you can't invest a lot in online marketing. Top companies invest heavily in their ad campaigns, especially at the beginning.
So how to drive traffic to your site?
Read and listen to marketing tips;
use social networks to attract clients and customers;
Use pay-per-click ads, if you have enough budget;
Place videos about your company and create reviews of products or services on Youtube etc.
If it is too difficult for you the best option is just to find and to hire help.
7. Market your goods or services
Having built an Ecommerce business is not the end, it's a beginning and further, you need to promote your company for attracting users and maintaining your current market share. Bear in mind that just starting your Ecommerce business is not as tough as going the level of top competitors.
Look at these ideas of generating some users' heat:
Create an email list or get phone numbers from users. You can do it when launching a social media campaign or offering some coupons and discounts where the users need to enter an email or a phone number.
Then you can send content, interesting offers and many other things to your visitors to keep them interested.
Ask them for reviews and respond fast if there are some questions or problems.
Track the behaviour of the users on your website. You need to know how and where the traffic flows. It happens from time to time that firstly the website aroused interest but then the users left it in the same place.
Find tools which serve as help in monitoring and optimizing the marketing process.
Sometimes you should follow the lead of your competitors and take some additional tricks from them.
There are many other ways to promote goods and services, e.g. you offer your products for popular bloggers and they create reviews. It's important to remember that these bloggers should be in the same niche as you are, for example, you send Makeup and Beauty products to a fashion blogger or children books to the young mom.
Sometimes users are offered additional coupons or discounts for placing reviews, inviting new users etc.
CONCLUSION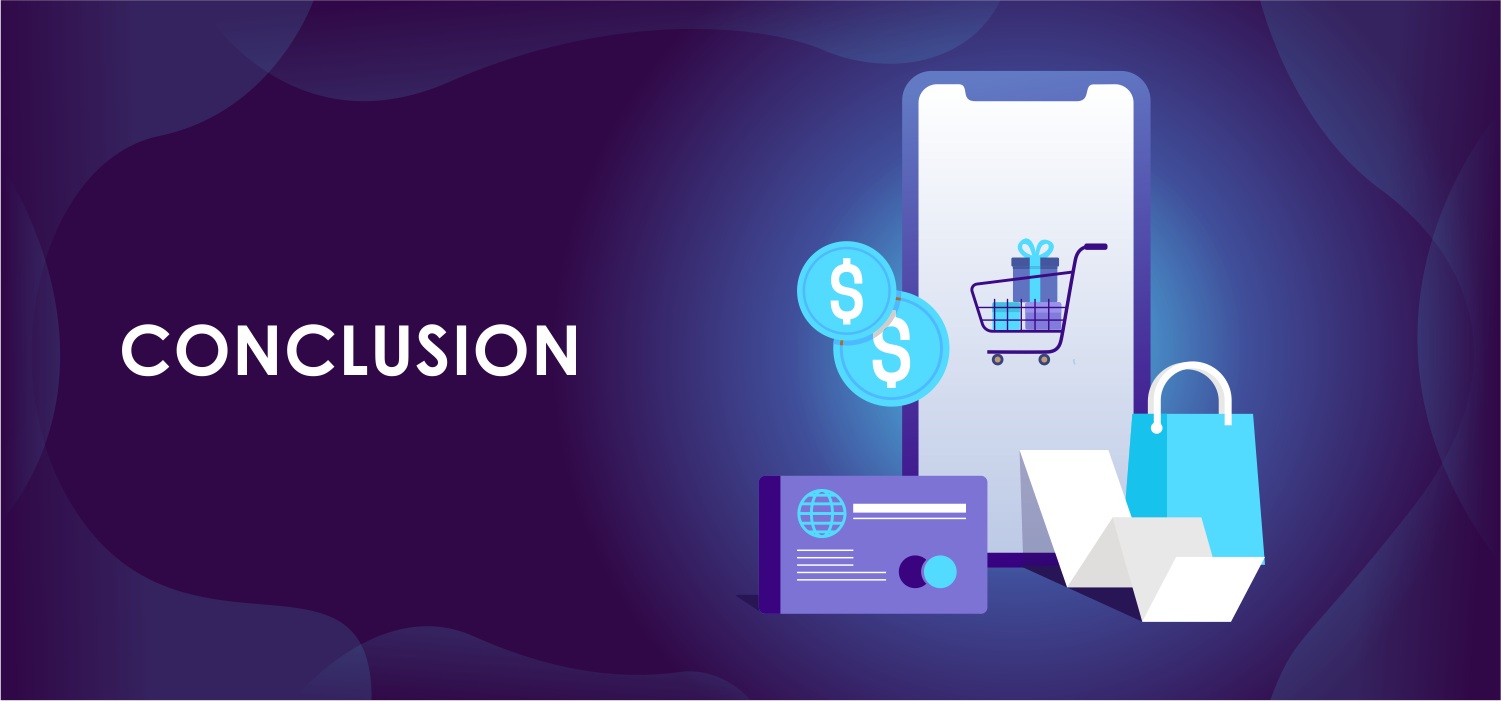 eCommerce business has become a very competitive sphere and business owners have to take many factors into account if they want to succeed.
If you think of building your online business you can do it on your own or with help of skilled developers. If you decide to take the first way we hope that this guide is helpful for you!
If you choose the second option make sure you find professionals who have had experience with e-commerce development. Feel free to contact us and remember your ready business is not the finish but the start of an adventure.