Tell me and I forget,
teach me and I may remember,
involve me and I learn.
Benjamin Franklin
Short description of the article
Intro

Benefits from mobile apps for education

Features and tips essential for education apps

Conclusion
Intro
Education has always been a core foundation for future personal growth and career endeavor. The opportunity to learn a new foreign language or obtain a new skill that will be helpful are quite appealing ideas to the majority of people. At the same time, we are living in a fast-paced society when most people do not have enough time to attend classes in order to learn new skills.
While adults simply do not have time for studing, the teens and kids consider studies as a really boring process. In addition, some teachers and various tests create negative perception of the studying process. So how to make this process interesting? How to motivate children to get new skills and knowledge?
The solution is quite simple - to introduce the educational apps for the successful studying process. While kids using the educational app with the elements of gamification, they do not notice the fact that by playing they are learning. Consequently, the process of studying became more appealing to them and less stressful. On the other hand, educational apps allow adults to learn whenever most convenient for them, for instance during the limited period of time like short coffee-breaks.
Also read our article: Guide on the Educational App Creation.
Benefits from mobile apps for education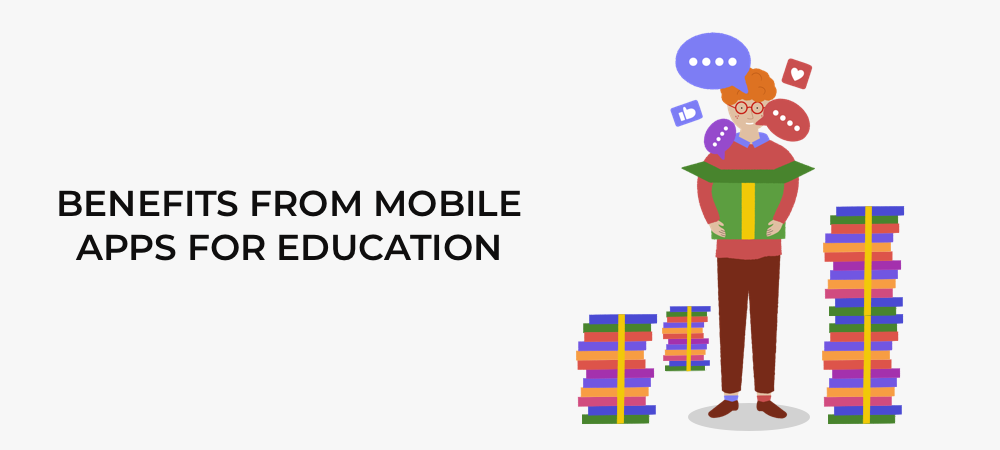 Mobile apps are able to teach in innovative ways and bring in a great number of benefits for kids and adults. There are many competitive apps in the mobile app market: remote tuition platforms, language learning, mobile apps for kids etc. Let's think of benefits based on the experience of top educational apps:
1. Children of all ages like mobile apps
Kids should be involved in the learning process and what can be better than a bright interactive game. Children aren't even aware that while they are playing they learn. This is a good way to complement studies by means of installing a mobile app.
E.g. The learning app Kids Numbers and Math provokes constant interest of the kids and helps to acquire all necessary Math knowledge.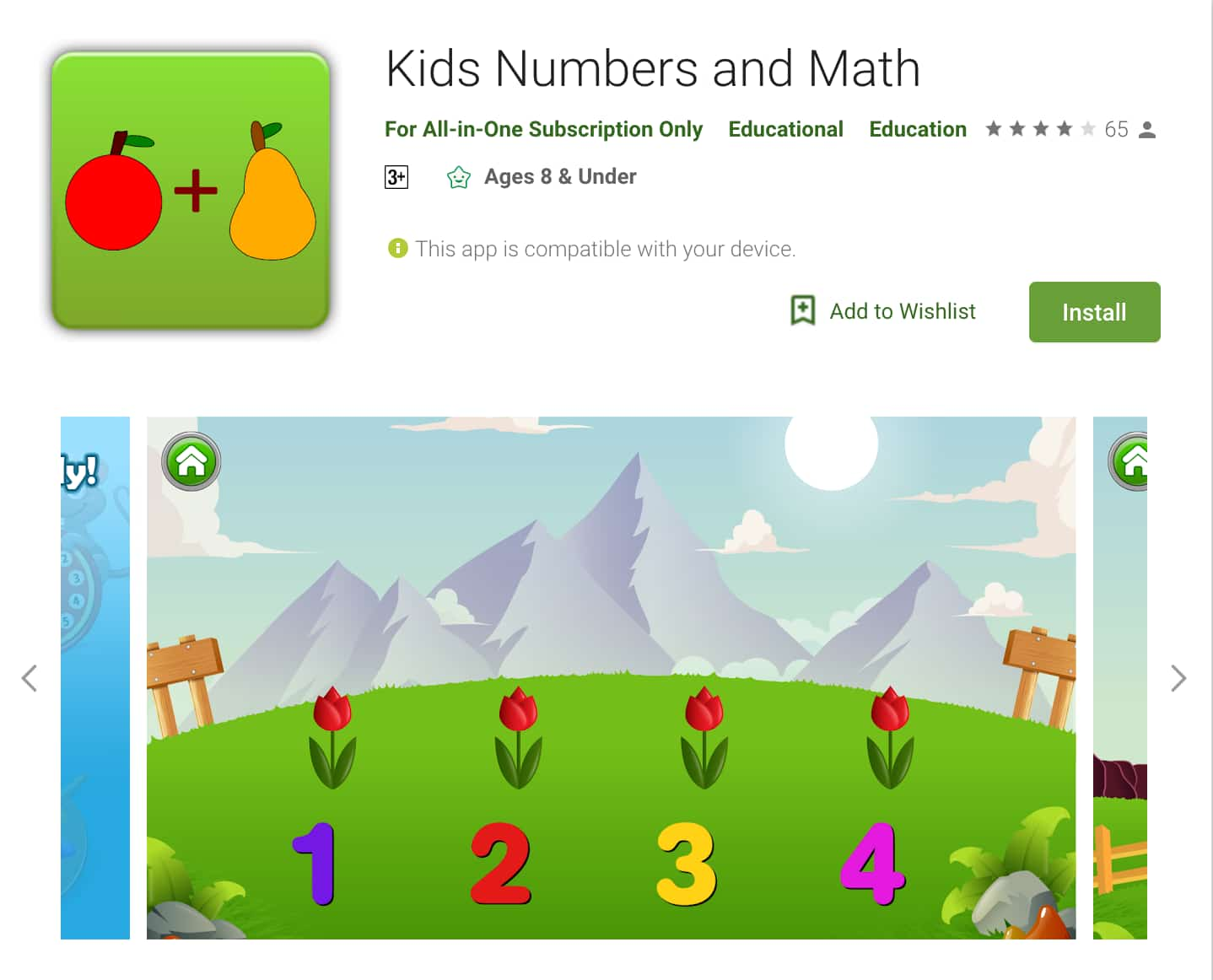 2. Organized systematic learning
A well-designed app offers a clearly organized content which is easy to find and to repeat. And the logical flow helps many students to get used to systematic learning.
3. Available when needed and where needed
Mobile apps have a great advantage - they are available to all their students all round the world while school classes and lectures are time-bound. It's up to you when you decide to open the educational app.
In the car, in the queue, on holidays - well, everywhere students can learn from their apps and consult them. You can carry your smartphone everywhere you go!
E.g. LinkedIn Learning offers online courses to learn in-demand business, tech and creative skills and the users can enhance their professionalism wherever they are.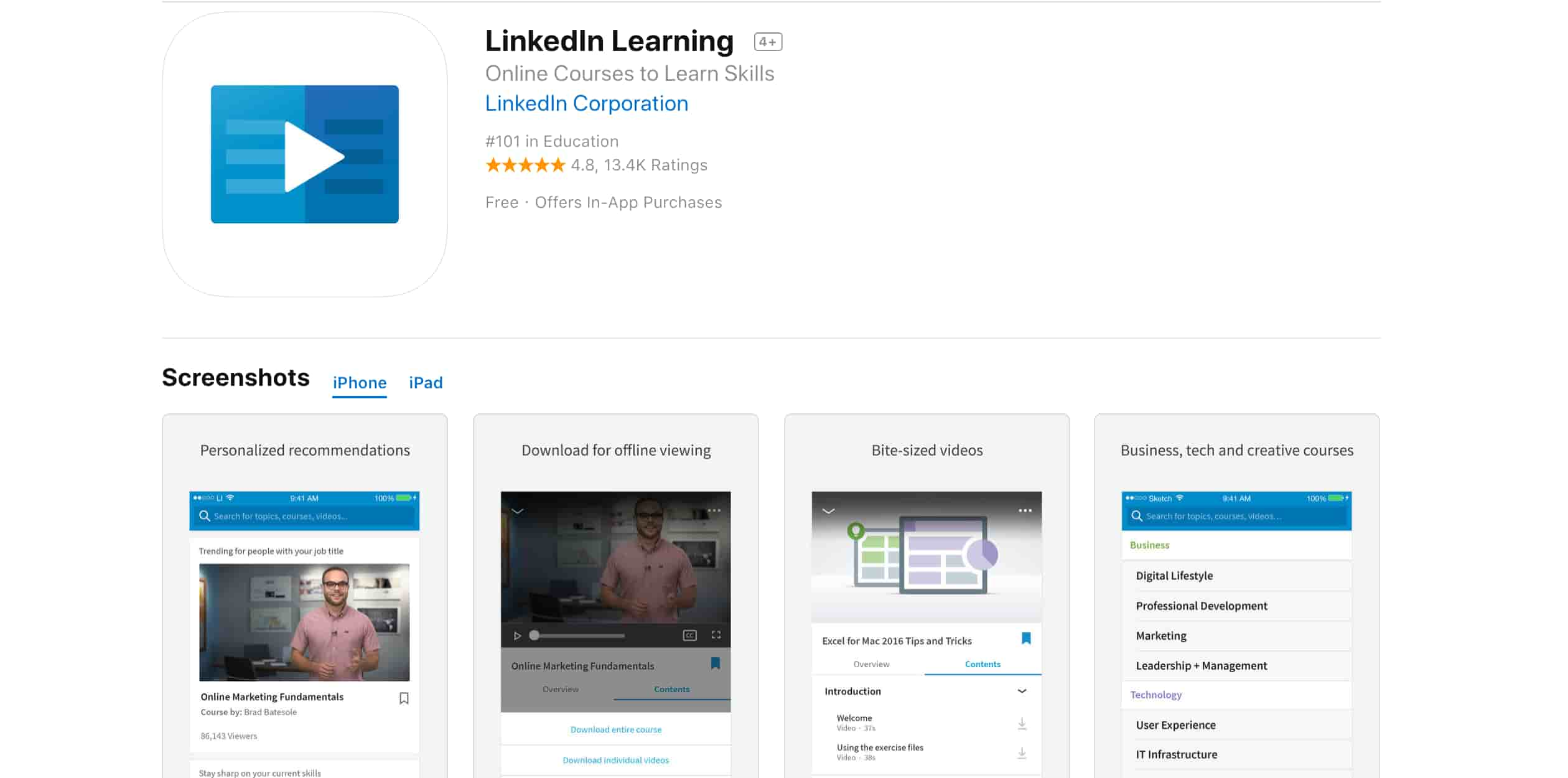 4. Mixing business with pleasure
What do usually people do when they have leisure hours? They often spend time at home watching films, playing computer games, surfing the Internet and it would be a good alternative to replace some of these activities with a learning process. As for kids and teens, they like playing mobile games so why not to offer them an educational app? And concerning getting the knowledge they would surely prefer a smartphone to read a book.
5. Wider audience
There exists an opinion that only kids benefit from the learning apps. But adults do, as well. People of all ages and professions benefit from using educational apps. With some apps, the teachers are able to plan their classes more efficiently. Parents can motivate kids' interest to some subjects. Students have a possibility to prepare for exams etc.
6. Process tracking
Many apps offer such a feature as progress tracking - it's a clear indication what has already been done and what is ahead of you. And realizing the achievements motivates you for future accomplishments.
7. Innovative learning methods
New methods, ideas, videos etc. are easily implemented or downloaded into the educational app. No need to buy a lot of manuals and exercise-books, every innovative feature appears in the smartphone with the new update.
Also read our article: Top Recommendations of Successful App Name and Description.
Features and Tips essential For Education Apps
As many people are aware of mobile apps benefits, online learning with smartphones is growing more popular. But it relates to competitive apps because well-designed education apps only stand a fair chance in the competitive market. There are definite features of mobile apps you have to pay carefull attention.
1. "Eye-catching" content
Children quickly get bored and need to move from one activity to another. You need to capture their attention if you really want to create an interesting educational app for kids. The learning process should look like a game and contain cartoon characters as guides would be an advantage. The vibrant colors are another advantage. And remember to create the app content in the very simple language so that every child understands what's required. The info appearing in the app should be simple and short.
E.g. Duolingo is using attractive vibrant colors and offers fun lessons.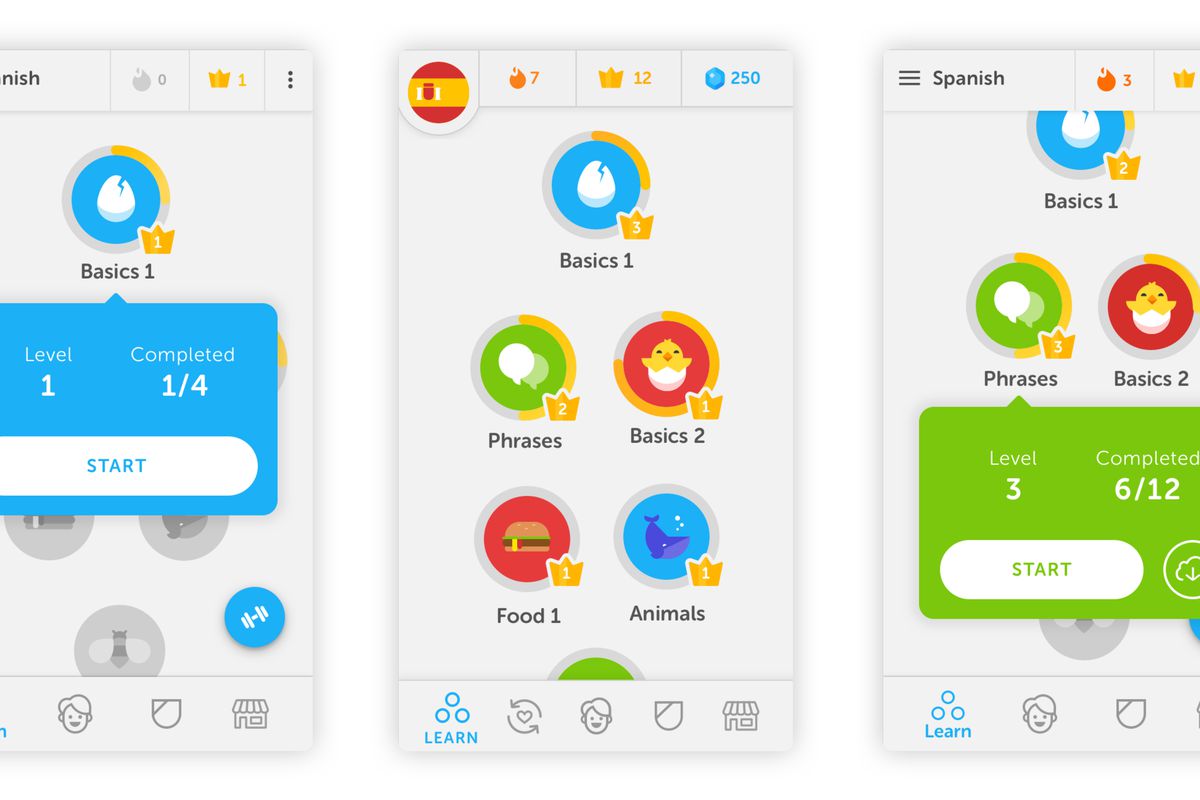 But the best educational apps for kids are not always the best option for teens.
If your target audience is teens the strategy should be different! Think what is interesting for teens, what is cool right now. The color scheme of the app becomes more and more important and should differ from the previous section because of many reasons, e.g. teen boys will hardly download a pink learning app. Teens and adults aren't tolerant concerning bugs and start searching for another app very quickly.
Remember to put video content in the right place. As they say, better once to see, than hundred times to hear. E. g. if the app teaches photography and makes clear tricks of the light it's better to create one video with the explanation rather than put a lot of text to explanation certain techniques.
2. Gamification
Children usually gain knowledge within the game. The same works for teens and adults. It doesn't matter which subject is taught with help of the app. A learning app will be more attractive for both adults and kids if you add mini-games, make the tests look like games, add rewards. Then it'll provide a delightful experience.
3. Step by step learning process
Divide the "big knowledge" into short-term tasks. Firstly, people will have enough time to complete such short exercises. Secondly, it's not as difficult to solve little tasks as to learn much information at once.
Increase the level of complexity gradually from task to task. If you make it complicated at once the users are more likely to abandon the learning app.
4. Clear User Interface
The login/signup form should be short and the important features of an educational app should become clear within 5 minutes. You need to know: if the users have to wade through your learning app, they lose interest. Especially kids, they just abandon using the app.
Additionally, the app will get low ratings in the App Store and Play Market and as you know there are too many competitive apps which can replace yours.
5. Regular Update
Remember that your content has to be updated regularly for holding interest of both adults and children. Think of actual videos, facts and something fascinating your app can be updated with.
For example, the app offers studying a foreign language. It's divided into parts "family," "animals," "flat" etc. You may add new levels to the app, new mini-games etc.
6. Live Tutorials
It can be an additional competitive feature for students. One can't ask questions when using a non-interactive application but such tutorials provide live interactions with professional tutors what enhances the learning process.
7. Tests, achievements and rewards
To observe the progress is important both for kids and for adults. When you realize that you've managed so much it's really motivating. Tests can look like a fun game with rewards. Be aware that children would have fun from getting beautiful medals or gathering stars. Adults would like to estimate their progress and achievements.
E.g. Memrise offers a leaderboard and every user can compare his achievements with the others.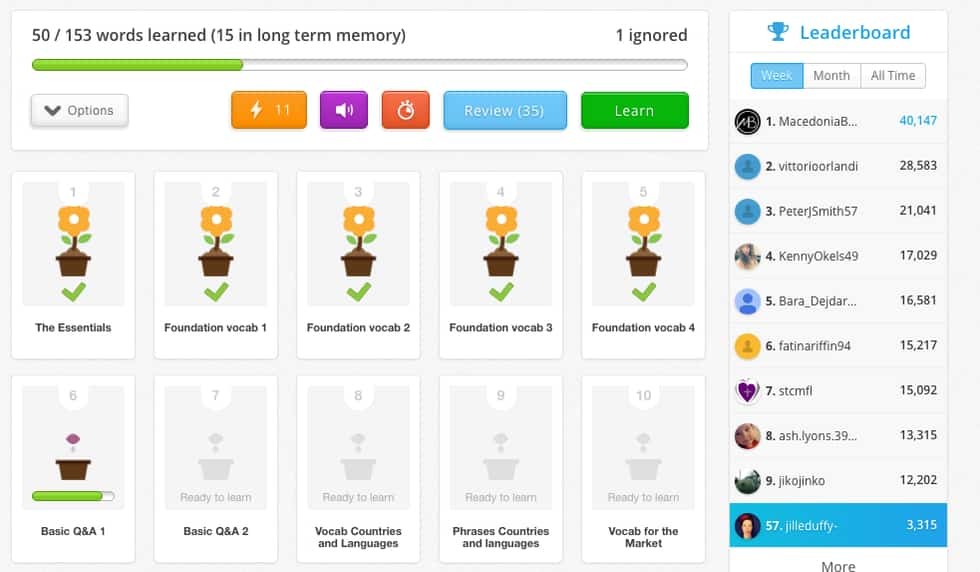 8. Categories for lessons on different topics
Lectures shouldn't be all mixed up. Comprehensive content should be divided clearly and different topics should be situated so that students realize the clear division of a learning system. If the user needs to repeat something he should be offered easy navigation to find that category he needs.
9. Integration with social networks.
There is no need to say that almost all educational mobile apps incorporate social media. The best educational apps announce updates and new content on Facebook, Twitter, Instagram etc. And YouTube is the right place to make your content easily accessible to your users in a mobile-friendly format. As kids and teens spend much time in social networks, the best educational apps use social media to attract new users.
10. Individual Configurations
Using an individual approach is always better than the same configuration mode for everybody. It is one of the features of an app which makes users feel more comfortable. The language learning apps often offer such choices as numbers of repetitions, preferred quiz mode, learning speed etc.
Conclusion
The world has changed and the educational methods have been changing, as well. Such a great amount of learning tools had never existed before. Nowadays with smartphones, we can learn everywhere, anytime and choose the most convenient method for us. Both paid and free educational apps are a great complement to the old school techniques. A well-designed mobile app contains features involving users in the interesting discovery game, there is no boring cumbersome content, instead of it the achievements are awarded and people are being motivated.
Actually, mobile learning industry is gaining recognition and more competitive apps come to the mobile market. If you are an experienced entrepreneur you should create the app for your business in the first place. In case you are struggling to develop a competitive new app on your own, you can get started an educational app development with our 2muchcoffee team!
In case, you got left any questions or suggestions, feel free to contact us and we will assist you in any inquiry!