Short description of the article
E-commerce Definition

E-commerce History

Benefits of e-commerce

Conclusion
Intro
Nowadays it is quite difficult to imagine life without the Internet. In fact, the Internet connection provides you with a whole diversity of opportunities, from ordering a pizza to buying or selling clothes, from looking up your next vacation destination to getting the access to books and movies and much more.
In fact, today's inseparable element of the Internet is an e-commerce ability. Nevertheless, the birth of the Internet happened at the very start of 1983, yet the beginning of the e-commerce had begun with the first sold item through the World Wide Web.
E-commerce Definition
Before discussing the history of e-commerce development let's define what it means.
Therefore, e-commerce (electronic commerce or Internet commerce) is commercial transactions via the Internet - buying and selling goods. Although e-commerce usually means selling or buying but any kind of commercial transaction through the internet can be called E-commerce.
E-commerce History
In 1991 the Internet was opened to commercial use and from this moment the e-commerce purchases have become possible. But it was a security protocol development that allowed rapid access and a persistent users' connection to the Internet.
The fast growth of e-commerce sales has begun from 2000 when many business companies in the United States and Western Europe started to sell on the Internet. Until then the users hadn't purchased goods via the Internet so vigorously. Both sellers and buyers realized and began to appreciate the advantages of electronic commerce.
The first Internet companies which made electronic transactions possible for users were Amazon and eBay. Nowadays, the most well-known Internet retail companies are Amazon, Dell, Staples, Office Depot and Hewlett Packard. And among the most popular products sold through the Internet are books, music, computers, office supplies, and other consumer electronics.
For the understanding of how quickly eCommerce is growing look at the statistic:
Fast growing retail eCommerce sales from 1999 to 2007: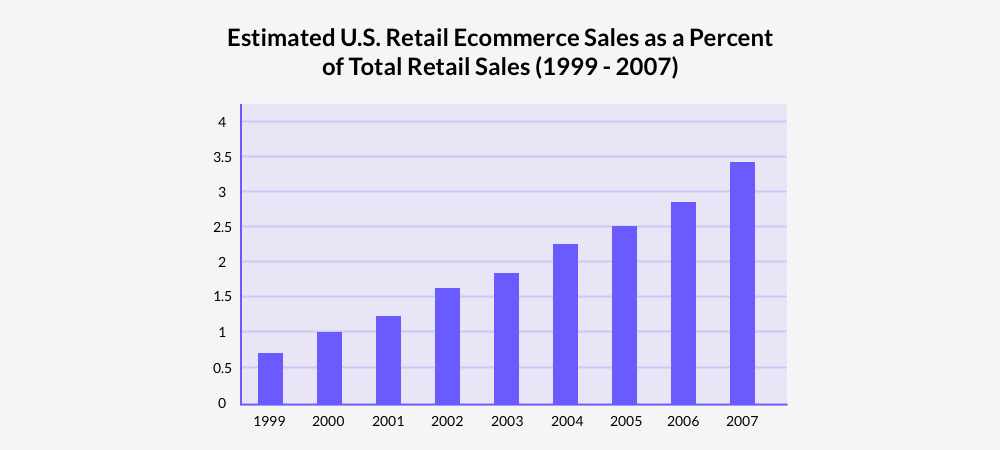 In this statistic, you can see how quickly Retail e-commerce Sales were growing compared with the Total Retail Sales in the United States. By the end of 2007, e-commerce sales accounted for more than 3 percent of total sales.
There are some additional facts on e-commerce retails you need to know:
The top 3 online stores' revenue was about 100 billion US dollars in 2017.

In 2016 online shopping became one of the most popular online activities worldwide but it depends on the region (e.g. 19% of all retail sales in China occurred through the internet).

Desktop PCs and mobile devices are the most popular devices for placing online shopping orders.
As buying or selling via the Internet became really comfortable, e-commerce sales are growing each year and here's statistics on retail e-commerce sales worldwide from 2014 to 2021.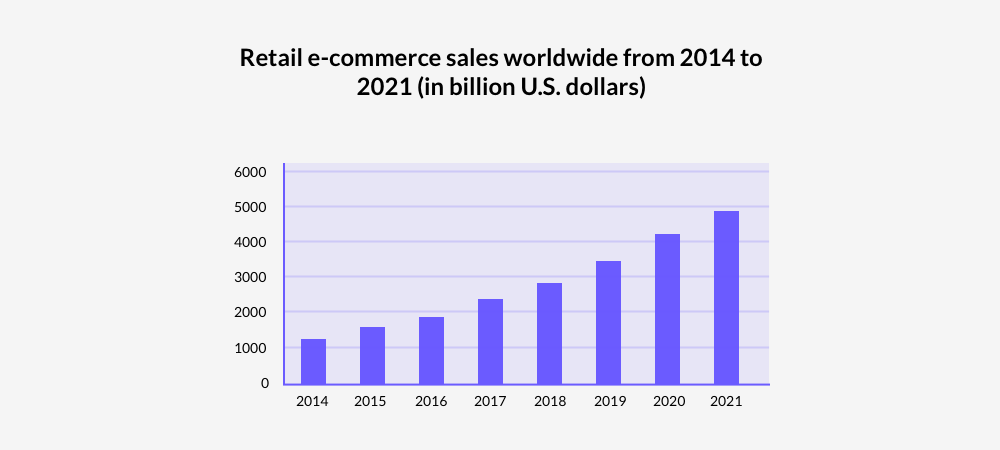 As you can see the expected revenue will grow.
Benefits of e-commerce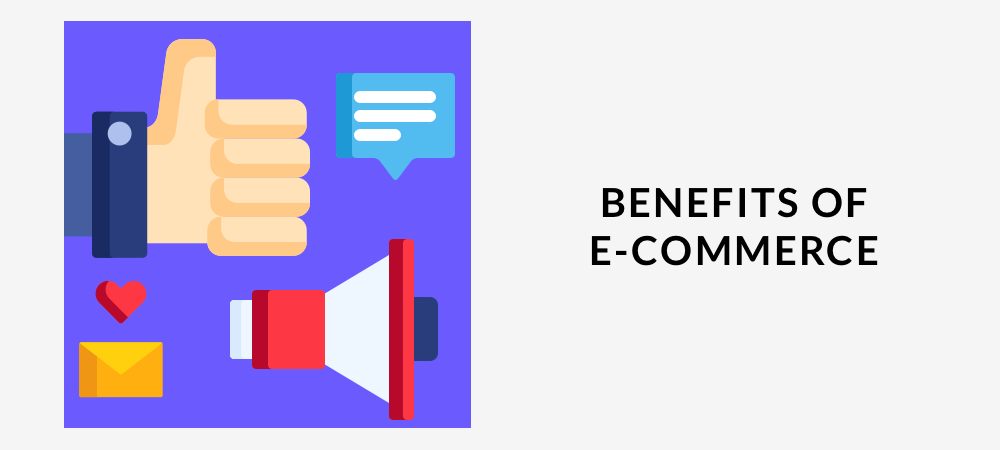 Of course, there are several reasons why retail e-commerce sales are so popular and still growing.
So what advantages do the vendors and customers get from online shopping?
Advantages for customers
The users can quickly compare the prices, differences and other goods' particularities while staying at home and just clicking on the mouse.

The big database of products and services can be searched through very fast.

The customers have their shopping delivered directly to the door without leaving the house.
Also read our article: E-commerce App Development: the Best Ways to Design Checkout Flow and Registration
Advantages for vendors
The vendors may be found by customers easily and quickly, and in addition to it, these customers can make orders from all over the world so that even small stores and shops can come to the global market.

There is no need to start an expensive advertising campaign.

And web technology helps to find out customer preferences and to deliver targeted advertising.
Of course, above-mentioned advantages are the main ones, and there are much more benefits from e-Commerce business which will be described more precisely in the coming articles. There is an opinion that in the future e-commerce will replace all other sales' types. Nowadays, there are appear more and more e-commerce models.
Look at 4 main e-commerce models describing the interaction between customers and businesses.
1. Business to Consumer (B2C):
A business sells a good or service to a consumer. For example, you buy a laptop or a smartphone from an online shop.
2. Business to Business (B2B):
A business sells a good or service to another business.For example, many business owners order wholesale supplying from Chinese business owners. Actually, it is the biggest form of e-commerce sales and it counted $700 billion in transactions by 2001.
3. Consumer to Consumer (C2C):
A consumer sells a good or service to another consumer. For example, one customer sells his old sofa to another customer on eBay.
4. Consumer to Business (C2B):
As it can be seen from the name, a consumer sells something to a business or organization. For example, a journalist writes articles and sells them to the newspaper.
Also read our article: 3 Popular Marketplace Types For Startup
Conclusion
E-commerce has been developing along with the development of the Internet. Its history traced back to 1991 when the first sales were possible to make via the Internet. In fact, in 2021 the retail e-commerce sales is going to be almost twice as big as it was in 2018.
There are 4 main e-commerce models which illustrate the interaction between customers and businesses. If you are interested in building your own e-commerce business or have a startup idea feel free to contact our team!