Short description of the article
What you need to know about auction marketplace

Different types of the online auction marketplace

Online auction website

Central participants

Ensuring security and transparency of transactions

Conclusion
Web development of your own online auction marketplace is an interesting process which includes many details. So if you want to create an auction website and learn about the main features, this article is just for you. We would consider the main steps of the auction process, essential features, and central participants.
What you need to know about auction marketplace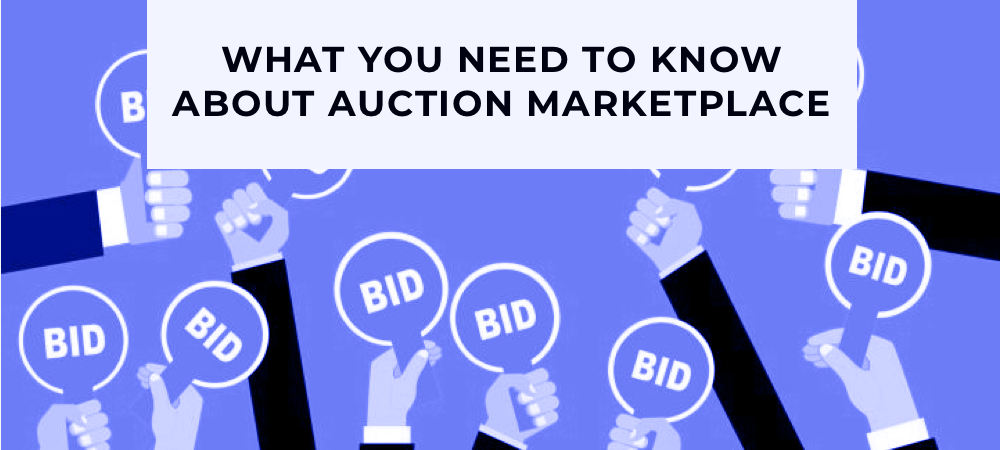 It is a multi-sided platform that connects sellers (which compete for a service/product) and buyers together. But what is the difference between auction marketplace and common marketplace? In fact, the first one does not have the fixed price, so products and services cost much cheaper. In this case, the buyer bids, but eventually the goods are sent to the person who offered the highest amount of money. The process is completely transparent to both sides.
Also read our article: 10 Best and Simple Tips of Building B2B Marketplace Step-By-Step.
Different types of the online auction:
Increment auction (#1)
The essence of this type of auction is that the rate increases by a certain number. That is, when the maximum rate is overlapped, the current auction bid must increase by at least a given number.
For example, you can look at automatic bidding on Ebay. So, if the current price of the item is about $0,01 to $0,99, that bid increment must be about 5 cents. Another example: if you sell something and say that minimal price for it is twenty dollars and the increment bid is ten dollars. When the bid placed at the fifty dollars level, it automatically increases by ten dollars. After this, the minimum bid will be sixty dollars.
Automatic auction (#2)
One of the easiest methods to bid. This method is based on the maximum buyer's offer. The buyer offers the maximum amount of money that he is willing to pay for a certain product. After that, on his behalf, a bet is placed in the system. If another bidder invites more money, the previous entry is deleted and a new maximum bid occurs in its place.
Reserve price auction (#3)
In the latter case, the buyer says the minimum price to buy. Usually, this price is hidden, so people participating in the auction can only watch the result. When reserve price is met, a bid with the highest price is carried out.
For example, if you sell a certain product with such conditions: reserve price - thirty dollars, and starting price - five dollars. When buyers start bidding at $5 and in the end, the product does not reach $30, your product will not be sold.
Online auction website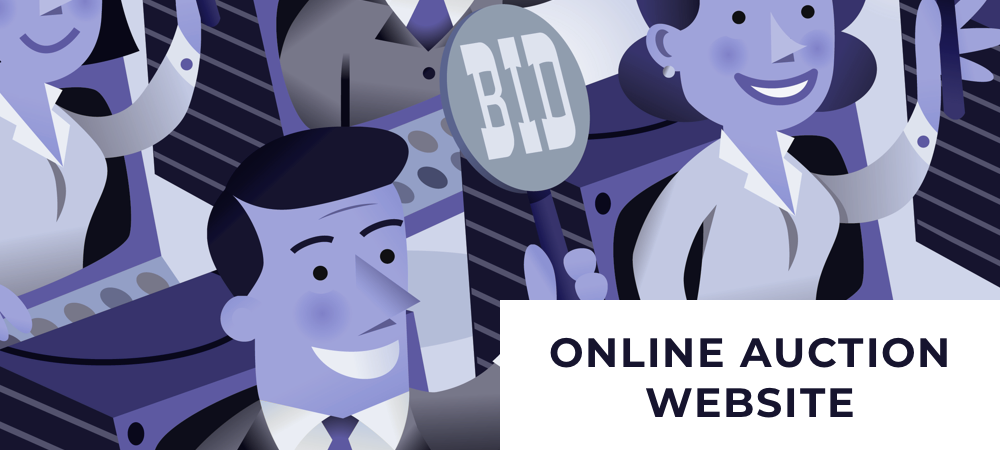 Many people think that the auction site must be related to the retail industry. But it is not always true.
Such type of marketplaces is also connected with restaurant and food, real estate, finance, automotive, logistics, and art industries.
Here are some real examples of Online Auction Marketplaces for you:
Honcho
Online marketplace type #3 for financial services. This application works with car insurance in the UK. It allows insurers to compete among themselves in order to provide the business of consumers with the best insurance package. Thus, any person can find a suitable offer for himself, leave an application and buy a service from a certain insurer.
Artsy
Best place for selling/buying and exploring art masterpieces.
Salvagebid
A nice online auction that helps to bid for right vehicles anytime and anywhere. They sorted by types (motorcycles, vans, boats, trucks, etc.), brands, models and year range. The company provides flexible memberships and nice customer support.
Central participants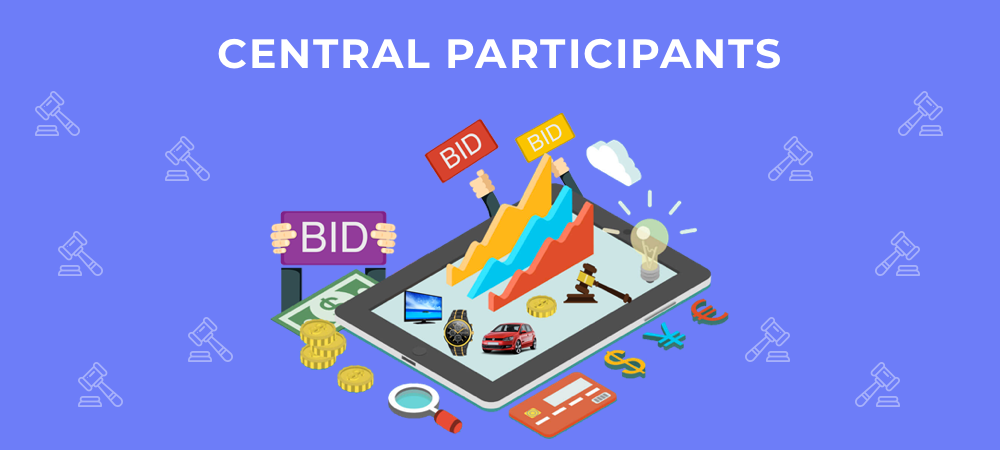 All participants of the multi-sided platform depend on each other. Therefore, when developing a similar marketplace, you need to interest all sellers and service providers, buyers, and online operator. And the faster you attract a large number of customers and provide access to main features, the better.
What features you need to provide
For buyers
Advanced dashboard (to communicate with other people, send files, view activity history, statistic, and revenue, and the main thing - to work with bids)

Listing feature for controlling the process (helps to add new members, select type and add details about products)

Online evaluation of any item (before selling products you need to get an accurate quality assessment and compute value)
Nice examples: a Worthy marketplace that works with luxury jewelry and Iamsold that work with real estate. Both have a built-in calculator for the price.
For sellers
Purchase history

Opportunity to set a starting price

Rating system

Advanced filters

Wishlist

Real-time bid
For online operator
Manage actions

Work with the description of auctions, bids, categories, lots

Manage verification, rating system and email system
Also read our article: 6 Top Peer to Peer [P2P] Marketplace Apps for Android in 2018.
Ensuring security and transparency of transactions
Security and trust
Of course, to increase the number of users, you need to work on the security system. After all, the level of trust and protection plays a very large role.
To sell expensive things, provide a guarantee of protection. For example, Worthy provides its customers with full insurance up to ten thousand dollars. Salvagebid offers a guarantee that the purchase will be completed in any case (this mechanism is provided by the system of guarantee deposits).
Verification
Provide verification of users of the online platform, which should include a field for entering information about the credit card and ID.
Reviews
It is very convenient when people can leave feedbacks to each other.
Obligations of participants
This is the most convenient way to get rid of scammers. Provide participants with a list of various rules (on prohibited items, on the obligation to pay for goods, on the possibility of a refund, etc.).
Conclusion
You should take in mind that if you want to develop your online auction site - develop a common logic and functionality for your marketplace to attract the relevant audience and ensure the security of transactions. In addition, we hope that our article was helpful in your willingness to open your own online platform.
Got left any questions or suggestions, feel free to contact us and we will assist you in any inquiry!