Short description of the article
Intro

Marketplace: advantages and main difference from the online store

Steps for the creation of a successful marketplace

Solutions for creating a marketplace startup

What help offers such a team?

Conclusion
Intro
Due to the constant evolution and development of the Internet, the notions of the commerce and marketing acquired a completely new meaning. People have the possibility to buy and sell staying at home or being at the office. There were times when people could buy something in the online store only, but now the online marketplaces have appeared and repleced the stores. Let's consider how they differ from stores.
Marketplace: advantages and main difference from the online store
An online marketplace is a platform helping sellers and customers to find each other and to purchase goods or services via the Internet.
The sellers like the idea of the marketplace because they reach their target audience without hiring stuff and without opening a real shop. And the customers prefer to search for goods and services staying in the office or at home. They just need to click on the desired item or service and the product will be delivered to them.
Sometimes people don't differ a concept of a marketplace from the online store. The store is usually built by the single owner or organisation which is responsible for the price policy, decides upon delivery and so on. The marketplace has many sellers providing their goods or services. In some marketplaces customers can exchange things and services with other customers, there are B2B marketplaces where one business sells something to the other one on favourable terms. So, online marketplaces can help both sellers and customers.
This new invention slowly crowds out usual online stores that's why many people are interested in the creation of their own online marketplace. But what steps should be done for building an original project?
Also read our article: Branding of Your Marketplace: How to Start.
Steps for the creation of a successful marketplace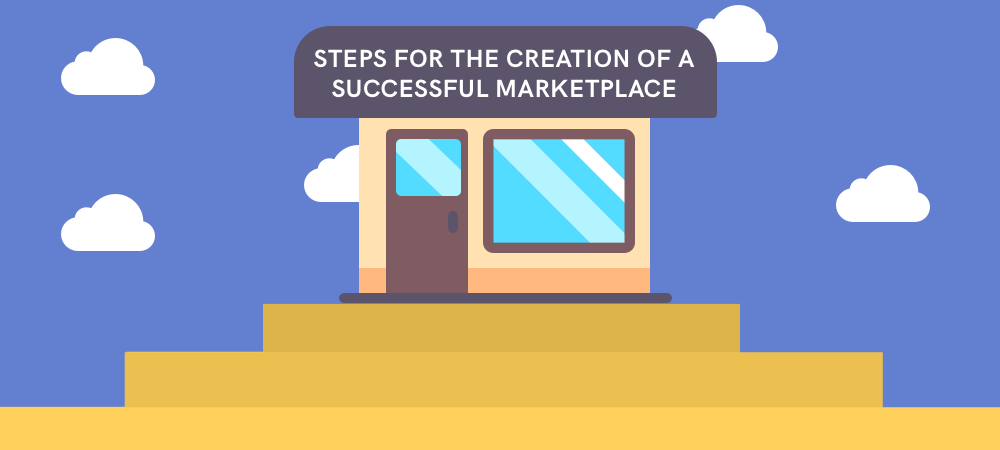 Before beginning with a startup you should think of a marketplace idea and ask yourself some questions: What is the concept? What is your target audience? Write down all of your ideas.

Find examples of similar websites. Make notes about what you like about them and what seems to be shortcomings. The most important what are the primary needs of the target audience and their complaints about existing ones. It will help both you and the developers who will work on your website.

Think of monetization. What payment methods would fit your audience? Among the most used payments are credit cards, PayPal, online wallets or bank transfers.

There are many frauds on the Internet, and of course, they remember to "place" their goods and services in online marketplaces. Search on the Internet for control methods to avoid problems. Many big marketplaces offer compensation to their customers if they were deceived, got a bad product or didn't get anything. So, think of the refund policy: how, in what way, and under what conditions your customers can get their refunds.

After passing all these steps you should make an important decision: whether you work on your startup by your own or find an experienced developer company. Of course, you count on our budget, but if you decide to search for developers, it's important to develop your marketplace app with the help of a really skilled team. If this team has a hight level of expertice, they not only make a qualified product with a beautiful and original design but help you to avoid risks and possible problems. Otherwise, there can be a situation when money and time are spent on the trivial project that won't be very popular and original. The Internet market is overcrowded with many different marketplace apps and customers become picky about their choice.
Also read our article: How Much Money do you Need to Start Marketplace Business.
Solutions for creating a marketplace startup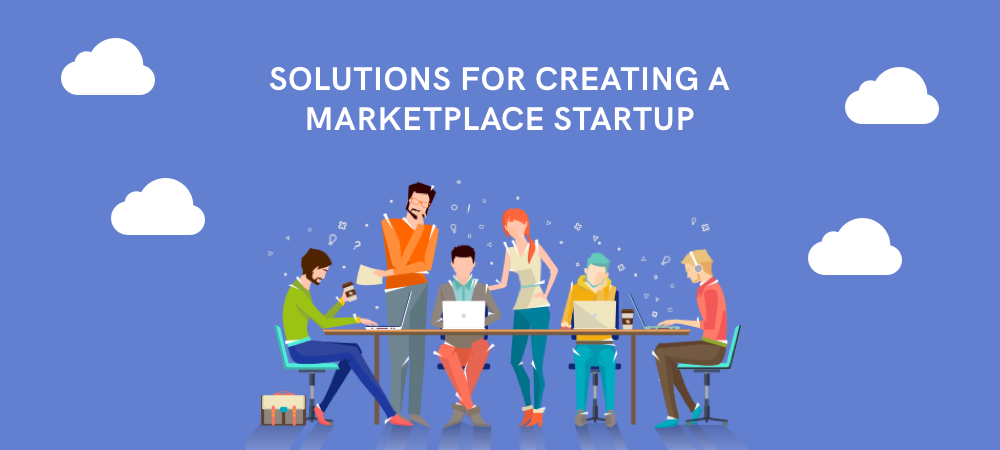 The cost of marketplace app development differs and it depends on the solution you choose.
There are many solutions that help build marketplace app. One of the options is to build it with a hosted SAAS. In that way, you can save time and money, because it offers many ready-made solutions. But there is one big disadvantage: it won't be a very unique product.
Maybe now you have in mind a single developer? I'd better save money. My friend can code a little and he promised to help. In that way, many great ideas stopped their existence. For the creation of a successful marketplace, there must be originality, interesting design, clear and simple structure, and many other points, which are considered by not every developer, such approach can be offered by teams or agencies.
So if you want to build a unique marketplace app you'd better find a skilled team.
What help offers such a team?
It builds an original product creating the marketplace app from scratch;

As already mentioned they have created marketplaces before and they'll advise you how to prevent risks, gaps and find better solutions;

They take care not only of development but very often of support, hosting and security;

Experienced developers pay attention to the originality of the idea;

If you don't know how to implement some cool features in your project, just ask them how is it better to make;

Often owners have an abstract idea and agency members advise how to start it up in details.
Conclusion
Now you know what should be done before building your own marketplace as your next project. Of course, many ideas have already been implemented but sometimes the very crazy startup succeeds. It depends on audience demand, interesting implementation, and many other factors. If you need someone to help to launch your idea or to estimate your marketplace app you can contact us for an additional information. We would be glad to assist you in any questions.