On a daily basis, people are using mobile devices to book flights, cars, and accommodation while they are traveling. Such tendency create s a huge competition to the travel tour companies since people a willing to arrange the trip by themselves saving their time and money.
Taking that into account booking services became popular than it has never before in the travel industry. Building a hotel booking app for your existing business or perhaps arrange a startup business based on the booking services for the tourism industry will be a great idea.
Our team aims to guide you through the basic aspects of building a hotel booking app. Therefore, analysis of booking app market and major competitors, must-have features and business models will be covered in this article.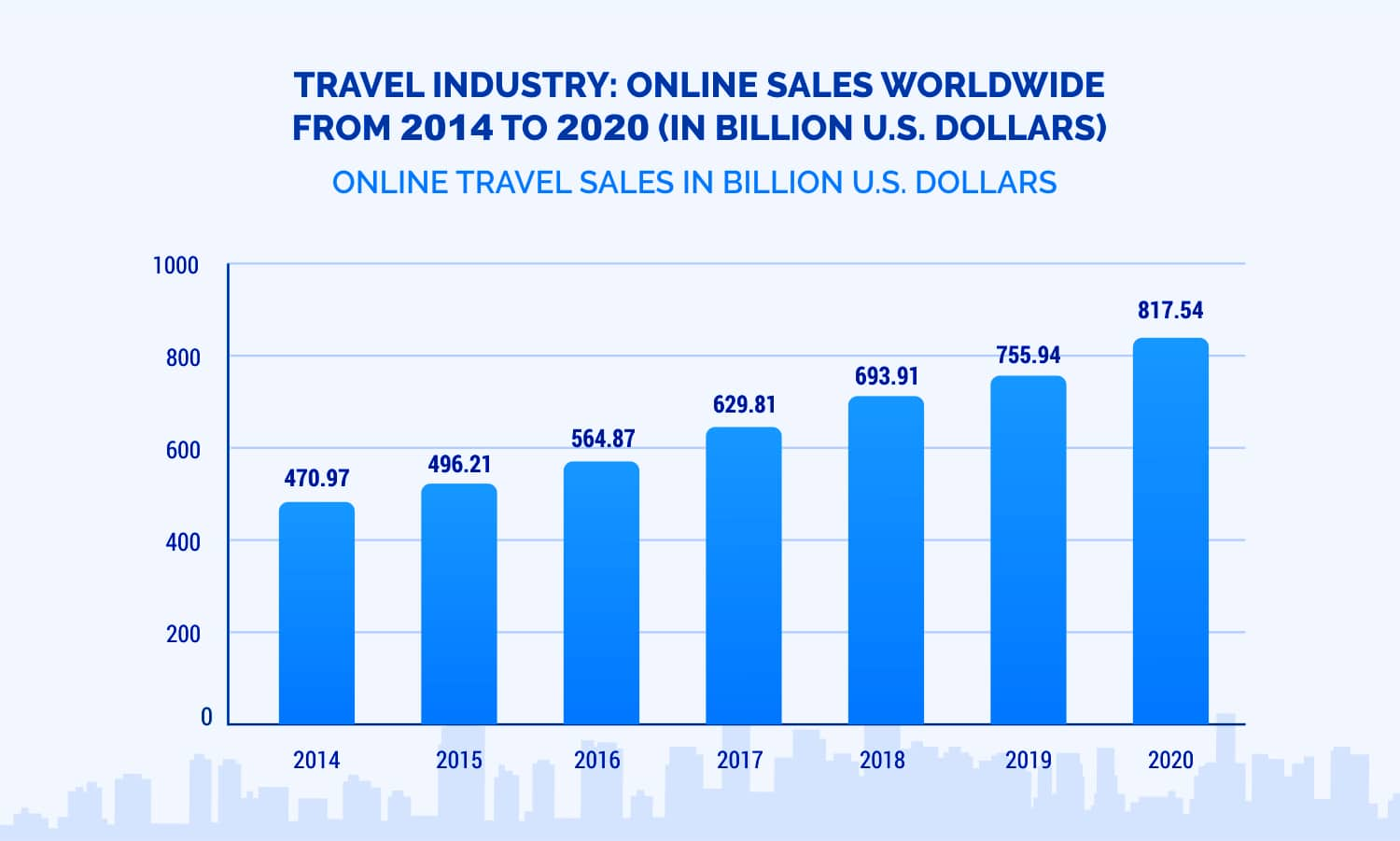 Digital Travel Industry: Market Analysis and Major Players
Mobile bookings are gradually becoming the most popular tool to arrange your stay and book the accommodation for your vacation or a business trip. The graph above clearly shows the annual growth rate of online travel sales worldwide.
The development of the mobile apps and incorporation them into the travel and tourism market create a revolutionary approach towards the business ideas and prospects of development. Needless to say, mobile apps make the booking process easier, simplify transactions and improve the quality of service and communication between user and hoteliers. Over 80 percent of last-minute reservations are made via mobiles, while 45 percent of booking for Online Travel Agency (OTA) fall on mobile devices. The conversion rates on mobile are 5 times higher than on the mobile web.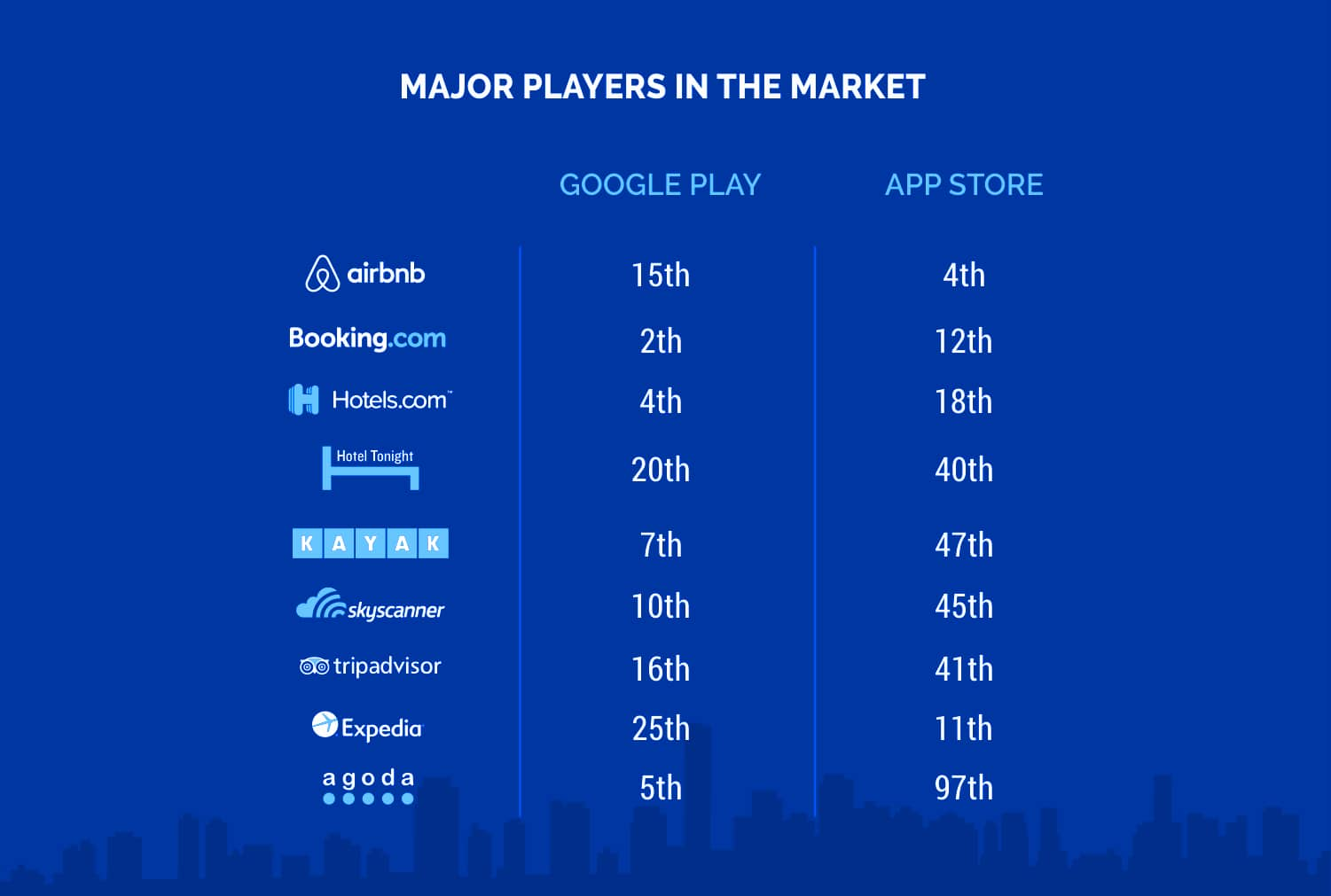 We thought it would be a good idea to show the ranking system so you could be familiar with the main competitors and learn the difference in both Google Play and App Store statistics.
Before You Start…
#1 Choose the booking app type.
Online Travel Agencies or OTAs. These are online services that are mostly focused on multiple booking capabilities: hotels, car rental, flight tickets, etc. For example, Trip.com, KAYAK, Hopper are characterized by multiple booking opportunities.

Hotel aggregators. The primary focus of these apps is to aggregate hotel data and provide it to users. For instance, Booking.com, TripAdvisor, Hotels.com are the representatives of the hotels aggregators.

Hotel chain apps. This type of booking apps are created for a specific hotel or chain of hotels and only allowed to book a room inside that chain. Hilton Honors and Marriott Rewards belong to this type.
#2 Decide on the geographical scope.
Before becoming a worldwide app, it is better to focus on the precise distribution area at first. Only after accomplish certain business goals and achieving the settled points in your business plan, you can gradually expand your business and cover your regions and countries.
#3 Think through the killer-features your app can offer.
Conquering users is all about choosing the right positioning and value proposition. If you're wondering how to create a booking app and succeed in a certain niche, you have to determine the unique value proposition.
Here are some of the models that are in use in this niche: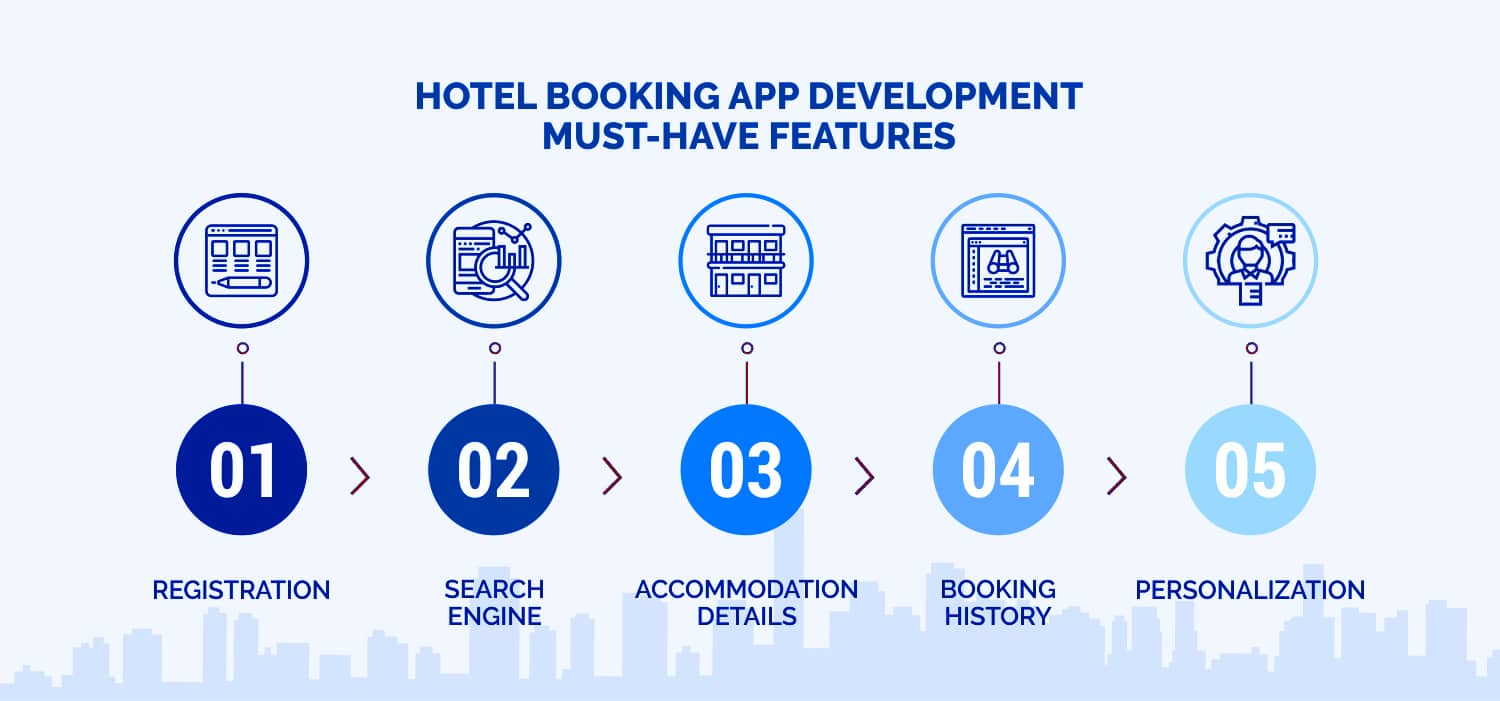 Hotel Booking App Development: Must-Have Features
We recommend thinking through the list of must-have features for your app before including them into the MVP model. At this stage of development, the launching of the MVP of the product is crucial since it will help collect the user feedback about the product and allow to add, improve or eliminate certain features of the product before the final release.
Read our article about How to Create an MVP
We would like to mention the basic features that every hotel booking app should have. to be more precise, there are registration, search engine, accommodation details, booking history and various elements of personalization.
Registration
Registration is the first that will be faced by every user, so it is better to do the smooth user experience in terms of login and sign in experience. Therefore, it is better to provide users with several registration options, such as email/password model as well as the registration with the social media account.
Search Engine
This is one of the most crucial tools that will allow your users to find the right accommodation. A good search engine should include the elements of filtering and sorting the existing options. Take into account that filters became a common feature for every search-related functionality - therefore, make sure your app's filters are as flexible as possible. The feature of sorting will be a good addition to the app, too. You may include "distance", "popularity", "from low to high price", and other characteristics to sort out the user's search.
Accommodation Details
To build a top-notch booking app you should ensure that there will be all the required information so the user could find the best option. In this case, it is essential to focus on the accommodation details. General information with contact details, photo gallery of the accommodation, an interactive map with the location, hotel facilities and policies, price details, reviews are crucial to be included in the section of the Accommodation details. In fact, the more details you show, the more chances that a user will make up his mind and book using your app.
Booking history
It is one of the most convenient tools for users. So, you can trace back to all your booking history in case you need to recall some details of your previous bookings. This feature might be a killer-feature on your sleeves, something that will help you to win the user's loyalty.
Personalization
The elements of personalization and customization are the best way to win your users. Think of the features that will make using your app more convenient for everyone. For example, it is a good idea to add a wide range of languages, currency options as well as payment options, so the user can choose the best option personally for him. Notifications, in-app messager, automatic suggestions and forecasting the best price options for future bookings would be a great addition to the personalization of the hotel booking app.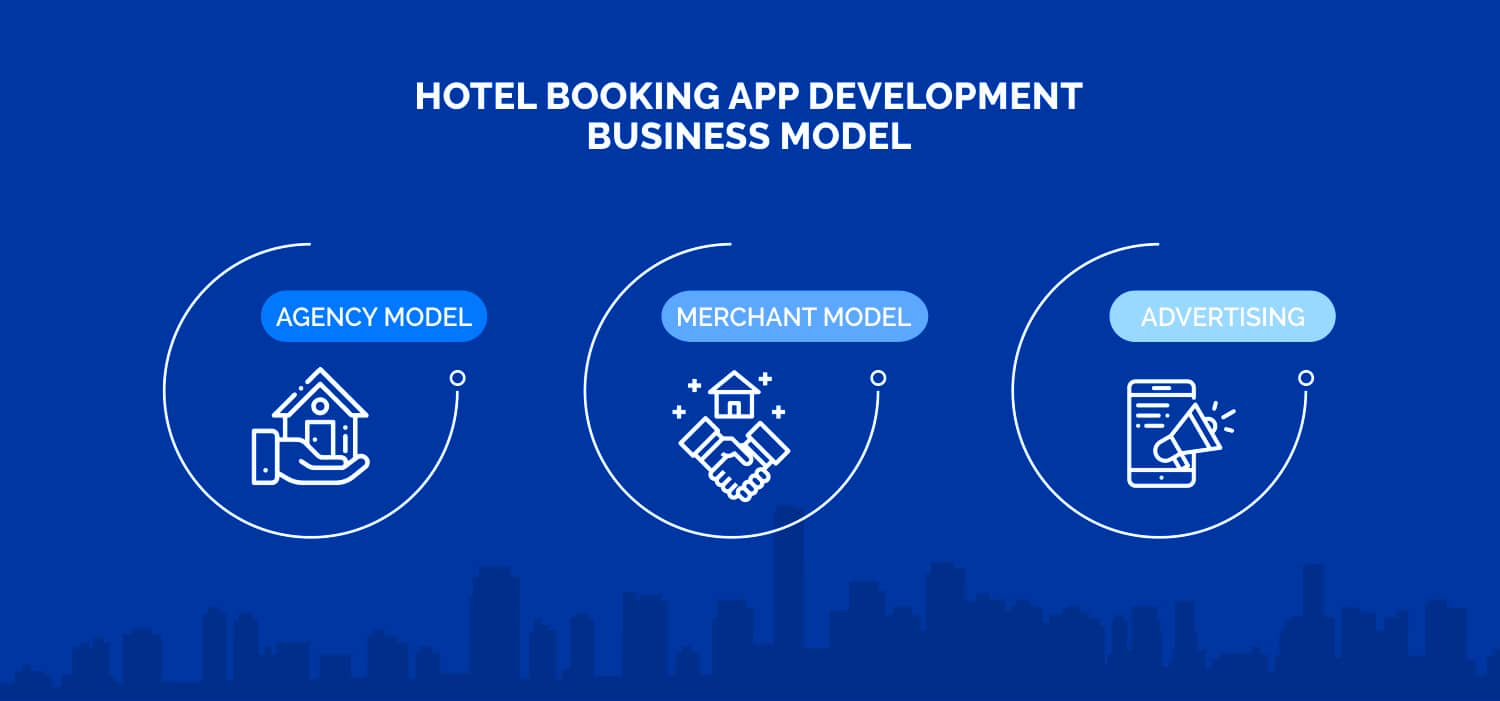 Hotel Booking App Development: Business model
For the booking app with the orientation to the travel industry, you can choose one of the following business models. Pay attention to the different forms of monetization that are suggested by every model.
Agency model. In this model, an OTA offers hotel rooms to its clients and earns commission (15% on average) on each reservation. The best example of an agency model is Booking.com, where hotel owners post their properties and pay a certain commission for each reservation that comes from this website.
Merchant model. This type of model focus on the situation when an agency "buys" hotel rooms in bulk for a wholesale price and then sells them with a markup (20-30%). Expedia.com that used to work solely on a merchant model. Nowadays, they have combined it with the agency model that we mentioned above to better serve the European, the Middle East and African markets.
Advertising. This is another great way to earn money. By using the model CPC (cost-per-click) you can get paid by the amount of user clicks on and views on your website. On the other hand, you can get money from partner sites for redirecting visitors from your website to theirs. TripAdvisor is practicing this type of business model.
Conclusion
Due to the fact, mobile booking became the part of the travel industry using the most convenient and fast services of arranging car rentals, booking accommodations and flights. The article gives you a brief insight look of how to build a hotel booking app. Therefore, we analyzed the online tourism market and major players, mentioned must-have features (such as registration, search engine, accommodation details, booking history and various elements of personalization) and discussed the business model with different ways of to monetize your booking app.
We hope the article was useful for you and perhaps will drive you to consider building an app for your business. In that case, if you've got any questions or suggestions, feel free to contact us and our team will gladly assist you in any inquiries!