Mobile app development practice became the most popular service among software development companies. It is not a surprise, taking into account the average percentage of the people who are using the mobile device daily.
Nowadays, the financial industry benefits hugely from mobile apps usage. As a matter of fact, FinTech startups becoming popular as has never before while FinTech apps it is a reliable, quick and the most convenient way to do various aspects of money management. It is an efficient and practical way of looking after your finances while following the high level of reputation of FinTech companies worldwide.
At 2muchcoffee, we know how it is important to follow a modern technological advancement while using truly high-quality products. That is why our team decide to pick up the top FinTech apps that you need to check out in 2019/2020. If you still don't have a FinTech app - you do not experience the full range of opportunities of the 21st century! Check out the following apps to find the most suitable one personally for you.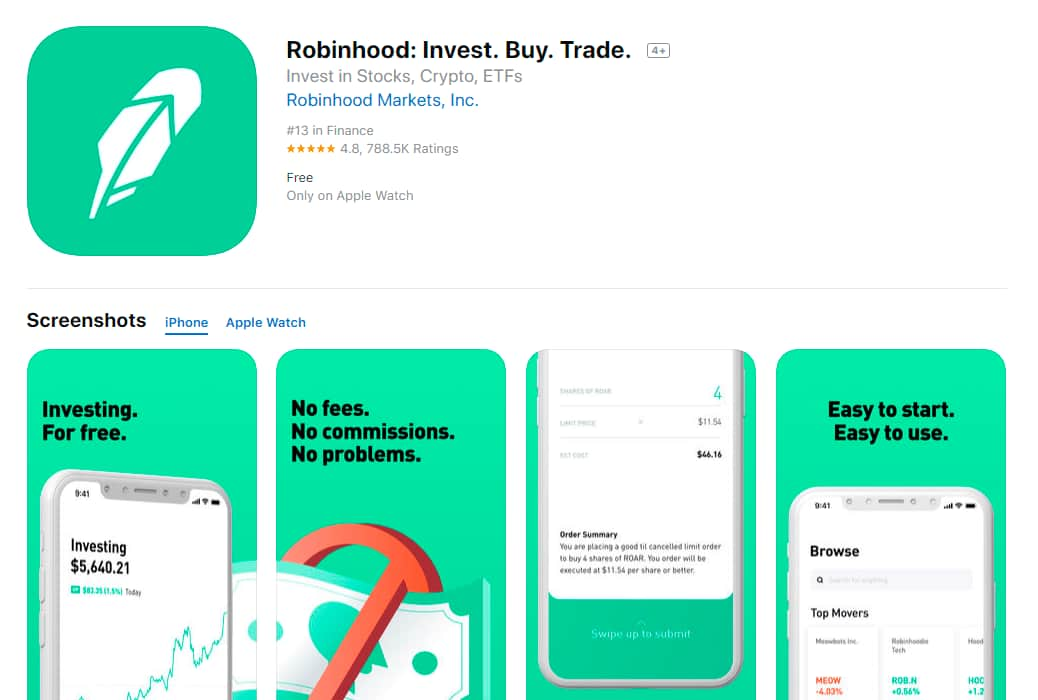 Robinhood Crypto
A number of downloads: 789.9K
With this app, you have the chance to invest in stocks, options, and cryptocurrencies just using the smartphone device. The company uses technology to cut the percentages that make other financial institutions costly. Then they pass the savings on to you in the form of no-commission trading. Invest your money in the markets, trade stocks, shares, options, and cryptocurrencies like Bitcoin and Ethereum without any commission fees. Therefore, Robinhood helps you invest in the markets responsibly. Before buying a stock, coin, or any other investment option you can read the information on your investment portfolio. Access real-time market data for a specific stock, options, and cryptos, and get notified about changes. Simple and intuitive will be an additional benefit of using this app.
Download from Google Play and App Store.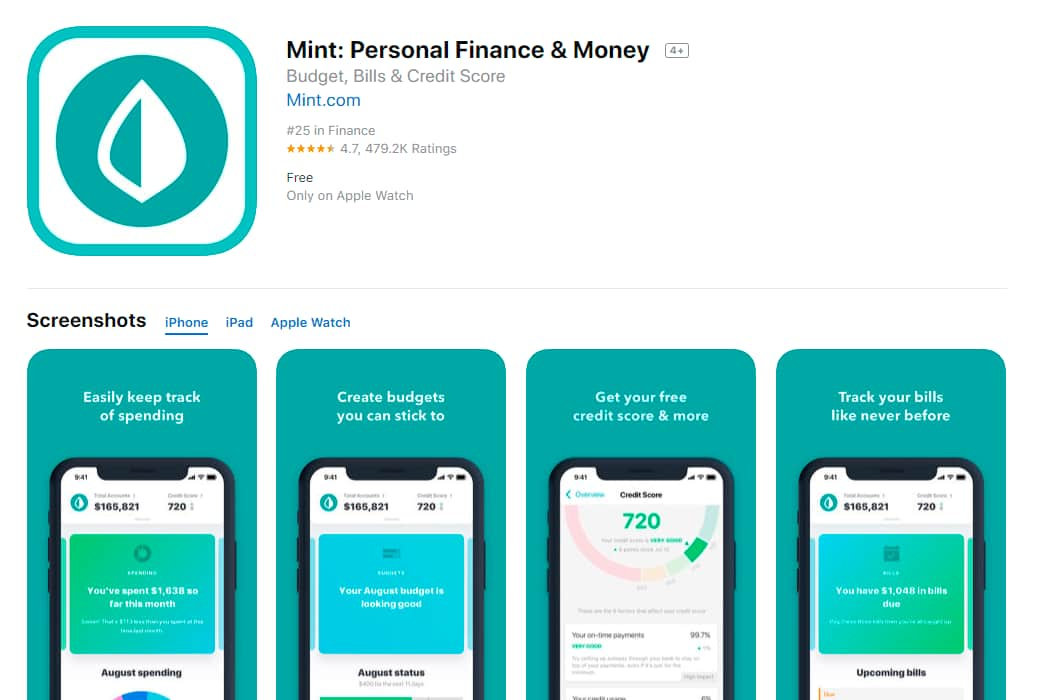 Mint
A number of downloads: 479.8K
The app is positioning itself as a place to manage all your finances with ease. It is a money manager and financial tracker app from the markets. Taking into account the user's bank accounts, credit cards, bills and investments the app is providing the information about spendings and where is the best way to save the money. Mint allows you to manage bills and money together, so the budgeting practice gets better. Consequently, you can save money and time.
Download from Google Play and App Store.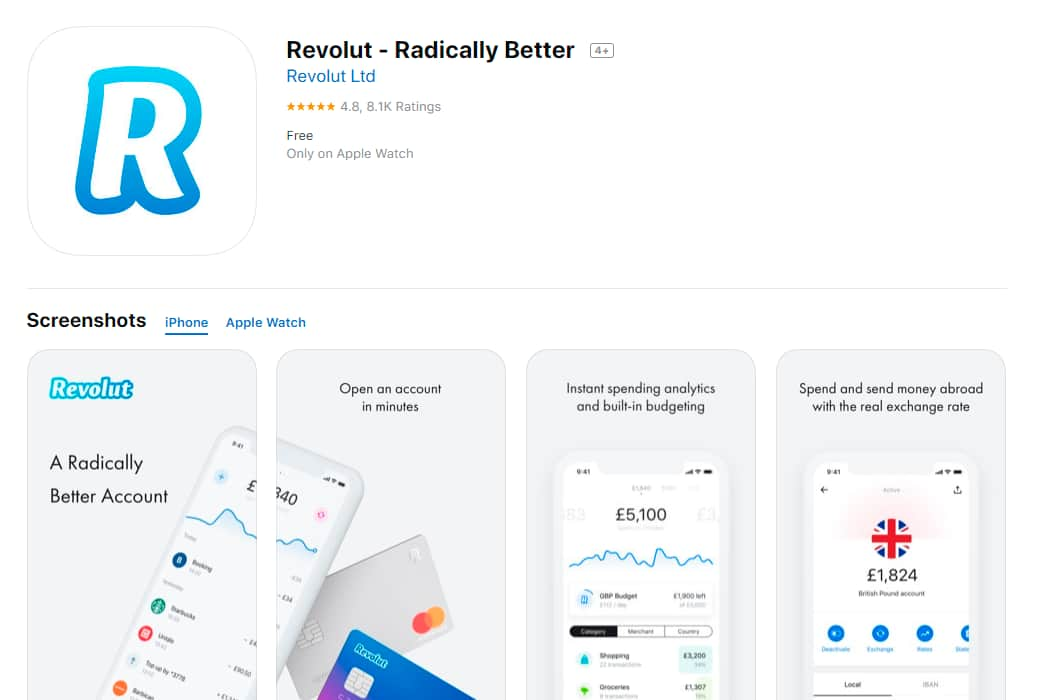 Revolut
A number of downloads: 8.1K
Revolut allows managing your money wisely using getting instant notifications after the card payment, setting up monthly spending budgets and seeing how much you spend each month on certain things. You can send as well as transfer money abroad in over 150 currencies with the real exchange rate. Additionally, the app allows you to buy, hold and sell cryptocurrency since this is the trending pattern in the FinTech industry. You can even have instant exposure to Bitcoin, Litecoin, Ethereum, Bitcoin Cash and XRP.
Download from Google Play and App Store.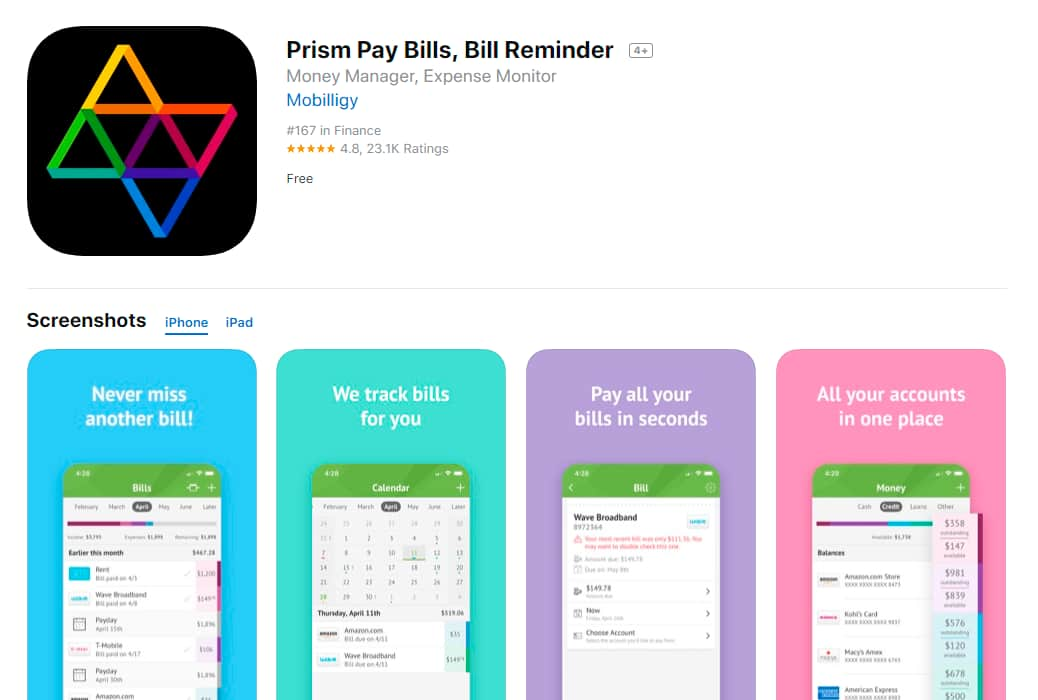 Prism
A number of downloads: 23.1K
Prism is a personal finance software that automatically tracks bills and sends bill pay reminders. The system allows you to manage debt, bills and money transactions easily with no time. Effortlessly track your money and bills at a glance. Prism organizes all of your financial accounts together in one app so you don't waste time logging into multiple websites to check due dates, checking and savings account balances, or to pay your bill statements. You can also see your income, account balances, monthly expenses and spending together so that you can pay bills in seconds.
Download from Google Play and App Store.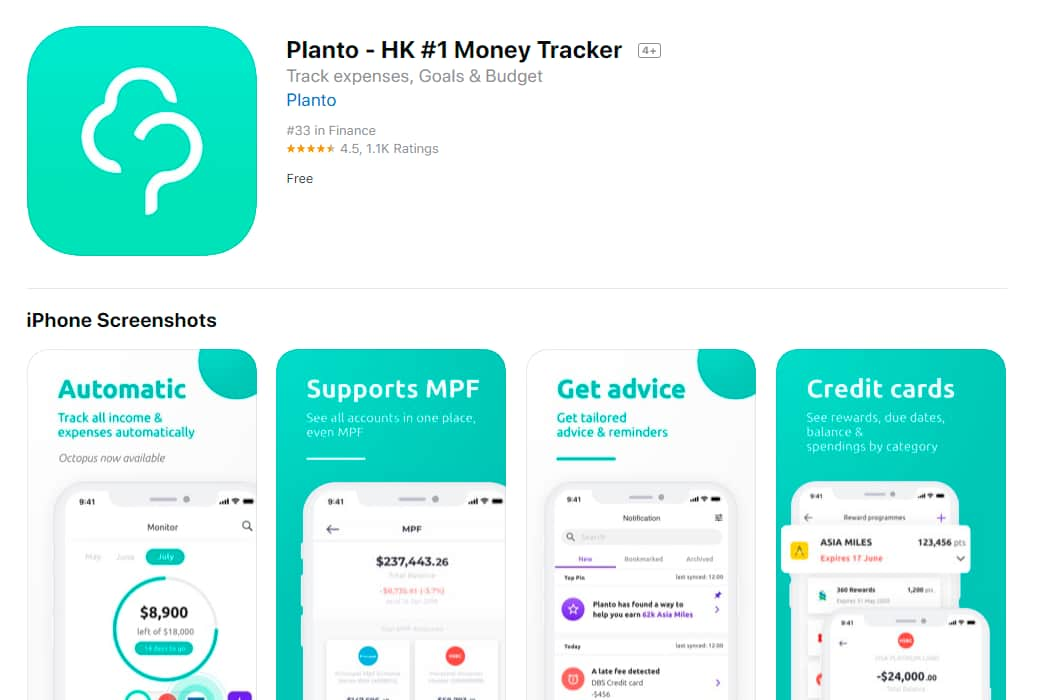 Planto
A number of downloads: 1.2K
Managing your finances has never been this simple. Planto helps you automate your personal finances - set goal, budget and track your progress, expenses and money anytime. With this app, you can build a financial profile in one place? Set and achieve your goals, stay on top of your budget and spending. If you are looking for a personal finance app that will help you to plan and organize your money management practice - this is the perfect solution for you.
Download from Google Play and App Store.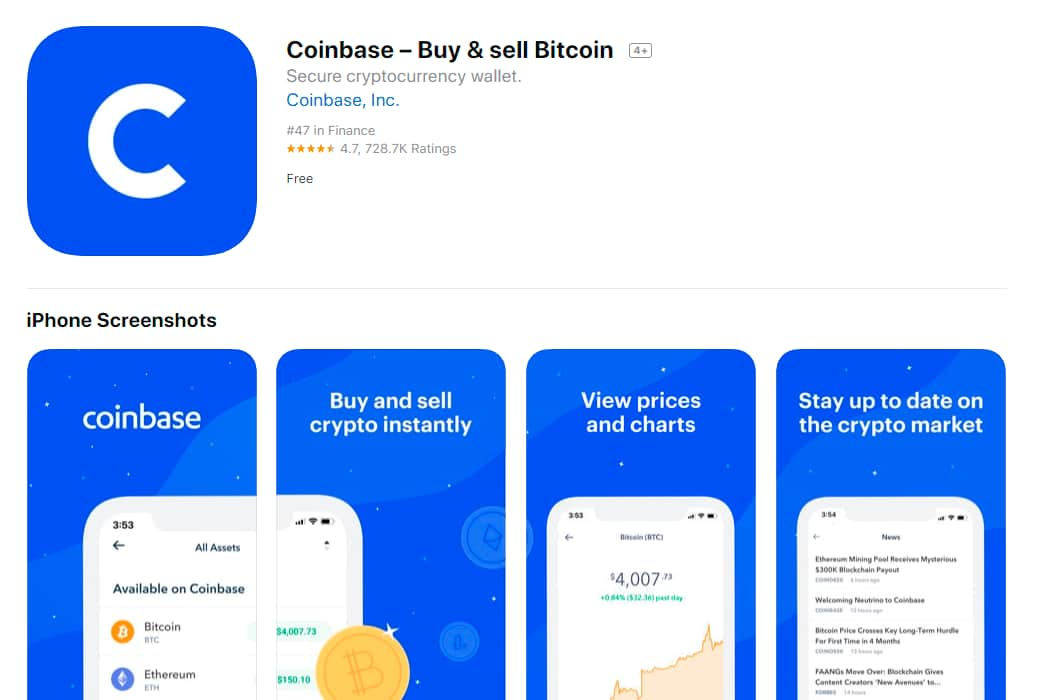 Coinbase
A number of downloads: 729K
The app focuses on cryptocurrency exchange and therefore provide relevant tools and information for you to dive into the world of cryptocurrency. Whether you're just starting your crypto journey or a seasoned expert, you'll find everything you need to build your crypto portfolio on Coinbase. The app allows you to securely buy, store and sell cryptocurrencies on the FinTech stocks. So, take the first step towards blockchain, bitcoin mining, bitcoin games, bitcoin cash games, ethereum games, litecoin games, or bitcoin trading.
Download from Google Play and App Store.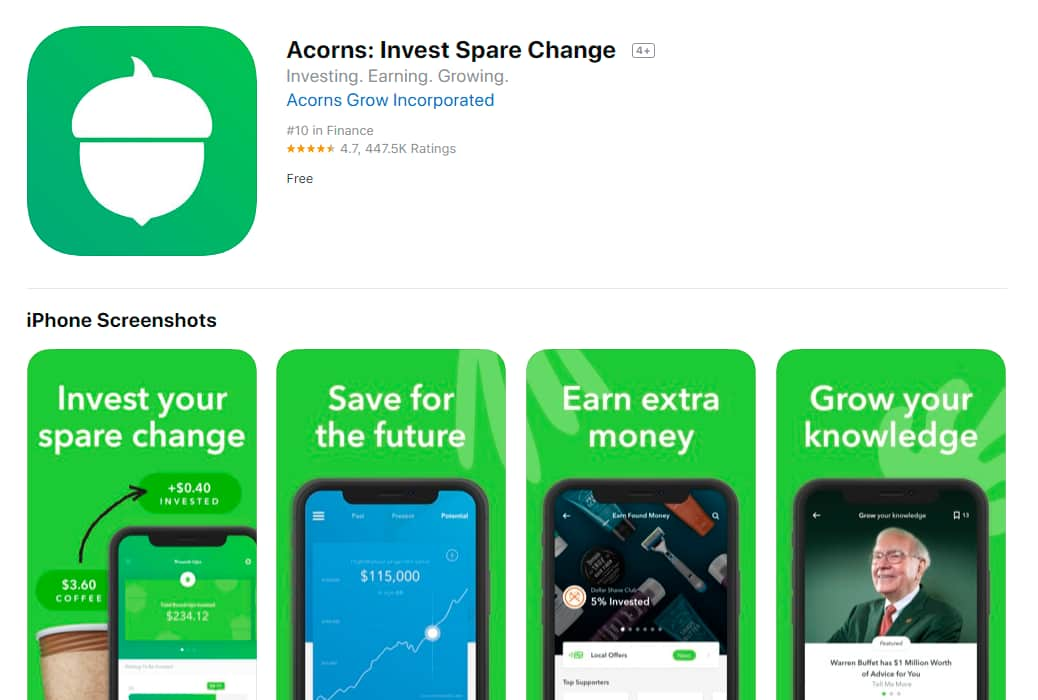 Acorns
A number of downloads: 448K
Looking for an app for your financial wellness? Acorns is just what you need, then. Learn how to get more from your money with easy-to-understand articles and videos from financial experts. You can add or withdraw your money whenever you need to. Additionally, the app teaches you how to spend smarter using there is no overdraft fees using ATMs nationwide and earning up to 10 percent bonus investments from select local businesses. The app supported by leading investors, innovators and press like BlackRock, PayPal, Ashton Kutcher and CNBC.
Download from Google Play and App Store.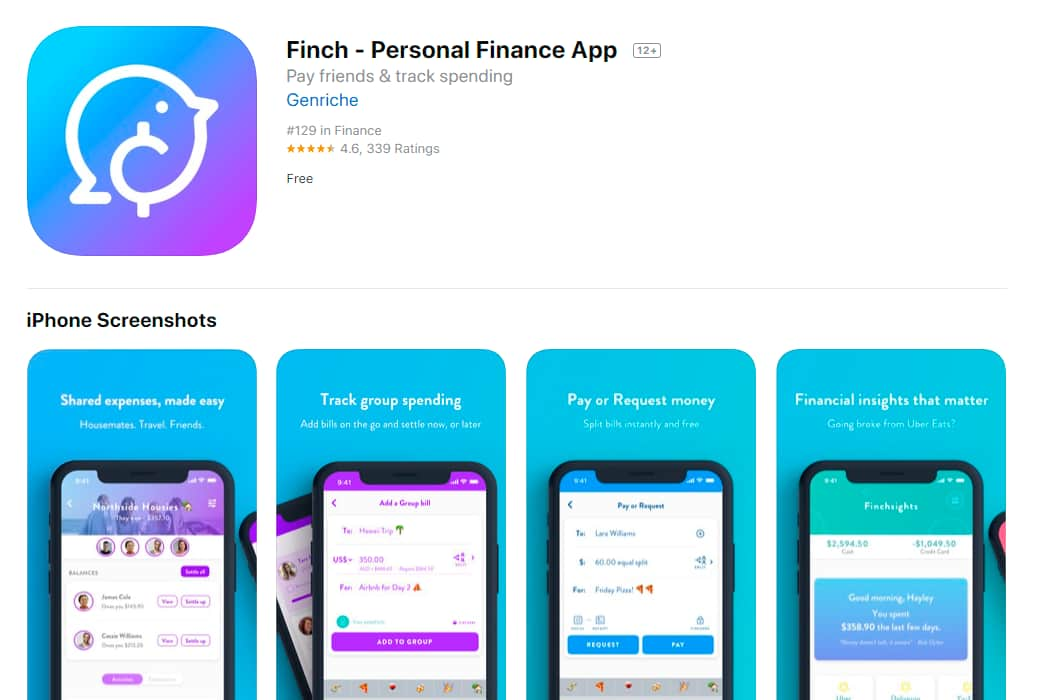 Finch
A number of downloads: 340K
Finch is an award-winning personal finance app that lets you pay friends, share group bills, and track your budget. The app provides you with simple and secure sign-up, pay friends options where you can split bills and pay friends instantly, create groups and share your link with friends. Moreover, you can track your spendings. How frequently you've visited your favorite shops and how much you've spent in the last 30 days or compare your spending to other Finchers and see how you stack up. All and more you can do with the app.
Download from Google Play and App Store.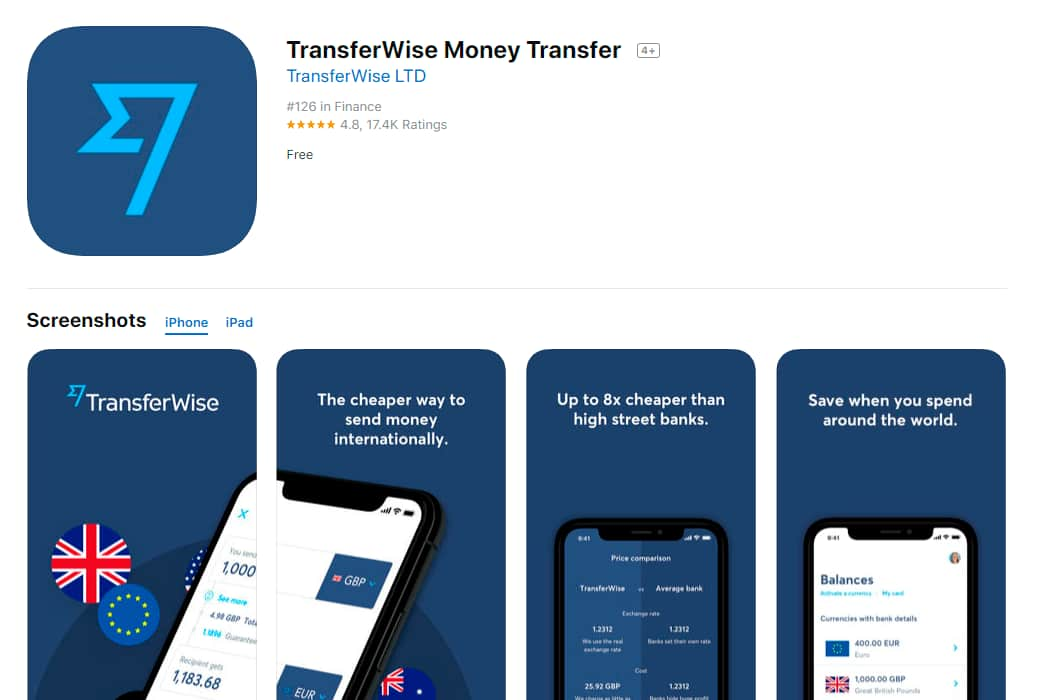 TransferWise
A number of downloads: 17.4K
This is a great app if you are looking for a solution on how to deal with money management abroad. TransferWise allows sending money abroad quickly and easily, at the lowest possible cost. The app allows you to hold and convert money in 28 currencies while uses the real exchange rate to help foreign students and business. You can send money abroad — it's up to 8x cheaper than high street banks, and you'll always get the real exchange rate. TransferWise is a great app if you need to send money to a family abroad, send money to a friend, pay a bill in another currency, pay off your mortgage or loan abroad, get paid in multiple currencies.
Download from Google Play and App Store.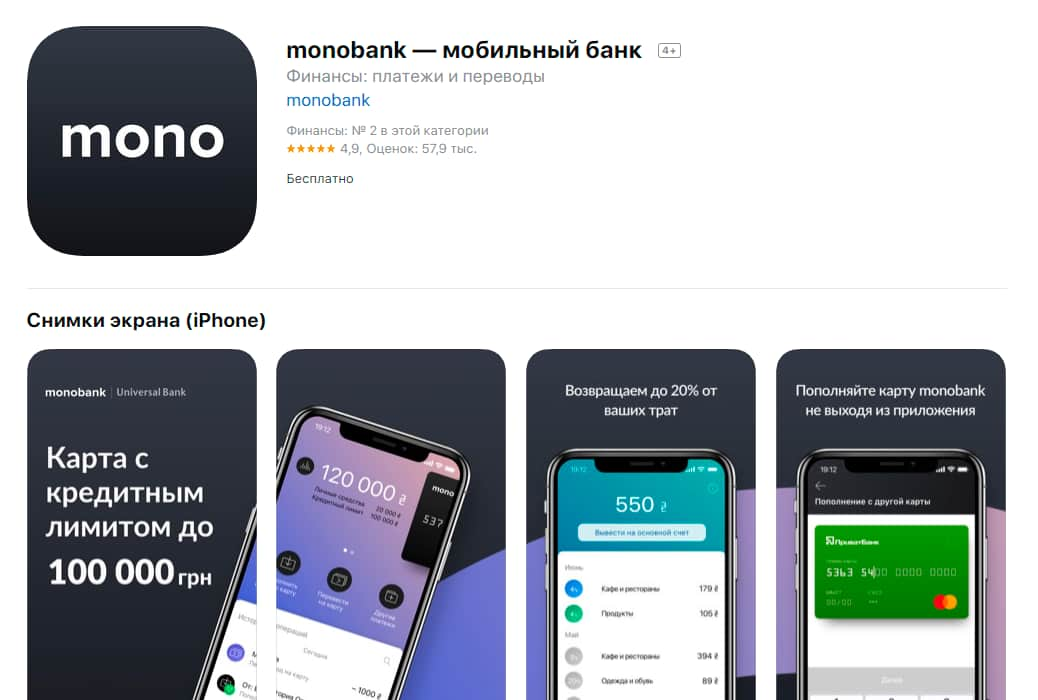 Monobank
A number of downloads: 57.9K
It is considered to be one of the world's fastest-growing neobanks. Monobank has over 1 million customers, though its app has been officially released on November 22, 2017. In fact, this is the first fully mobile bank in Ukraine. The credit limit is up to UAH 100,000 with the lowest interest rate in Ukraine. Installment plan, free recharge and cashback up to 20%. Pay contactless with Google Pay.
Besides, the new digital-only bank will soon be rolled out to the public in the UK. According to the announcement by one of the co-founders, Dmytro Dubilet, Kotobank will be an analog of Monobank in Britain. It has already received a financial license from the British regulator FCA. Final preparations are currently being made, and the beta version will be rolled out in a few weeks. The team is also preparing for negotiations with venture funds and other potential investors for a financing round. In May, Dmytro Dubilet announced that British Mastercard has invested an undisclosed amount of money in Koto, particularly for its marketing needs.
Download from Google Play and App Store.
Conclusion
We hope that the article was useful for you and now you have several examples of the best mobile banking app as well as FinTech apps to choose from. As you can see, the apps can provide fast and easy money management on both personal or business matters.
Looking for devs to build an app? We are glad to transform your idea into a successful product. Contact our team to get more information on how to build a top-notch FinTech app - the app that could stand out from the wide majority of apps!