From the sophisticated service to the daily routine - food delivery services gaining more popularity with each year. Have you ever wondered if there any good restaurants near me? Or perhaps, there is a restaurant that delivered the best food near me so I do not have to cook after the long day at work? Luckily, the solution is quite simple - food delivery app.
Nowadays, the best food delivery service suggests the whole range of choices and opportunities in terms of cuisine, time of delivering, restaurant reservation services, finding the perfect place to eat and more.
We picked up the best food delivery apps for your convenience, including breakfast delivery as well as 24 hours delivery service apps. Each app provides you with the opportunity to choose from Mexican delivery, Chinese delivery, Indian delivery, Thai delivery food, and many others. Some of the food delivery services offer special coupons and discounts for free food delivery.
So, let's dive into a list of the best meal delivery service. Order food online by only several clicks!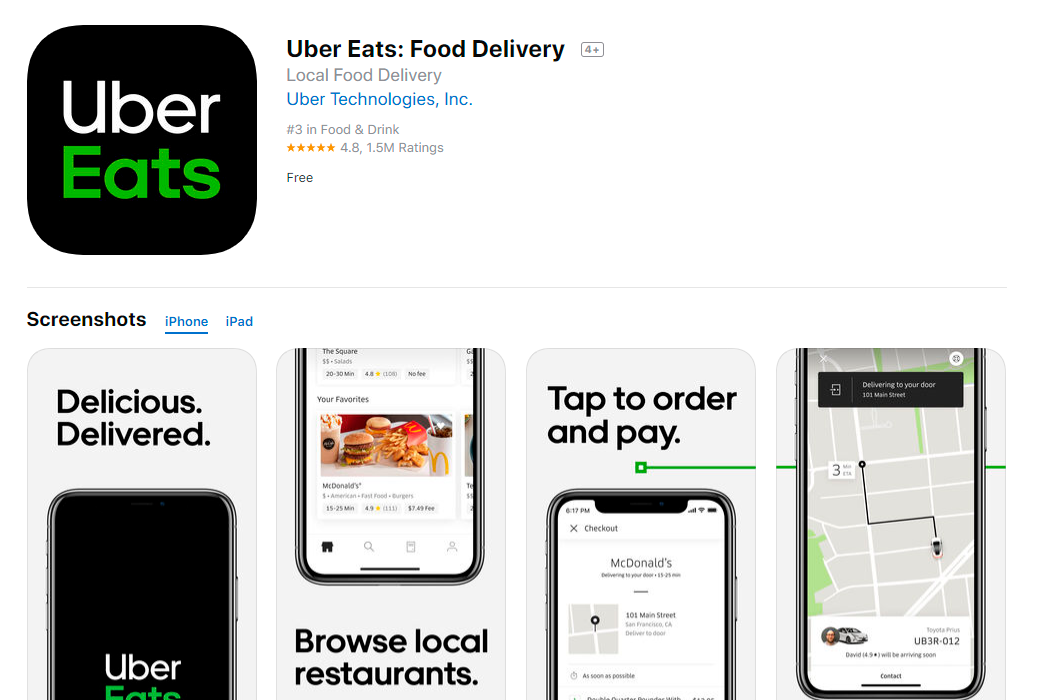 Uber Eats: Local Food Delivery
This is a great food delivery app to order meals easily with no time. Track your food order in real-time. The app provides you with an opportunity to browse nearby restaurants and search for food by cuisine, restaurant name, dish, meal, and diet. Choose from a variety of food to order: pizza, burritos, burgers, sushi, chinese food. Skip the line and reservations and order food with Uber Eats.
Download from Google Play and App Store.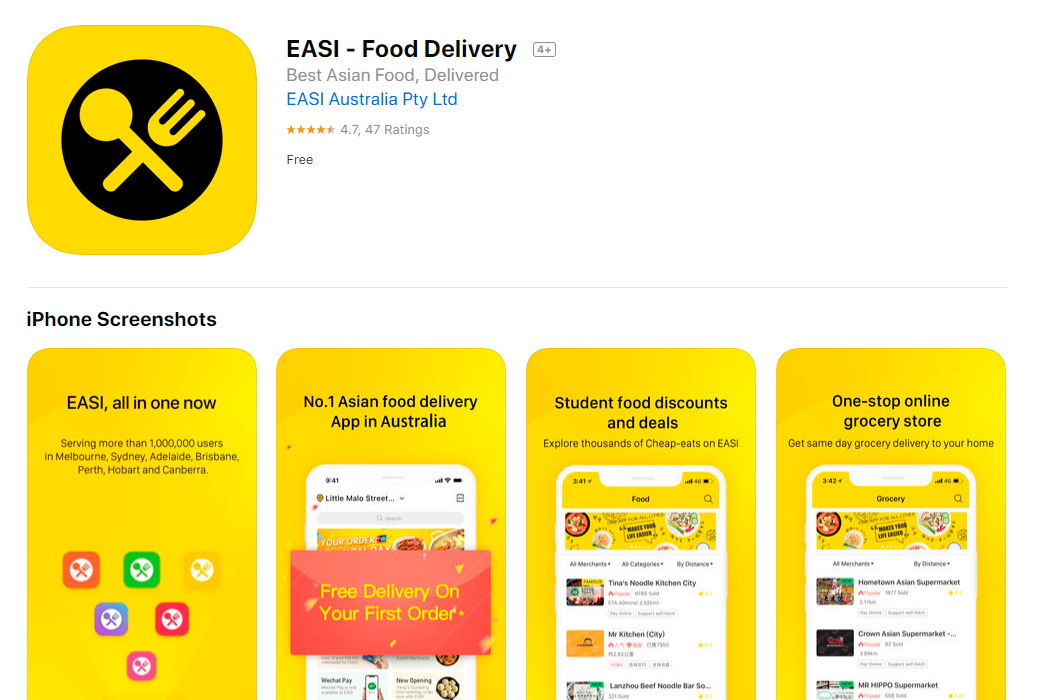 EASI - Food Delivery
Do you want to find food delivery restaurants near me? This app is for you. Help you to make an order from many apps in one place such as taco bell, Starbucks or subway. Help you to install the popular food places nearby apps such as Contain both applications from local food delivery and fast-food restaurants. This all-in-one food delivery app helps you to manage meal ordering and family parties or meetings easier by seeing all restaurant nearby me including the food delivery services from the same page. You will not miss out any offers!
Download from Google Play and App Store.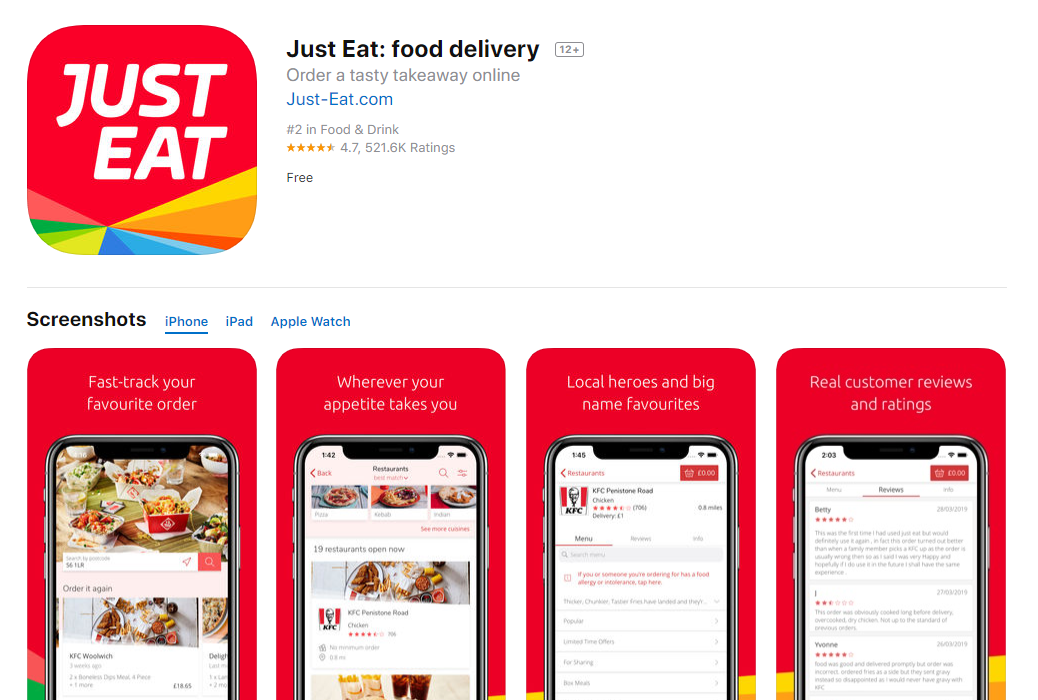 Just Eat
Fuss-free food delivered to your home or office. Download the free Just Eat app and order from local delivery and collection restaurants and takeaways. From Indian to Italian, burgers to burritos, find your flavor with Just Eat. Choose from a globe-spanning range of cuisines and explore tens of thousands of menus. Ordering is quick and easy. Pay by cash on delivery or collection, or safely and securely by debit and credit card. You can even personalize your search results to find tasty discounts and exclusive money-saving offers.
Download from Google Play and App Store.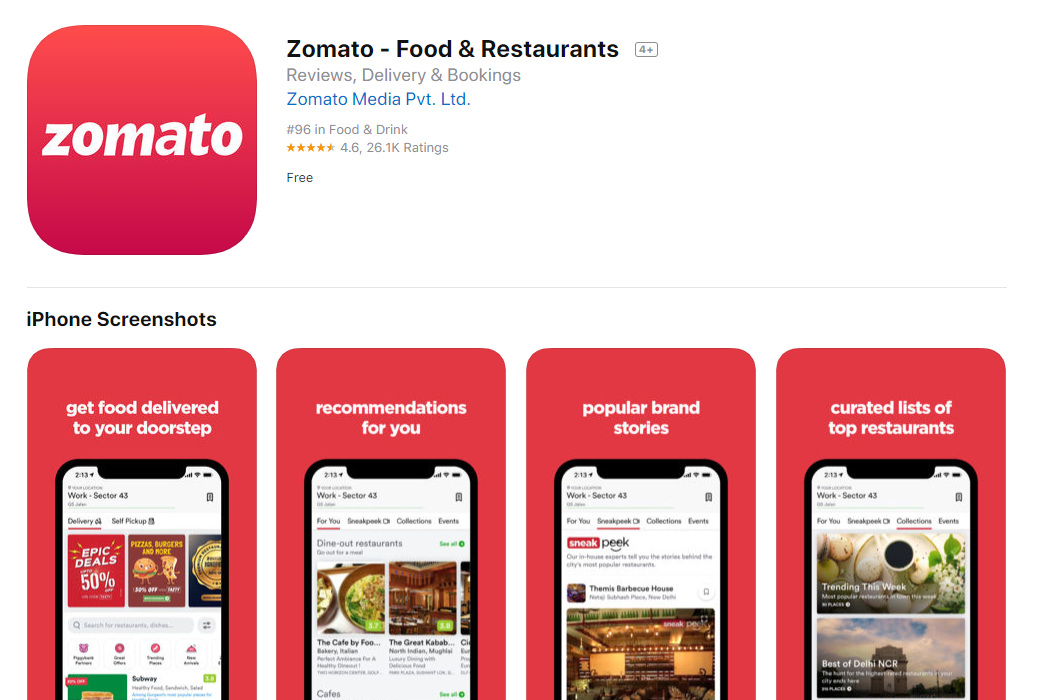 Zomato
Zomato will help you to find a nice place to eat. The best features of the app include searching for restaurants, cafes, pubs by location or cuisine (Chinese, Italian, Indian, etc), viewing menus and pictures of the dishes, ratings and detailed information about the restaurants, such as location and contact information how to order the food.
Download from Google Play and App Store.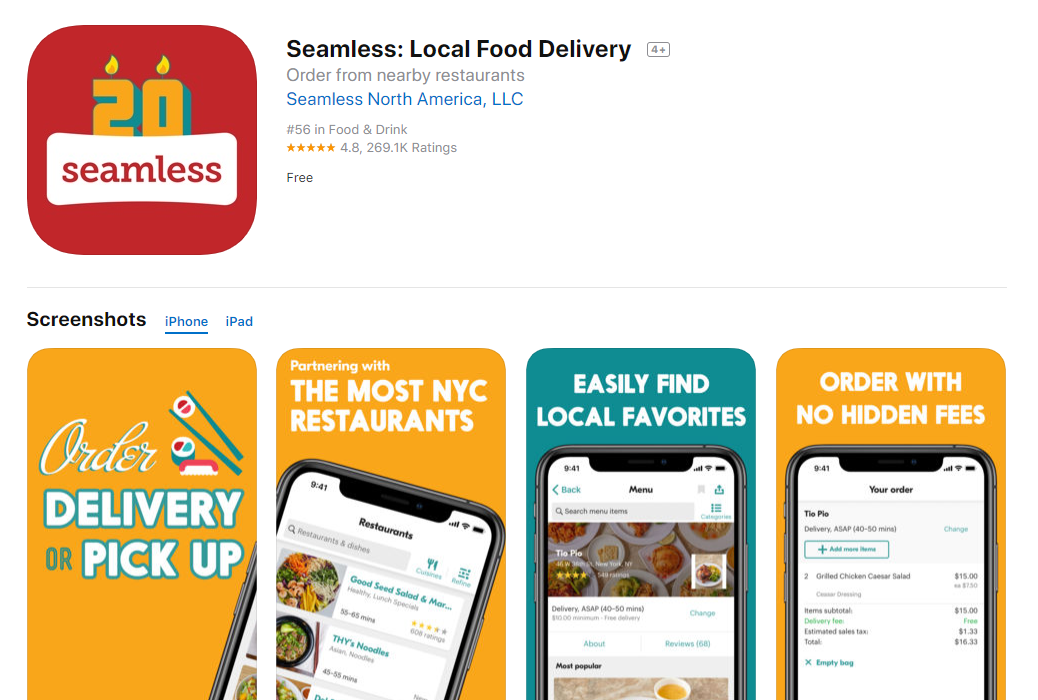 Seamless
Seamless is the food delivery and takeout app. Order food with a quick and easy online ordering service that will make calling in from paper menus a thing of the past. The app covers a wide range of restaurants along with the very simple steps in order to order food. Find food delivery with discount offers and special deals you won't get anywhere else. In addition, you can choose the most convenient way to pay, Android Pay, PalPay and others.
Download from Google Play and App Store.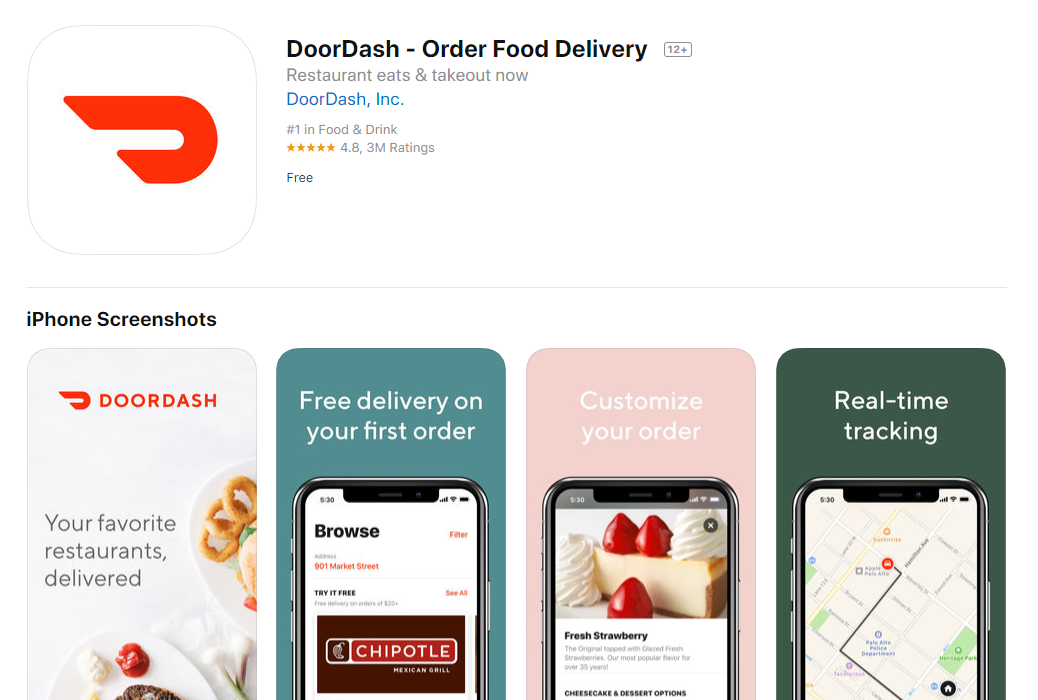 DoorDash
This is a food delivery management system that allows restaurants to manage deliveries from one place and store all the delivery details. The major features include tracking your delivery, get notified on transactions, manage your own delivery system, the live map allows drivers to locate delivery location easily, easy payment method.
Download from Google Play and App Store.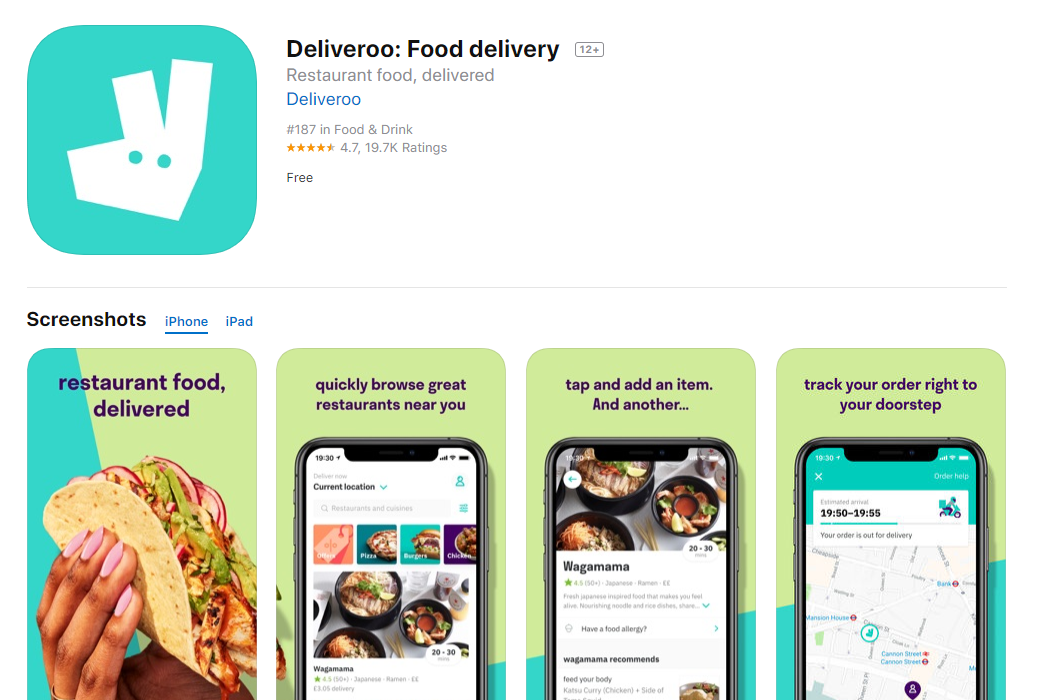 Deliveroo
Order from the best restaurants in the business – from local hotspots to national favorites – and get the food you love delivered fast, right to your door. The app includes the following features: search by cuisine, category or restaurants for your postcode, browse by fastest delivery time, view menus and read dish details and see popular restaurants and meals in your area.
Download from Google Play and App Store.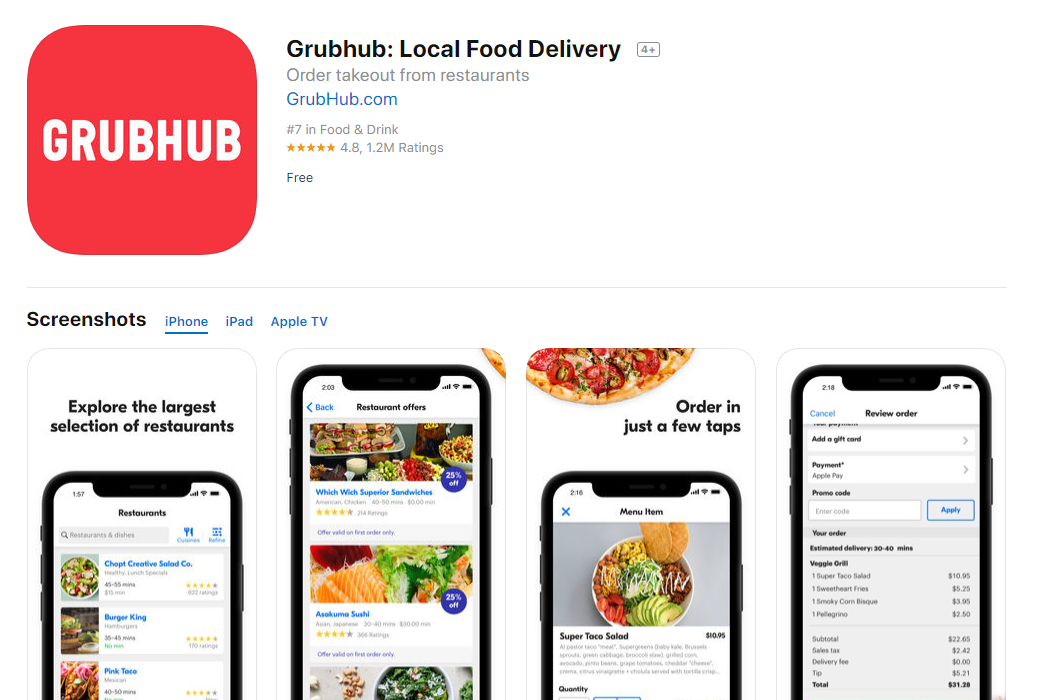 Grubhub
Get delivery right to your door from the largest selection of restaurants with Grubhub. The app provides fast food delivery from all your favorite restaurants. Get discounts you won't find anywhere else, including free delivery (up to $4 off) on your first order of $15 or more. Order food from your favorite local spot, a restaurant with a little more fame, or a new place you want to try. Grubhub has the eats you're looking for. This app is a perfect solution for a takeout.
Download from Google Play and App Store.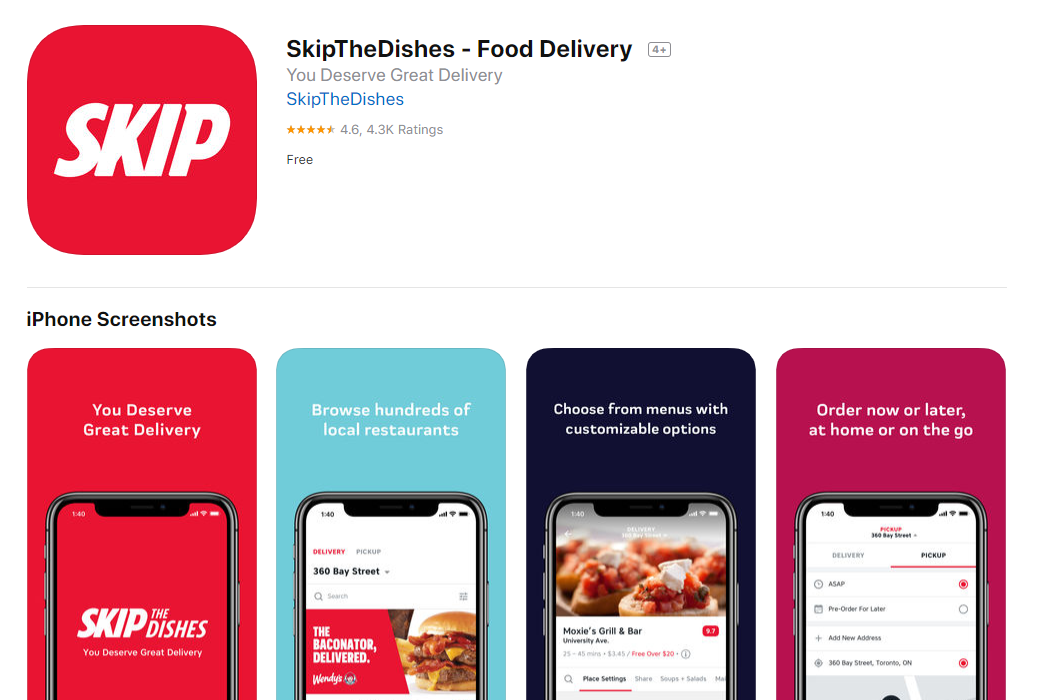 SkipTheDishes
Free delivery, track your food, easy payment, a wide range of variety of dishes and restaurants. Do you think this is a dream? No, you can find all the mentioned features in SkipTheDishes app. You can get food delivered starting as early as 6 am, and as late as 2 am to satisfy your late-night cravings.
Download from Google Play and App Store.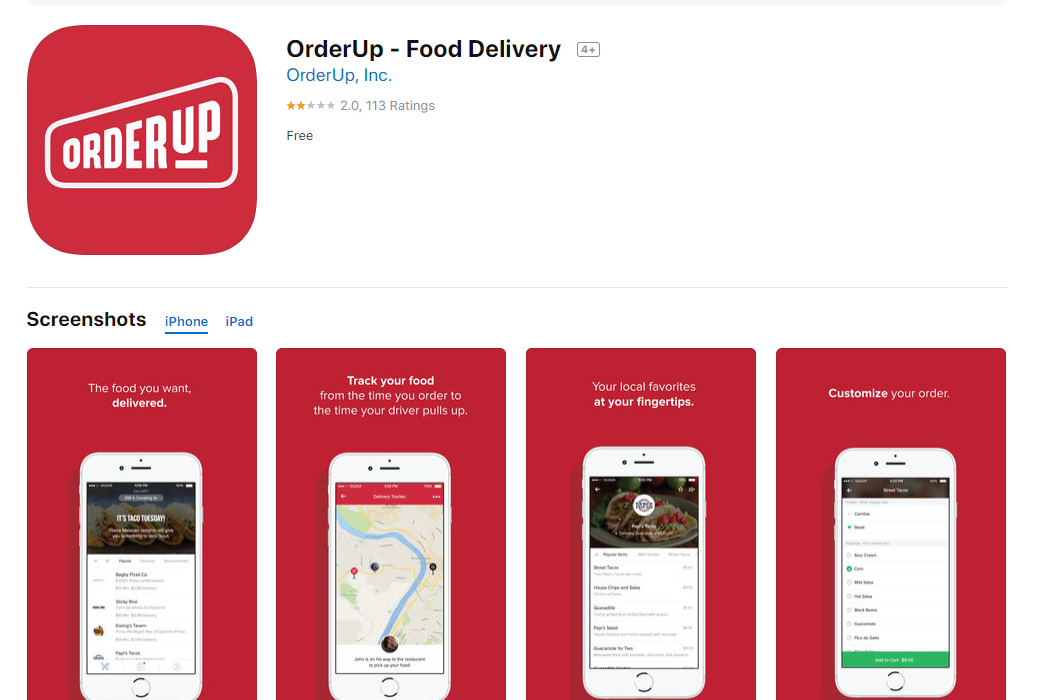 OrderUp
OrderUp is the premier way to get food delivered and get it fast. With OrderUp, you can choose from all of your favorite menus from local restaurants. Do you want your tried and true Chinese food hangover cure delivered? How about a fancy salad or pizza from that place where you struck out with the super good looking bartender? OrderUp's got you covered.
Download from Google Play and App Store.
Conclusion
Food delivery services make life much easier. Do you need to choose the place to eat or would you like to order food at your house? All you need to do is download one of the food delivery apps. Our team picked up the best food delivery service apps for your consideration. There are some apps that focus on finding "the best delivery near me" restaurants and cafes while others concentrate on the variety of cuisines.
Thinking about your own retail food delivery app which could bring greater value than already existing apps? Contact our team and we will guide you thought the way starting from initial idea to live product. We always ready to build valuable products, should it be yours?