Real estate investing is a great solution to make your financial assets work for you. In fact, recently real estate market has grown massive popularity. It is not a surprise, due to the fact, we are living in a dynamic society, so the customer may not have enough time to just wander around searching houses.
House hunting did the old-fashioned way — checking the local classifieds, noting the "For Sale" signs you spot on your way to work, and chatting with your network of realtor friends — can be one of life's most stressful undertakings. But it doesn't have to be like that anymore. Thanks to the real estate trends in the housing market the process became much easier. Thus, platforms such as Redfin, Zillow, Realtor, Trulia and BiggerPockets assist in finding homes that fit your criteria — and fall within your budget.
Our team picked up top 5 real estate apps for your the most convenient proper searching experience. The apps are free of charge and allow you both as a client and as a real estate agent to benefit a lot of using them on the daily basis.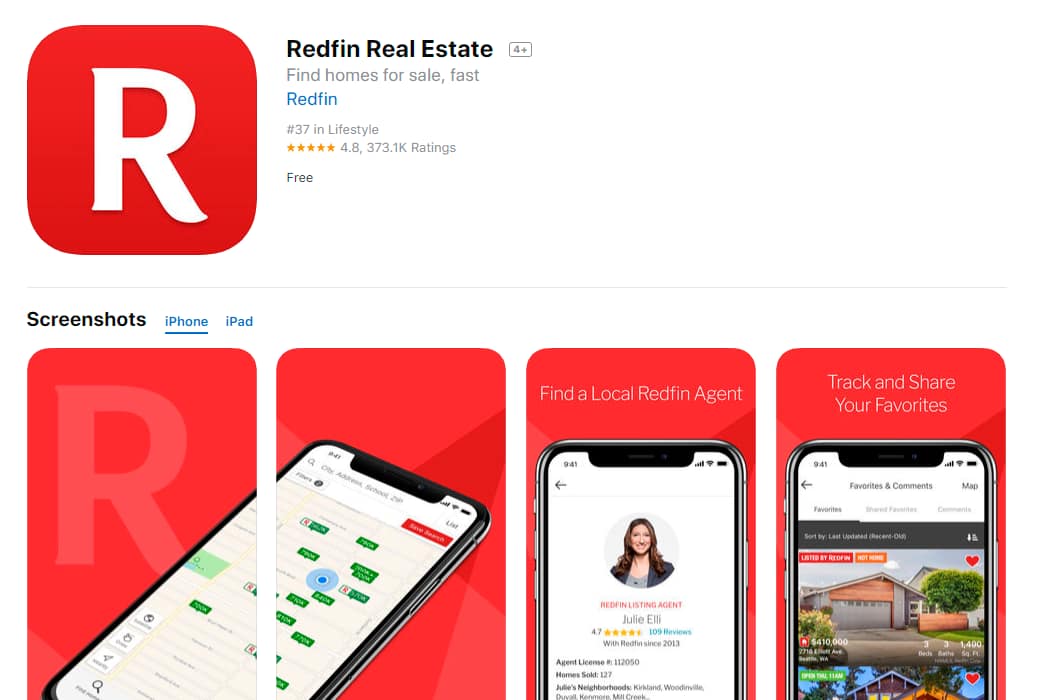 Redfin
Being both an app and a brokerage firm Redfin is a leader on the real estate market. The Redfin app provides excellent and estimated home values. One of the killer features of the app is the extended filter during the process of the property search. In this case, by applying the filter you are benefited by looking for the perfect house. On the other hand, in case you are not sure what you need, this feature provides with a distinct idea of what your perfect house would look like. Check out the Redfin webpage to get access to additional resources and information.
Moreover, you can track your favorite properties, schedule tours instantly, search all homes near you as well as finding the latest homes for sale. Therefore, some detail on the most popular Redfin features. So, you can:
Instantly see all the homes, condos, and townhomes for sale near you, and get notifications when a new home that matches your criteria hits the market;

Search house by specific buildings nearby, such as schools, kindergartens, shopping malls, parks, metro and bus stations, etc.;

Schedule home tours by contacting your real estate agent or property owner;

Save your favorite homes and searches to your Redfin account and access them anytime, anywhere on the app or our websites. You can also share your favorite homes via text message, email, and social media.
In addition, the standard real estate fees are lower than traditional agents. When selling, most homes list for 1.5 percent, and when buying, the average buyer gets a $1,800 refund back on the agent fees. That is why this is the best app for discounted property buying fees.
Download from Google Play and App Store.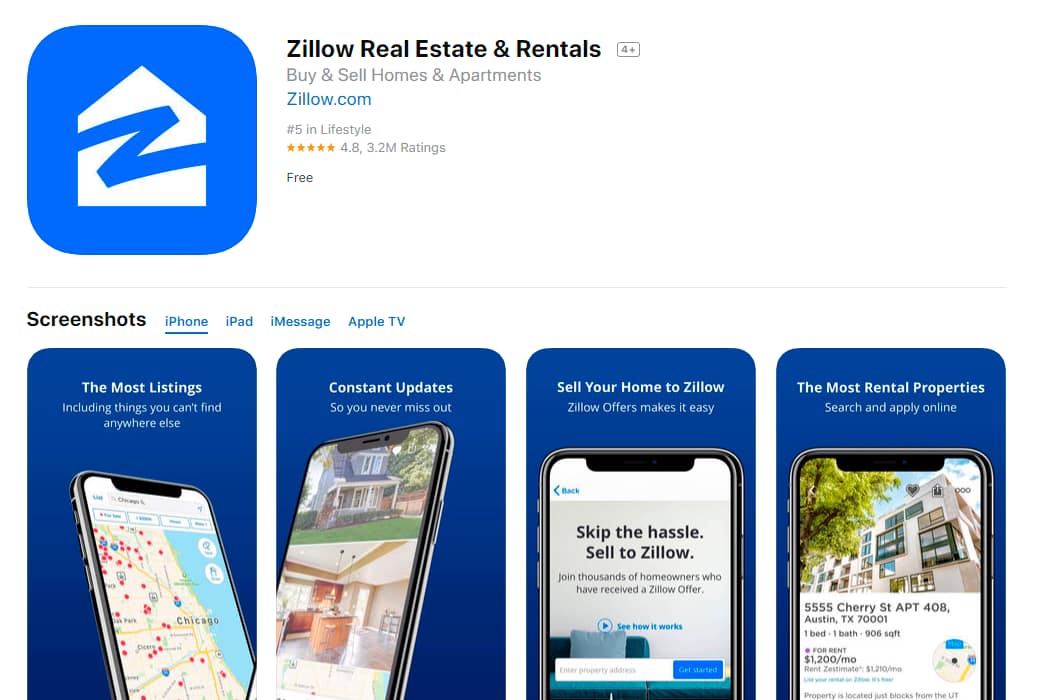 Zillow
Zillow was the first app that had driven the property search on a completely new level. Operating through both website and mobile app Zillow has the reputation of the best real estate solutions.
Zillow provides users with intelligent lead management which allow tracking relevant data properties including contact details, connect leads from over 35 sources and manage them all from one inbox, set status and filter leads based on the consumer's readiness to buy a home. Moreover, for real estate agents and property owners the task management system will simplify creating tasks for the individual client's to manage the various to-do's through their home-buying process as well as organize the day by setting due dates and reminders.
There are handy options to manage your Agent Teams, such as route the right leads to the right agents by price, location or type, you can set tasks and reminders for your team members to follow up with their leads, and you can monitor incoming leads to your team and track follow-up.
Due to a specific algorithm, it suggests the best property variations for you, so all you need to do is just look through the options and choose the perfect one for you. For the homeowners, there are also various options. For example, you can create an account to track your estimated home value over time and insights into a potential sale price if you decide it's time to move.
Download from Google Play and App Store.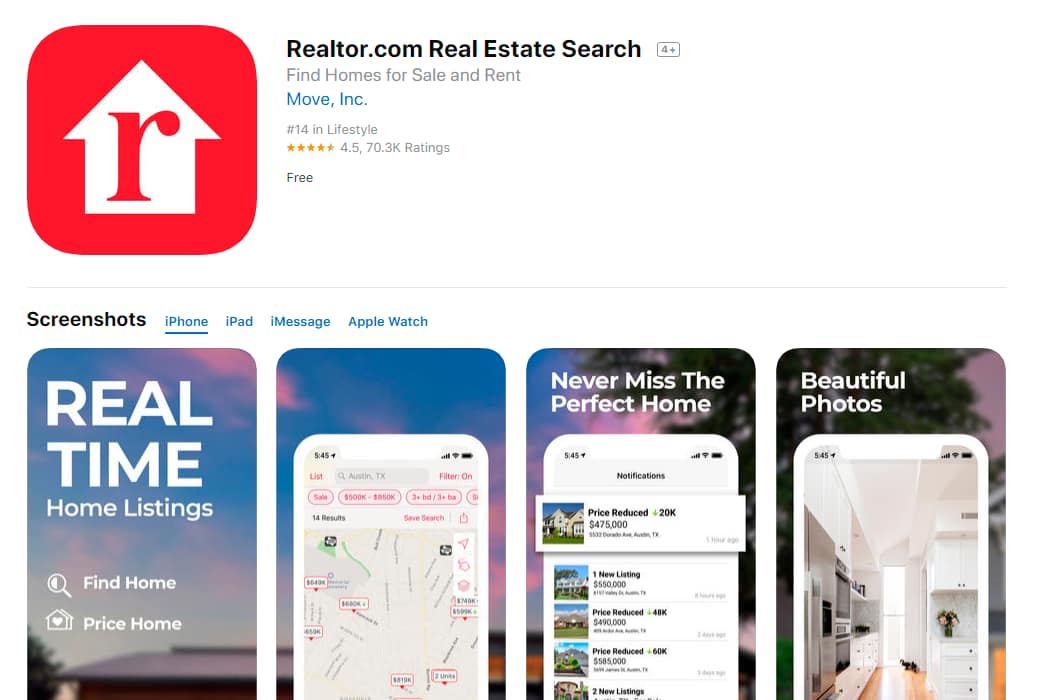 Realtor.com
Realtor is an official portal for the National Association of Realtors, which make it the best option for the most houses. One of the significant benefits of using this app is the fact, Realtor closely cooperates with the Multiple Listing System (MLS) that provides data feeds used by most sites on this list. Due to this cooperation, this website is faster in updating its database. In case, you don't have a real estate agent, the app provides the opportunity to find one and connect with a local agent.
The following features are what makes this app a great solution for real estate operations. Therefore, Realtor allows you:
Real estate photography allows to browse the listings and choose the perfect choice personally for you;

Real Estate search filters include days on market, hardwood floors, swimming pool and more;

Calculate commute time to work and account for traffic;

Search for homes by drawing a search area directly on the map;

House buying notifications inform you about new properties on the housing market and alerts on price reduction;

3D home tours (where offered by listing agent);

Home prices and neighborhood details in augmented reality which allow having a glimpse of what to expect before scheduling the tour to the property;

Real estate calculator helps to calculate a mortgage, property tax and insurance.
This is only a few killer features that make this app special.
Download from Google Play and App Store.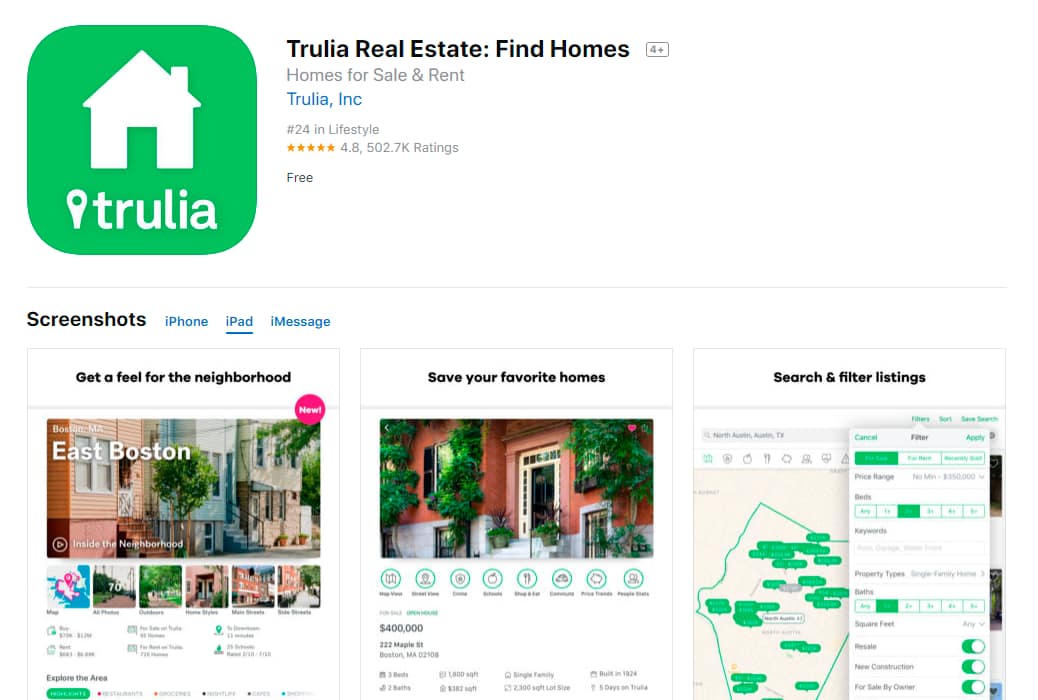 Trulia
This is a great solution for an active home search. Started as an independent company and becoming now a part of Zillow, strengthen Trulia's position on the real estate market. While Zillow is great for the general house searching purposes, Trulia is better for those who actively looking for a new property. Trulia offers quite focused tools for one aim, which is finding the perfect home to buy it.
Trulia includes a wide range of tools which shape the excellent user experience at the end. Thus, you can get detailed neighborhood details including nearby schools, kindergartens, shops, metro and bus stations. Sourced from MLS databases there are over 1 millions of real estate listings for your consideration.
Moreover, customization tools help find a house or other property exclusively according to your detailed home listings. House buying alerts and notifications will take your search on-the-go and never miss a listing. Also, due to the open home scheduling tool you can plan and manage open houses with calendar sync and mapping directions.
Download from Google Play and App Store.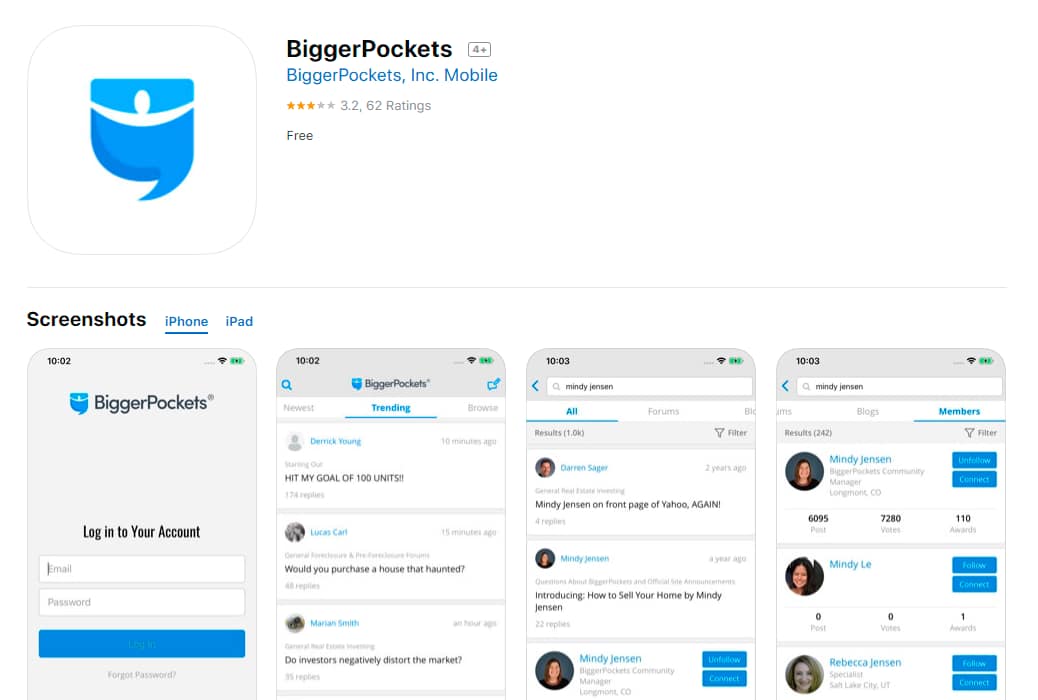 BiggerPockets
Perhaps this app is less useful for house searching procedure, however, BiggerPockets is the best for learning about real estate investing process as well as real estate news. This is the major real estate networking and information resource platform which was created by professionals for everyone who is interested in the property market. The objective is to educate people in real estate investing processes by providing certain tools and data for their benefits.
Therefore, on the official website, you can find loads of information, such as blog posts, ebooks, podcasts and forums regarding the property renting, buying and searching. The app covers the whole range of topics from the real estate law to real estate jobs, such as real estate lawyer peculiarities, etc. For someone who is new to the real estate market, this source will be a true revelation. You can learn about how to choose a house, how to buy it without the issues as well as how to work on the property in order to get the best return on your investment.
You can create a profile which will contain all the necessary information about you. Moreover, the app has a forum and blog sections, alert feature (to notify you about new posts on the blog and relevant news regarding real estate) and personal inbox. The information is divided on Trending, Browse and Followed, so you can easily navigate through the required news and find what you are interested in. For example, forum categories include commercial real estate, real estate strategies, foreclosure, real estate marketplace and many others.
Download from Google Play and App Store.
Conclusion
Our team picked up the top 5 real estate apps - Redfin, Zillow, Realtor, Trulia and BiggerPockets - for your best experience in searching for the perfect property deals. Nowadays, the housing market benefits a lot from various real estate trends. Therefore, both real estate agents, as well as users who are looking for a property to buy or rent, are willing to find the best solutions for real estate.
Thinking of building your own real estate app, feel free to contact our team! We will be glad to help you to navigate the process of web and mobile development and create a top-notch product!