Always keep learning no matter what. Especially if you're a new business founder and you have to be familiar with certain elements of how to start/run a business. Currently, podcasts are winning the media arena, since it is a quick, convenient and modern way to receive informative content. Taking that into account our team picked up the best podcasts for the first-time founders. Check out the following podcasts if you're eager to build a small business and you want to do it right. Learn from the best and get inspired by the stories of other entrepreneurs who are sharing their business experience with you.
You can listen to podcasts on Apple Podcast, where you'll find a wide collection of great content for entrepreneurs. So, without further ado, let's get started!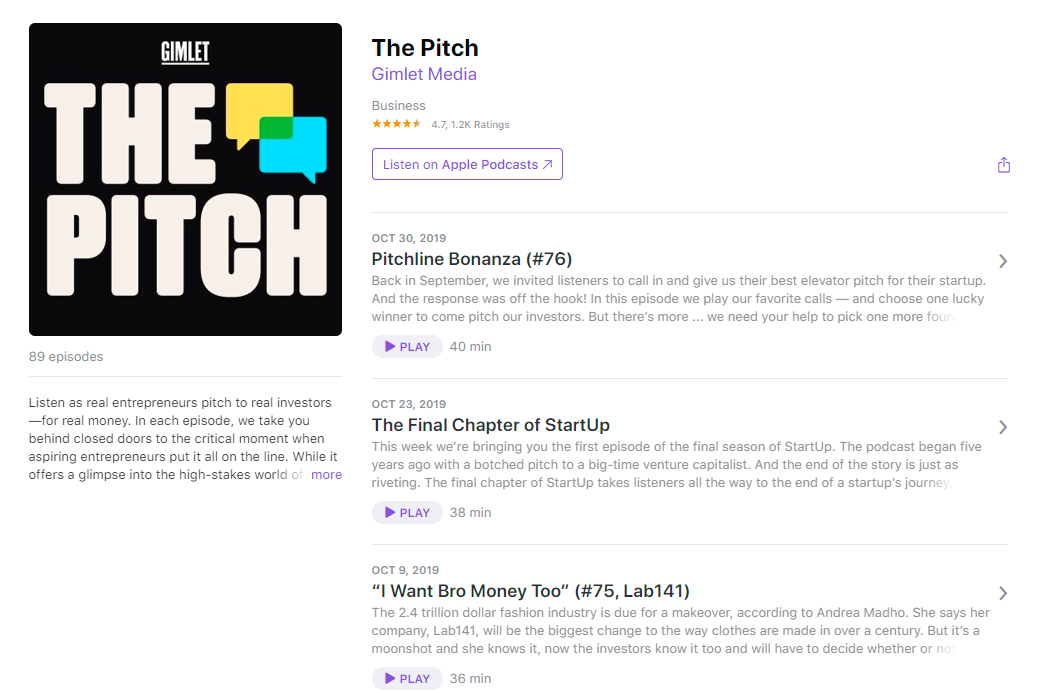 The Pitch
This podcast is more like Shark Tank, where different startup comes on and give their elevator pitch to a panel of investors. You have the chance to listen to real entrepreneurs pitch to real investors. In each episode, a new startup idea is on the point of being the next big thing or get rejected due to a weak idea concept. While it offers a glimpse into the high-stakes world of venture capital, it's really a show about human relationships.
You'll learn:
How to sell the ideas;

What makes investors tick;

How the initial conversations can bloom into business deals.
Listen to The Pitch.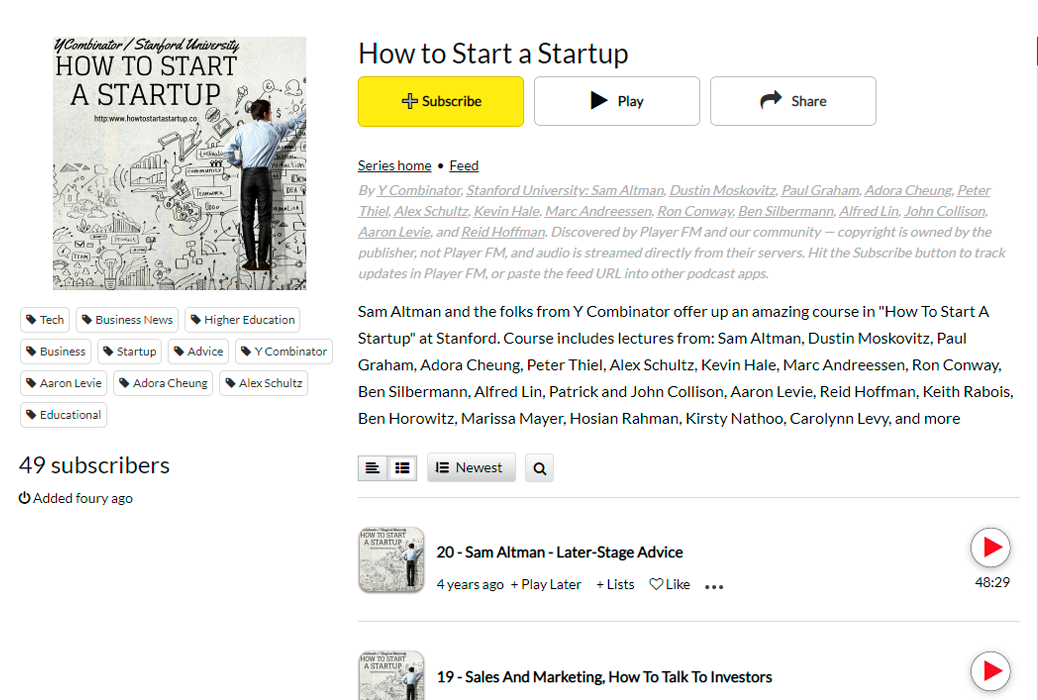 How to Start a Startup
Sam Altman, a chairman of Y Combinator, along with other folks from YC created an amazing digital course that will be useful for everyone who is eager to start his new business. The podcast starts with an overview of the course and then moved to the subjects of ideas, products, teams, monetization principles and much more.
You'll learn:
How to develop a great idea;

How to build a high-quality product;

How to put together a winning team;

How to execute the mentioned above points.
Listen to How to Start a Startup.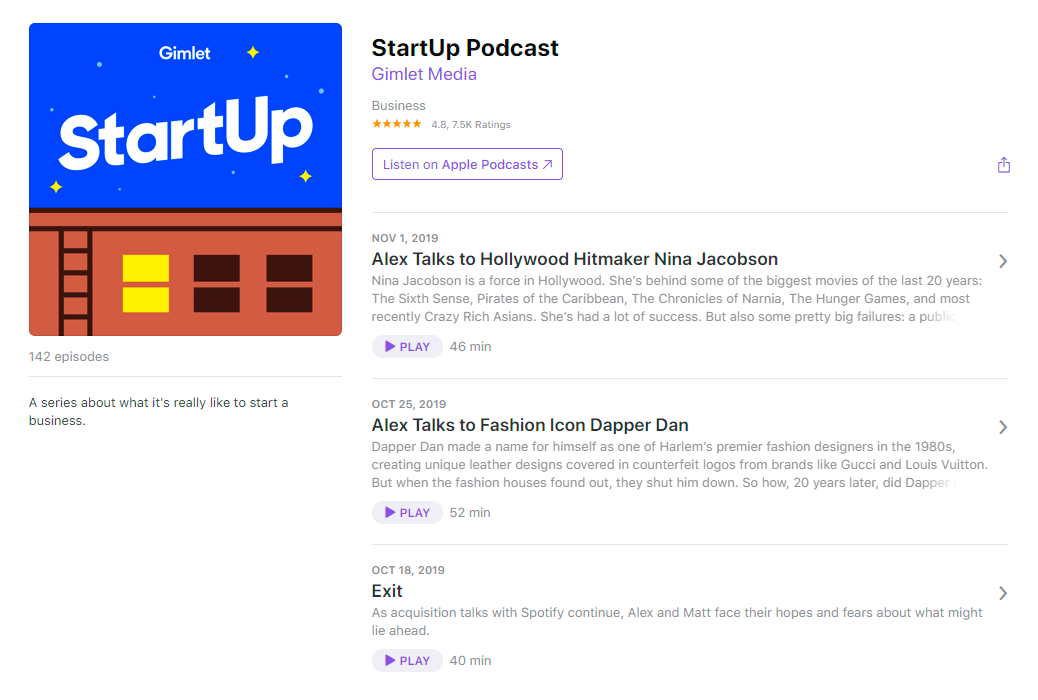 StartUp Podcast
Summing up the podcast you can say: "A show about what it's really like to start a business". And you won't be more right. StartUp is a documentary series about entrepreneurial life with the focus on subjects of framing the idea to real-life implementation challenges and solutions. The StartUp Podcast has won a Gracie Award and the Gerald Loeb Award for Distinguished Business and Financial Journalism. To enlight yourself on the matter of startups and new business development we suggest to check out this podcast.
You'll learn:
How to frame and write your business plan;

How to figure out equity, organization, responsibility and more.
Listen to StartUp Podcast.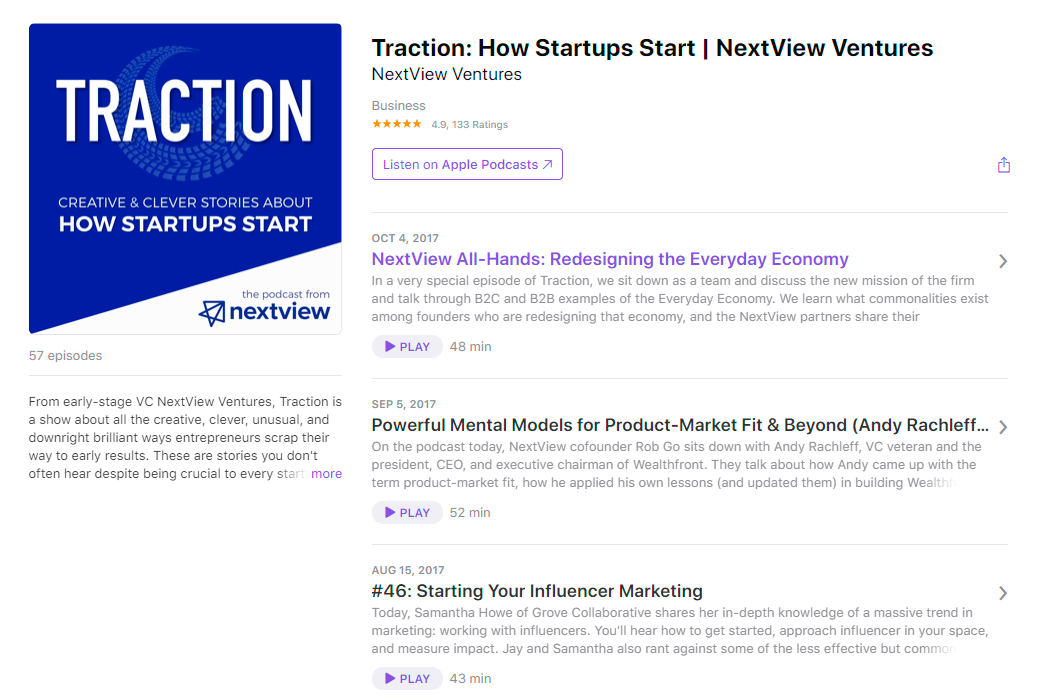 Traction
The podcast contains truly creative and clever stories about how startups start. Founders, startup execs, media members, and investors are interviewed, with a unique spin and sound. That is a great piece of content for every founder especially the one who wants to find extra motivation to push forward.
You'll learn:
How to stay motivated;

How to pivot;

How to simply push forward to the realization of your business idea.
Listen to Traction.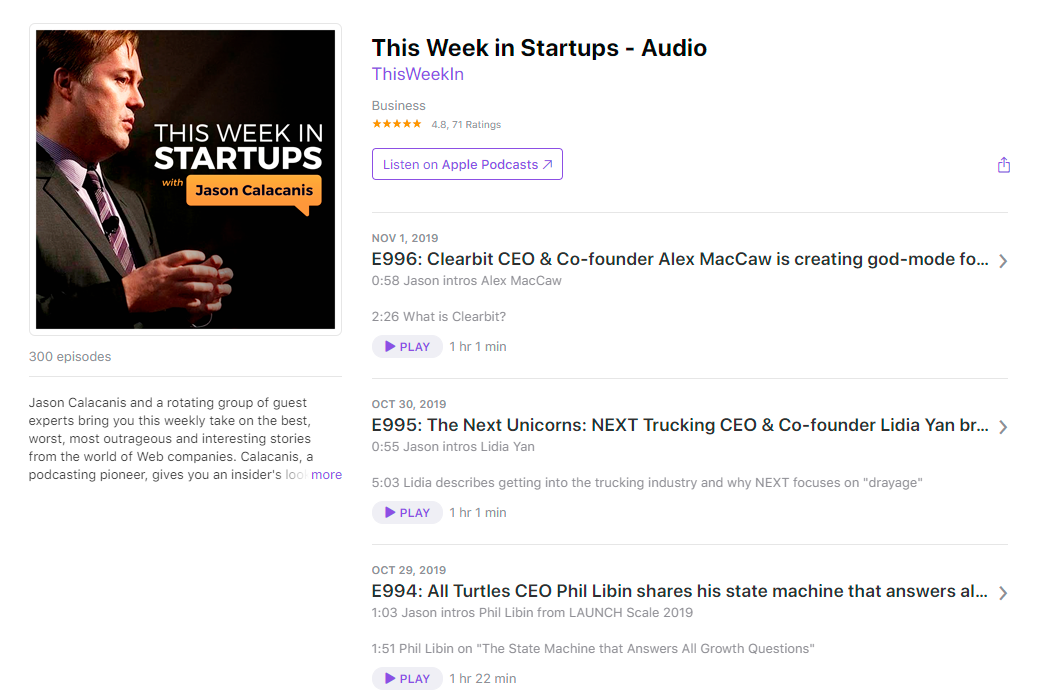 This Week in Startups
Do you want to hear the top stories from the world of web companies? Jason Calacanis, an entrepreneur and angel investor, along with a rotating group of guest experts will give you an insider's look at what's happening in the tech industry. Blunt style and good humor make you enjoy the podcast even more.
You'll learn:
What's happening in Silicon Valley;

How the startup world is organized;

How to be more innovative.
Listen to This Week in Startups.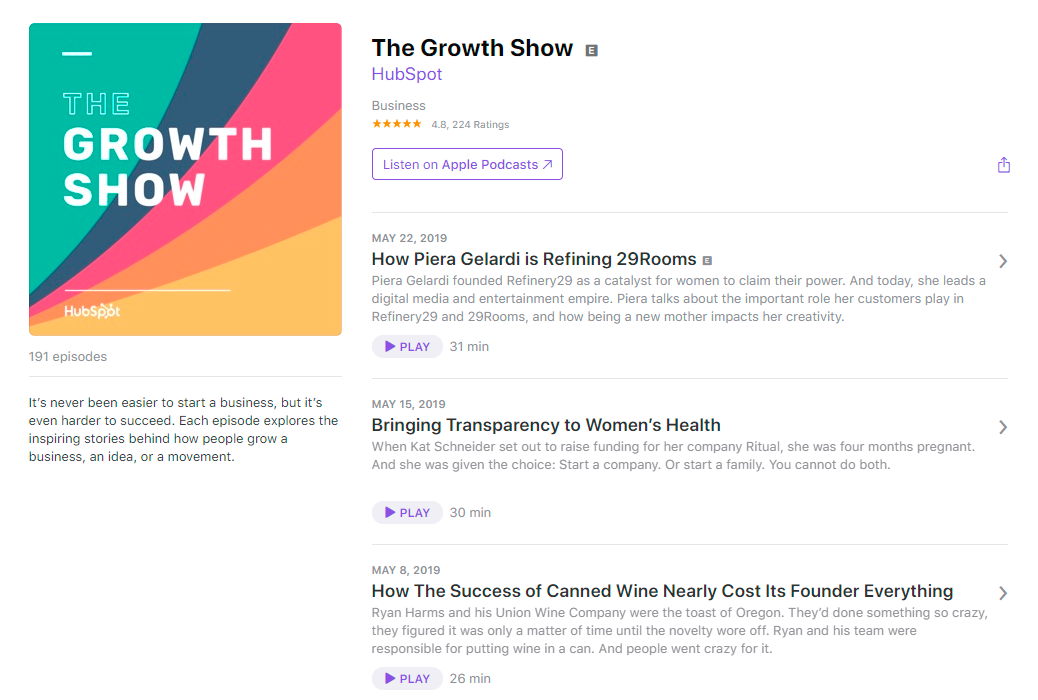 The Growth Show
Start a new business is not that easy. It's, even more, harder if you want your business to succeed. Check out the podcast to learn more about how to grow an idea and business. The collection of episodes covering different topics from bringing transparency to the processes to balancing innovation and competition.
You'll learn:
How to be a stronger leader;

How to grow your team;

How to expand your idea and business.
Listen to The Growth Show.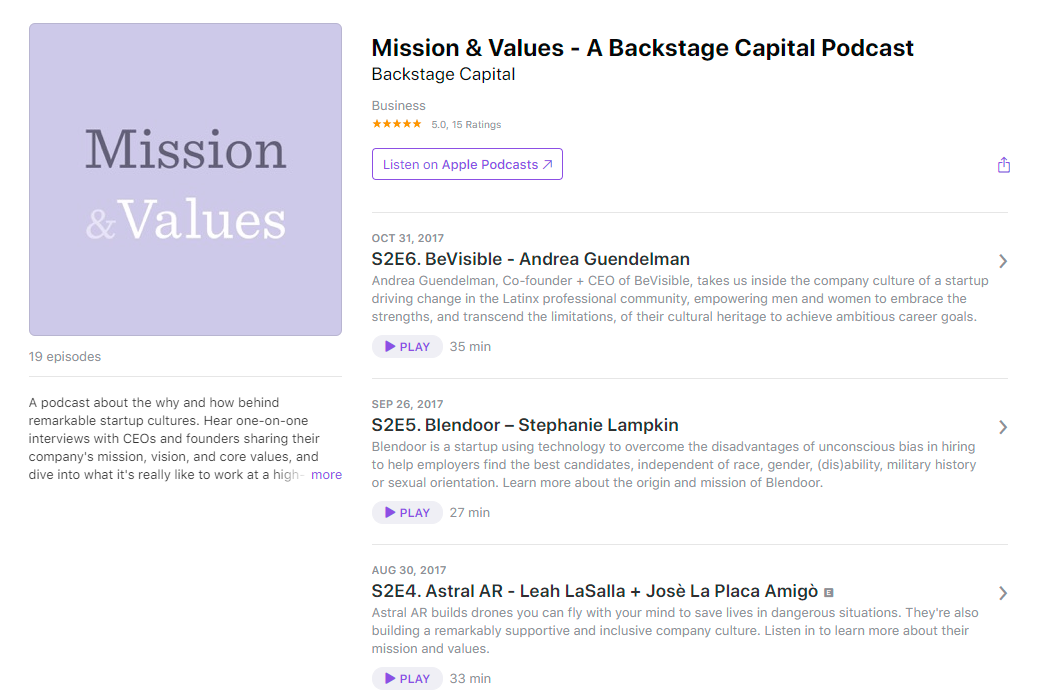 Mission and Values
Hear one-on-one interviews with CEOs and founders sharing their company's mission, vision, and core values, and dive into what it's really like to work at a high-growth startup. Learn about leadership, growth hacking and venture capital funding.
You'll learn:
How to build an amazing culture;

How to scale your values;

How values impact the day-to-day of your small business.
Listen to Mission & Values.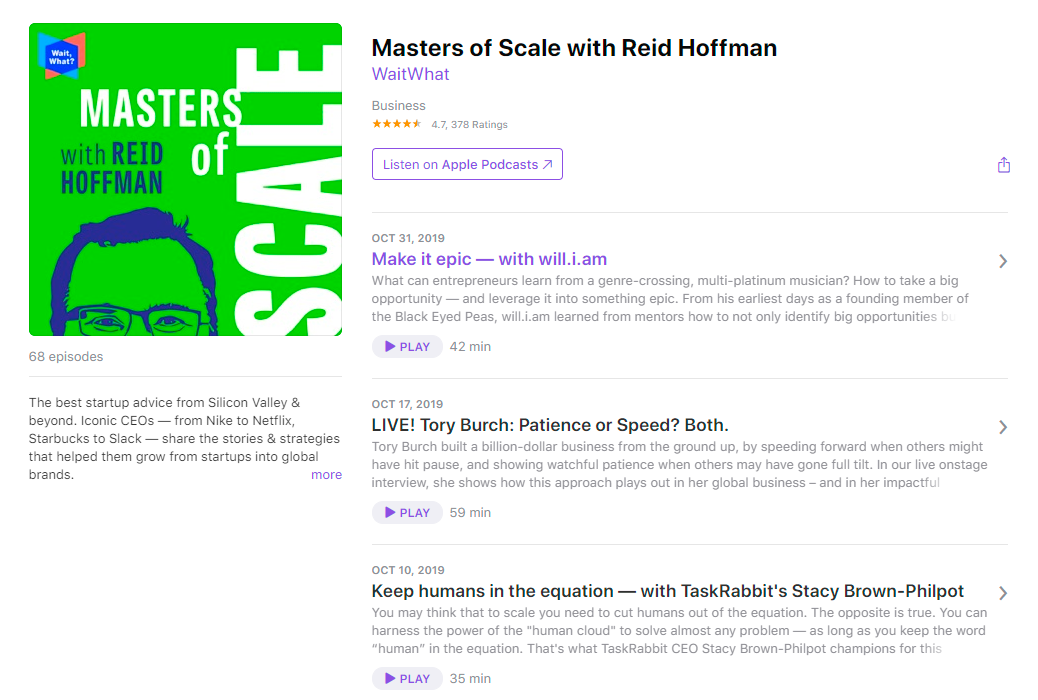 Masters of Scale
LinkedIn co-founder and Silicon Valley investor, Reid Hoffman, host the podcast. On each episode, the host along with his guests talking about fundraising, management, setting strategies, possible failures and solutions to that. Guests on the podcast have included the founders and CEOs of Netflix, Google, Facebook, Starbucks, Nike, Fiat, Spotify, Instagram, and many more.
You'll learn:
How to scale your business;

How to be the great leadership;

How to manage challenges.
Listen to Masters of Scale.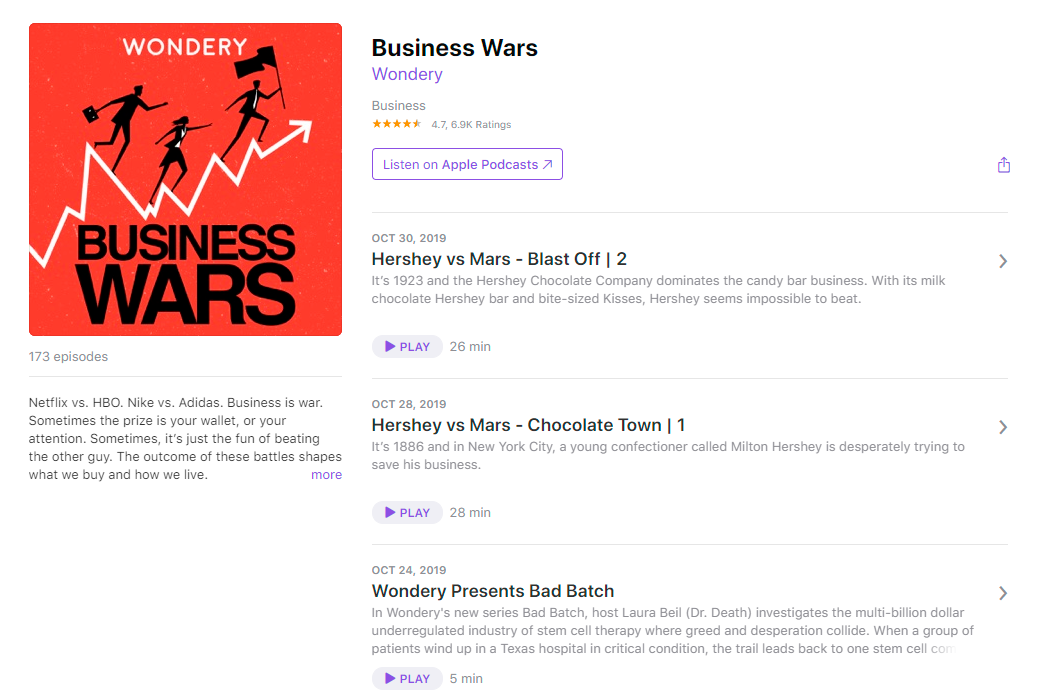 Business Wars
What drives the companies and their leaders? The podcast discusses the companies in the form of battles Netflix vs. HBO. Nike vs. Adidas. Business is a war. The outcome of these battles shapes what we buy and how we live. Business Wars gives you the real story of what drives these companies and their leaders, inventors, and executives to new heights - or to ruin. Hosted by David Brown, former anchor of Marketplace.
You'll learn:
What should you do to succeed in your market niche;

How to manage the competition;

How to develop the killer features of your product to stand out form the majority of the same products.
Listen to Business Wars.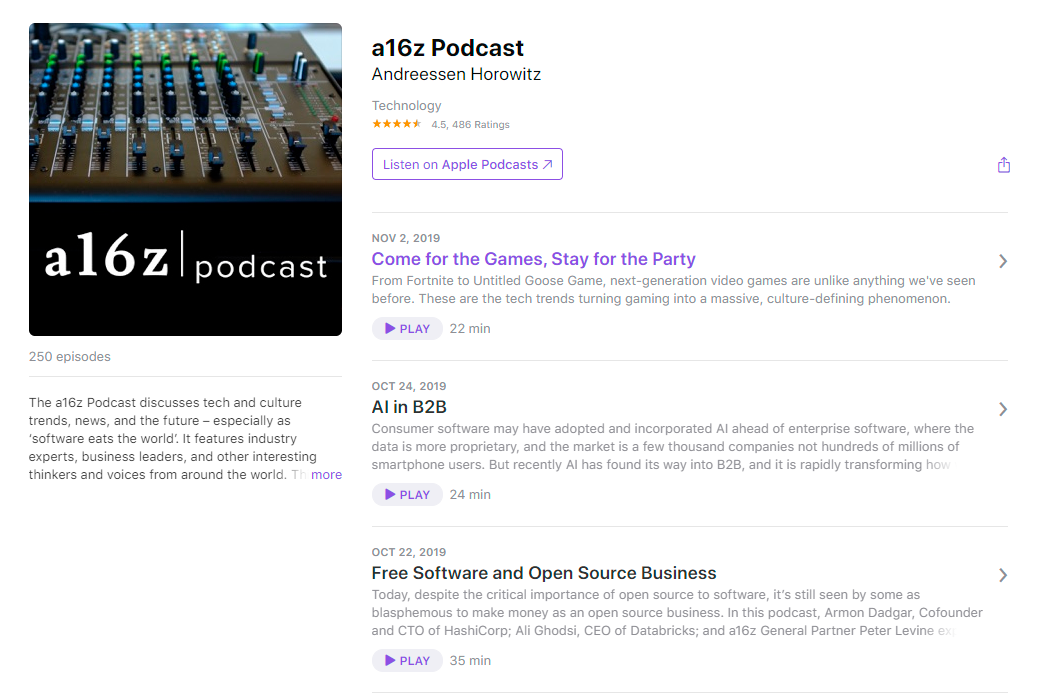 a16z Podcast
The podcast discusses tech and culture trends and news. It features industry experts, business leaders, and other interesting thinkers and voices from around the world. This podcast is produced by Andreessen Horowitz (aka "a16z"), a Silicon Valley-based venture capital firm.
You'll learn:
The most important industry news;

Where the software world is headed;

How to run a startup.
Listen to a16z Podcast.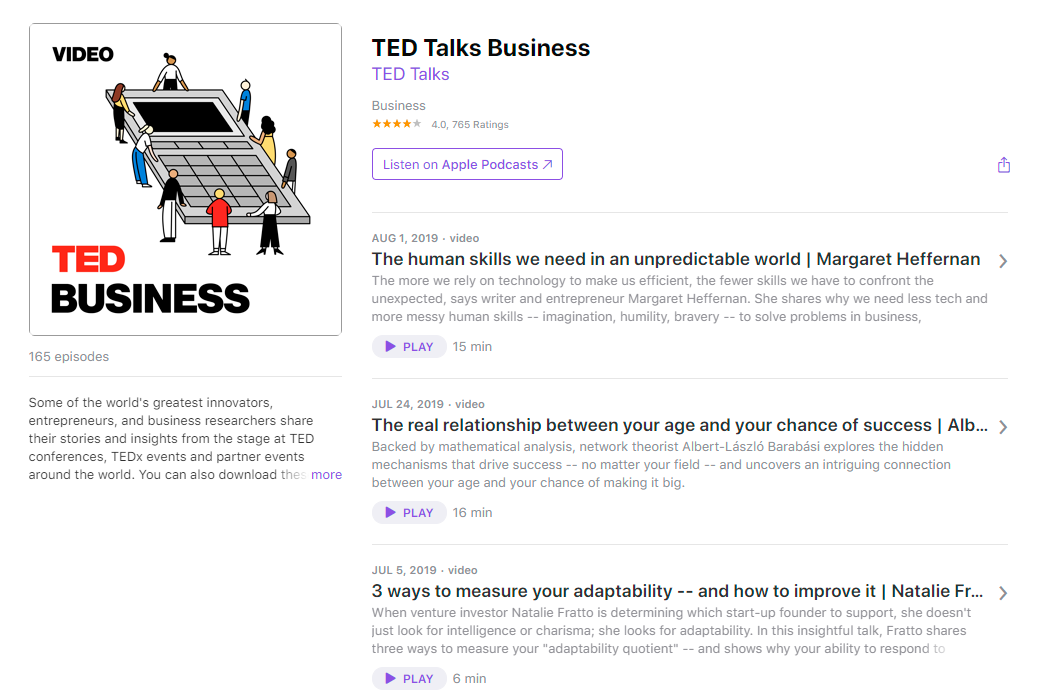 TED Business
Some of the world's greatest innovators, entrepreneurs, and business researchers share their stories and insights from the stage at TED conferences, TEDx events and partner events around the world. You can also download these and many other videos for free from TED.com that features interactive English transcript, and subtitles in as many as 80 languages.
You'll learn:
Get the unique experience of the people who built their startups and personal brands.
Listen to TED Business.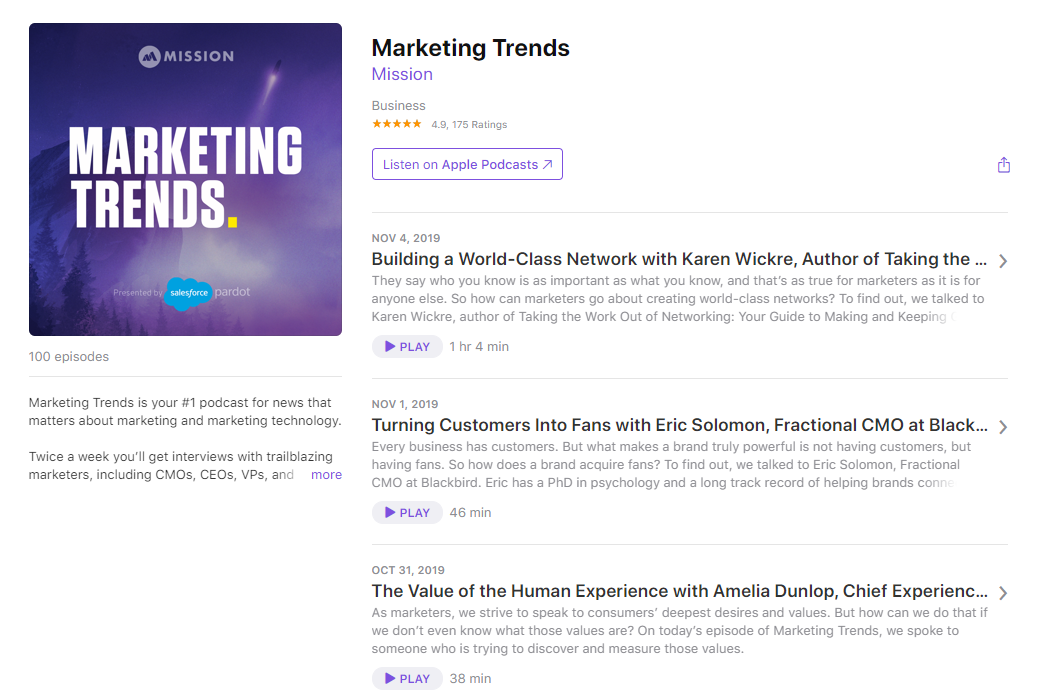 Marketing Trends
It is a great podcast to find out about top marketing trends, tools and tactics. You will listen to interviews with top marketers, CEOs, and industry leaders to know their opinion, thoughts and suggestions. The guests share how they lead high-performance marketing teams, with best practices and lessons that you won't learn anywhere else.
You'll learn:
Different marketing tactics and techniques.

Recent marketing trends and how to implement them for your business;
Listen to Marketing Trends.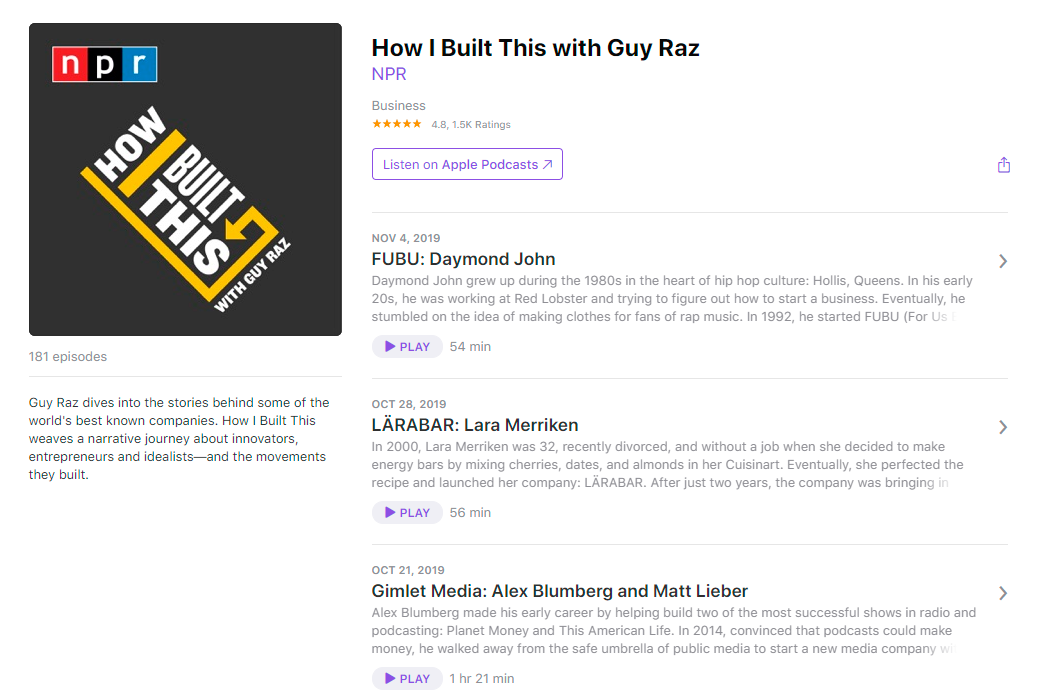 How I Built This with Guy Raz
We are all inspired by the stories of others, aren't we? The podcast dives into the most incredible stories behind some of the world's best-known companies. This is a narrative journey about innovations and their creators-entrepreneurs. So, you've got LinkedIn, Booking and Airbnb and other tech giants - but did you know the story of their creation? What was the greatest motivation to create such brands? Check out the podcast to be familiar with the greatest examples of successful campaigns.
You'll learn:
A huge portion of motivation for you to start your own business;

The idea of challenges you may face while building a startup.
Listen to How I Built This with Guy Raz.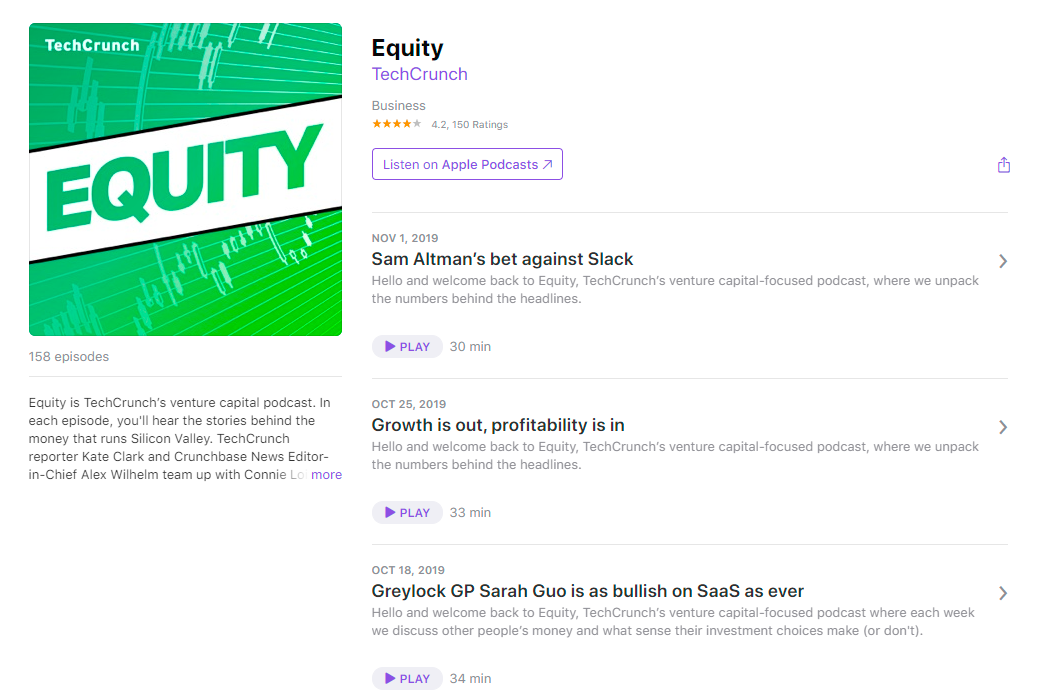 Equity by TechCrunch
Profitability, growth, financial assets sound quite overwhelmed, especially for first time founders. Therefore, we highly recommend to check out this podcast. Equity is TechCrunch's venture capital-focused podcast where the hosts unpacked the numbers behind the headlines. In each episode, you'll hear the stories behind the money that runs Silicon Valley. TechCrunch reporter Kate Clark and Crunchbase News Editor-in-Chief Alex Wilhelm team up with Connie Loizos, Danny Crichton and the most notable VCs in the industry to analyze who's raising, who's selling out and who's going public.
You'll learn:
Relevant news from the world of tech and business development.
Listen to Equity by TechCrunch.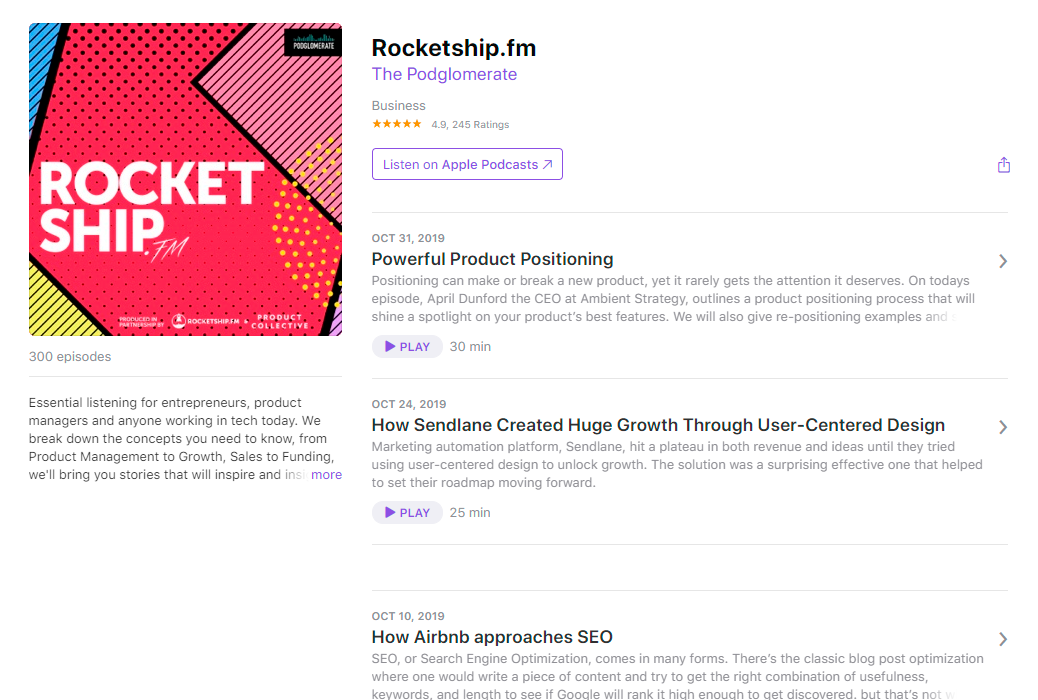 Rocketship.fm
Essential listening for entrepreneurs, product managers and anyone working in tech today. The podcast was capable to break down the basic concepts like product management, sales and funding, etc.. as well as cover everything from product management to growth, culture to sales and everything in between. Rocketship.fm inspires hundreds of thousands of entrepreneurs, developers, marketers, product people, and designers to share their professional experience and specific tips and tricks of how regarding the business development. Rocketship.fm has been featured in Forbes, Huffington Post, Inc, Entrepreneur and many more business publications as a top business podcast year after year.
You'll learn:
Peculiarities of running a business;

Peculiarities of working with devs, designers, marketing teams, etc..
Listen to Rocketship.fm.
Conclusion
We know that to start your own small business might be quite challenging. So, a first-time founder, should learn constantly. In that case, podcasts is a great source of informative content from top specialists in a specific area. Check out the mentioned podcasts to get inspiration, motivation and pieces of advice on how to build a truly great startup.
We hope that you will find this article useful in your future career endeavours. In case you still have any questions or suggestions feel free to contact us and we gladly assist you in any inquiries.