Sometimes our days might be quite hectic. Due to the digitization and advanced implementation of web/mobile apps in our lives, we can rely on some external help. To schedule your time properly and do not forget the most important things that need to be done - are the main goal of the best productivity apps.
Therefore, relying on the virtual personal assistant we can easily cope with the pressure of the to-do lists, work tasks, home responsibilities, events, activities, and appointments. Such apps are a great way to organize your daily routine (and life in general!).
Sure, Goggle Calendar is still a great resource to optimize all your tasks in one place. The sharable ability of the Calendar that integrates seamlessly with Gmail, Drive, Contacts, Sites, and Hangouts is great to track your activity and follow the schedule. Nevertheless, there are plenty of other apps that could makes your organization routine more easier and fun.
Our team understands the importance of using the benefits of the 21st century at its fullest, that is why we picked up 10 best apps for self-organization matter. Choose the perfect one for you, download it and enjoy your new and more productive results on both your work and personal life. To be back on track is easier then you think!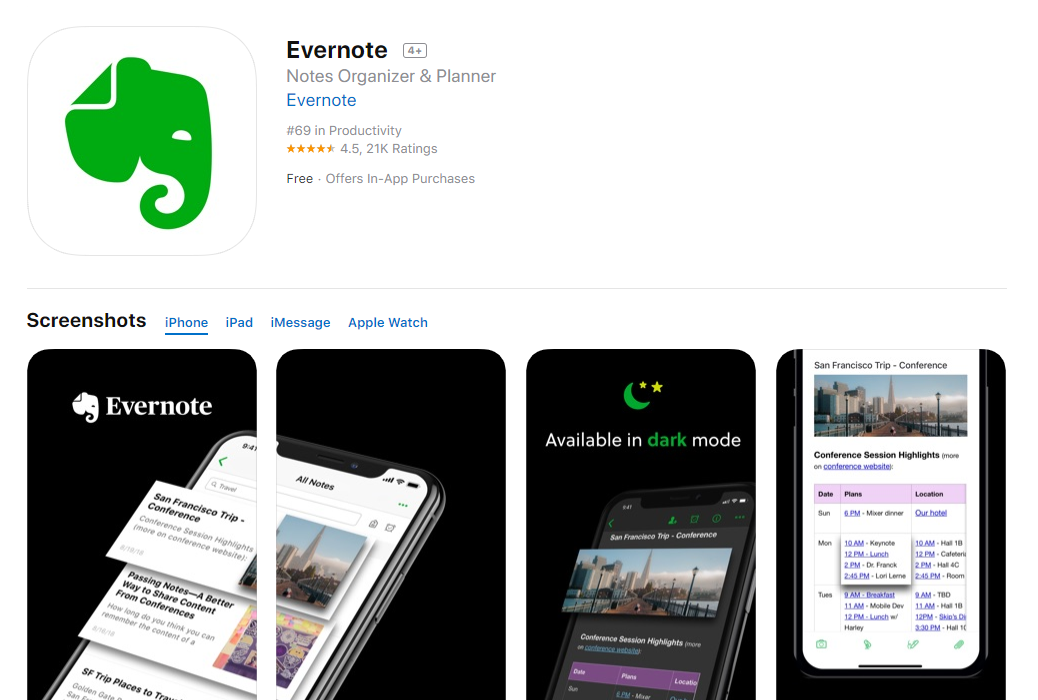 EverNote
Sick of typing? Digitize your notebook with Evernote, since it is the only planner and organizer you need. It is a comprehensive yet easy to use document management system (DMS). Write, collect and capture ideas in a form of searchable notes, notebooks, memos, checklists, and to-do lists. Moreover, you can create notepads in a variety of formats, including text, sketches, graphs, photos, audio, video, and PDFs. There are lots of add-ons and apps that interface well with the app such as Slack, Outlook, and Salesforce. Whether you're an impulsive creator of to-do lists or just looking for a way to document all of your loose thoughts, Evernote is a great way to boost productivity.
Download from Google Play and App Store.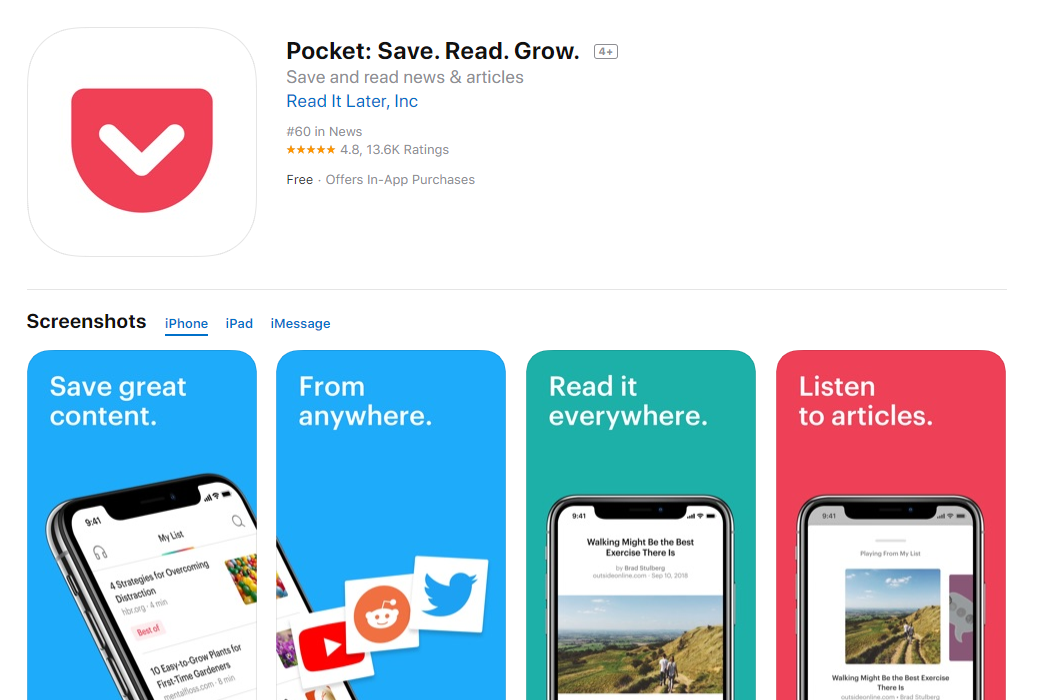 The Pocket
Save. Read. Grow. The motto that sums up perfectly the app. The Pocket allows you to save from anywhere: news, magazines, stories, web pages, etc. Do not have time to read the material? Transform the reading - content into the listening one with the app's listening feature. The app makes the most of your time by getting you straight to the news feeds, newspaper articles, top stories, and relevant information. Discover more of what you like and save tons of time!
Download from Google Play and App Store.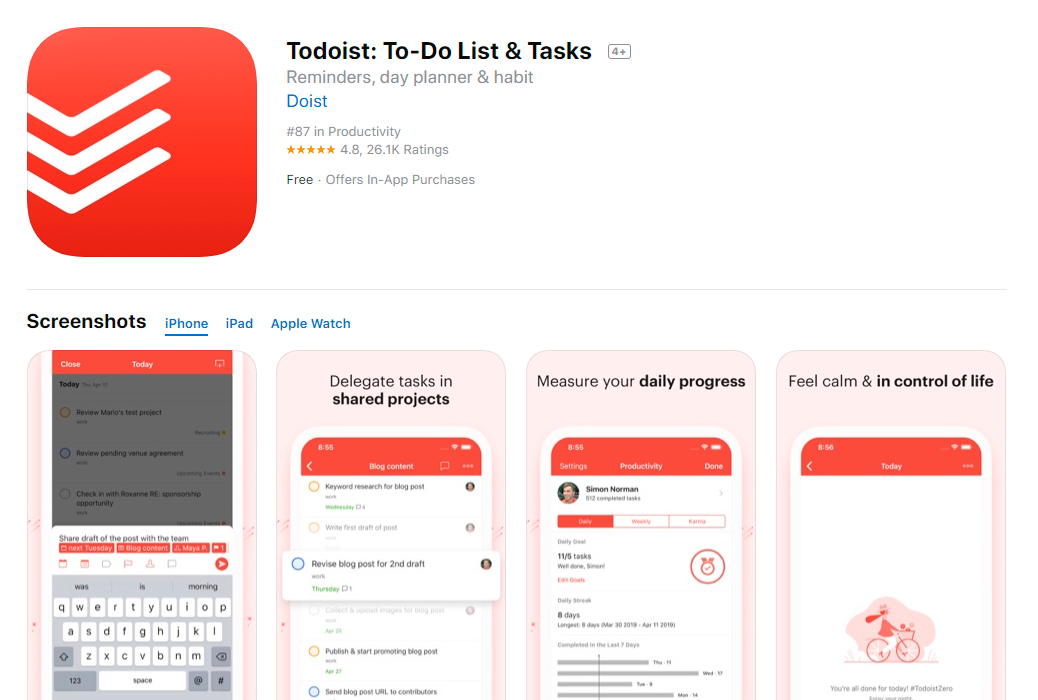 Todoist
Todoist is one of the best organization apps that helps you prioritize your tasks and cope with document management. You can easely stay focused focused due to project management features, making lists and daily planners, set reminders and habit/goal trackers. In the Todoist app, you can create, store, and manage tasks all in a super user-friendly interface. If you hate making paper-version schedules, this app is for you! Create as much lists as you need and set different categories, such as "grocery", "work", "events", "self-care". Being able to rely on the digital list makes you both more focused and save you from anxiety.
Download from Google Play and App Store.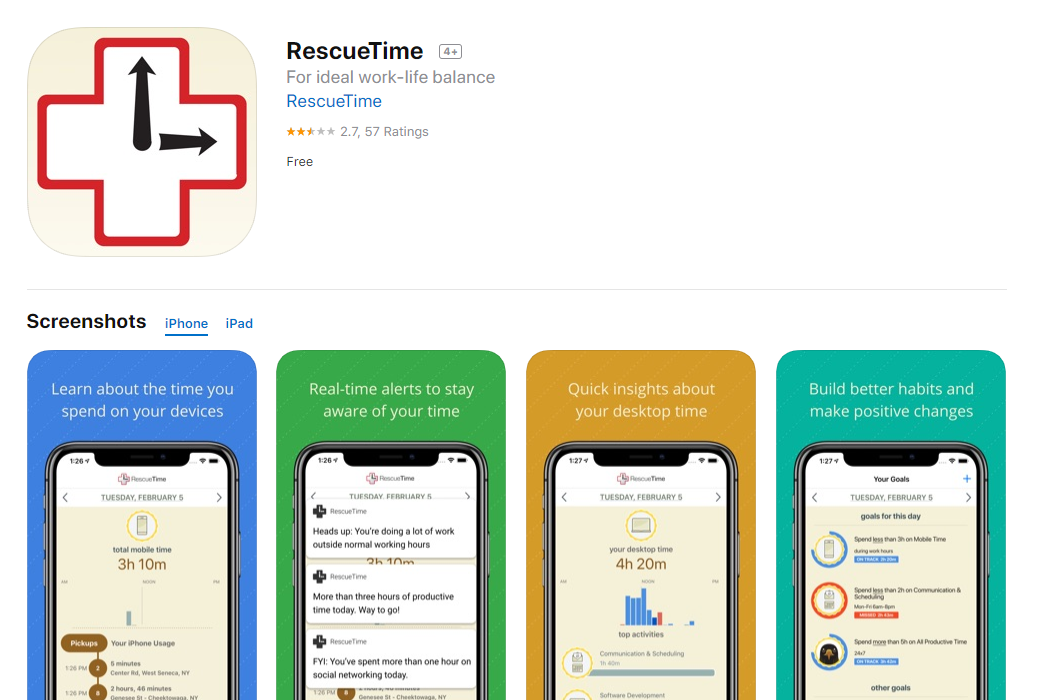 RescueTime
Among all organization apps, RescueTime helps you to understand where your time goes each day. The app focuses on setting goals and alerts, blocking distractions, tracking time online and offline and much more. Being productive means managing your time right. The app is especially useful for those of you looking to fully optimize their time - or perhaps even for those looking to disconnect from the willengness to update the social media. Download the app to become the most productive self!
Download from Google Play and App Store.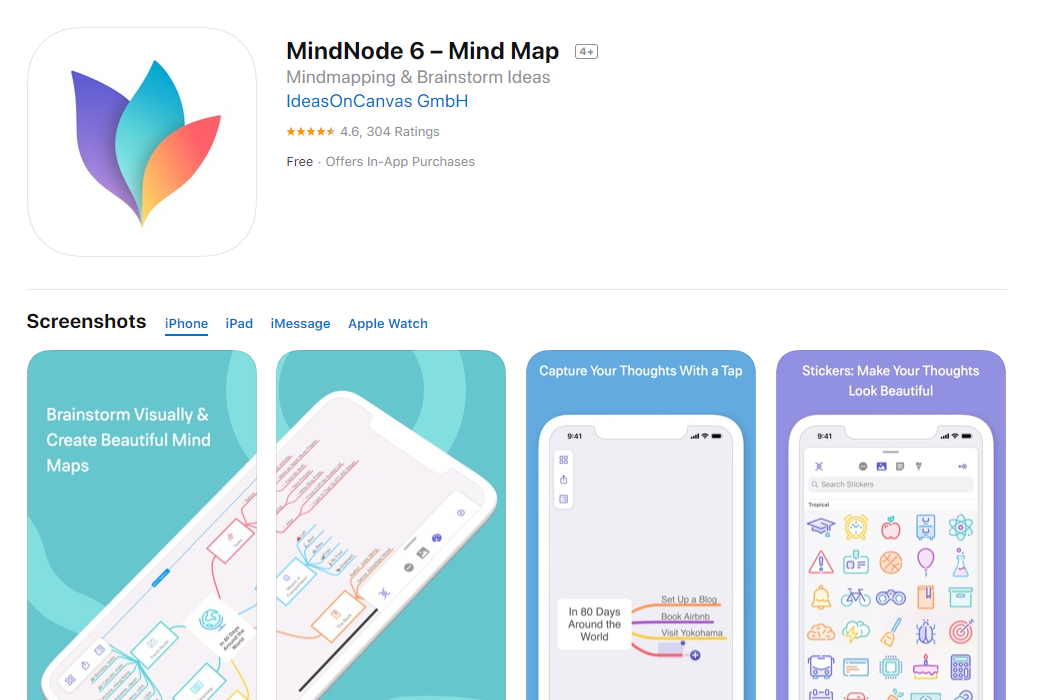 MindNote
Start planning your vacation or write your uni notes - all in one place. MindNote lets you capture, organize, style and share your thoughts and ideas. Choose different themes to customize your notes. Visual brainstorming becomes more real as it has never before. Mindnode is for the quick brainstorm session on your morning commute, or for the story you've meant to write, but all of the pieces of the puzzle aren't coming together. Capture your thoughts, organize your idea, style your mind map and easily share your vision with others.
Download available only from App Store.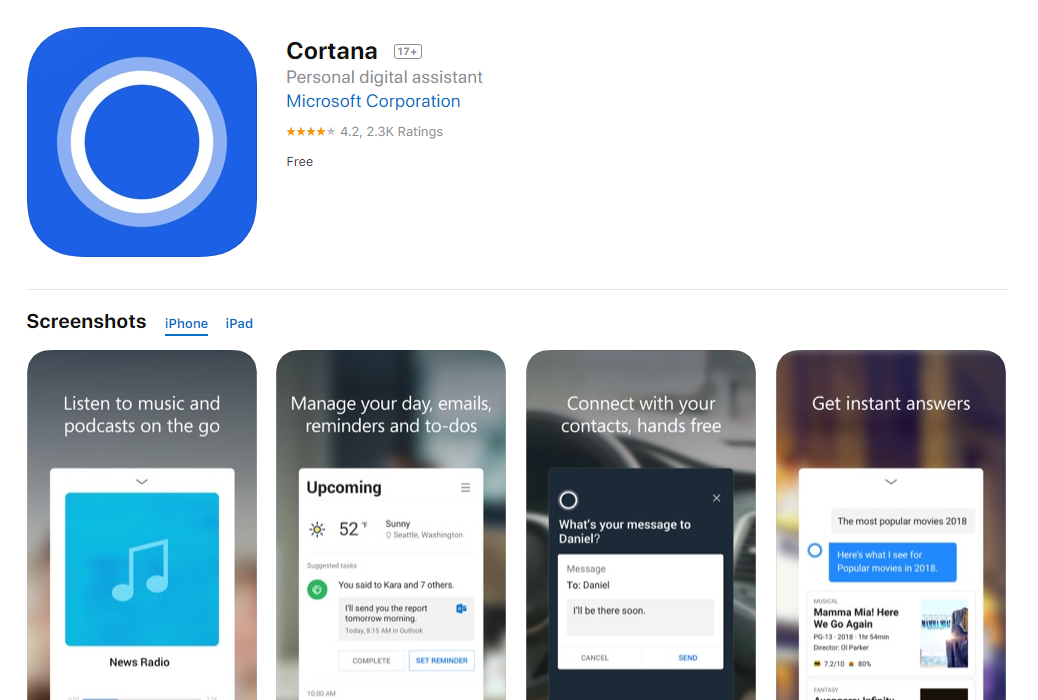 Cortana
Do you need a personal assistant to remind you things, keep your notes and lists and help manage your calendar? Then meet Cortana - your smart digital assistant. The app lets you achieve more while doing less. Cortana can take notes, write lists, and set task reminders. The app can ping you at particular times of the day or when you reach certain locations. Reminders can also repeat on a scheduled basis, so you can create a weekly reminder. On top of all that, Cortana keeps you in touch with breaking news and weather forecasts.
Download from Google Play and App Store.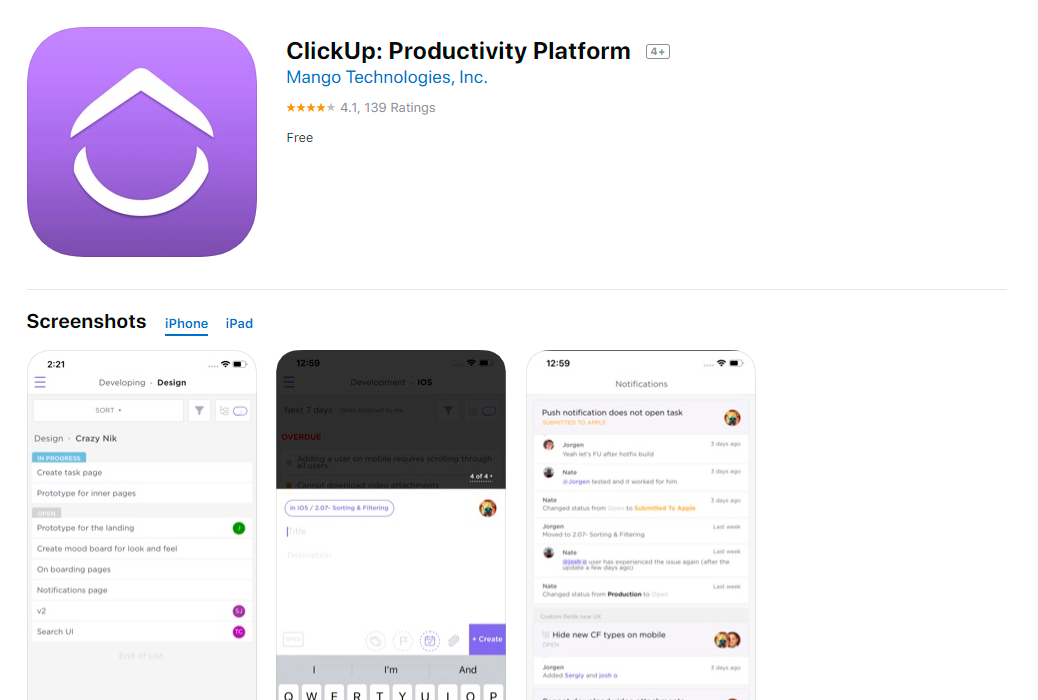 ClickUp
You get two in one: a full productivity platform and a task management app. ClickUp is a user-friendly and feature-rich app that allows you to create tasks, prioritize, set notifications and various lists. A smart search feature to find all your tasks and custom statuses to keep track of your task list easily would be quite helpful in your daily activities to organize your tasks. Moreover, the app helps you stay in sync because you can use it across devices and even connect your Google Calendar.
Download from Google Play and App Store.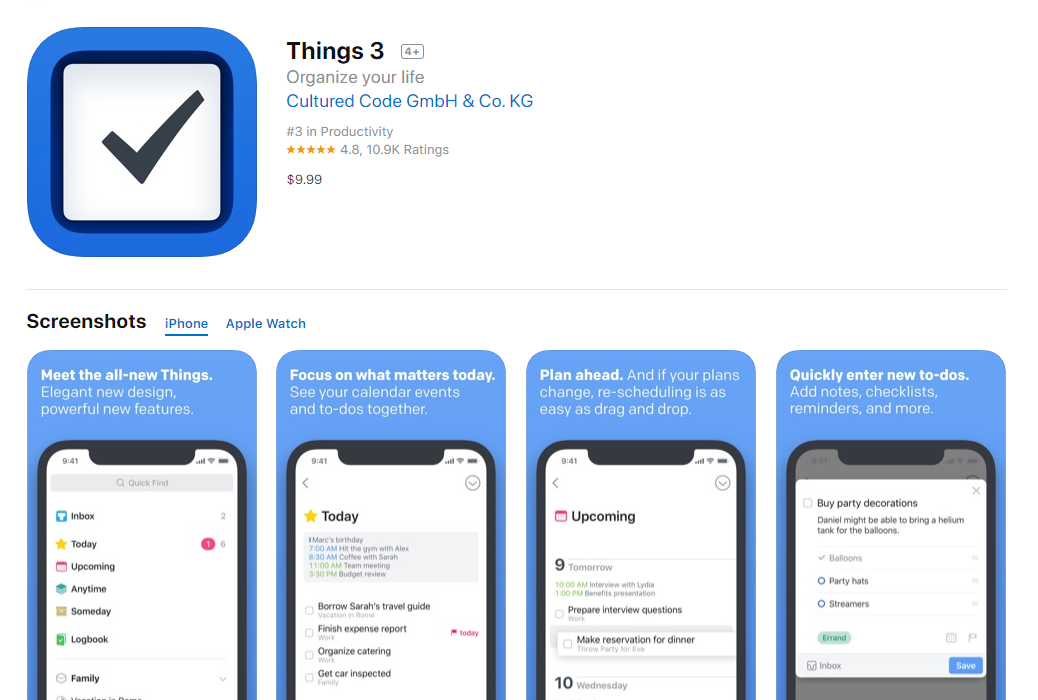 Things
In one place you can create checklists, add headings and tags, get progress charts and sorting filters. The app takes a minimalist approach and gives you an opportunity to customize and create perfect list of your tasks. Things is able to handle complex task management. Moreover, it can sync with your iCloud account for even more convenient organization and prioritization.
Download available only from App Store.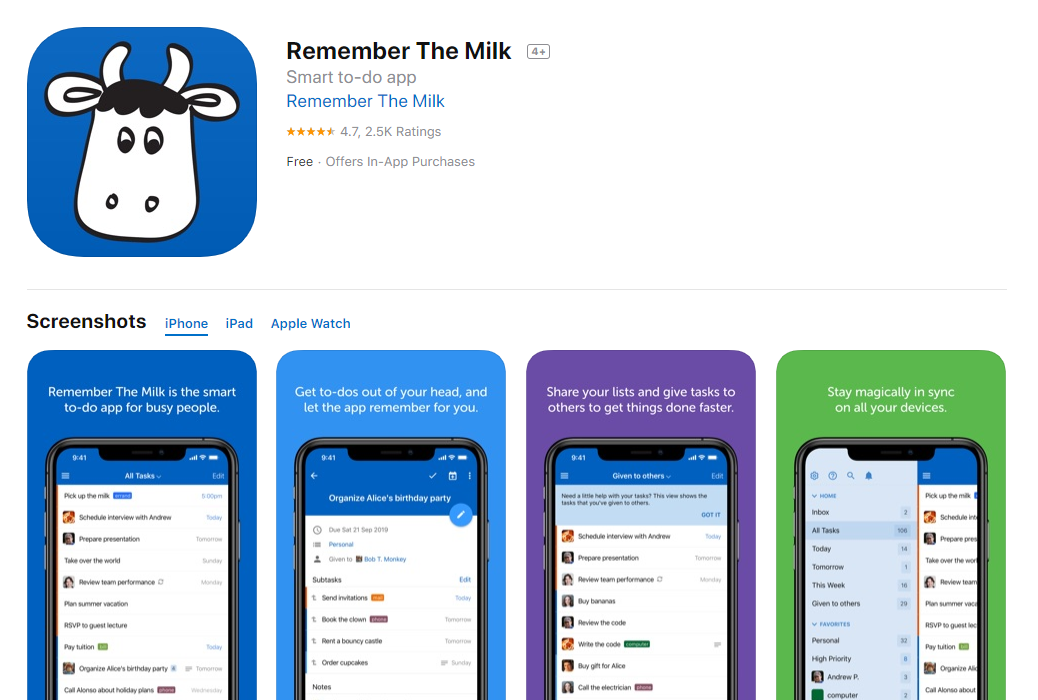 Remember the Milk
This app helps you get to-do lists, get reminders via email and text, share your list and give tasks to others to get things done faster. See tasks nearby and plan the best way to get things done. Customize your tasks by tags, colors, and headings. In addition, you can organize the way you want to with priorities due to dates, repeats, lists, tags and more. Remember the Milk is a truly smart to-do app for busy people.
Download from Google Play and App Store.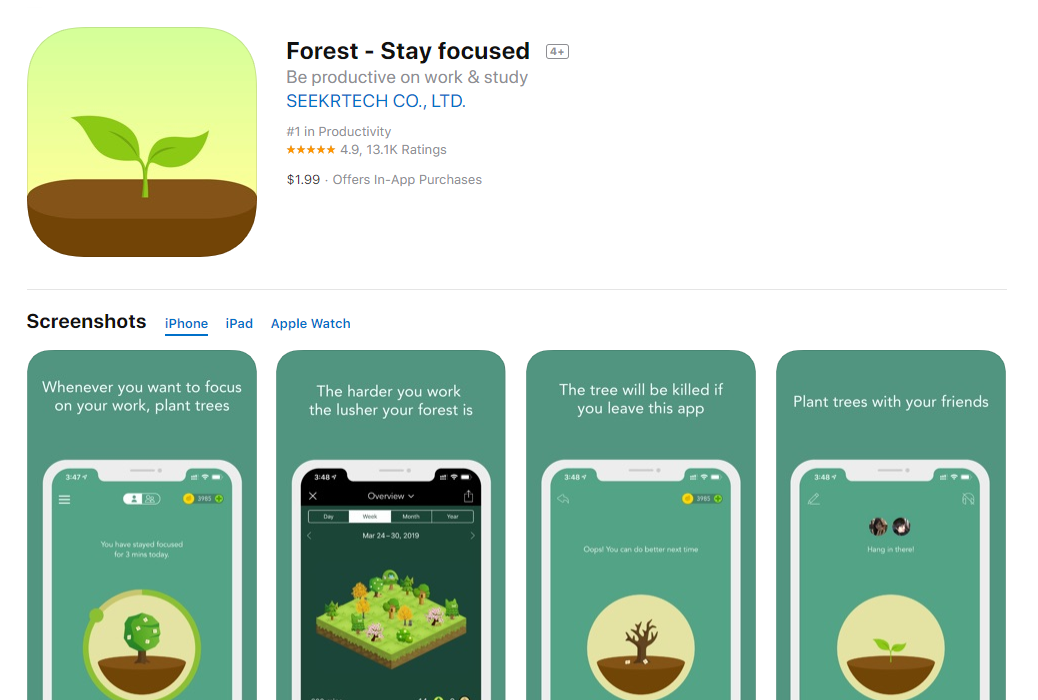 Forest
The app helps you to focus on what is more important by means of gamification. Forest works quite simple but effective. Whenever you want to focus on your task, just plant a tree. The tree will grow in the following time. The tree will be killed if you leave the app. Working at the office, studying for finals or spending time with friends - now you can focus on the present time and enjoy being productive. Moreover, the app partners with a real-tree-planting organization (Trees for Future), to plant real trees on the earth - which makes this app as twice as great!
Download from Google Play and App Store.
Check out the best productivity apps.
Conclusion
Being productive and focused on a daily basis is crucial for both career endeavors and personal development. Nevertheless, the following schedule and being self-organized might not be that simple sometimes. To be back on track we suggest you check out top task management apps that could significantly increase your productivity. Among all apps for self-organization our team choose the most user-friendly and effective ones.
We hope that article was useful for you and you can choose the perfect app specifically for your needs. Are you interested in building your own task management app - the one that could stand out from the wide majority? if so, do not hesitate to contact our team and we will assist you in any inquiries - from framing business model to the actual development of a product.