If you're still thinking: "Should I start a podcast?" the answer is definitely YES! Podcasting is a much less crowded and competitive space than blogging, making now the perfect time to get started. As of January 2021, there are just over 1.75 million podcasts, but over 600 million blogs.
After the decision to start a podcast comes the question of how to do so, where to start and what to take into account. So, if you're looking for a guide that walks you through how to start a podcast, you're absolutely in the right place. Starting a podcast isn't difficult, but there are a number of steps you'll need to go through in order to get it launched.
We created a step-by-step guide to walk you through every step of the process:
Choosing a topic & name

Show and episode format

Cover art creation

Intro & outro music

Equipment selection

Audio recording & editing

Promotion tips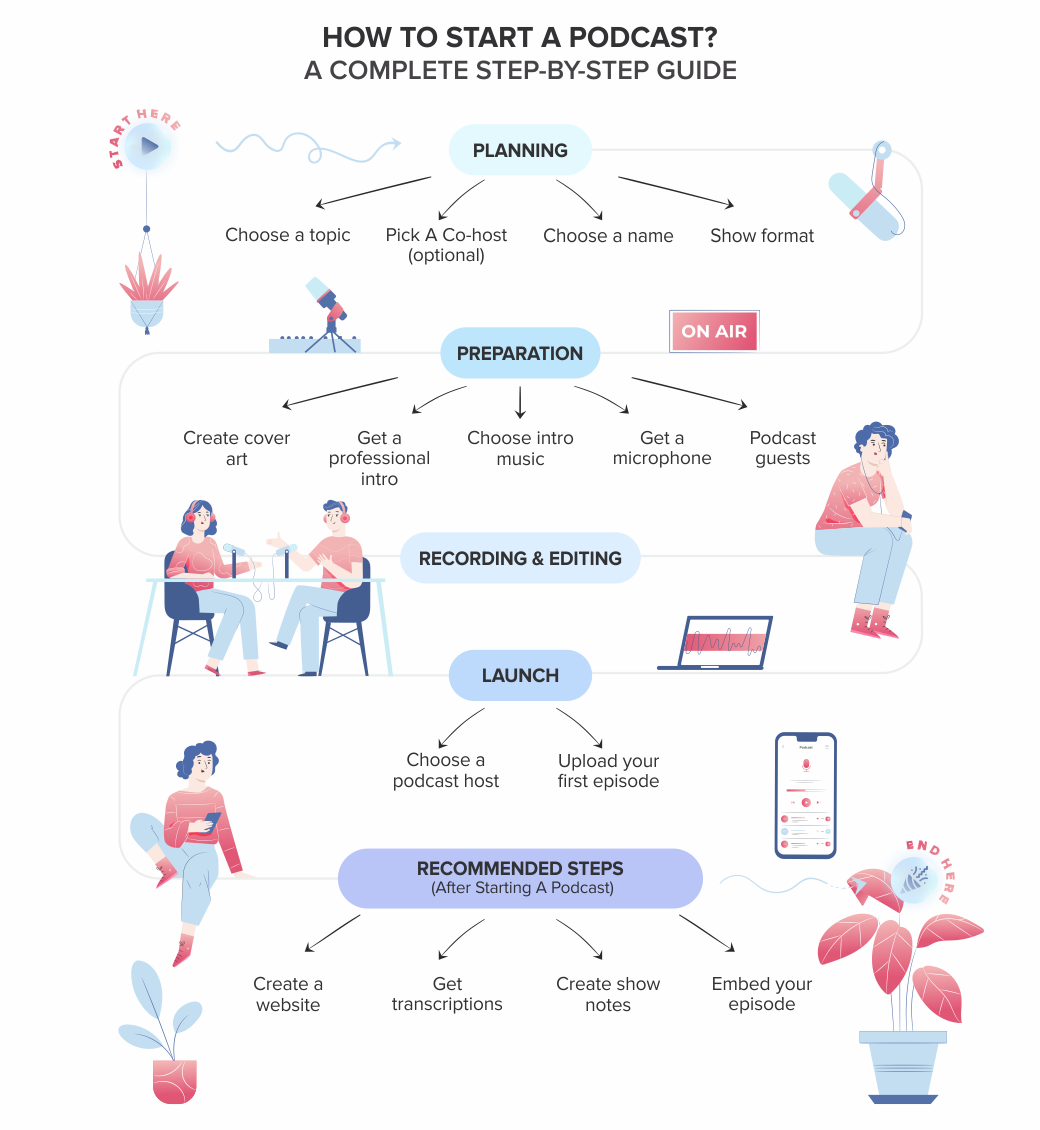 1. Planning
This is the initial (often overlooked) stage to make a podcast. You'll want to spend a good amount of time here before you move on. Feel free to get out a notebook or a whiteboard so you can start planning your podcast like a pro.
Our team chose some of the top podcasts for web developers👇⠀
Choose A Topic
Do you want your podcast to be focused on a particular topic or niche? Try to narrow it down to something you can speak about for many episodes (100+) but that isn't so broad that you won't appeal to your potential audience.
For example, instead of having an "outdoor" podcast, talk about hiking or cycling and instead of "startup" podcast discuss fundraising tips or how to pitch an idea. You can always expand your topic later as you get more popular.
Pick A Co-host (optional)
Do you have a friend, business partner, or coworker that you want to co-host with? It can be much easier to start podcasting if you have a co-host.
You will naturally have a more engaging conversation if you both share your points of view on a topic. It can also be helpful to have someone to keep things on track. Plus, you can split additional tasks of editing, promoting, and more.
Choose A Name
If you look at the top Apple Podcasts charts, you'll see a variety of different names.
Some are descriptive of what the show is about, while others don't mean much. What do you need to do is to choose a name that is broader than your topic. Choose a name that will let you expand if you decide to later. Using the startup example earlier, it you choose "startup fundraising tips" as the name, what happens when you want to talk about other aspects of startup development? Instead, choose a name that will let you expand if you decide to later. Maybe "Startup Adventures (Above & Below Fundraising)" would work as it gives a hint to fundraising but gives you the option to talk about all kinds of stuff if you want.
A Small Hint: Purchase a domain name (opens in a new tab) for your podcast. Another option is to get a free domain name with a Bluehost web hosting plan.
Show Format
Interview shows are popular, but that doesn't mean you have to do one. You can do solo (or co-hosted) shows half the time and interview shows the other half.
One big benefit of doing interviews is that they help a ton with getting new listeners – especially if you make it easy for your guest to share with pre-written templates and graphics.
You'll find a number of "experts" claim that certain lengths are perfect for podcasts. In fact, you don't need a 28-minute podcast because that's the average driving time. Or under an hour because people can't pay attention longer than that.
There are 5 minutes podcasts and there are 6-hour podcasts. Find whatever works for you and run with it! But try to avoid is making it longer than it needs to be because you went off-topic for 15 minutes.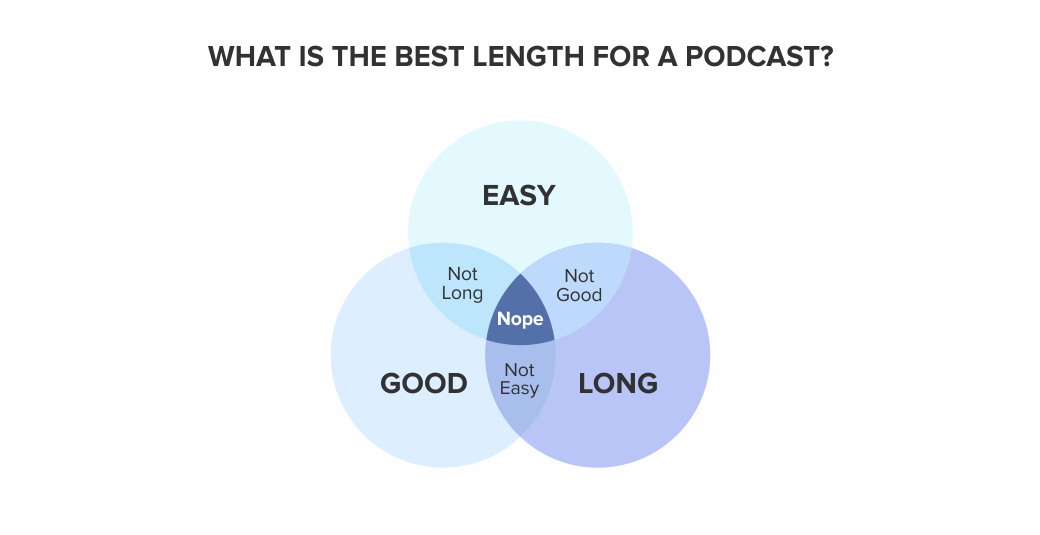 2. Preparation
Now that you've written down your topic, format(s), and secured a domain name, we'll need to get a few things prepared ahead of launch…
Create Cover Art
Your cover art is the first impression most people will see as they browse through Apple Podcasts or their favorite podcast app. It's might also be the image someone sees when you share your show on social media.
Get A Professional Intro
Music Radio Creative is the best place to get professional-quality voiceovers and intros. Having a third-party introduce you just takes your perceived value up a notch, which is a great way to stand out when first starting a podcast.
Choose Intro Music
Try PremiumBeat for podcast music. It's easy to search, you get a full license, and they have a bunch of different styles.
Get A Microphone
Audio quality is important but it doesn't have to cost a ton to get a good quality microphone for podcasting. One of the most popular podcasting microphones is the Audio-Technica ATR2100x-USB.
Podcast Guests
If you are doing an interview show, now is the time to get a list together of who you want on your podcast. Then start reaching out to them. It can help to use a service like Acuity Scheduling so people can book right on your calendar when it's convenient for you. This saves the headache of going back and forth working out a meeting time – and means you can focus on getting more guests! Plus you can ask them for certain info like their Skype username or an intro you can read when they schedule with you.
3. Recording & Editing
If you haven't used editing software before, even simple actions in GarageBand or Audacity can be quite intimidating. It's understandable: audio production is completely full of jargon. If that's the case, then Alitu might be the way to go.
Ality is a 'podcast making' tool that automates a lot of the confusing technical parts, and practically builds your episode for you. It's all based right inside your browser, so no software to download, and it works on any computer connected to the internet.
It is built to be super simple to use and does pretty much everything:
Takes care of audio cleanup

Lets you add music

Helps you piece together your audio segments

Has direct publishing of your episodes.

All you need to do is upload your recordings, and use the fool-proof podcast-specific editor to take out any big mistakes. Alitu does the rest!
Even better, Alitu includes a library of music and jingles which you can use as your theme tune, or as transitions between segments. Whether you're a complete beginner, or an experienced podcaster looking to drastically cut down on your production time, you should definitely give Alitu a try. It comes with a 7-day free trial, so sign up and try it out!
We picked up top podcasts about entrepreneurship for you!👇⠀
4. Launch!
Choose A Podcast Host
There are many different podcast hosting platforms and it can be difficult to decide which one to go with. Some companies have been around a long time and new ones are popping up all the time.
If you're looking to start a podcast, you'll need to sign up with a podcast hosting company to store your .mp3's and create your podcast feed. Just like when you start a website or blog you need a web host, when you start a podcast you need a media host.
Or if you're looking for a better place to host your podcast, the best podcast hosting sites make it super simple to migrate into their system. So, the best podcast hosting companies as of January 2021 are:
Upload Your First Episode
Once you've signed up, you'll need to fill out some required information about your podcast (name, description, categories, publish date, etc.) to upload the podcast episode. It can be helpful to create a template for your episode description (in a separate text document) to reuse for every episode. It's recommended to launch a podcast with more than 1 episode so that people don't have to wait to hear more. For example, 3 to 5 episodes is a good number to start with.
5. Recommended Steps (After Starting A Podcast)
Your job isn't done once you start a podcast. Here are my recommendations to help make your show more appealing and easier to grow:
Create A Website
Podcast hosting companies usually give you a website, but if you want to be taken seriously get yourself a separate website. If you need a bit more guidance, start with how to build a website research. And if you need more help, we gladly will answer all of your questions in the contact us section below.
Get Transcriptions
Transcriptions are an excellent way for search engines (like Google) to "read" your podcast episodes. They also give your audience another way to look something up quickly. You don't have to start out with them, but it's another one of those things that will set you apart.
Create Show Notes
Show notes can be transcriptions like above, a simple summary of what you talked about, or a full blog post tailored more toward reading than listening. Some people do a combination. On this site, we start with written content first and then create podcast episodes after.
Embed Your Episode
Grab your episode embed code and place it on your show notes page so people can listen from your website.
To Sum Up
You can create a successful podcast today. Begin with the podcast listing information and start looking on Apple Podcasts or Google Podcasts for podcasts that are already doing what you want to do. If you already have an external microphone, record a short episode today, introducing yourself and your podcast idea. When diving in, get comfortable talking into a microphone for a long period of time and then listen to yourself afterward. You don't have to upload the episode you record today, but it's good to get some practice and familiarity with the process.
If you have any questions about starting a podcast or any comments about this guide, please be sure to leave a comment below.