There is a tendency to suggest that e-commerce and e-business are interchangeable definitions. In fact, these are completely different notions, yet closely related to each other. While e-commerce stands for buying and selling online, e-business is related to all business activities online. Actually, it is correct to state that e-commerce might be considered as a part of e-business.
In this article, we will briefly discuss the notions, features and the main strategies of both e-business as well as e-commerce.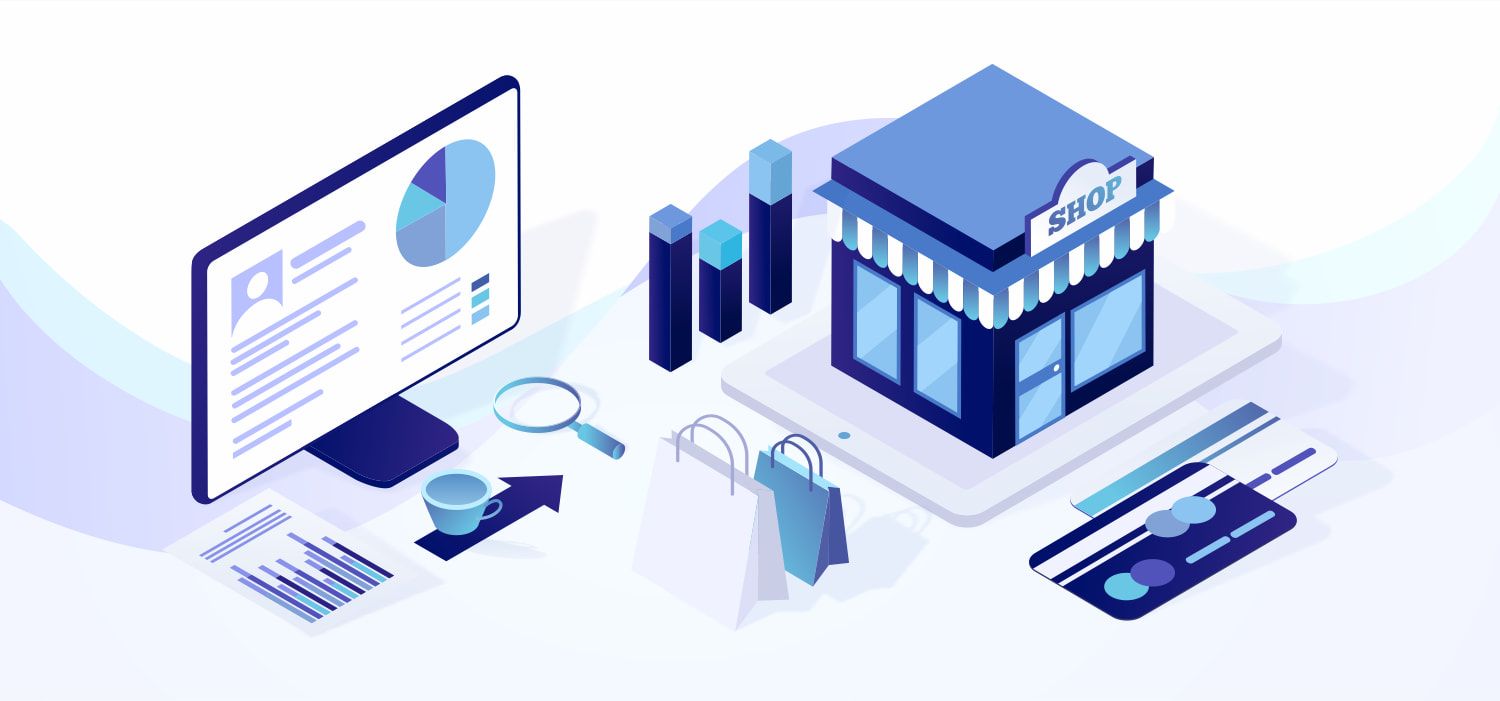 What is E-Business? What is E-Commerce?
Electronic Business or E-Business defines as a wide kind of business processes management such as electronic ordering processing, supply chain management, customer relationship management, etc.. E-business refers to the use of internet and web to conduct business processes.
There are two types of e-business:
Pure play - when a company focuses on one particular kind of product or providing a specific service rather than providing various kinds at once.

Brick and click - when a company that runs its business in both online and offline way, which is mean that while they have a website and offer their products or services online, simultaneously they also have a physical store and sell their products or services there.
Electronic Commerce or E-Commerce stands for the process of selling and buying specific goods and services via the Internet by means of using a web or mobile application.
There are different types of E-Commerce:




B2B - Business to Business. E-Commerce cooperation happens between two businesses or companies. It is including all kinds of electronic transactions of goods and services.




B2C - Business to Consumer. This is the most common form of E-Commerce practice that defines the cooperation between the business/seller and the consumers. By means of using the web and mobile marketplaces, customers are able to find various kinds of goods online in order to purchase goods /services online.




C2C - Consumer to Consumer. C2C includes all electronic transactions of products or services between the customer and another customer. Usually, this can happen between with the third party helps, for example, eBay as a marketplace for online action.




C2B - Consumer to Business. C2B suggests that the final user or a customer create a certain product or service that a company uses to complete its business process or gain competitive advantage. For instance, sites where freelance content creators offer their service for blogging or editing for others, so any company is free to use their service if they will need it.




B2A - Business to Administration. This business model covers any kind of transactions that carry out between business and government. It may consist of a wide range of services, for example, security, fiscal, monetary policy, employment, and many others.




C2A - Consumer to Administration. The cooperation between a consumer and the governmental sector is defined by C2A model. This includes transactions on the following subjects as education, taxes, social security, health, and others.



Read our article 3 popular Marketplace Types You Can Build in 2018: B2B, B2C, C2C.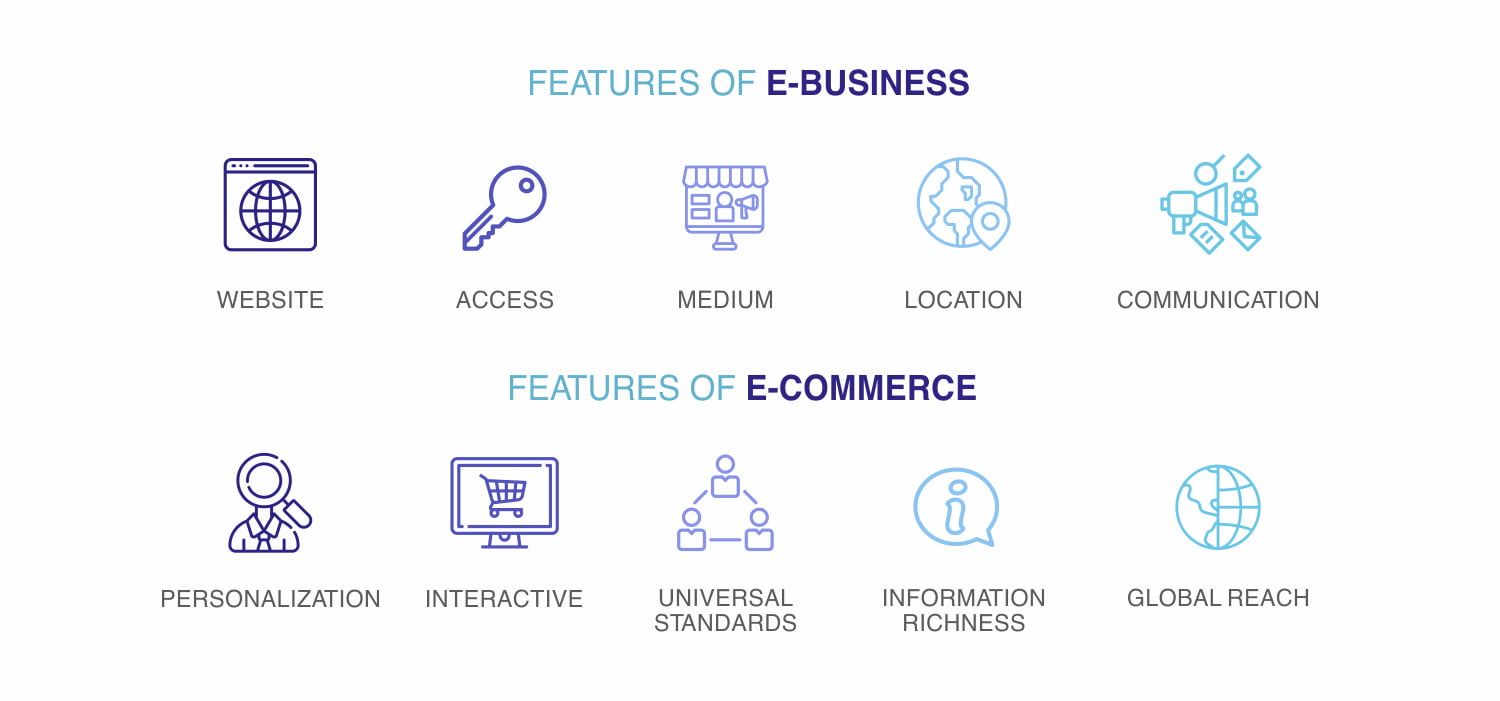 The Key Features of E-Business and E-Commerce
Let's discuss the main features of e-Business and e-Commerce as the Internet has provided many valuable tools to the public, including the precise models of how the business could be run. In that case, understand the key features of both models provides you with guidance for the business development and career endeavor.
Features of E-Business:
Website. The business is running with the usage of websites and mobile apps. It is a required feature which became the pillar of the whole idea of functionality of the e-business model.
Access. It is one of the most crucial features nowadays. Customers need to be sure that there is access to your store/ website, etc. whenever it is comfortable for them. By focusing so heavily online, the organization is always open and selling its products or services.
Medium. The predominant feature of e-business is having an online niche. In fact, e-business encompasses the wide variety of business-related activities, but the basic premise is its reliance on the commerce of its products.
Location. While traditional business requires a store or an office, e-business can be run without this added expense. In fact, a lot of entrepreneurs who choose to follow e-business model are working from home or any other convenient place at a much lower cost than a traditional business.
Communication. Placing your business online, there is a great opportunity to contribute to the profound information about your business as well as provide constant customer connection.
Features of E-Commerce:
Personalization. Customization builds a positive user experience. Applying the right technologies within e-commerce enable to create personalized options for users. For example, personalization may include product recommendations based on a user's search history on a Web site that allows individuals to create an account.
Interactive. Customers need to interact in order not to lose interest in your online store and products that you are selling. As a result, e-commerce is able to adjust to each individual's experience. For example, the ability to see different angles of a certain good, adding a product into a digital shopping cart as well as reading the reviews about this product might be great tactics.
Universal standards. Means that the online community and process are following the same standards. This is the system allows to massively simplify interactions. For example, the user may trace these standards while shopping online due to the fact the process of purchasing via the Internet is similar on different websites.
Information richness. Providing a rich informational experience with by using videos, photos and texts are crucial to create a profound profile of the product or service.
Global reach. Technologies within the eCommerce seamlessly stretch across traditional cultural and national boundaries and create the opportunity to reach customers globally. Multilingual websites and cultural globalization benefited this feature a lot.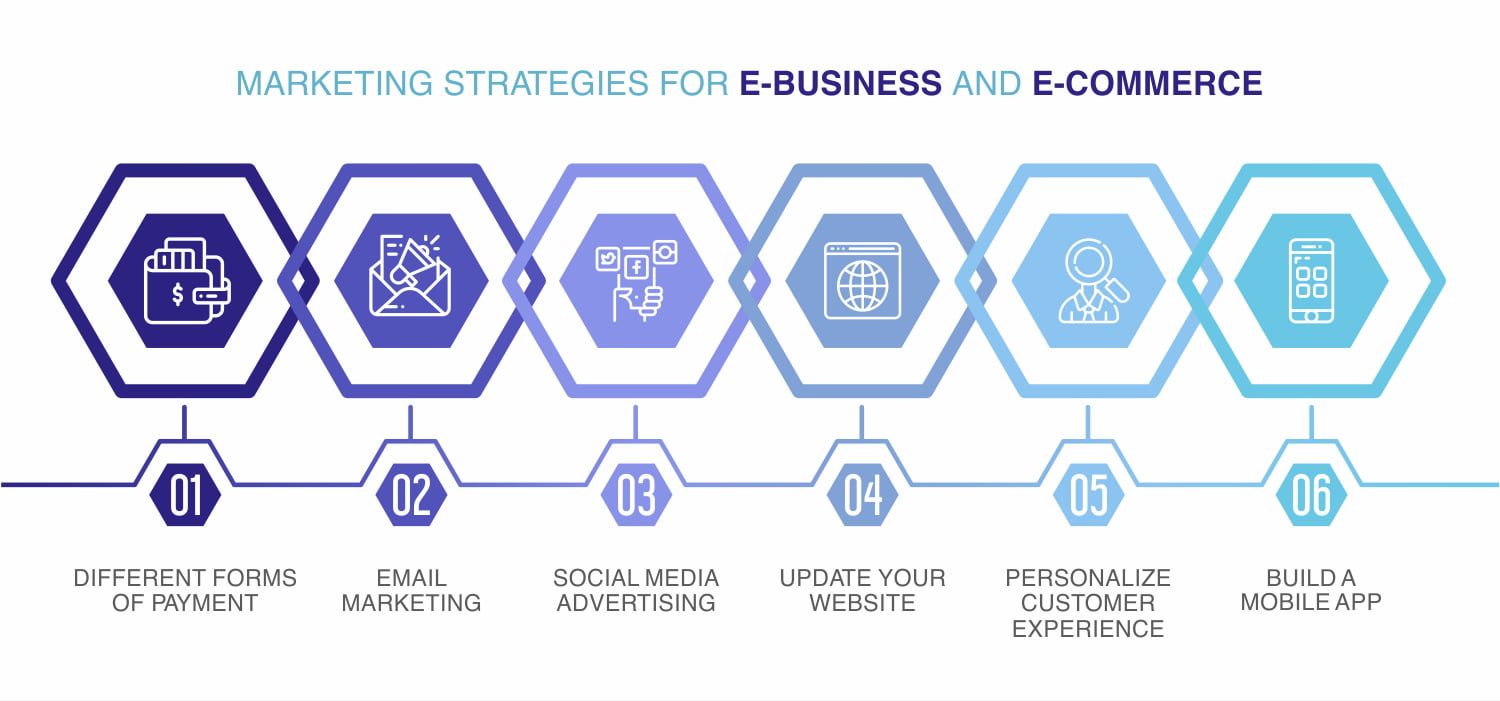 Marketing Strategies for E-Business and E-Commerce to Drive the Sales
Being in e-business and especially in e-commerce, you need to know certain marketing tactics in order to drive your sales. From the personal experience, we would like to share top marketing strategies that are working effectively within a short period of time.
Different forms of payment. Add as many as possible payment options to your online store, so the user can feel the variety of choices and pick up the most convenient for them. In addition, you can add the logos of what types of credit cards and mobile payments systems your store will use. This will help to build trust with shoppers and makes them feel safe when they entering the credit card details.

Email marketing. An email marketing strategy might be underestimated by many entrepreneurs, however, it is a great way to promote your e-commerce business (especially about sales, discounts and special promotions). In fact, email marketing has a median return on investment of 122% which is 4 times higher than channels like social media, direct mail and paid search.

Social media advertising. Today's competitive market required more than just having the accounts on the most popular social media platforms. You will need to build an e-commerce social media marketing campaign. For example, you can target specific audiences and link to specific pages on your site.

Update your website. If your business has been around for a while, you might consider updating your website according to modern patterns.

Personalize customer experience. To win the customers attention you need to personalize the buying experience. If customers feel like your store is dedicated to helping them pick out the perfect product, then your store will rise above the rest. Use name personalization in your emails or on your website, recommend products based on previous purchases, or up your marketing game with a personalized quiz. This is a great way to connect with customers.

Build a mobile app. There are several benefits of having a mobile app for your e-commerce business. Apps tend to load more quickly than websites so that users can shop more efficiently. If you have app customers are one tap away from viewing your products. You can also send push notifications through apps to notify customers when you are having a sale or when their favorite item is back in stock. If your business is already established and you are looking for ways to continue to develop your brand, building an app is an excellent way to boost sales and drive growth.
Conclusion
As you can understand e-business is a more wide concept which includes e-commerce as its main part. Therefore, e-business stands for business process management, while e-commerce is defined as the process of selling and buying specific goods and services via the Internet. In addition, there are different features for both e-business and e-commerce which are shaping the difference in the business approach. Additionally, the right marketing strategy will allow driving the sales significantly for both e-business and e-commerce. Therefore, implementation of the following strategies will be a great solution for your business: adding different forms of payment, email marketing, and social media advertising, building the mobile app, updating your website or mobile app, create a personalized user experience.
In case, you have any questions and suggestions, feel free to contact our team and we a gladly assist you in any inquiry!