In the globalized world, where the market is constantly evolving, being able to adapt and to foresee the changes is key to survival. This is the predominant rule for each and every business, but especially for startups.
Although it is easy to follow the stories of successful startup companies, however, each day a lot of startups declare bankruptcy. So, how many startups fail? Based on a wide range of reasons, the approximate percentage of startups that fail is 91 percent.
Previously we already discussed the issue of top startups challenges and what you need to know in order to deal with them. However, the business environment is hard to predict. As a result, it might still happen that some startups with an outstanding idea could fail.
Read our article Startup Development Phase and Its Peculiarities to know more about the main features of each startup phase.
Despite, the tremendous effort from the entrepreneurs and his team of developers and managers, a startup may fail even without the opportunity to attract new investments or customers. For example, the culture of the company or not meeting customers' demands might be quite crucial for the sustainability of your startup business. Every example is quite individual, however, it is possible to trace the common trends.
As the saying goes: "Forewarned is forearmed", that is why in this article we will discuss the reasons why startups fail and what you need to consider to avoid being in the startup failure statistics.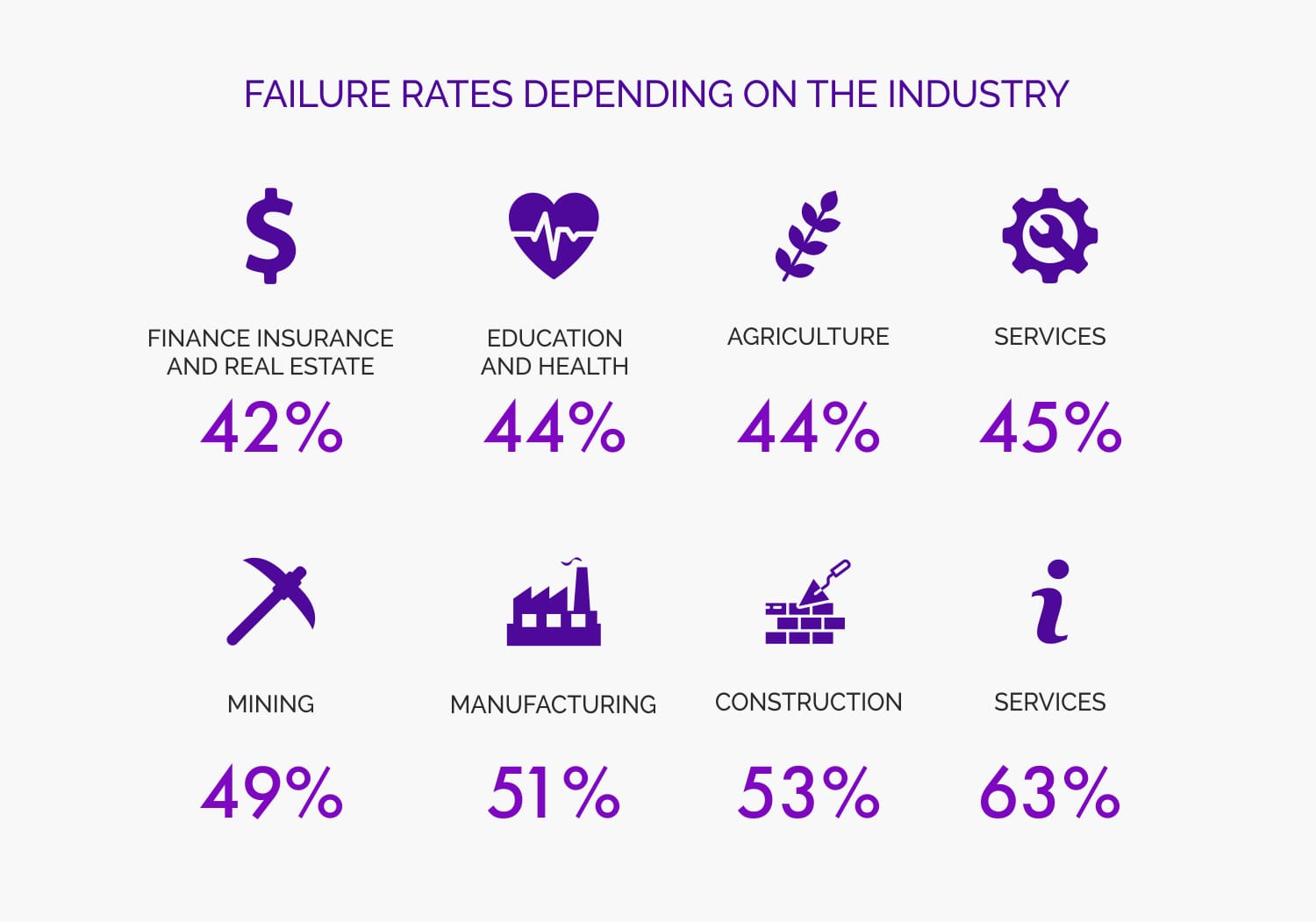 Small Business Failure Rate by Industry
If you are still not sure which niche domain to occupy with your startup, then knowing the startup failure rate depending on the industry could be helpful. Due to this information, you may identify the riskiest spheres of industry and business and make your mind about the direction which you would like to move with your startup.
As you can see, finance insurance and real estate business, education and health sectors, agriculture and services are relatively safe industries in comparison to the others. It is due to the massive digitalization of these industries and the ability to provide unique and relevant services. Basically, the mentioned industries could be an answer to your question: "Which industry should I choose to minimize the possibility of my startup fails?"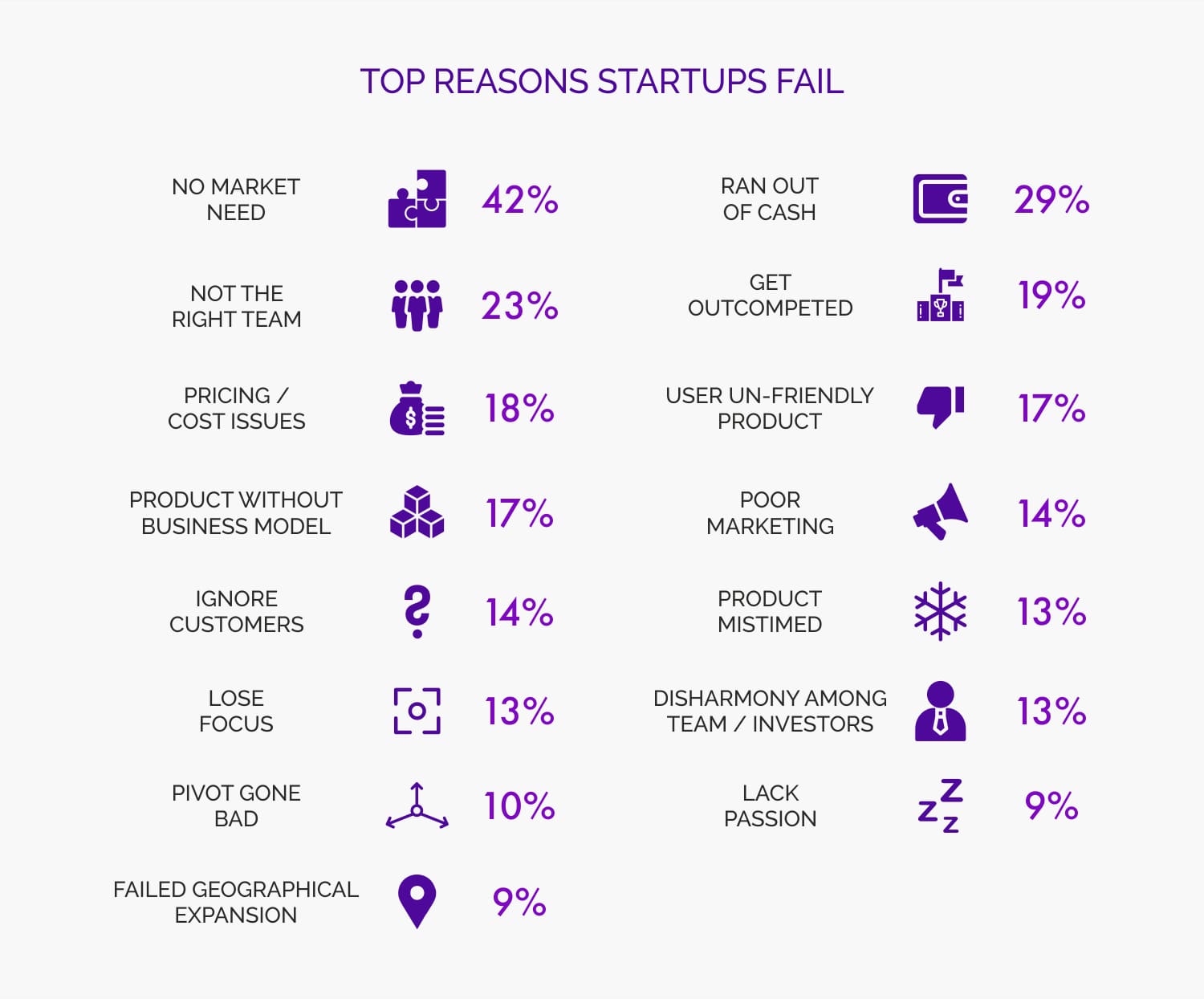 Reasons Startup Fail
On the graph you can see top reasons why startup fails. Our team was reviewing a lot of cases while trying to categorize reasons why startup fails. Pay careful attention to these categories to eliminate the most common mistakes. Generally, market problems, business model insufficiency, financial management issues, weak team, and poor product are predominant reasons that may cause failure of the startup business.
#1 Market Problems
This category may include bad market research before the conceptualizing the startup idea, which consequently will follow to the absence of the relevant market niche, killing features of the product and the target audience.
The typical reasons for startup fail may include:
no market need your product - actually, startups succeed due to the fact they are solving specific problem users are experiencing;

strong competition - startups usually compete on the level of details.
Solution: Doing the research will prepare you to the reality of the market economy and changeable environment. Take 10 minutes to write down your ideas on a business model canvas and then finding out as much as possible information during the research process. But do not forget to provide unique solutions to the existing problems. This approach will be valuable among users.
#2 Business model insufficiency
A business model is a plan of startup business operations including sources of revenue, the customer base, products specification, etc.
The typical reasons for startup fail based on an insufficient business model may include:
no business model - having a good idea is not enough, business owners need to have a business plan with a detailed specification and monetization strategy;

poor marketing - a product could not promote and advertise itself, precisely the right marketing channels helps to increase digital visibility of the product;

MVP fails - by collecting feedback after the launching the MVP it will be clear what you need to improve in the product.
Solution: A perfect business idea is not enough, you need to think about the business model of your startup. Think through the startup business model as well as the marketing strategies for the promotion of your new product.
#3 Financial resources issues
Surprisingly enough, but former top startup companies failed due to insufficient money management. The financial plan should be included in the business plan and should be followed no matter how much money your startup will get at the first stages of a promotion campaign.
The typical reasons for startup fail may include:
run out of cash - startups can easily run out of cash in both when they underfunded and receive too much so there is a tendency to spend money recklessly;

no financing interest - possible reason for startup fail is that lack of financing and investor interest;

no financial strategy - the financial plan is the number one for the smart strategy which will help to avoid running out of cash.
Solution: Carefully think through the monetization strategy of your startup to avoid the unnecessary spendings.
#4 Poor development and management team
It is a fact that the level of the team's expertise directly corresponds to the development outcome of the project. Quite often, startups fail due to being a one-person team, weak management, burnout or lack of expertise.
The typical reasons for startup fail may include:
lack of passion - founders and the team should be interested in the product and try to achieve the best results in building a top-notch product;

not the right team - when a team has lack of experience and wrong skills it is difficult to build a solid business;

lose focus - changing visions and ideas could drive founders away from the initial purpose of the startup.
Solution: There is no need to be a one-person team as well as to hire hundreds of professionals at the same time. A team of designer, engineer, and marketer will be the perfect solution for the startup's staff. Your team should have relevant skills and background as well as to be interested in producing a great product.
#5 Product problems
The most crucial mistake is focusing only on building and not on the customer or product. While being on the phase of startup the whole attention should be addressed to the customer and user experience of the product. Unfortunately, quite often entrepreneurs tend to forget that startup products need to solve user's problems.
The typical reasons for startup fail based on the poor product may include:
ignoring customers - there is no focus on the customer's needs and demands;

poor product - it happens that a product's quality is not a predominant goal, which is affected the whole process of product development and promotion;

product mis-timed - the negative effect could be from launching your product too slowly or too quickly;

premature scaling - startup growing, scaling, funding, but still there is no guarantee the new business will succeed.
Solution: While being a startup, there are two things that need to be considered: users and product quality. The only way to survive in this competitive market environment is to develop a top-notch product that could satisfy the user's needs.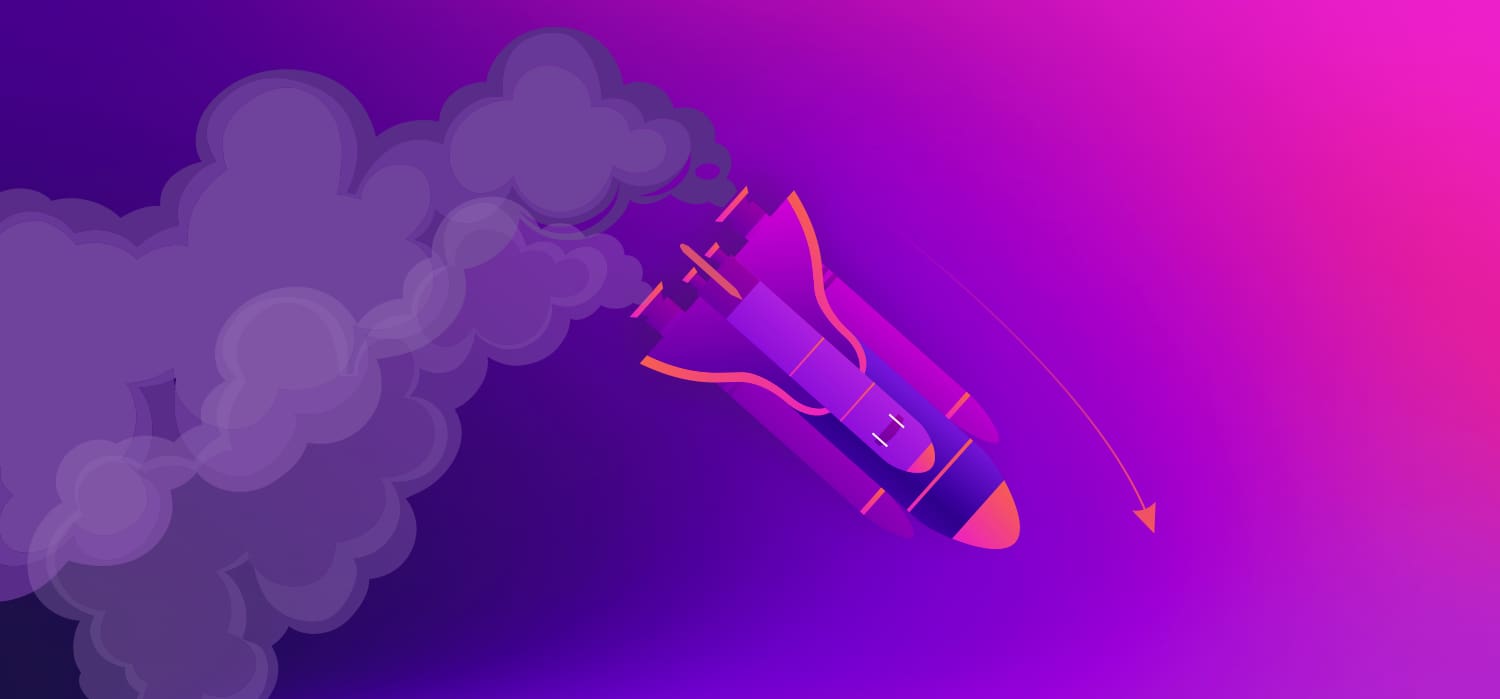 Top 5 Failed Startups
#1 Product: Anki
The San-Francisco based robotics startup Anki shuts down after burning through almost $200 million. While the initial idea of the business was bringing AI and robotics into users' daily lives, still the poor financial management became the reason why this startup failed.
Cozmo — a robot toy that made use of Anki's company's deep artificial intelligence research and a team of Pixar and Dreamworks animators — debuted in October 2016, ahead of Vector which was another product of the company. But despite their novelty and sophistication, the robots shared relatively high launch price points ($180 for Cozmo and $249 for Vector), which likely contributed to their slow uptake in the notoriously unforgiving consumer robotics space.
#2 Product: Pay By Touch
This startup suggests a wonderful idea with the incorporation of modern technologies. Pay By Touch provides a quick way to purchase goods by means of using finger scan which is linked to their personal identification information, financial accounts, and loyalty programs.
Among various factors that may influence the failure of this startup, the most crucial was a weak business model. Consumers and merchants were not convinced enough to use the startup's product on the basis of security concerns as well as tiresome payments.
#3 Product: Panda TV
Panda TV was a website that provides a user with the ability to streaming in categories such as video games, fighting and singing. At its peak, Panda TV attracted a long list of top streamers in games like LoL and Herthstone. Later, Panda TV book streaming sessions with pop stars, as part of the strategy to expand beyond gaming. Additionally, Panda TV started to produce variety shows attended by celebrity guests.
After failing to inject outside money since the 2017 funding, Panda TV hit a cash crunch because of high bandwidth costs and rising salaries for streamers, despite the platform grossing tens of millions of yuan every day. Despite the fact, that there were not any official publications regarding the reason why this startup fails, still it is quite obvious that mentioned strategies and promotion were quite expensive ones.
#4 Product: Laundroid
The Laundroid was a home robot used to automatically wash, dry, iron your clothes and fold it into the closet. It was an ambitious first step to automatization of the households duties. Still, in May 2019 the company declared of its bankruptcy.
Initially, the idea was bold, however, there were certain defects in the technological development of the product, since, after years of the development process, this robot couldn't fold laundry properly. Eventually, users had to do at least part of the work. In that case, the product did not match its functional specifications, which was the main cause of startup failure.
#5 Product: Munchery
Munchery offered an online marketplace where users can purchase meals which could be delivered to their homes. Munchery has raised a total of $125 million in venture capital funding, which made it in the list of top startups. However, still the stratup failed to continue its business.
As a food delivery industry is quite competitive, the attracting new customers was a huge challenge for this startup. The company goes for promotional discounts and coupons from the funding. Generally funding in the food delivery industry might be quite complicated with the request for constant product's demand. As a result, the mentioned strategy had a negative cause on the startup.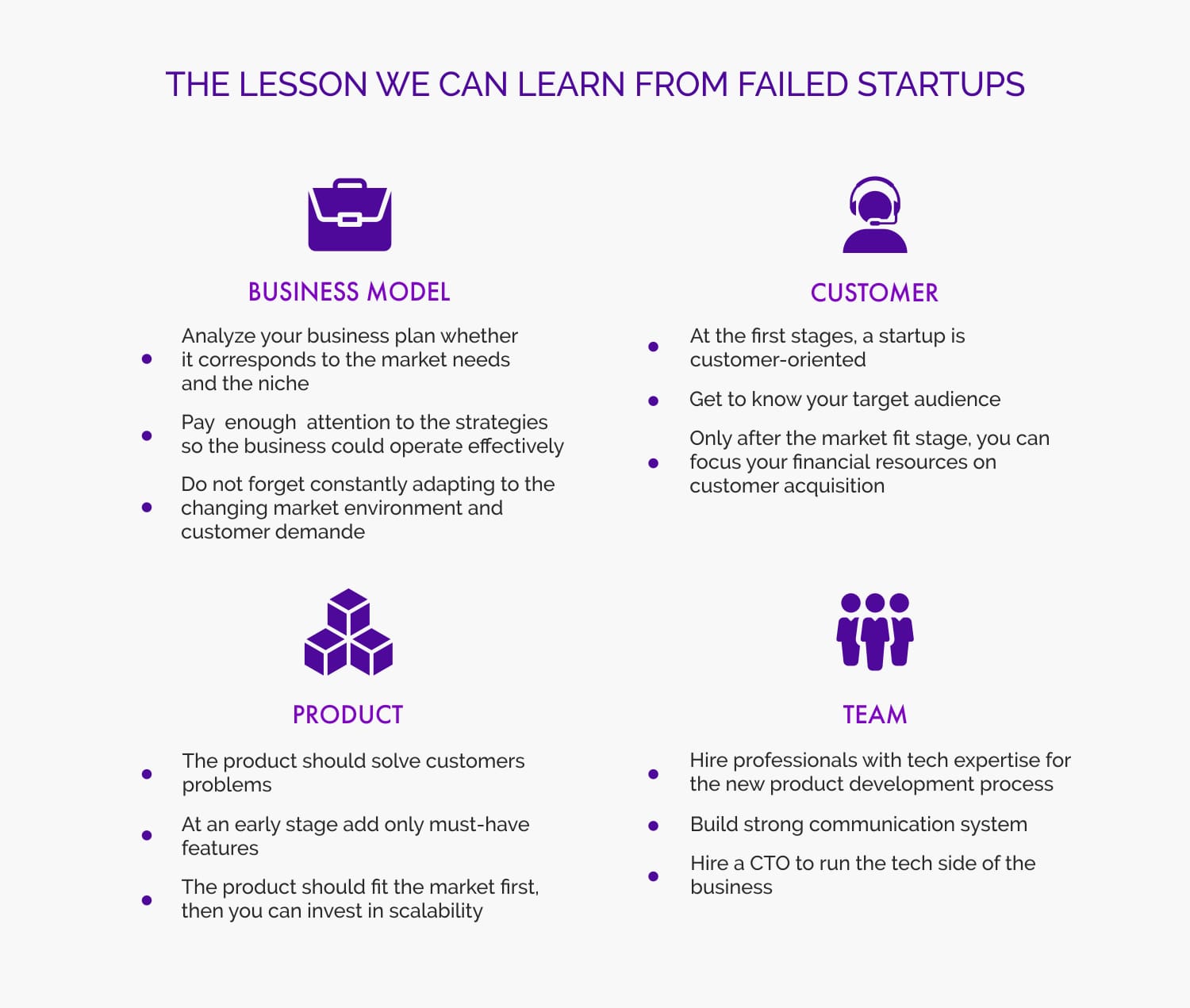 Conclusion
What percentage of startups fail? Why do startups fail? And what you can do to increase your chances to build a sustainable new business?
Basically, pay careful attention to market research, hiring an experienced team, develop a strong business model, thick through the monetization strategy for your startup. At the startup phase, there are two things that had a massive value to the startup. There are user and product. Your product needs to solve the user's problems while delivering the top-notch quality of its features.
In case, you have any questions and suggestions, feel free to contact our team and we a gladly assist you in any inquiry!