Being physically fit is a necessary element of your mental health and overall wellness. Nevertheless, we are living in an age where the pressure of working and personal to-do lists put aside the time for gym sessions or any fitness activity on that matter. We tend to substitute physical activity with more important things like staying late at work to finish some tasks, or catching on the time with family or rushing through to meet a long time no-see friends during the weekends.
At the same time, the global mHealth market value is growing each year. It's expected to reach $511 billion in 2026 while the competition becomes fierce every day. Ironically enough, the recent studies show that over 60 percent of American adults don't get the recommended amount of physical activity and over 25 percent of adults are not active at all. Many reasons contribute to this. For example, the lack of free time, childcare responsibilities, the gym is always busy, you can't afford sports classes or you have a lack of confidence.
Surely you can think of millions of reasons why it's not rational to sign up for gym membership. But, what if you could improve your health with minimum effort and what is more important to buy products depending on how well your "training" was today? Sounds great, doesn't it? All you need to do is to download Stepler.
So, what is Stepler? How will it help to motivate you to stay fit? How to create an app from scratch? What are the main tech challenges with the developing step tracker apps? Answers to all of these questions and even more you will find below.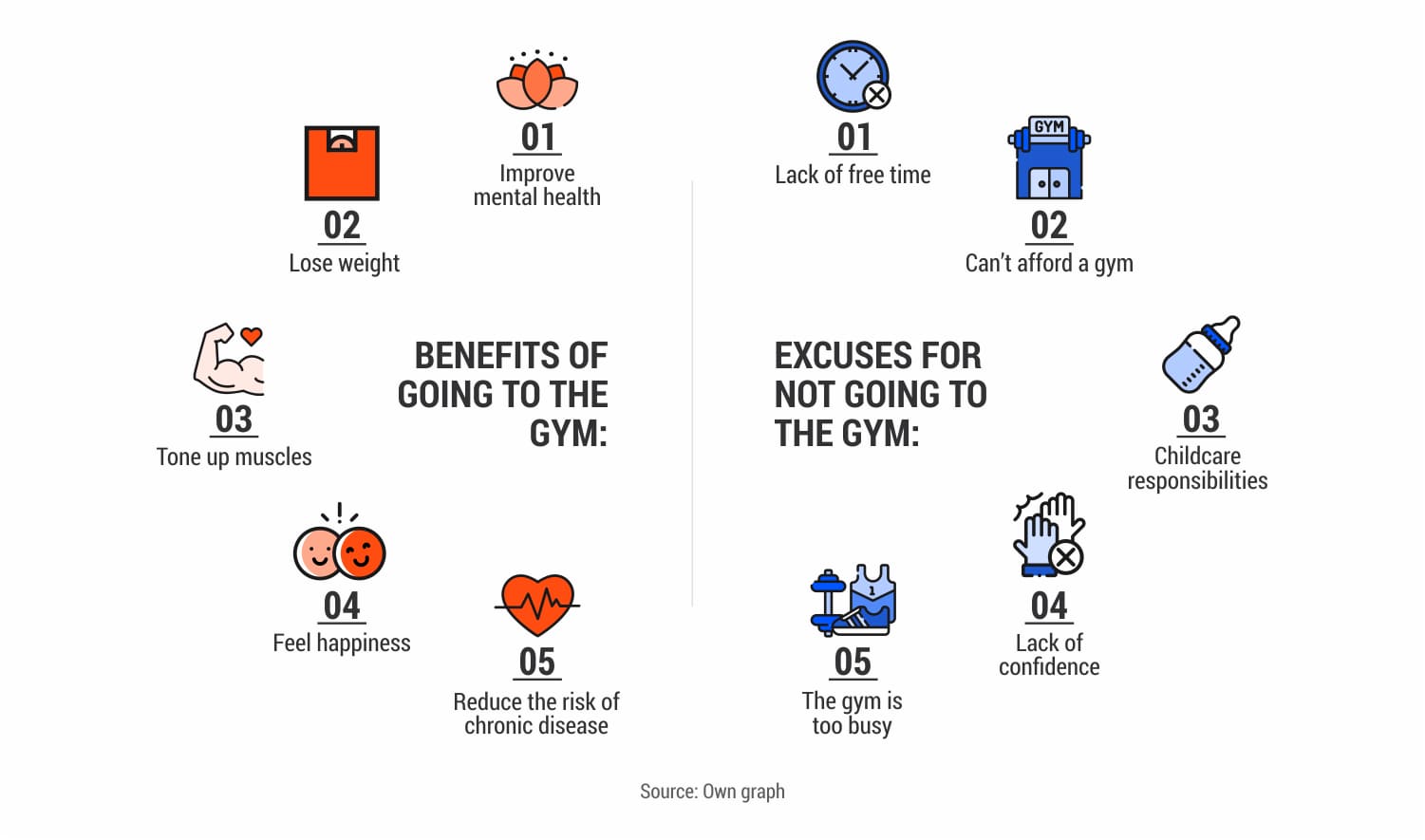 To Exercise, Or Not to Exercise - That is the Question
This is the eternal question of every person who decides to step on the road of digital health and wellness.
Recent studies show that over 60 percent of American adults don't get the recommended amount of physical activity and over 25 percent of adults are not active at all. As a result, 27.5% of all adults worldwide are not physically active. Other statistics stress that only 1 out of 3 children are physically active. Perhaps, this is because children spend more than 7 hours per day in front of a screen of their mobile phones and tablets.
Even though we know all the positive reasons why we should stay physically healthy, still sometimes we need to put some effort to sign up for a gym class or put ourselves together to do a morning running session. From the hectic schedule to not seeing results, there are various reasons why people don't exercise. Let's briefly discuss why is it so?
The lack of free time
"But I simply do not have enough free time" - this is the first thing that came to your mind once the topic of fitness pops up. It's a fact, that modern society in comparison with society even 30 years ago is tighter on the ability to have free time. We are living in the swirl of constant to-do lists, where multitasking and the ability to keep a finger on the pulse are must-have skills. The reason for this is the development of advanced technologies, gadgets and modern tech solutions that provide us with a myriad of opportunities on a daily basis. So, we simply can't miss the opportunity to catch on the latest trends for your job or perhaps start your own small business. Therefore, the idea of exercise routine might fade away compared to the more important goals.
Can't afford a gym/sport class membership
Surely the price of the gym membership will depend on many factors. For example, the state/region, location, the monthly or yearly commitment, type of classes (group or individual, yoga or bootcamps), additional convenience like pool and sauna or option 24hr fitness, etc.. Whether the gym is average or elite the cost for a gym membership can vary from $10 to $100. So, probably not all young families or teenagers can afford it.
You have childcare responsibilities
Cooking, cleaning, grocery shopping, having a carpool duty and it's only a small portion of the daily activity of every parent. Therefore, exercising with kids requires planning, which is not always possible to arrange. With school or after school activities and sports, kids and teens can have schedules as busy as their parents. Therefore, making sure the kids get to practice on time some parents sacrifice their own time to contribute to their health and wellness.
The lack of confidence
Not feeling secure in the gym due to worrying about how you look and what others think is another crucial reason why people tend to neglect exercising. The lack of confidence may come from expecting too much too soon. In that case, if you go from no exercise to hitting the gym seven days a week, you're bound to feel burned out. Since not every sports activity is for everyone, it's important to find a routine that fits your personality and lifestyle.
The gym is too busy
What could be more frustrating than a crowded gym? In the recent survey, people identify that substituting equipment for the one which is free is the most annoying thing that influences their willingness to visit the gym. The 'jams' in the gym usually happen in the morning and evening when people visit it before or after their working hours. Still, it doesn't defeat the reason why you should waste your time in the gym standing in lines.
Surely you can think of millions of reasons why it's not rational to sign up for gym membership. But, what if you could improve your health with minimum effort and what is more important to buy products depending on how well your "training" was today? Sounds great, doesn't it? It all will be possible with downloading the activity tracking apps, for example.
So, let's discuss one of the wellness step counter apps as an example of a simple but effective tool on how to battle the lack of motivation and get fit.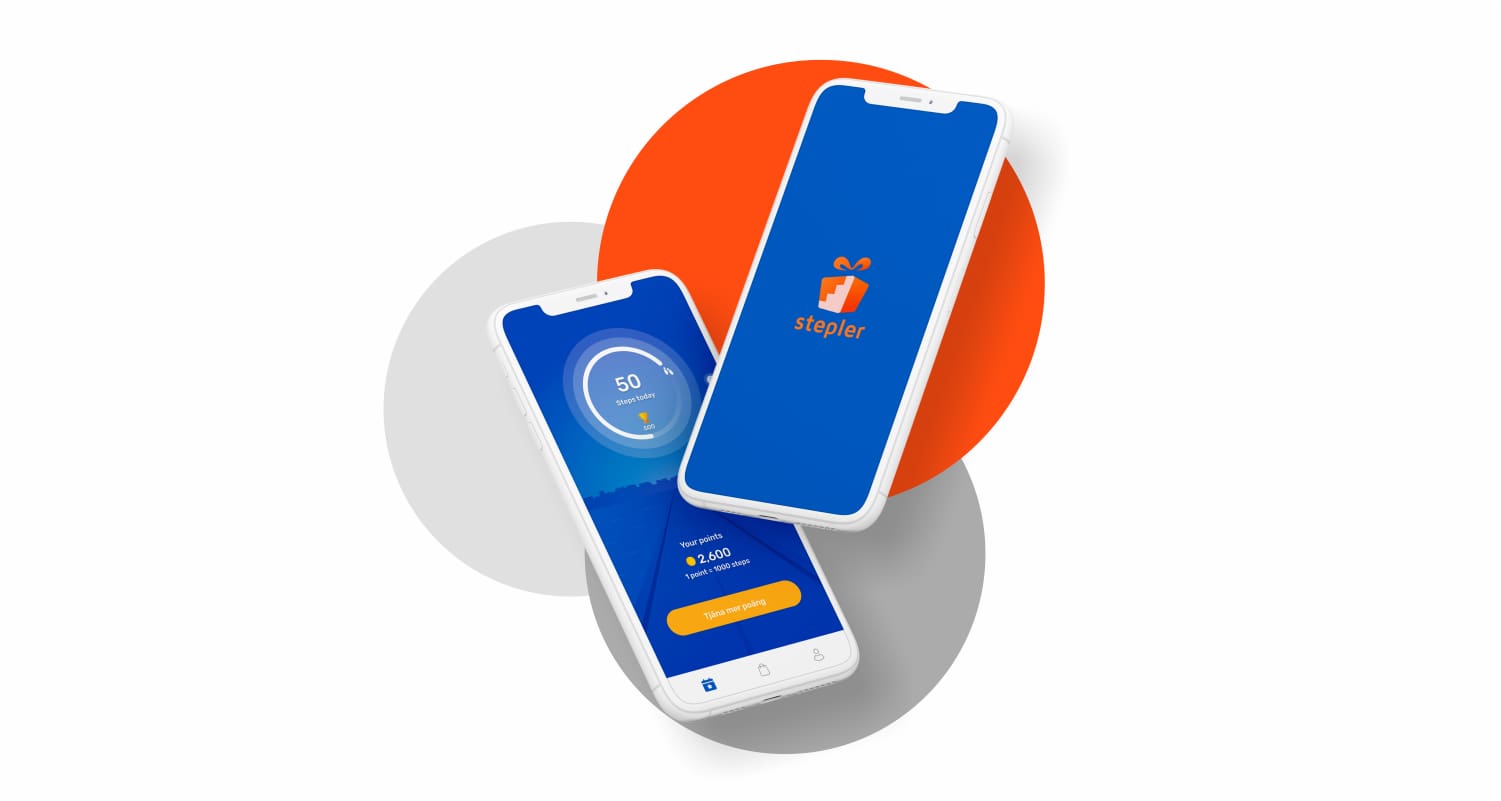 Wellness Step Tracker - Stepler
You may have noticed that the notions of fitness and wellness are usually used together. And while we all know what fitness apps are, let's take a minute to find out what does wellness means.
The search query "wellness meaning' suggests that it is the state of being in good mental and physical health. Wellness can be achieved by surrounding yourself with positive and supportive people, finding activities that provide you with a sense of purpose and connectedness, taking care of your nutrition and what is more important is paying attention to your physical development and exercise on the regular basis.
That's exactly why Stepler was created for - to boost your motivation to stay fit. The application tracks your steps and converts them into points. These points you can exchange in the app for real goods and services. Easy as that. Currently, the app is available on AppStore and GooglePlay only for Sweden, however, the team is working to expand it worldwide.
Why is it the best app on the market? Simply because you can take care of your health and buy whatever products you like. All within one application. Stepler is a new vision of a healthy lifestyle and a new step in getting benefits from your activity tracking sessions.
We suggest you see how Stepler approaches the most common reasons why people do not exercise:
The lack of free time -> The step counter app saves tons of your time while contributing to your healthy lifestyle. We mentioned that scheduling the extra time for the gym routine or running session sounds unrealistic, nowadays. But spending a lot of time exercising doesn't mean it will be effective. So, why don't we concentrate on simple exercise that we all do every day - walking. And, if you look more closely at how you spend your time, you might realize that we walk more than you thought. Put your application to track the taken steps. Keep a calendar on your achievements so you can track your progress and stay motivated.
Can't afford a gym membership -> It's free of charge, plus you can get real products by exchanging your earned points from the walking. There's no reason you have to join the gym to exercise, but if you're determined to leave the house to work out, there are more affordable options such as long and intensive walking. Such an activity can be used for core work, cardio, and even weight training. All you need for this accessible workout is a good pair of shoes and a walking app. Therefore, without any equipment, you can get a great workout.
Moreover, you not only save your money but also have the opportunity to buy real goods and services. The app will track the steps for you and automatically convert them into points. These points can be exchanged for any product or service from the in-app catalog. There is a wide selection of goods that you can choose from since the Stepler team cooperates with top labels and brands to provide the users with useful and interesting product options.
You have childcare responsibilities. -> Walk with the kids and cultivate a healthy relationship with the fitness activity from a young age. Just because you have carpool duty or need to make sure your teen gets to practice on time doesn't mean you have to neglect your own fitness goals. In that case, exercise can be a great activity for the whole family. Making time for a workout doesn't just benefit your health; it also sets a good example for your kids. Moreover, put on the tracking app when the kids are napping or you're waiting for dinner to cook. If children are old enough, invite your kids to be part of your routine and take them along on your daily walk.
The lack of confidence. -> Boost your confidence by walking, staying fit and being motivated by buying goods as a self-treat. With Stepler you should not be worried about how you look and what the other will think. Be in your natural habitat while taking care of your health. Build your confidence step by step. Moreover, you have the opportunity to treat yourself with a new purchase. Purchasing different products by the points you've earned could motivate you significantly. So, every time you'll take Stepler in your hands and press the button to track the steps - you already can think of your next purchase for your friends, family or yourself.
The gym is too busy. -> Walk tracker is a great workout routine and substitution for a crowded gym. The greatest thing about the step counter is that you don't have any equipment at all - just your mobile phone and intention to make you a more healthy person.
As a result, among the best walking apps, Stepler works as a trigger to take care of your health and wellness while purchasing real products for your pleasure.
The co-founder and CEO of Stepler, Niklas Frisk commented on how exactly the app will contribute to the current market of mHealth:
Niklas Frisk: "I think many see Stepler as an alternative to the gym card you carry in your pocket. Far too many give away their New Year's resolutions of a healthier lifestyle for different reasons - lack of time, money, motivation, etc. So, Stepler is a cost-effective alternative that is actually complied with. It's an easy and convenient app to use on a daily basis. Moreover, companies see Stepler as a fun platform where they meet their target audience in a playful and innovative way."
Taking into account the growing percentage of the digital mHealth market, it is clear that fitness and wellness apps would have a great demand among the customers of all the age in the future. So, if you want to start a small business or develop a mobile app for medical, healthcare and wellness industries - then let's take a look at how to build a step-tracking app. Based on personal experience, the 2muchcoffee team will briefly discuss all the necessary aspects of the building the wellness step tracker app.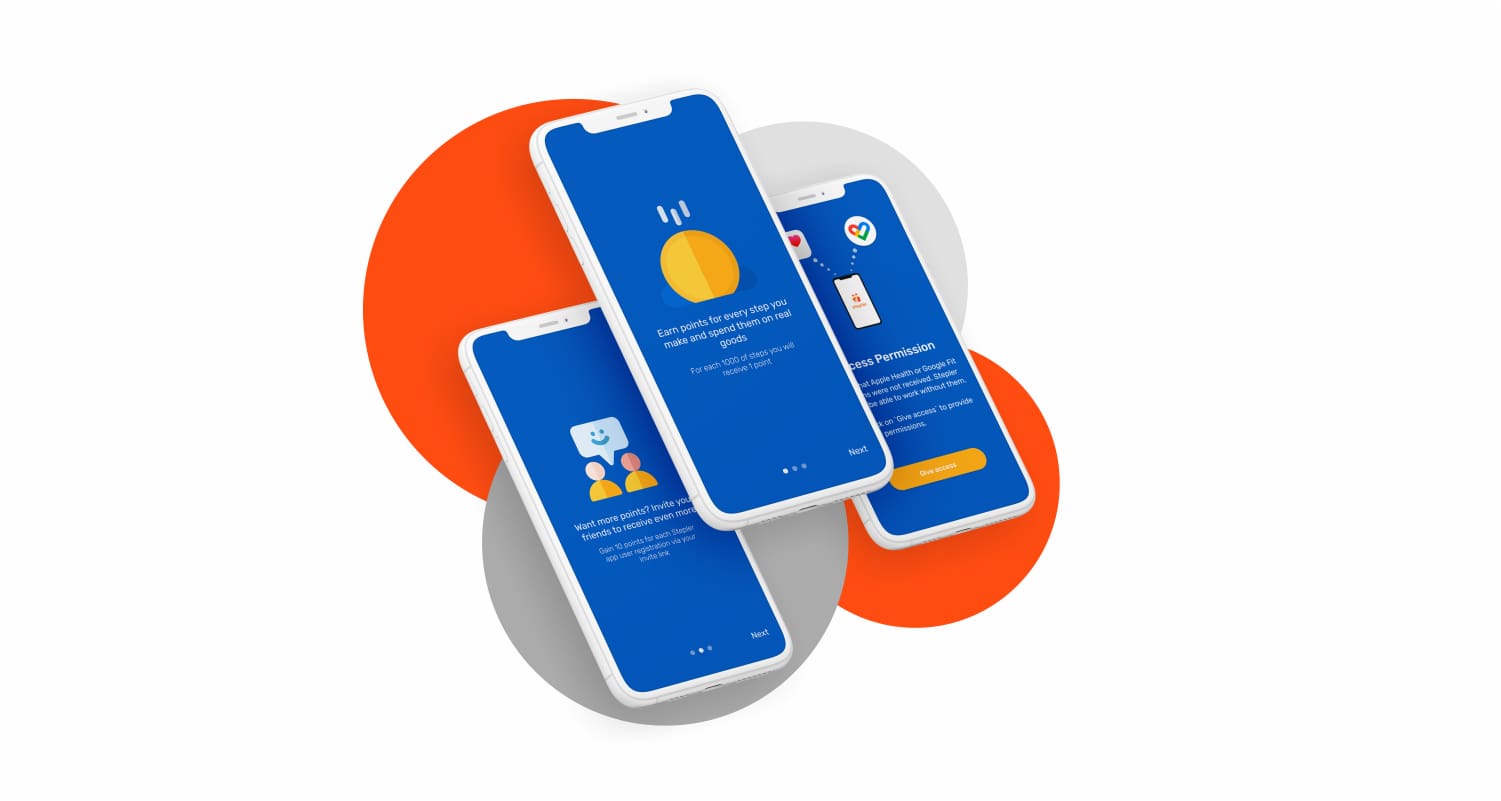 Stepler in Details: form the Idea Definition to the Development Challenges
A fitness app or sports tracker, a walking app or step tracker - regardless of the name Stepler will motivate you to stay fit while exchanging the points for any product you like. Stepler automatically counts your steps, walking, and running distances. And, if you have an Apple Watch, it automatically tracks all of your activity data. So, it's time to look at the idea behind the application and what tech challenges were faced by our devs team.
The idea. We believe that the beauty and convenience of any mobile app lies in its simplicity. Therefore, the key advantage of the Stepler is clear and simple user-interface and functionality. The mobile app was created to simplify the lives of the users and not vice versa.
One should take into account, that the rapid growth of the mHealth market and the consequent high demand for feature-rich fitness apps created a tendency to produce feature creep apps. The apps with an excessive number of features that are not necessarily useful for targeted consumers. As a result, the market is full of applications doing multiple things like cardio tracking, fitness activity tracking, calorie calculating, providing workout exercise templates and many others.
Having such an app, a user could find it quite confusing to navigate such a complex feature flow. Instead of it, users are willing to use simple apps with the focus on the specific activity. Therefore, simplicity in functionality will be more appealing to your targeted audiences and potentially create an emotional connection with the app.
Moreover, simplicity and clarity can even help your product to survive severe competition in the mHealth market. How? A user or a new customer should know what exactly to expect before downloading the app. In the myriad of different mHealth apps (precisely, step tracking ones) your application should stand out. In this case, balancing simplicity with functionality is the foundation of sophistication of mobile app development.
In this regard, Stepler is focusing on one particular goal and feature - user motivation to move. While the simplicity and functionality reflect in its main advantages, such as:
Step synchronization. The application synchronizes all steps from the moment of the first sign in. Even if the app was deleted at some point, still the step data will be synchronized until the present moment;

Google Fit / Apple Health integration. Thanks to the integration with Google Fit / Apple Health, we allow users to synchronize any steps in the application from any device that supports synchronization with Google Fit / Apple Health;

Real products instead of discounts. Unlike other step-counting apps, Stepler doesn't grant you with products' discounts. There is a much better option. The app has a wide catalog of goods and services that you can get for an exchange for your step points. The Stepler team collaborates with local and international suppliers and brands to provide the app's users with relevant products;

The onboarding procedure. Basically, the onboarding procedure explains how the application works. Quite a useful feature if you never use a tracking app before. The app guides you from the very start and assists you to navigate the basic principles of app use;

Get a bonus for inviting a friend. Invite a friend or a family member and get additional points for that. You can set up a Wellness step challenge with your friends while getting fit together. This feature was achieved due to Firebase dynamic links, which allow you to send existing links to the potential users to any location with your iOS or Android app;

Progressive errors monitoring system. This is a smart and useful tool for the identification of any sort of bugs and mistakes that took place in the system and sending the message to the support team with the whole description of the problem and localization.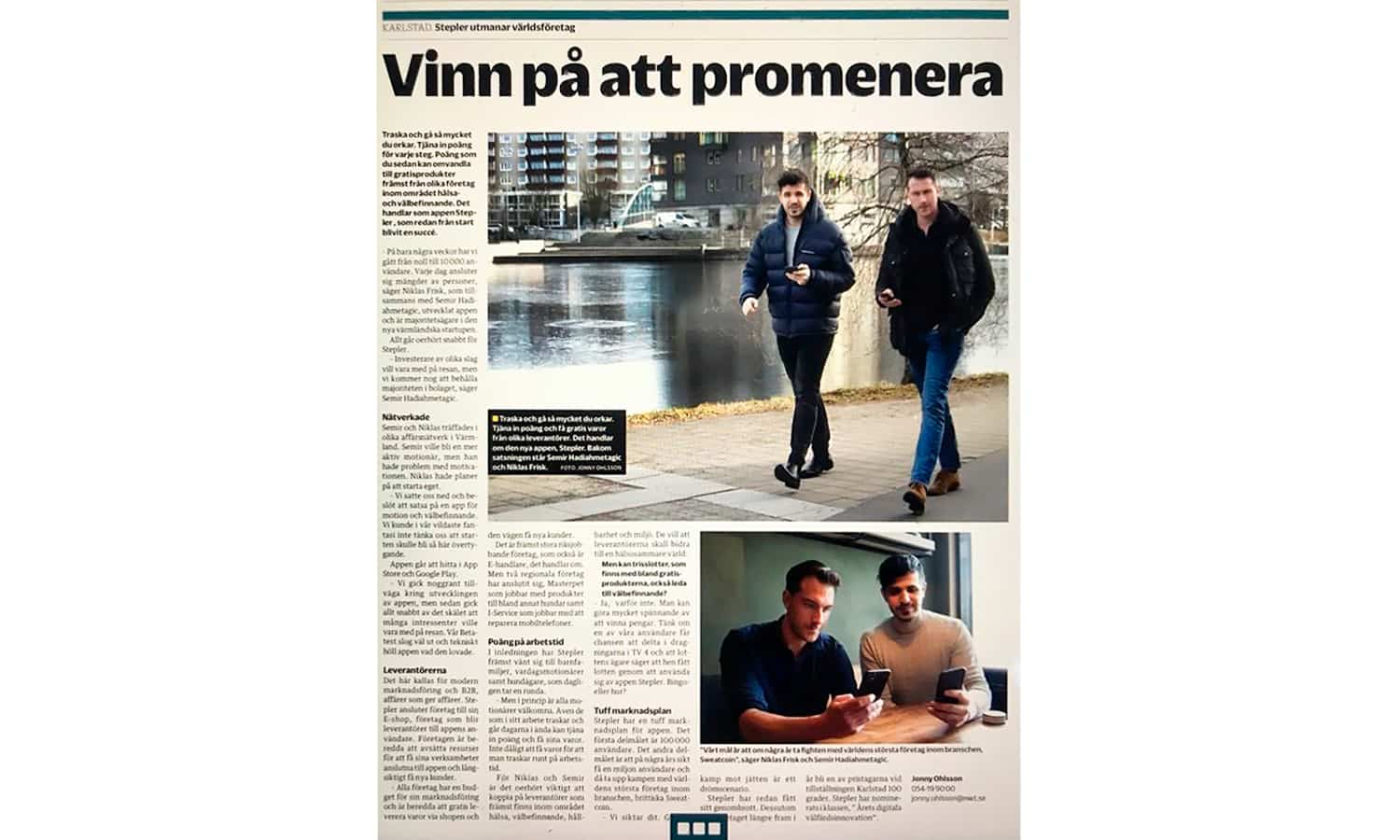 We asked co-founders of Stepler to elaborate on what was the inspiration to create an app and its main advantages form his point of view:
Niklas Frisk: "The idea was born when we ourselves lacked the motivation for exercise and movement. At the same time, nowadays it's difficult to solve the life puzzle with family, work, and training. So Stepler was the answer to several questions. Regarding the main advantages, of the app, I would say that downloading the app is an extremely low threshold. Everybody walk, who wouldn't wanna get fit and get paid at the same time? The timing is also a factor. Plus, the app (even if not directly) contributes to sustainability, climate, and a healthy lifestyle, which are on everybody's lips today."
Technical challenges and solutions. Stepler was developed to count the steps. And while it may sound simple on the surface, in reality, there are a lot of pitfalls that need to be solved. The development of step counting apps could be quite tricky - both the storage of the huge amount of data and synchronization could be the most difficult challenges even for the experienced devs.
Check out the other tech challenges that might pop up during the development process:
Storing a huge number of step records. The main challenge with tracking applications is storing a huge amount of data. The case with Stepler implies storing a huge number of step records in such a way that you can quickly work with them. That was achieved due to a clear codebase that was developed on React Native, NodeJS, NestJS, GraphQL, MongoDB.

Quick synchronization. One of the most difficult tasks was to ensure the quick synchronization of the data. A huge number of steps need to be operated and converted to the data immediately. At the same time, the application should be synchronized quite quickly once the user doesn't visit the app for a while (for example, a month). At this point, the clear operations without the default is a must.

Privacy terms peculiarities. When requesting synchronization with Apple Health, we cannot find out if the user gave us the ability to read steps (apple health privacy terms). For this reason, we give a hint about turned off synchronization in the case when the user has 0 steps in the last 24 hours.

Anti-cheat checks. At this point the logic of operations is crucial. For example, the application should clearly identify why step 2 begins after step 1 or that the app shouldn't take into account the steps that are imposed. Therefore, there were a lot of checks for anti-cheat, so there could be implemented the ban on the self-entered steps in Health-Fit.

Orders management. Mobile app integrated with the Zendesk ticket system for convenient management of user orders. As a result, we get a user-friendly and simple application for tracking activity.
The tech stack we used: React Native, MongoDB, Zendesk API, Rabbitmq, Nestjs, Sentry.io, Firebase Analytics, Apple health integration, Google Fit integration.
Our team, as well as the Stepler team, are proud of the result and the quality of the work we did. We provided a full cycle of development from idea to release. Highload project with thousands of users is never easy to handle, especially since each user has to synchronize huge amounts of steps/data. Therefore, it needs to be highlighted that we are proud to find solutions and manage the real-time data updating and create a simple but elegant mobile app for step counting.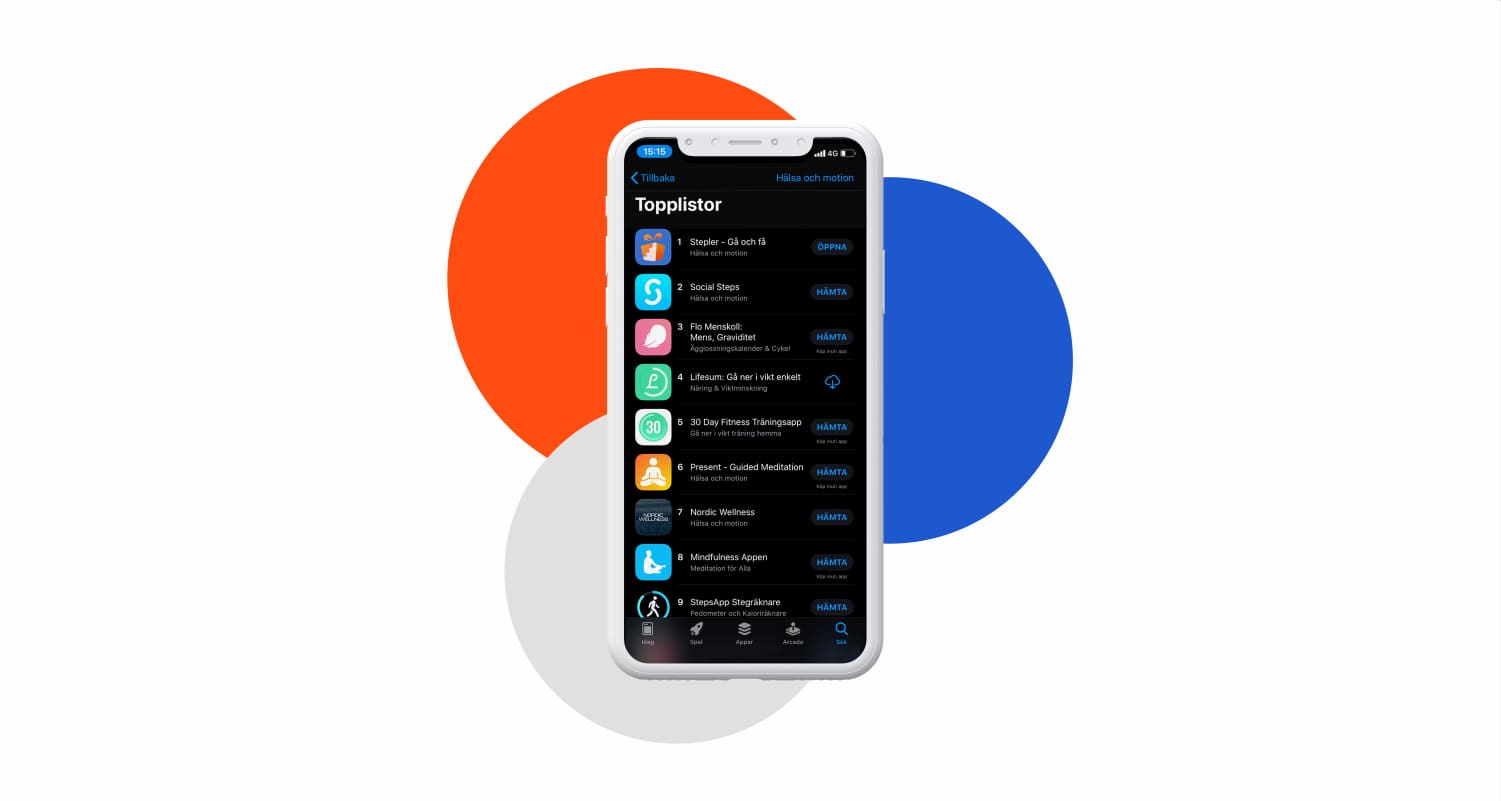 The product perspective. Millions of people have already verified the fact that Stepler is the best app in the market niche. The application became the number one in Sweden and was mentioned in the local newspaper as the most rapidly developed startup in the fitness and wellness mHealth market.
Based on such success, the leaders of Stepler commented on the scaling plans for the next 5 years:
Niklas Frisk: "We start out in Sweden where we expect to grow to 250K+ users before we expand to Europe and the USA. We have a great ambition with Stepler and sees a market across all 7 continents."
Among the best walking apps, Stepler works as a trigger to take care of your health and wellness while purchasing real products for your pleasure. Don't wait for tomorrow to pay attention to your health. Start moving today, collect points and get great discounts in the shops.
Conclusion
In 2020, being fit sounds easier than it looks. Why? Simply because with the innovation in healthcare the market became overcrowded with the feature creep mobile apps. Consequently, such applications are stuffed with unnecessary features. Therefore, being the user of such an app and having to navigate all functionality of the app might be frustrated and overwhelmed.
At 2muchcoffee we believe that the mobile app should be user-friendly and elegant in its functionality and design. That is why we value the unique idea and product potential. Developed from scratch - it's no brainer, that Stepler was our favorite project to work on.
Stepler tracks your steps and converts them into points. These points you can exchange in the app for real goods and services. As a result, among the best walking apps, Stepler works as a trigger to take care of your health and wellness while purchasing real products for your pleasure. It is considered the best app on the market due to its simplicity and functionality that creates a sophisticated user experience.
Walking app, step tracker or step counter app, best pedometer, a fitness app or sports tracker - call it whatever you like, but Stepler is about to rock your world!
See for yourself by downloading the app (AppStore, GooglePlay).