On a daily basis, your smartphone is your personal assistance, bank account, the tool for social interactions, and a source of entertainment like reading a new book or watching a brand new film. In addition, to the list above, your smartphone is an individual trainer that allows you to follow a healthier lifestyle and reach for the more fit body, mind, and soul.
Why Do We Need Fitness Apps
Fitness is a crucial part of being healthy. Regular exercises will make your body fit, lower the occurrence of diseases like cancer and diabetes, and prevent depression and other mental issues.
You will easily keep track of your progress when you use health and fitness apps. Most of this app uses a smartphone's GPS. Therefore, you can track the mileage and speed at which you are exercising. In case you are running, the distance covered and the time taken is tracked by the phone. When you see improvements, you will be encouraged to exercise more, which will bring more benefits. You can also share your progress with your friends for you to receive motivation from them.
You will be able to get free workout ideas when you use health and fitness apps. Since you are not a gym trainer, there is a probability of you not knowing what to do when exercising. Using these apps exposes you to some of the most experienced gym trainers who will guide you on what to do. Using these apps is much cheaper than visiting a gym trainer since you do not have to pay for the guidelines given. All you have to do is to download the apps.
Health and fitness apps will help you monitor your diet. Your diet plays a big part in your body fitness. For example, you will be physically fit when you will consume the right foods. Fitness apps will help you to keep track of the foods that you consumed.
Why Fitness Apps are So Popular
Nowadays, it is impossible to imagine a smartphone without a fitness app installed on it. The app is a fast and convenient way to stay fit and healthy in a world where people have no extra time to go to the gym. The fitness app guides you through the workout routine to achieve the most effective result and became closer to the perfect body. There are a few reasons why fitness apps are so popular today:
Convenience. Smartphones and smartwatches have become an inevitable part of our daily routine. They made the monitoring system and tracking activity easy. The apps offer guidelines on how to perform the specific workout and provide a recommendation to the training regime to achieve the maximum results.
Easy to use. A user does not need a lot of information to start using the app. The common procedure is to download the app, fill in the simple data like your name, age, weight, and health goals and you are ready to use it. The app with easy navigation and user interface makes the process more meaningful for the user.
Affordability. A lot of apps are free to download and use. This makes them an affordable choice for everyone, especially comparing to the gym. Some fitness and wellbeing apps have a subscription-based model. That means that you can download the app for free or you can pay monthly fees to get the premium access. With the premium access, you have the chance to use premium content like personalized workouts routines, exercise, and dieting tips.
Motivation. The apps are able to unite people with the same goal - to get fit. By providing online communities and virtual challenges the apps boost motivation to continue the routine and achieve their goals.
The fitness app is a great solution for everyone who wants to look after their health: record caloric intake, track physical activity, and overall helps to follow a healthy routine.
10 Best Free Fitness Apps in 2020
Now, are you ready for the upcoming summer season? Don't you worry, we picked up the top 10 the most effective fitness apps for your consideration. All apps are free of charge and guarantee the best results in the shortest period of time.
So, what are you waiting for? Choose the app, install, and dive into the world of fitness and workouts.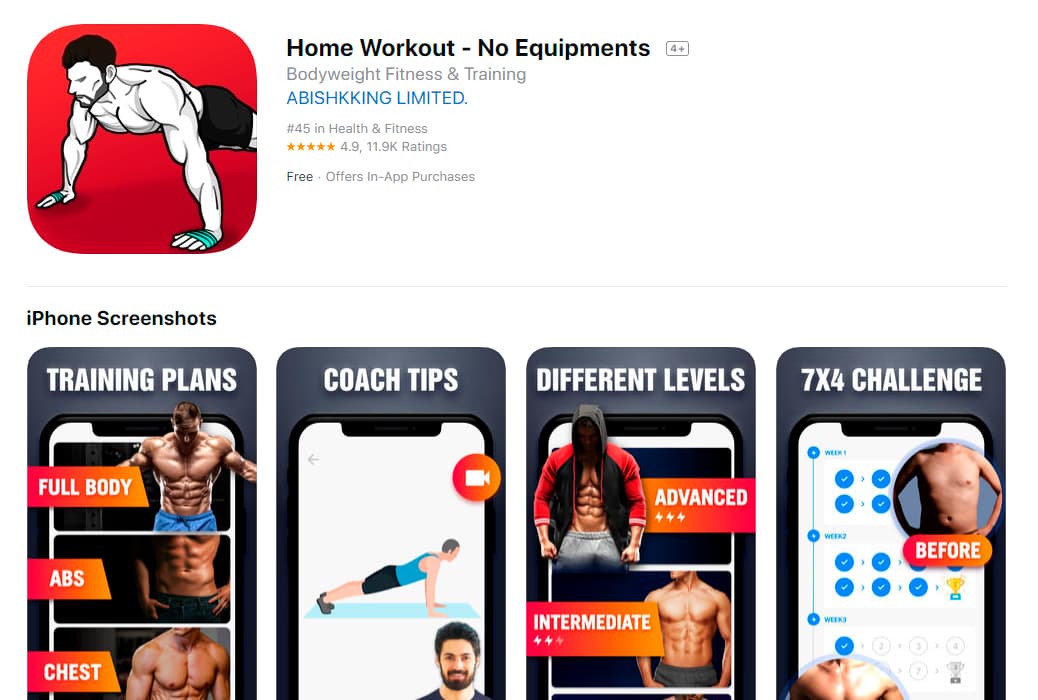 Home Workout - No equipment
If you don't have time to visit a gym this app is for you. You don't need special equipment to build muscles. So, just stay at home, and by following over 100 detailed videos and animation guides you can create a fit and healthy body. All the workouts are designed by experts and focused on abs, chest, legs, and also full-body workouts. Other features include warm-up and stretching routines, progress reports, customizable workout reminders, and charts. Additionally, you can create your own workout routines.
Download from Google Play and App Store.
Pros:
Accurate tracking system

Effective workout programs

Constant app updates
Cons:
Not the best choice for beginners

Extensive amount of ads
Fitness App Business Model: Contains Ads, Offers in-app purchases.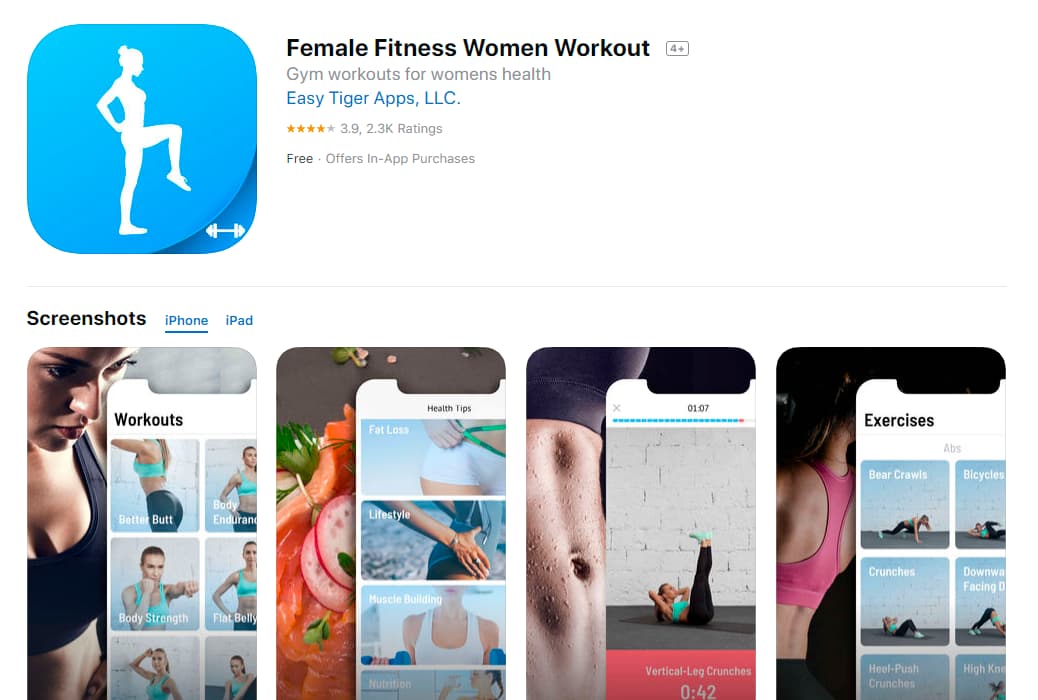 Female fitness - Women Workout
Created specifically for women the app focuses on achieving a perfect bikini body in the shortest period of time. Warm-up and stretching exercises are included in the app. In addition, it suggests animated guidance and videos of the training routine. The app is suitable for both beginners and pros and oriented on full body workout and fat burning techniques. You will not need any equipment just your free time to form the slim and fit body.
Download from Google Play and App Store.
Pros:
The workout levels are true (beginner, intermediate and advanced)

A user can listen to his own playlist not interrupting the voice instructions

Accurate tracking system and detailed instructions
Cons:
There might be a problem with unlocking all the exercise
Fitness App Business Model: Contains Ads, Offers in-app purchases.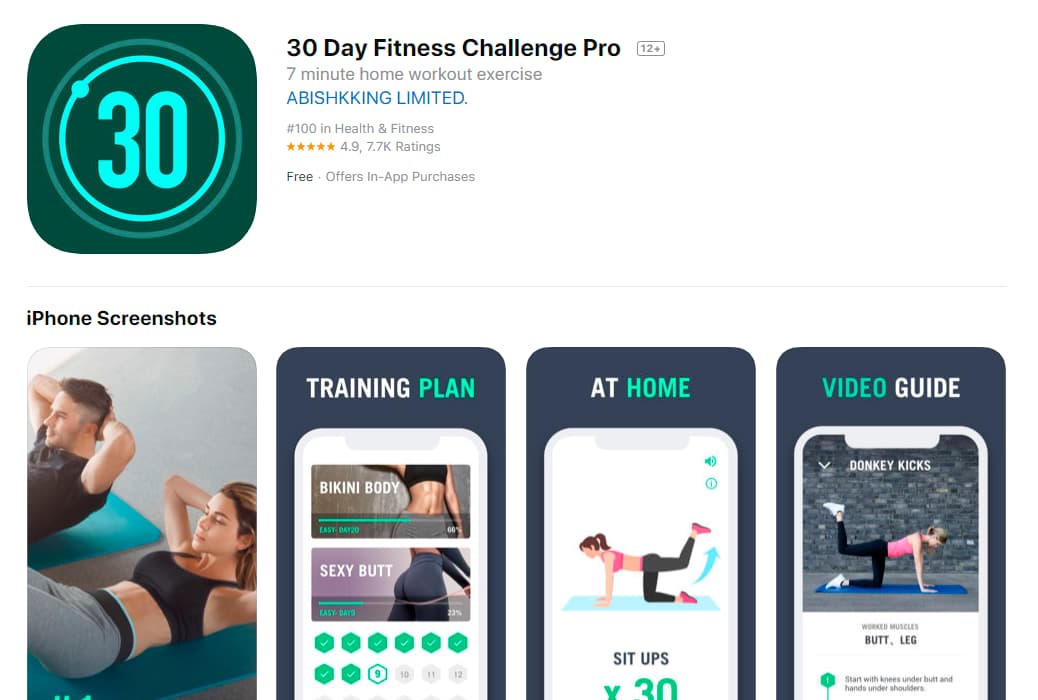 30 Day Fitness Challenge - Workout at Home
Set a challenge and stick to the program for the next 30 days. It is a great way to make sport your habit! The app increases exercise intensity step by step which reduces the chance of "burning out". Your training progress will record automatically and you will get notifications daily, so you won't have the temptation to skip the workout. Detailed videos will guide you through every challenge. It is a fitness coach, fat burning workouts and weight tracker all in one app.
Download from Google Play and App Store.
Pros:
Wide range of workouts depending on the body parts

Ability to choose the exercise of your choice

Easy to follow excercises
Cons:
The purchased version doesn't have the full list of promised features

Wrong calculation of the burned calories
Fitness App Business Model: Contains Ads, Offers in-app purchases.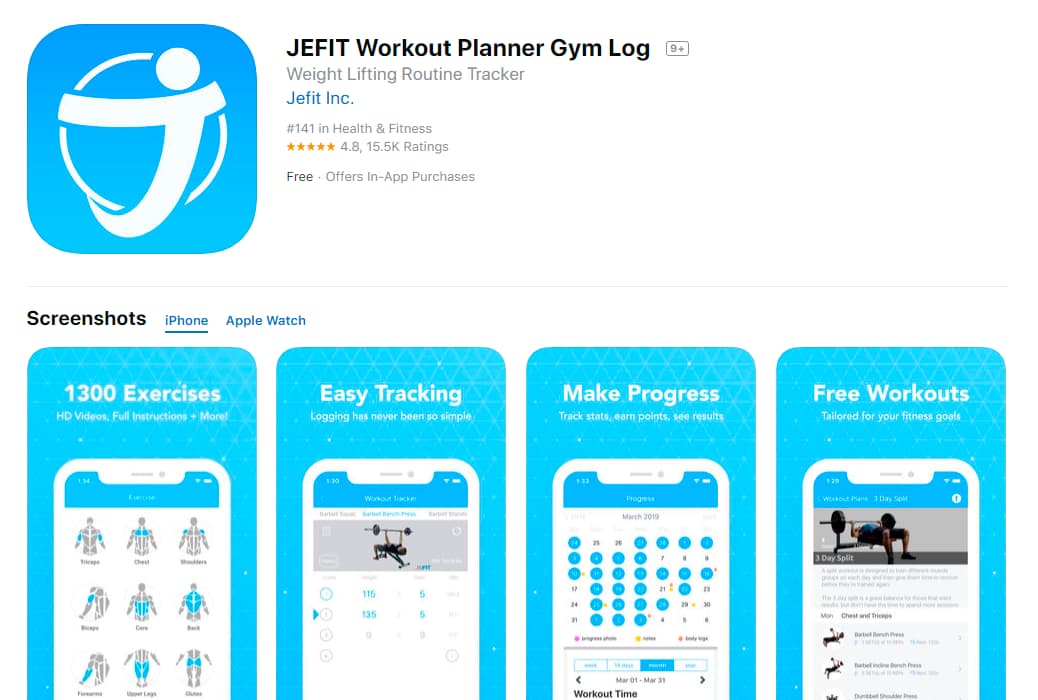 JEFIT Workout Tracker, Weight Lifting, Gym Log App
Train on your own schedule by choosing beginner or advanced programs. It helps you to stay fit and make progress out of your workout session. It has over 1300 detailed exercises that include animations on how to execute them. There is also fitness tracking, progress reports, a resting timer, workout logs, goal setting, etc. You can get customized workout programs made for 3, 4, or 5 day splits. It allows you to synchronize all your data with the cloud and works even when you are offline.
Download from Google Play and App Store.
Pros:
App is often upgrading and adding new features

Accurate tracking system and detailed instructions

App allows a user to decide how long to rest after each set
Cons:
The first set isn't saved

There's a need to manually select sync to Apple health every time you finish a workout

If you forget to click "finish workout," next time you login it will say a workout cannot last longer than for hours. This is fine, but it will actually log the entire time since you last opened the app. This results in 70+ hr workouts being logged
Fitness App Business Model: Contains Ads, Offers in-app purchases.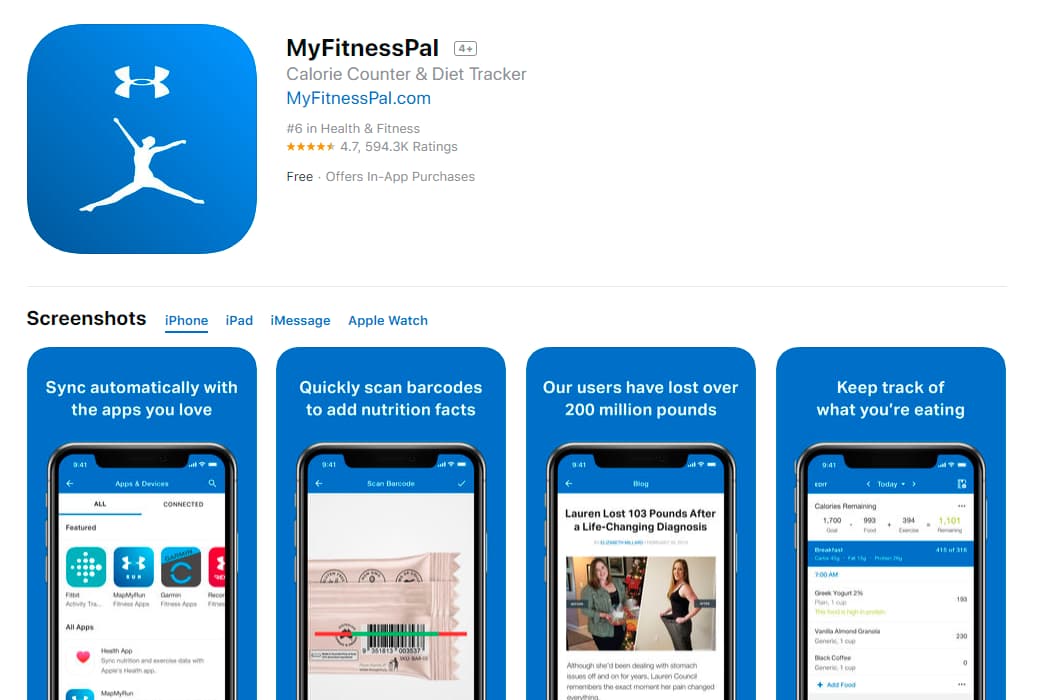 Calorie Counter - MyFitnessPal
It is one of the best apps to help you lose weight, tone up and get healthy! The app is focusing on tracking food which helps you to change your habit regarding food consumption. It has a massive database of more than 6 million foods that include global items and cuisines. You can also add the food that you eat either manually or by using the barcode scanner. It consists of recipe importer, restaurant logging, food insights, calorie counter, etc. You can choose from over 350 exercises or create your own activities and workouts. Moreover, it allows you to set goals and see a graph of your step history. The app is free and contains ads and in-app purchases.
Download from Google Play and App Store.
Pros:
Extend food database

Put results into graphs for accurate monitoring system
Cons:
Foods in the diary keep randomly duplicating and sometimes adding to previous days' diaries
Fitness App Business Model: Contains Ads, Offers in-app purchases.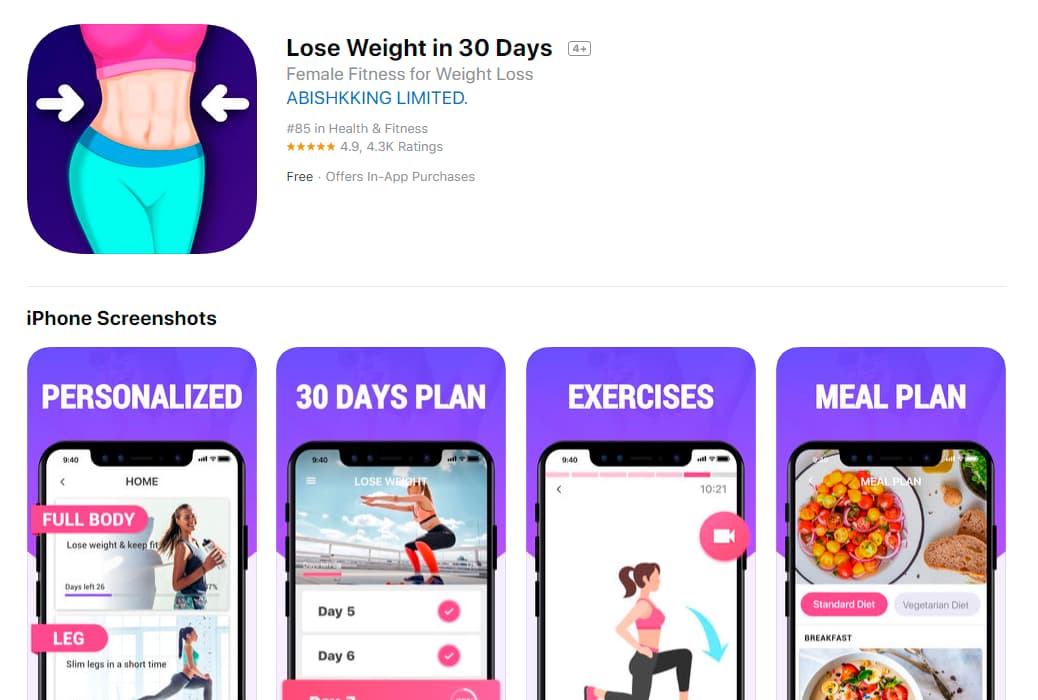 Lose Weight in 30 Days
Another great app to set a goal for the following 30 days. The app provides you with systematic workouts' as well as diet plans. In addition, you will have the opportunity to track weight loss progress and burned calories. Animations and video of workouts build in a way to gradually increase exercise intensity and guide you through your fitness journey.
Download from Google Play and App Store.
Pros:
Free 30 days workout and meal plan

Effective combination of the workout routines
Cons:
The app has computerized voice

Personalized option doesn't quite personalized

The log feature is inaccurate
Fitness App Business Model: Contains Ads, Offers in-app purchases.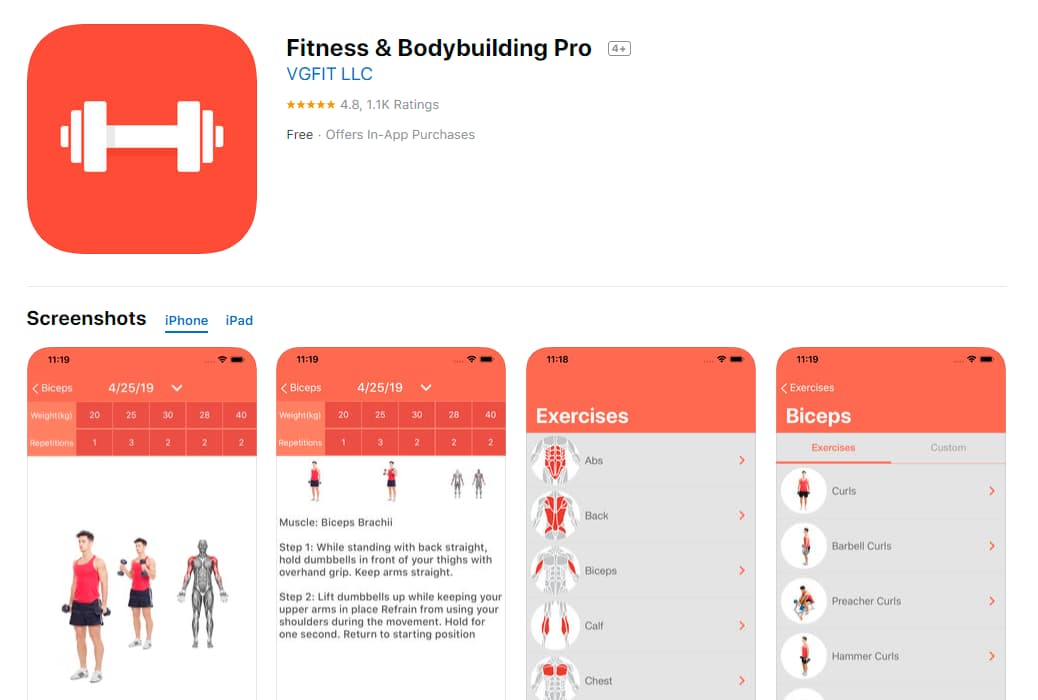 Fitness & Bodybuilding
This app is for everyone who would like to achieve great results in the shortest period of time. Video support, as well as text instruction with pictures for each exercise, will provide you with detailed guidance on how to perform the workout correctly. The built-in calendar, customized workout plans, and built-in timer allow shaping your workout routine according to the personal preferences.
Download from Google Play and App Store.
Pros:
Wide range of exercise for upper and lower body

The huge database of exercise videos
Cons:
Limited number of workouts and a few plan to choose from

Don't have the ability to listening to some music while following the plan
Fitness App Business Model: Contains Ads, Offers in-app purchases.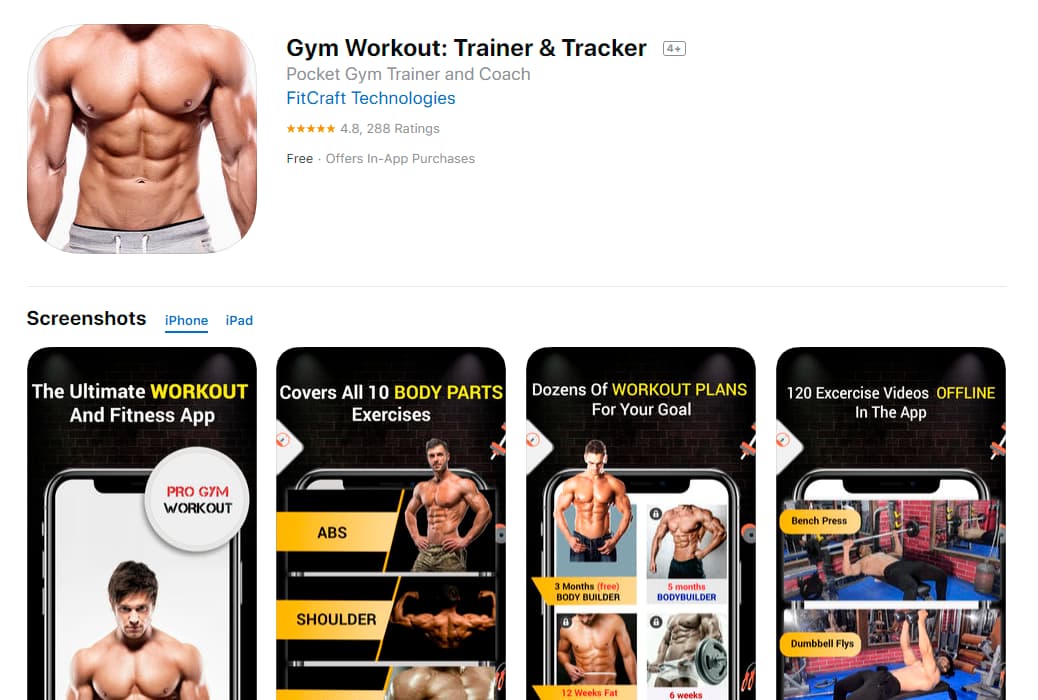 Pro Gym Workout (Gym Workouts & Fitness)
The app contains workouts, fitness video and gym workouts plan to your personal training opportunity. Even being offline you still have an opportunity to use the app. Workout videos provide you with the right techniques of executing the exercises while professional bodybuilder coaches commented on crucial aspects of workout routine. You can create your own custom workout routines by adding your favorite exercises. There are a workout tracker and timer to create the essence of personal trainer supervision. Receive notifications and daily tips about: Workout supplements, Workout exercises, workout tips, workout motivation, Bodybuilding diet, Diet plan, fitness diet, health tips, gym fitness exercises and more.
Download from Google Play and App Store.
Pros:
Informative video content about fitness and health

Wide range of working plans to choose from
Cons:
While the exercises displayed aren't wrong, some exercises aren't shown to be as effective as possible such as the lack of emphasis on the arc in the back while benching
Fitness App Business Model: Contains Ads, Offers in-app purchases.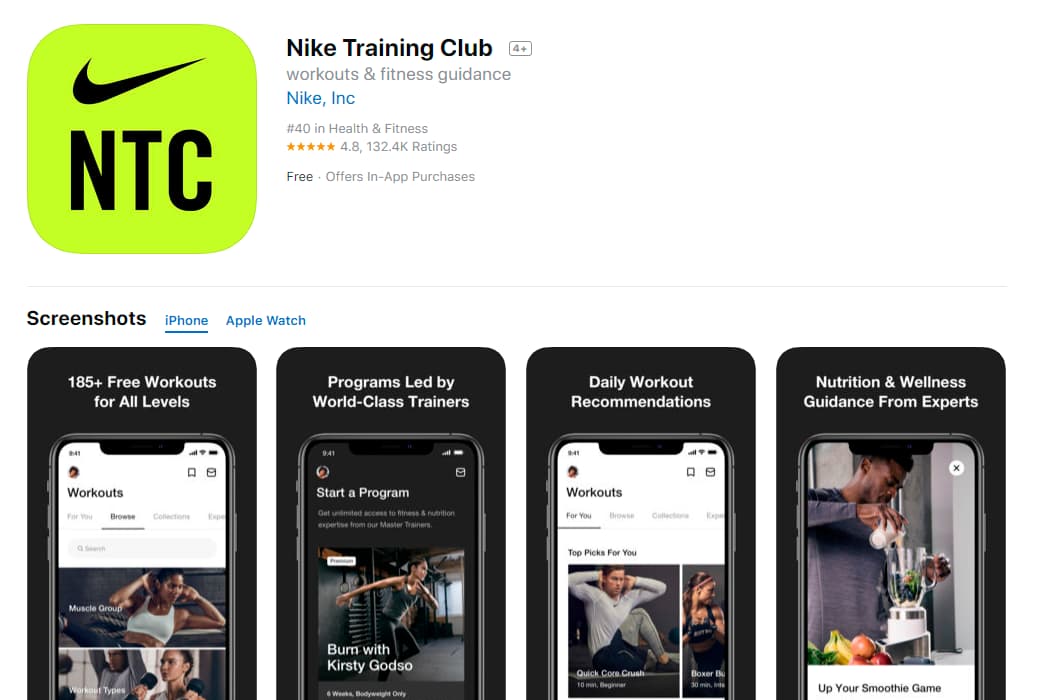 Nike Training Club
The app gives the opportunity to workout anytime and anywhere. Workout for all levels with the focus on abs and core, arms and shoulders, glutes and legs. Moreover, the app contains the elements of yoga, boxing, strength, mobility workouts. The segment "Picks for You" allow you to follow the personalized workout recommendations. The more you train with Nike Training Club, the more personal your recommendations become. Guidance to reach your goals includes expert pieces of advice to help you focus your routine and make progress toward your goals.
Download from Google Play and App Store.
Pros:
Gives the checking points on the personal workout

Wide range of plans to choose from
Cons:
Doesn't include Nike run club
Fitness App Business Model: Contains Ads, Offers in-app purchases.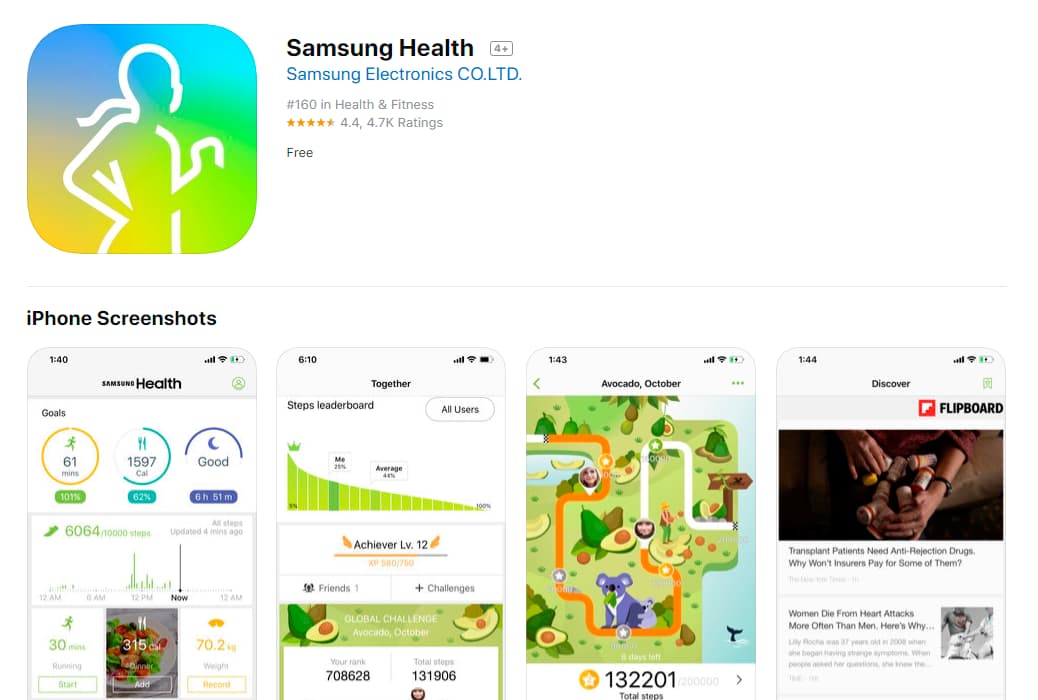 Samsung Health
In case you are searching the app with core features to keep up your body healthy - this one is for you. The app will record and analyze your daily activity which consequently will be the basis for issuing your personal diet and preferable sports activities. Using a wide range of built-in trackers (daily snacks, water, caffeine, sleep, and stress) you will have the opportunity to trace the negative habits and fix them into a healthy one. The app suggests having a free exercise program with a focus on weight loss, muscle building, running, etc.
Download from Google Play and App Store.
Pros:
Accurate tracking system

Automatic updates
Cons:
The health app refuses to sync from time to time
Fitness App Business Model: Contains Ads, Offers in-app purchases.
Difficulties in Fitness App Development
Data integrity and privacy
A typical fitness app stores data from various sensors that are attached to a person's wrist or they carry around in their pocket. In addition, a user can manually add data to the app, for example, what he ate in the dinner or at a Subway.
Typically, the data is stored in a user's device in addition to cloud. If an intruder gains access to the device, he will learn enough about the user to target a social engineering attack on him and gain access to even confidential information like his Credit Card Number or the ATM pin. The intruder can sell the data to a third party who may target him with phishing attacks.
Application updates
With so many features to add, so many bugs and vulnerabilities to fix and meanwhile, working on users' feedback, it's easy to get lost as a developer to decide in which direction to steer the fitness mobile application. In case of fitness apps, the possibilities are endless so are the number of decisions app strategists have to go through that extends the update cycle considerably and app abandonment.
Conclusion
Our team collected the list of the top 10 fitness apps for your 2021 summer season. From the wide range of fitness and workout apps, we pick the most effective and easiest to use with the broad coverage of different workout training and food tracking systems.
All the apps could be used either at home or during the gym sessions. You might choose whether you would like to work on the full body or with the focus on abs and core, arms and shoulders, glutes and legs. The apps provide you with animations and video guidance along with the text description and comments from the coach. It is up to you to use equipment or not, to calculate your calories or rely on the physical changes.
One way or another, fitness apps are a great way to create a balanced and healthy lifestyle pattern! We hope that the list would be useful for you in your fitness endeavors. In case, you've already used some of these apps, share your opinion in the comments below.
Thinking about your own fitness mobile application which could bring greater value than already existing apps? Contact our team and we will guide you thought the way starting from initial idea to live product. We always ready to build valuable products, should it be yours?