On a daily basis, your smartphone is your personal assistant, bank account, the tool for social interactions and source of entertainment like reading a new book or watching a brand new film. In addition, to the list above, your smartphone is an individual trainer that allows you to follow the healthy lifestyle and reach for the more fit body, mind, and soul.
Currently, it is hard to imagine a smartphone without the fitness app installed on it. It is a fast, convenient and effective way to have workouts both at home and at the gym. The fitness app guides you through the workout routine to achieve the most effective result and became closer to your perfect body.
Now, are you ready for the upcoming summer season? Don't you worry, our team picked up top 10 the most effective fitness apps for your consideration. All apps are free of charge and guarantee the best results in the shortest period of time.
So, what are you waiting for? Choose the app, install and dive into the world of fitness and workouts.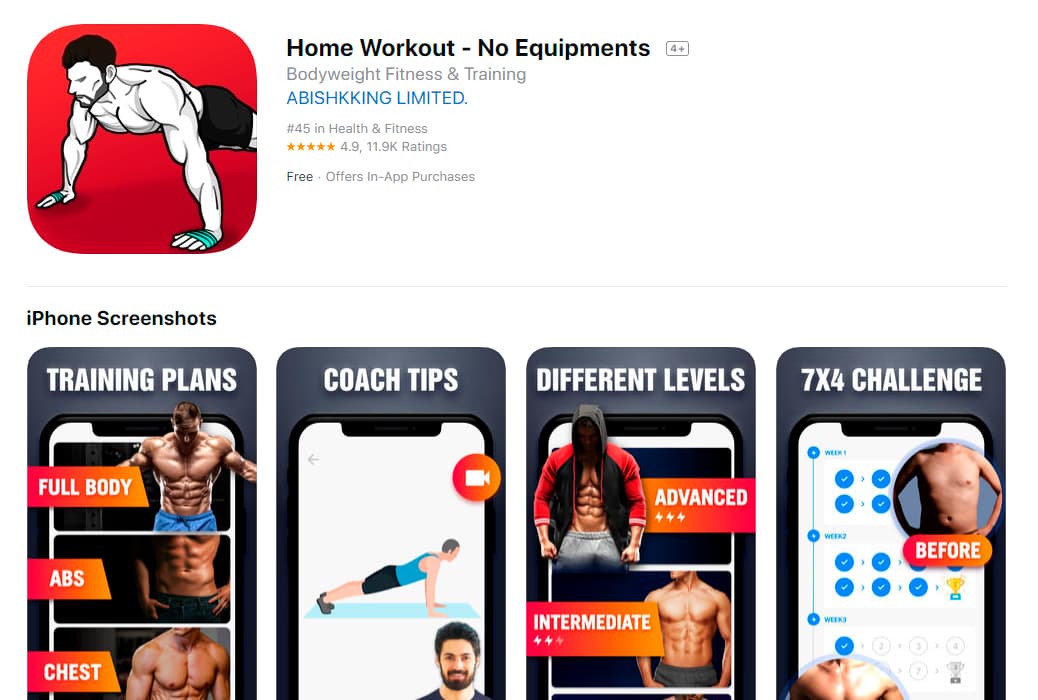 Home Workout - No equipment
If you don't have time to visit a gym this app is for you. You don't need special equipment to build muscles. So, just stay at home and by following over 100 detailed videos and animation guides you can create a fit and healthy body. All the workouts are designed by experts and focused on abs, chest, legs and also full body workouts. Other features include warm-up and stretching routines, progress reports, customizable workout reminders, and charts. Additionally, you can create your own workout routines.
Download from Google Play and App Store.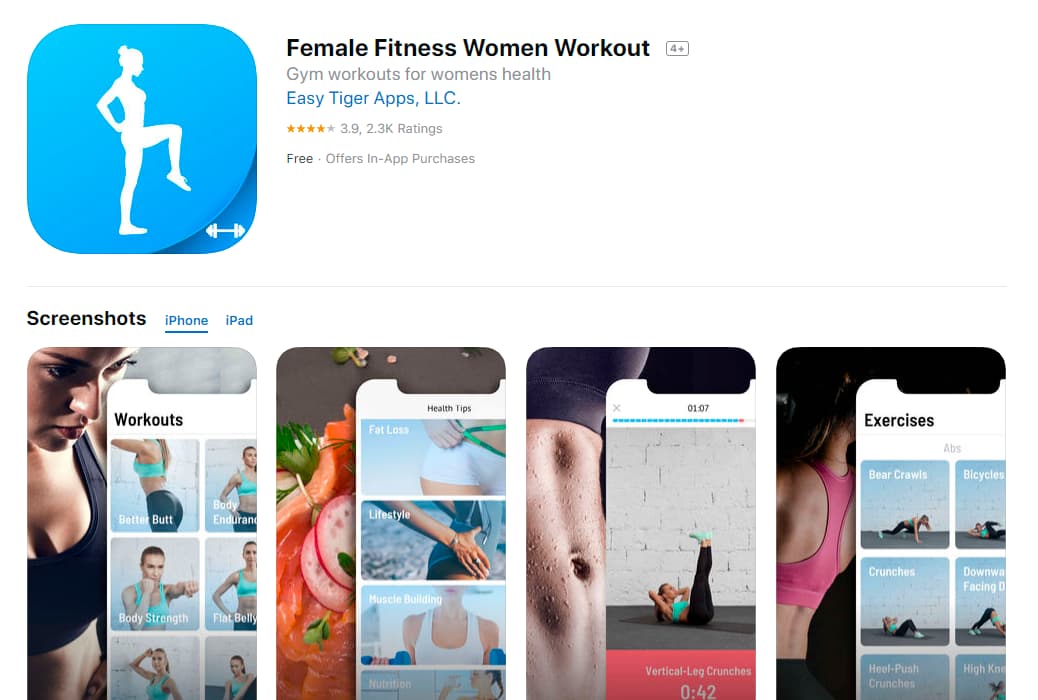 Female fitness - Women Workout
Created specifically for women the app focuses on achieving a perfect bikini body in the shortest period of time. Warm-up and stretching exercises are included in the app. In addition, it suggests animated guidance and videos of the training routine. The app is suitable for both beginners and pros and oriented on full body workout and fat burning techniques. You will not need any equipment just your free time to form the slim and fit body.
Download from Google Play and App Store.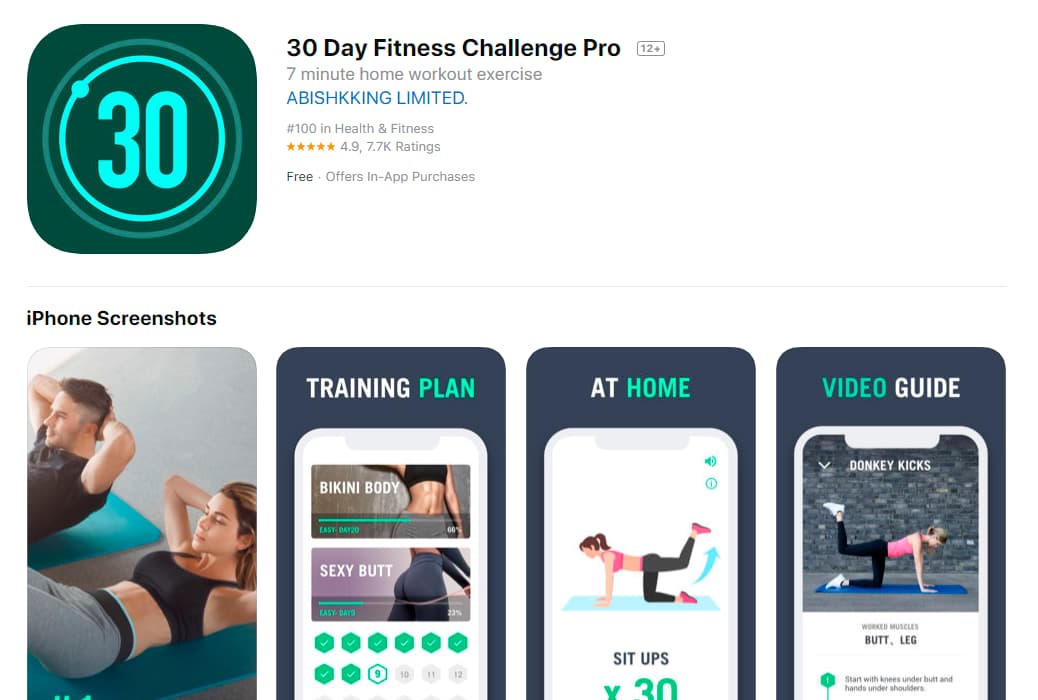 30 Day Fitness Challenge - Workout at Home
Set a challenge and stick to the program for the next 30 days. It is a great way to make sport your habit! The app increases exercise intensity step by step which reduces the chance of "burning out". Your training progress will record automatically and you will get notifications daily, so you won't have the temptation to skip the workout. Detailed videos will guide you through every challenge. It is a fitness coach, fat burning workouts and weight tracker all in one app.
Download from Google Play and App Store.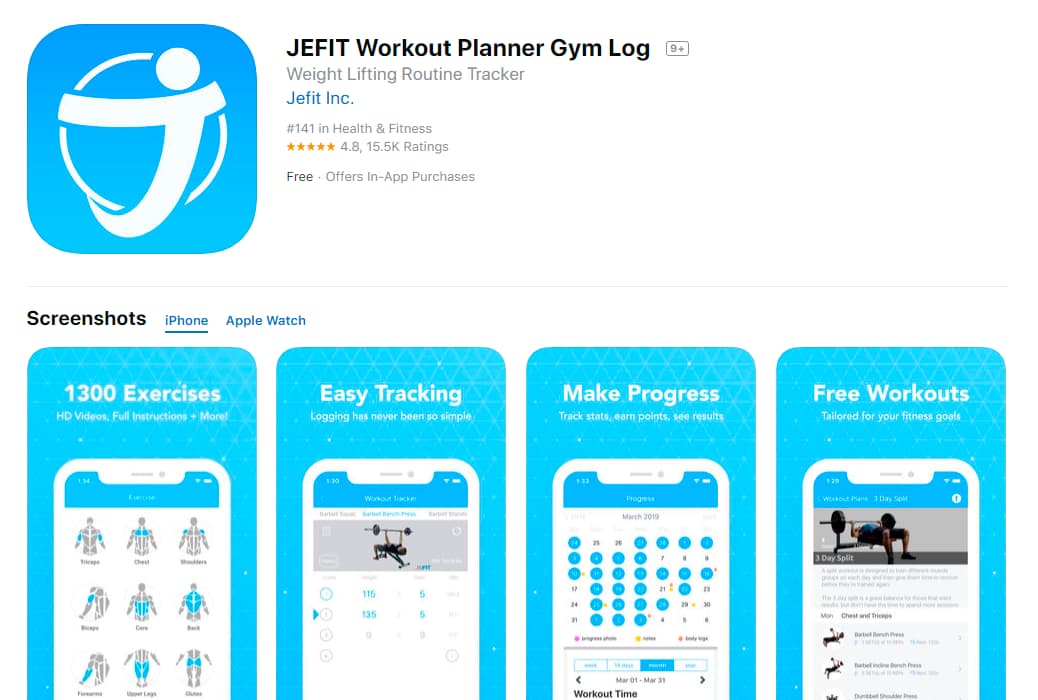 JEFIT Workout Tracker, Weight Lifting, Gym Log App
Train on your own schedule by choosing beginner or advanced programs. It helps you to stay fit and make progress out of your workout session. It has over 1300 detailed exercises that include animations on how to execute them. There is also fitness tracking, progress reports, a resting timer, workout logs, goal setting, etc. You can get customized workout programs made for 3, 4, or 5 day splits. It allows you to synchronize all your data with the cloud and works even when you are offline.
Download from Google Play and App Store.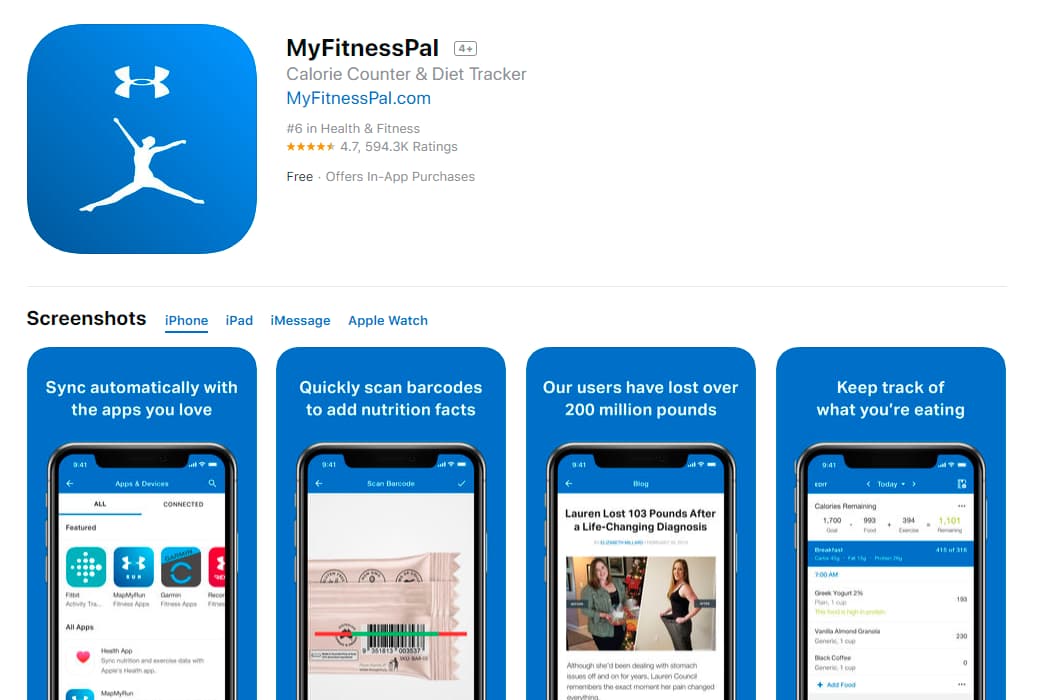 Calorie Counter - MyFitnessPal
It is one of the best apps to help you lose weight, tone up and get healthy! The app is focusing on tracking food which helps you to change your habit regarding food consumption. It has a massive database of more than 6 million foods that include global items and cuisines. You can also add the food that you eat either manually or by using the barcode scanner. It consists of recipe importer, restaurant logging, food insights, calorie counter, etc. You can choose from over 350 exercises or create your own activities and workouts. Moreover, it allows you to set goals and see a graph of your step history. The app is free and contains ads and in-app purchases.
Download from Google Play and App Store.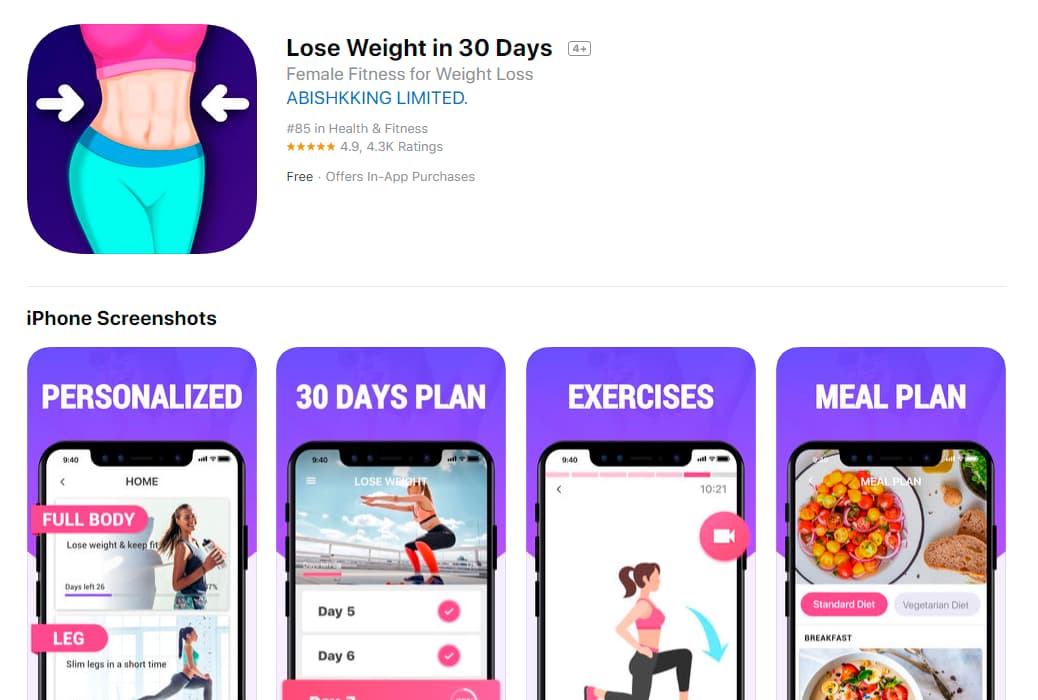 Lose Weight in 30 Days
Another great app to set a goal for the following 30 days. The app provides you with systematic workouts' as well as diet plans. In addition, you will have the opportunity to track weight loss progress and burned calories. Animations and video of workouts build in a way to gradually increase exercise intensity and guide you through your fitness journey.
Download from Google Play and App Store.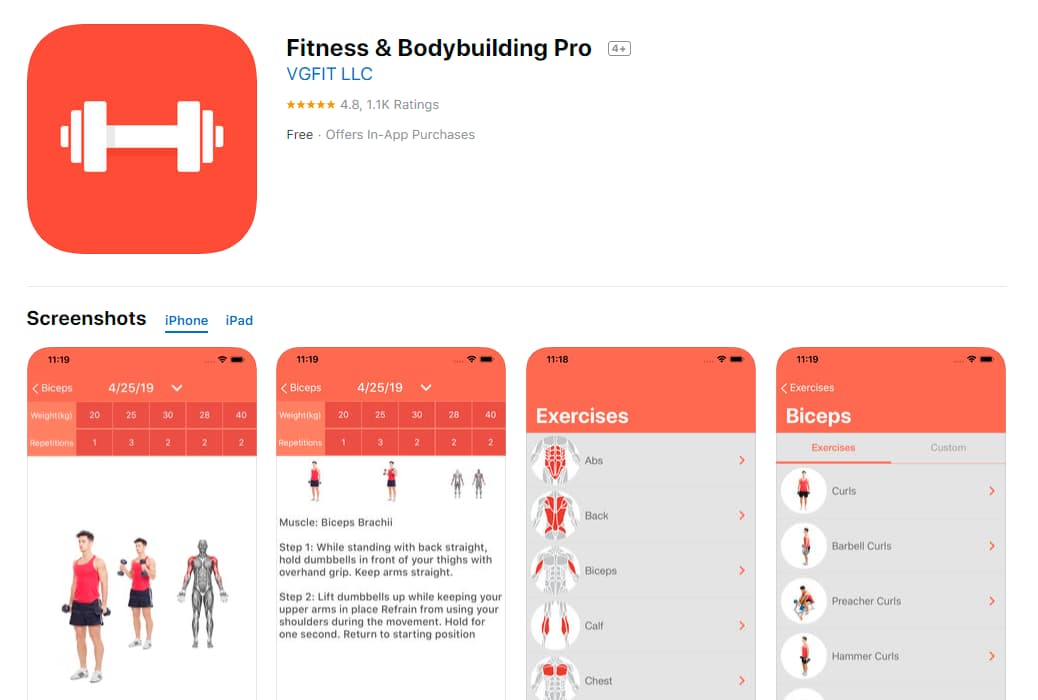 Fitness & Bodybuilding
This app is for everyone who would like to achieve great results in the shortest period of time. Video support, as well as text instruction with pictures for each exercise, will provide you with detailed guidance on how to perform the workout correctly. The built-in calendar, customized workout plans, and built-in timer allow shaping your workout routine according to the personal preferences.
Download from Google Play and App Store.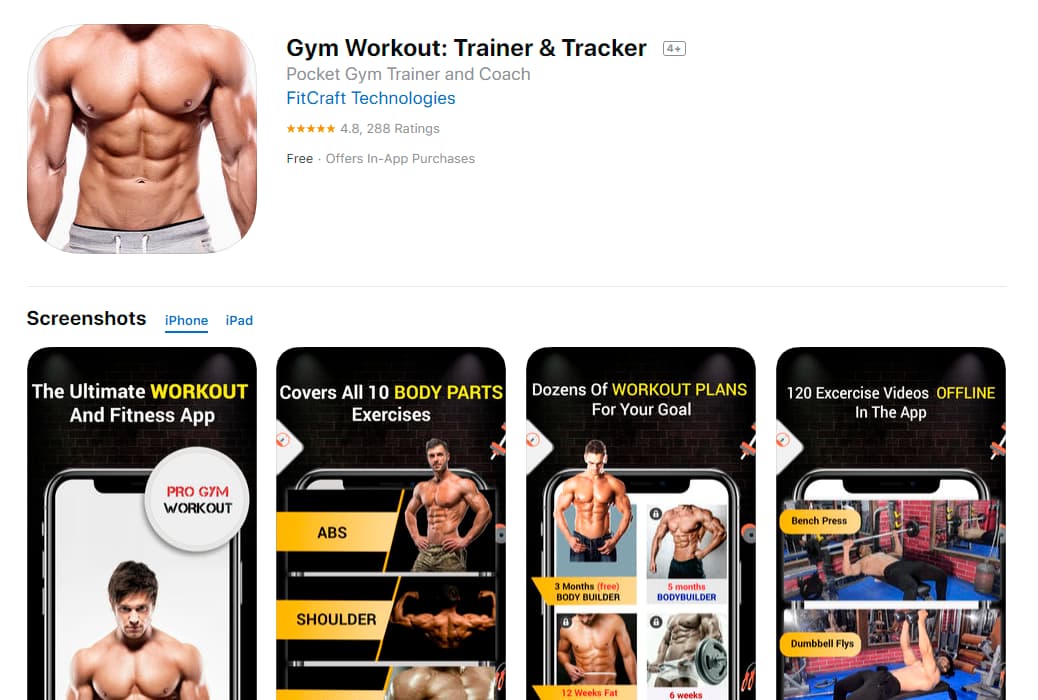 Pro Gym Workout (Gym Workouts & Fitness)
The app contains workouts, fitness video and gym workouts plan to your personal training opportunity. Even being offline you still have an opportunity to use the app. Workout videos provide you with the right techniques of executing the exercises while professional bodybuilder coaches commented on crucial aspects of workout routine. You can create your own custom workout routines by adding your favorite exercises. There are a workout tracker and timer to create the essence of personal trainer supervision. Receive notifications and daily tips about: Workout supplements, Workout exercises, workout tips, workout motivation, Bodybuilding diet, Diet plan, fitness diet, health tips, gym fitness exercises and more.
Download from Google Play and App Store.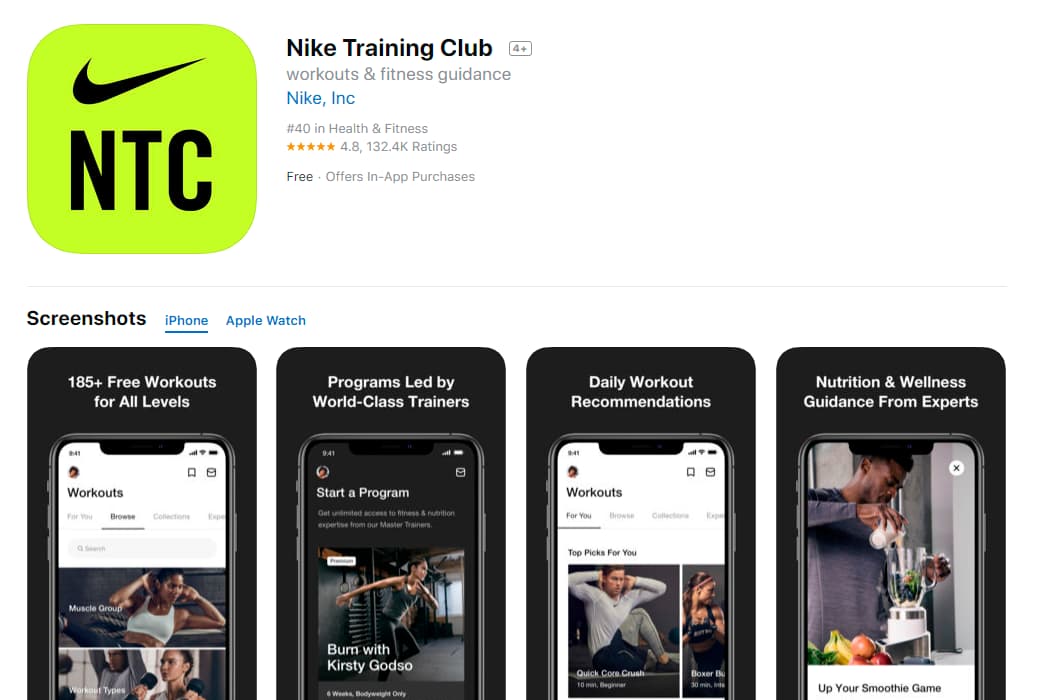 Nike Training Club
The app gives the opportunity to workout anytime and anywhere. Workout for all levels with the focus on abs and core, arms and shoulders, glutes and legs. Moreover, the app contains the elements of yoga, boxing, strength, mobility workouts. The segment "Picks for You" allow you to follow the personalized workout recommendations. The more you train with Nike Training Club, the more personal your recommendations become. Guidance to reach your goals includes expert pieces of advice to help you focus your routine and make progress toward your goals.
Download from Google Play and App Store.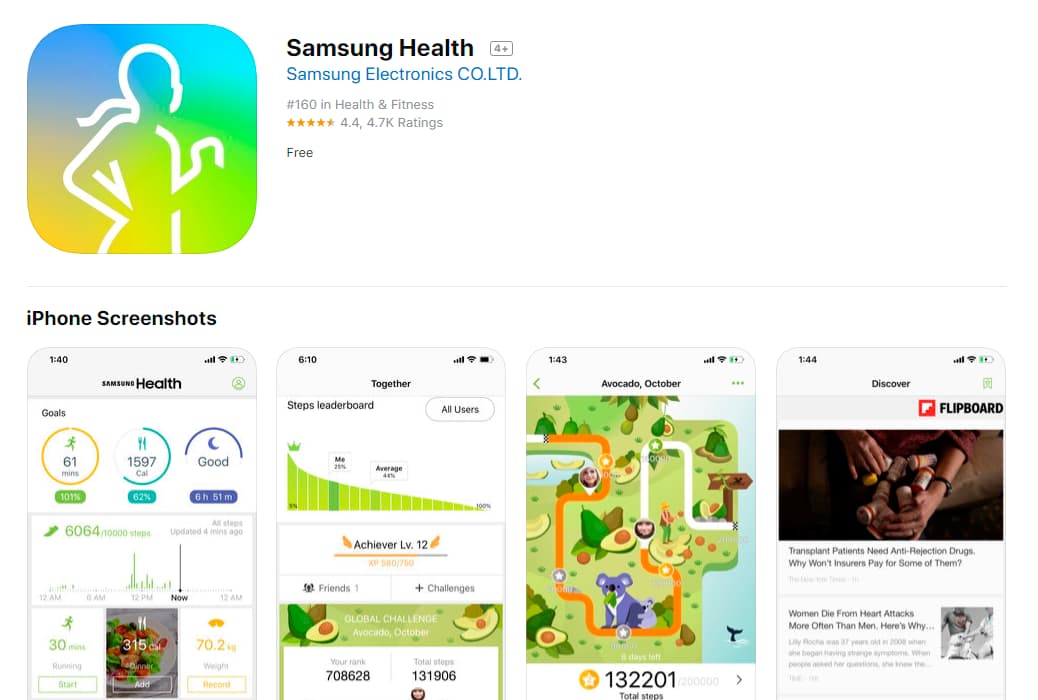 Samsung Health
In case you are searching the app with core features to keep up your body healthy - this one is for you. The app will record and analyze your daily activity which consequently will be the basis for issuing your personal diet and preferable sports activities. Using a wide range of built-in trackers (daily snacks, water, caffeine, sleep, and stress) you will have the opportunity to trace the negative habits and fix them into a healthy one. The app suggests having a free exercise program with a focus on weight loss, muscle building, running, etc.
Download from Google Play and App Store.
Conclusion
Our team collected the list of the top 10 fitness apps for your 2019 summer season. From the wide range of fitness and workout apps, we pick the most effective and easiest to use with the broad coverage of different workout training and food tracking systems.
All the apps could be used either at home or during the gym sessions. You might choose whether you would like to work on the full body or with the focus on abs and core, arms and shoulders, glutes and legs. The apps provide you with animations and video guidance along with the text description and comments from the coach. It is up to you to use equipment or not, to calculate your calories or rely on the physical changes.
One way or another, fitness apps are a great way to create a balanced and healthy lifestyle pattern! We hope that the list would be useful for you in your fitness endeavors. In case, you've already used some of these apps, share your opinion in the comments below.
Thinking about your own fitness mobile application which could bring greater value than already existing apps? Contact our team and we will guide you thought the way starting from initial idea to live product. We always ready to build valuable products, should it be yours?