Today, you are able to pay with phone for different goods and services which is life-changing. Recently Apple Pay brought mobile payment solutions to the next level which may result in the increasing demand for using your mobile phone for any kind of payments. Besides, paying with plastic (not to mention cash money) is so last year.
You may ask why you should switch from credit cards to your smartphone. It is not just about being a sophisticated individual who takes all the advantages of living in the XXI century. Except for being in trend mobile paying method is all about the security of your financial assets. Mobile payment tools can provide more security than traditional magnetic-stripe cards, which are susceptible to skimming and data breaches (although this benefit will diminish as chip-and-PIN cards take over).
We would like to introduce to you our new segment "Paying with Your Mobile Phone" where we will discuss peculiarities of how you could pay using your smartphone. The first article focus on different types and models.
What are Mobile Payments?
It is a secure, fast and convenient payment method nowadays. Mobile payments are regulated transactions that take place digitally through your mobile device. It encompasses mobile wallets and mobile money transfers.
Mobile payments might be used in:
"Peer to peer" business: means that mobile payment could be making an e-transfer via your bank to pay for specific goods or services;

Brick-and-mortar business: this way suggests to use payment apps on your smartphone as well as point-of-sale device to process the money transaction.
To pay with your mobile device at a store's checkout counter, hold your device close to the NFC-enabled payments terminal. The reader should be within 2 inches of the source (mobile phone) to set the transaction in motion. Since there's no physical contact between your device and the payments reader, mobile wallet payments are often referred to as contactless payments.
What's happening in a mobile wallet transaction is that your device and the NFC-enabled point of sale are essentially talking to each other. Using that specific radio frequency we talked about, they pass encrypted information back and forth to process the payment. This all takes just seconds. Speed, in fact, is one of the coolest parts of NFC payments. They take a fraction of the time of magstripe and chip card transactions—and are leagues faster than cash.
Let's take a look at the different types and models of mobile payments.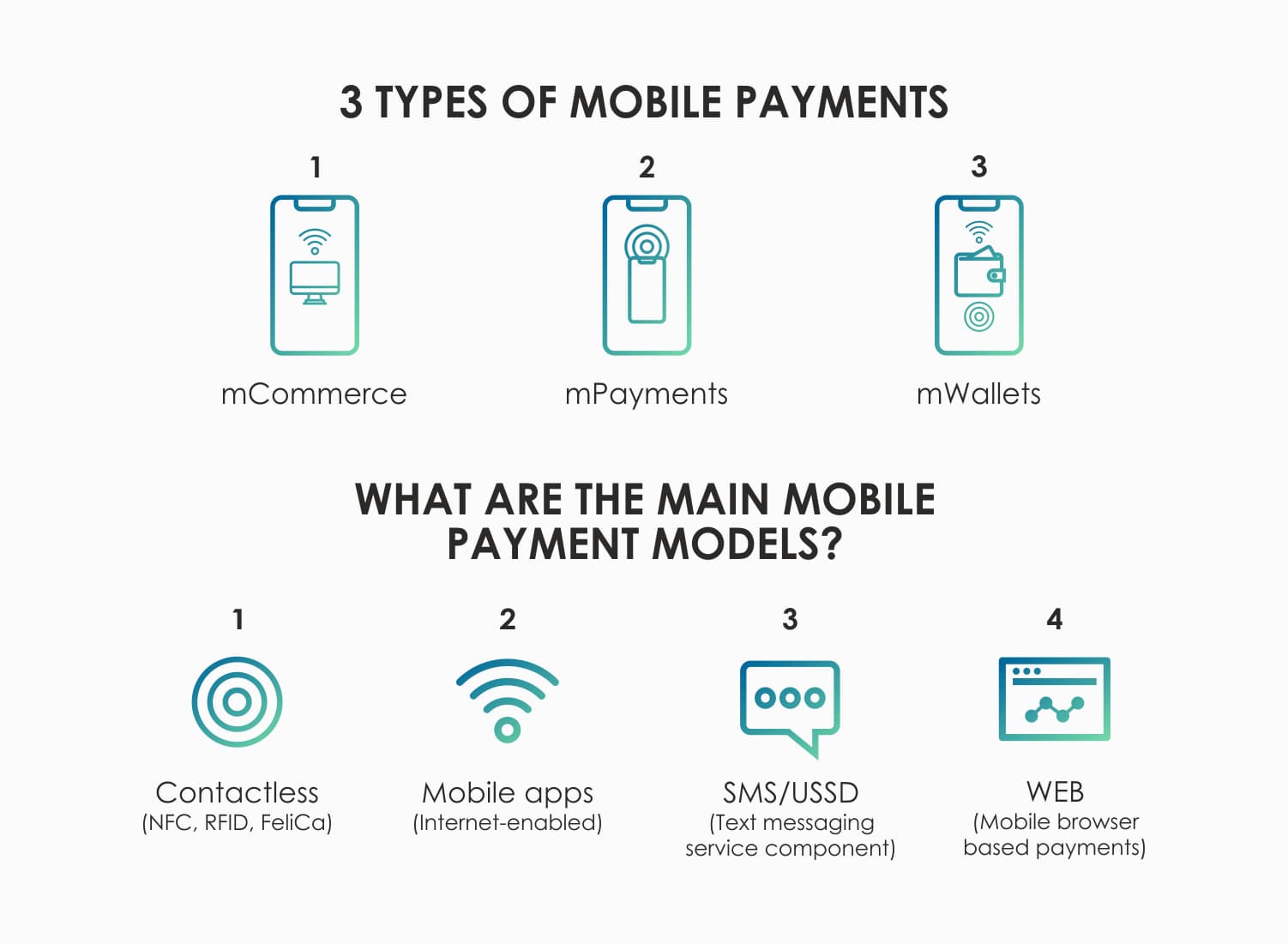 3 Types of Mobile Payments
1. mCommerce
Mobile commerce (m-commerce or mСommerce) includes any monetary transaction operations using a mobile device. It is an advancement of eCommerce, which allow people to use online wallets and standard web commerce system in order to buy/sell goods and services just using the mobile phone or tablet device.
mCommers might be categorized as:
Mobile shopping: similar to eСommenrce, but accessible via a mobile device. Mobile shopping is now possible through mobile-optimized websites, dedicated apps, and even social media platforms.

Mobile banking: it usually involves a dedicated app, though some banks have started experimenting with the use of chatbots and messaging apps.

Mobile payments: nowadays there are multiple options of mobile payment.
2. mPayments
Mobile payment (mobile money, mobile money transfer or mobile wallet) is covered all financial operations issued via a mobile device. It uses contactless technology as well as in-app technology which allow paying with your mobile phone just installing a specific app. Instead of paying with cash, cheque, or credit cards, a consumer can use a mobile phone to pay for a wide range of services and digital or hard goods.
3. mWallets
Today, mobile wallet aims to replace your traditional wallet and transform it into a digital one. mWallet app allows you securely add and then store the bank details associated with your debit or credit card (some mobile wallet apps allow you to add more than one card). So instead of using your physical card to make purchases, you can pay via your mobile device.
There are several most popular mobile wallets, such as:
What are the Main Mobile Payment Models?
1. Contactless payment (NFC, RFID, FeliCa)
Contactless mobile payments use different mobile wallets to facilitate payments made by your smartphone. Supported mobile wallets typically include Apple Pay, Google Pay, Samsung Pay. Moreover, some banks launching their own mobile wallet too. When making a payment in a physical location, customers can place their phone close to a supported terminal to validate and transmit payment, instead of swiping their debit or credit card.
Talking about the mobile wallet technology it uses NFC payment, which stands for "near field communication". Basically, without NFC there will be no opportunity to connect two devices in order to support the financial transaction. Thus, due to NFC your phone and a payments reader device can communicate wirelessly when they are close together. NFC is used mostly in paying for purchases made in physical stores. It will be interesting to know, that NFC is based on the RFID technology that allows identification of things using radio waves.
2. Mobile apps
Nowadays, users benefited from the wide range of in-app mobile stores that allow them to buy goods and services within closed ecosystems. All you need to do is register your credit card information only once and then you can download any number of apps without the additional registration of your credit card data.
In-app mobile payments have certain limitations (for instance you can only buy within proprietary stores, and most apps are ill-suited for retail environments). However, due to advanced technologies, in-app mobile payments became the mainstream. Users became more accustomed to relying on their smartphone devices to shop for the products and services they desired.
3. SMS/USSD
Another payment option is SMS (Short Messaging Services) allow you to pay for goods and services using text message. While USSD (Unstructured Supplementary Service Data) is a global system for mobile communication technology that is used to send text between a mobile phone and the application program in the network. While SMS is a text messaging service component, USSD is similar to SMS but quicker and has the ability to invoke commands with common codes rather than operating a messaging application.
4. WEB (Mobile Web-based Payment)
Mobile Web-based Payment is the method of mobile payment, the consumer uses the Internet or web pages or through any dedicated application installed on the phone. The underlying technology used for such payments is Wireless Application Protocol (WAP). This method is now being incorporated by many mobile network operators, with one of the most prominent services being provided by PayPal under the name of PayPal express checkout.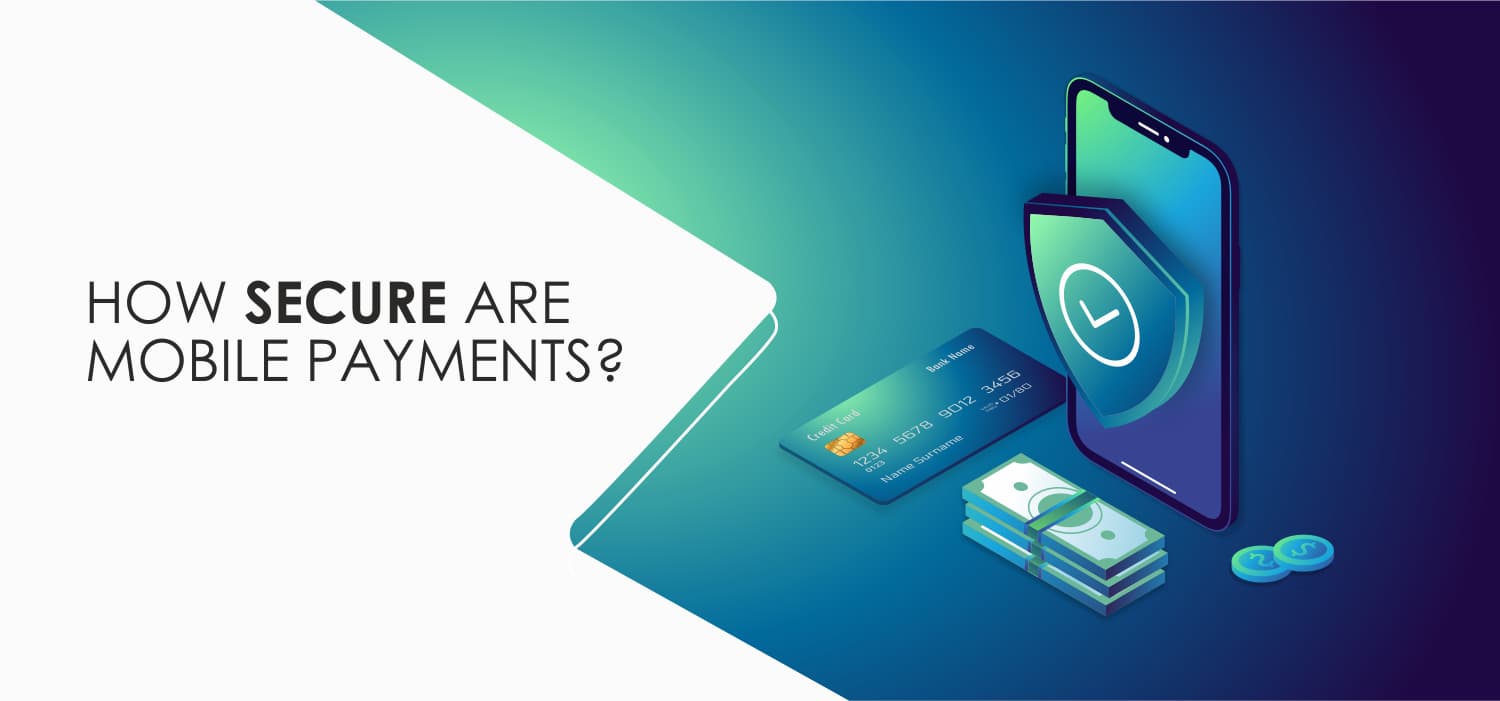 How Secure are Mobile Payments?
In short, mobile payments are very secure.
It might sound surprising for you, but credit cards in your mobile wallets could be more secure than traditional credit card payments. Thus, most mobile wallets don't actually store your real number, instead, they assign an encrypted code so that your card can be securely stored, which means your card number is not seen by the terminal reader or a merchant.
Mobile payments offer the system of tokenization, which is a process of replacing sensitive data with unique identification symbols that retain all the essential information about the data without compromising its security. During the user is using the mobile device for payments it generates a single-use credit card number that it sends to the merchant. As a result, the one who is receiving payments does not deal with the sensitive information of the person who does financial transactions.
In addition, mobile device's CPU rarely, if ever, handles the transaction and the card details aren't actually stored on the device. Instead of it, a secure element or smart clip, separate from the CPU, generate the number and sends it to the merchant's system. Card data is stored in the cloud and can usually be wiped remotely if a device goes missing. In addition, most devices that support mPOS payments require the consumer to verify their identity in some way before completing the transaction. For Apple Pay, it's the TouchID fingerprint scanner. For Android Pay, it's the act of unlocking the phone (meaning consumers have to enable the lock screen to begin with).
Even if you had lost your phone, still your credit card's information would have secured. Nowadays, there is a wide range of apps that will allow you to remotely lock or delete certain data from your mobile phone. Downloading and installing these apps will set an additional layer of security. For example, fingerprint recognition and password protection can help make your device more secure.
As an additional piece of advice, we might recommend you to use a strong identity verification system such as a long PIN, strong password or biometric features.
Read our article about PCI DSS for blockchain and crypto projects
Conclusion
Digitalization of money transactions and consequent existence of the wide range of payment methods, allow to choose the most suitable way for you. Thus, there are 3 main types of how you can pay with your mobile phone, such as mCommerce (by using online wallets or standard web commerce system), mPayments (uses in-app and contactless technology) and mWallets (your digital wallet that contains your credit/debit card information).
All mobile wallets use contactless technology, such as NFS payment which stands for "near field communication". Thus, without NFC there will be no opportunity to connect two devices in order to support the financial transaction. You may choose to pay using mobile apps, which is in-app mobile stores that allow buying goods/services within closed ecosystems. Another way is to use SMS/USSD system which basically stands for paying using text message. You may also choose mobile Web-based payments which allow people to use the Internet, web pages or any other dedicated app installed in the phone.
Paying with a credit card not to mention cash money is so last year. That is why more people each year switch to the paymewnt with their smartphones. Mobile phone payment is fast, convenient and (surprisingly enough) keeps your financial assets and sensitive information secure (secure checkout as well as secure storage of the sensitive data).
In case you have left any questions or you have any suggestion, feel free to contact us and we will help you in any inquiry!