You may have heard that the latest trend in the cryptocurrency world is buying and selling NFTs – sometimes for millions of dollars. But what does NFT stand for and what is behind all the excitement? The non-fungible token (NFT) gained traction in 2020, drawing attention from the mainstream media and extending interest beyond blockchain technology enthusiasts to investors and consumers.
We picked up the top resources related to the NFTs for your convenience. From articles and influencers to video tutorials and marketplaces, this list is a sort of prompt for everyone who is interested in the NFTs phenomenon.
Need to add a resource to the list? Write in the comments!
Table of Contents
Just jump to the section of your interest:
📰 Top Articles about NFT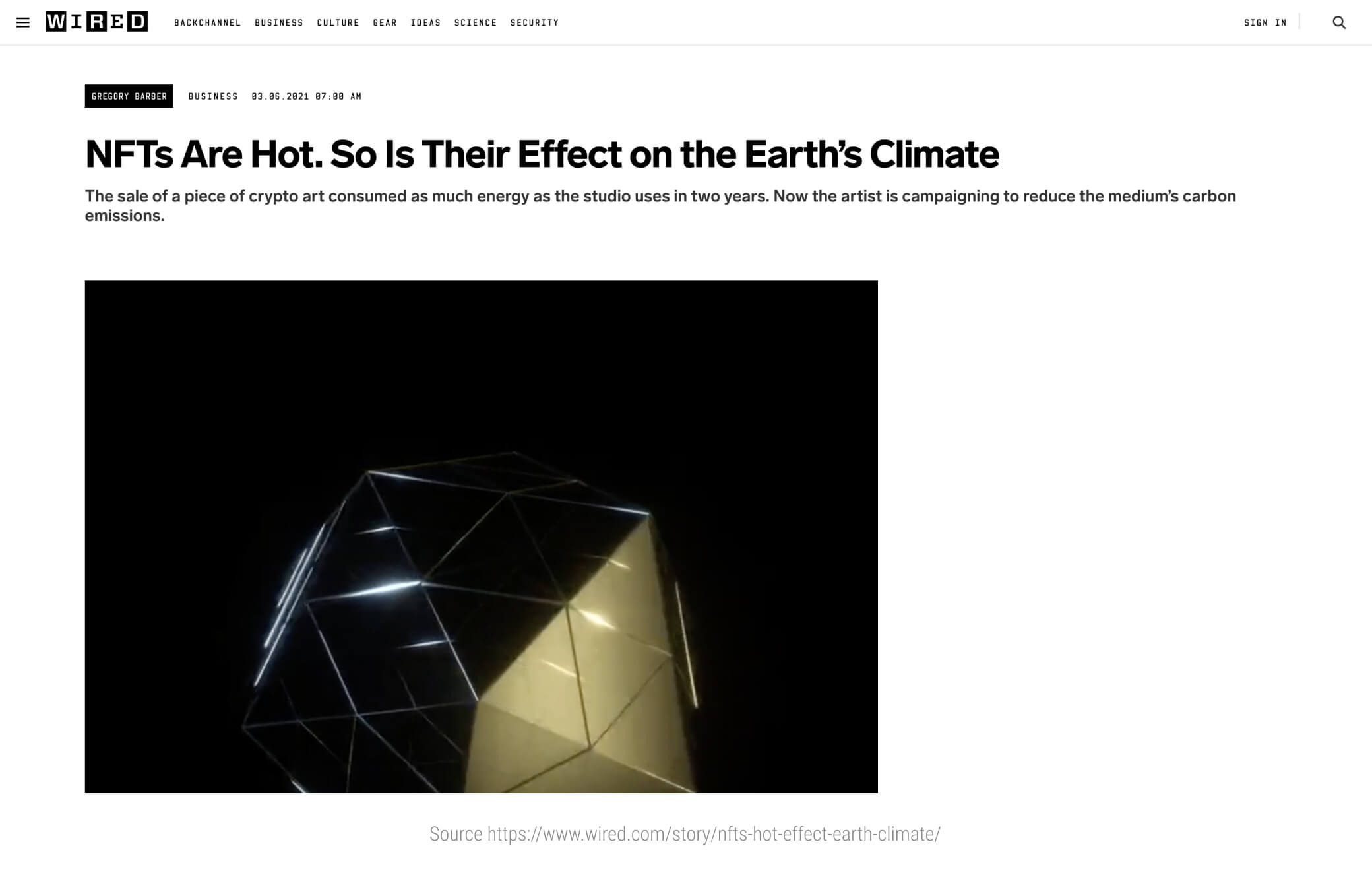 Author: Gregory Barber
Resource type: Article
The article raises a discussion about the sustainable use of crypto art. NFTs are growing in popularity which means they're also coming under increased scrutiny – especially over their carbon footprint. The crypto art trading model consumes lots of energy due to blockchain transactions. The sale of a piece of crypto art consumed as much energy as the studio uses in two years that is why the environmental impact of the NFTs is a hot topic.
Follow this resource: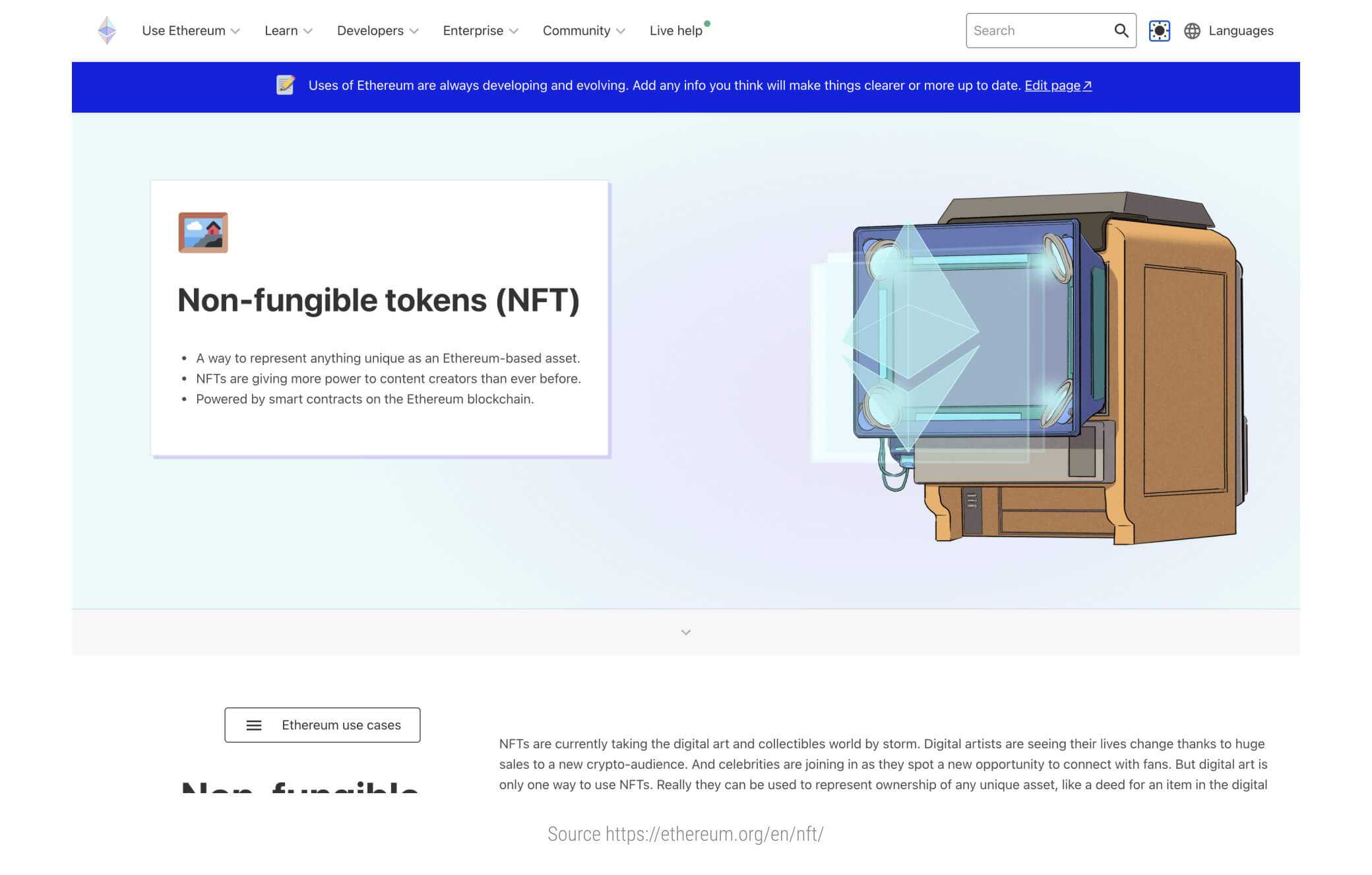 Author: Ethereum team
Resource type: Article
Ethereum is the community-run technology powering cryptocurrency. The team presents the article explaining the NFTs. Precisely, how to represent a unique item as an Ethereum-based asset and how to use all the power of the smart contracts on the Ethereum blockchain.
Follow this resource: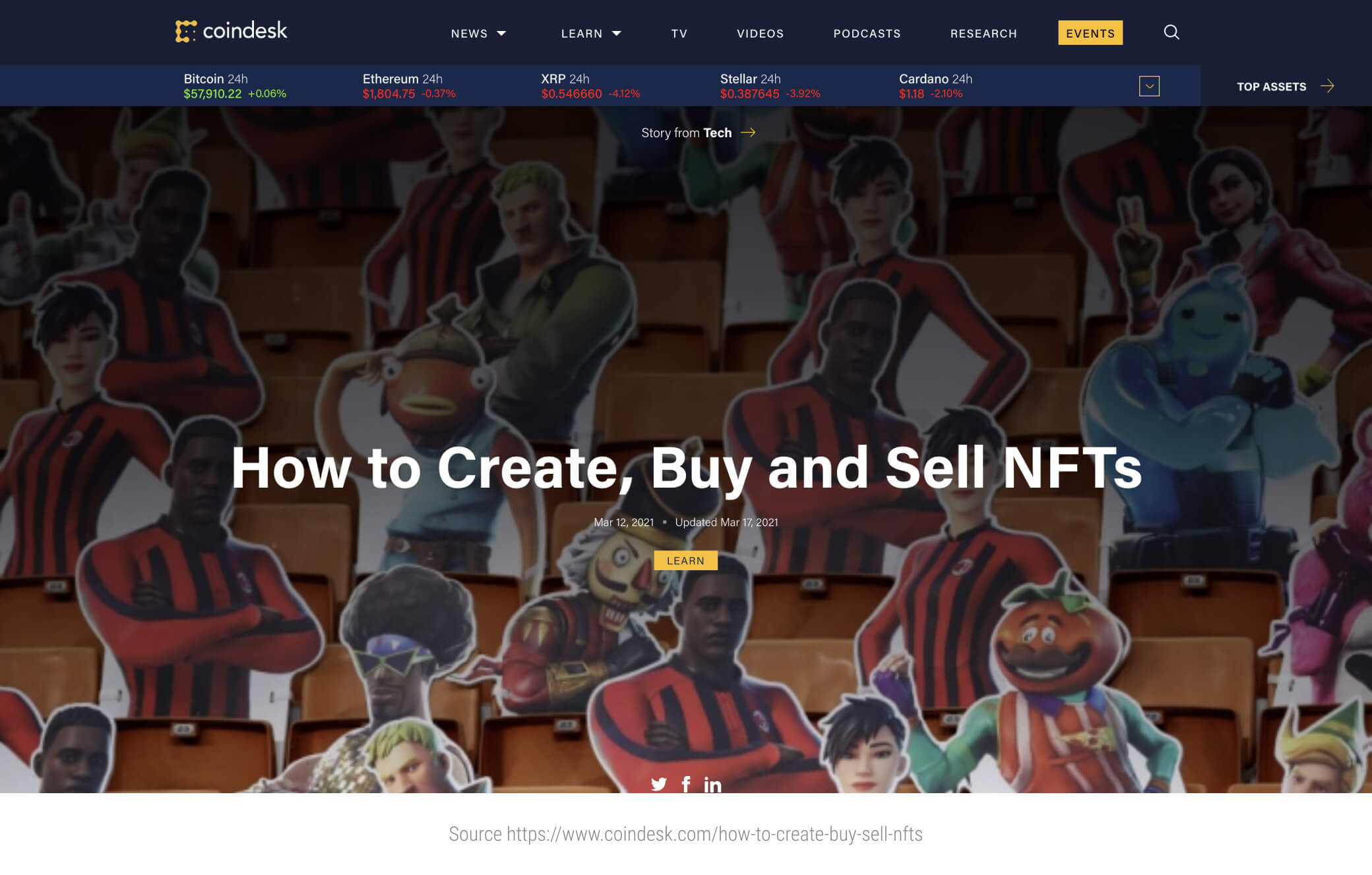 Author: Ollie Leech
Resource type: Guide
Ollie Leech is an experienced technical analyst with a demonstrated history of working in the crypto and blockchain industry. In this article, he explained how to create NFTs, how much does it cost to make NFTs, how to sell/buy NFTs, and talks about whether now is a good time to get into non-fungible tokens.
Follow this resource: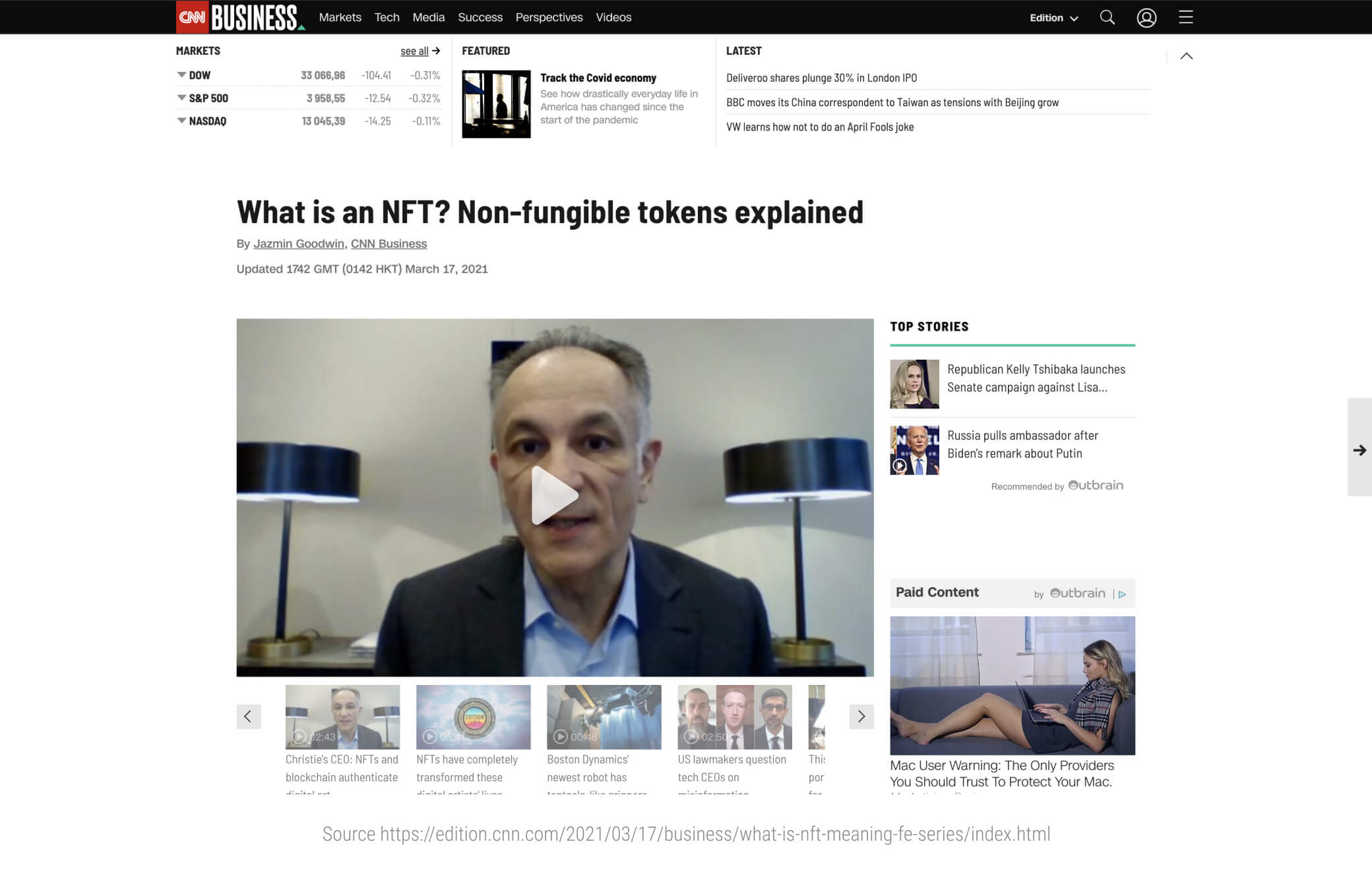 Author: Jazmin Goodwin
Resource type: Article
The CNN Business is known for the detailed investigation of particular subjects -- in this case NFT phenomenon. The article explains in the simplest terms what are NFTs, how to buy/sell NFTs and why this cryptocurrency phenomenon goes mainstream. There is an interview with Christie's CEO, the first auction house to get involved with NFTs and this particular part of the market and sold a digital collage for US$69.3 million.
Follow this resource: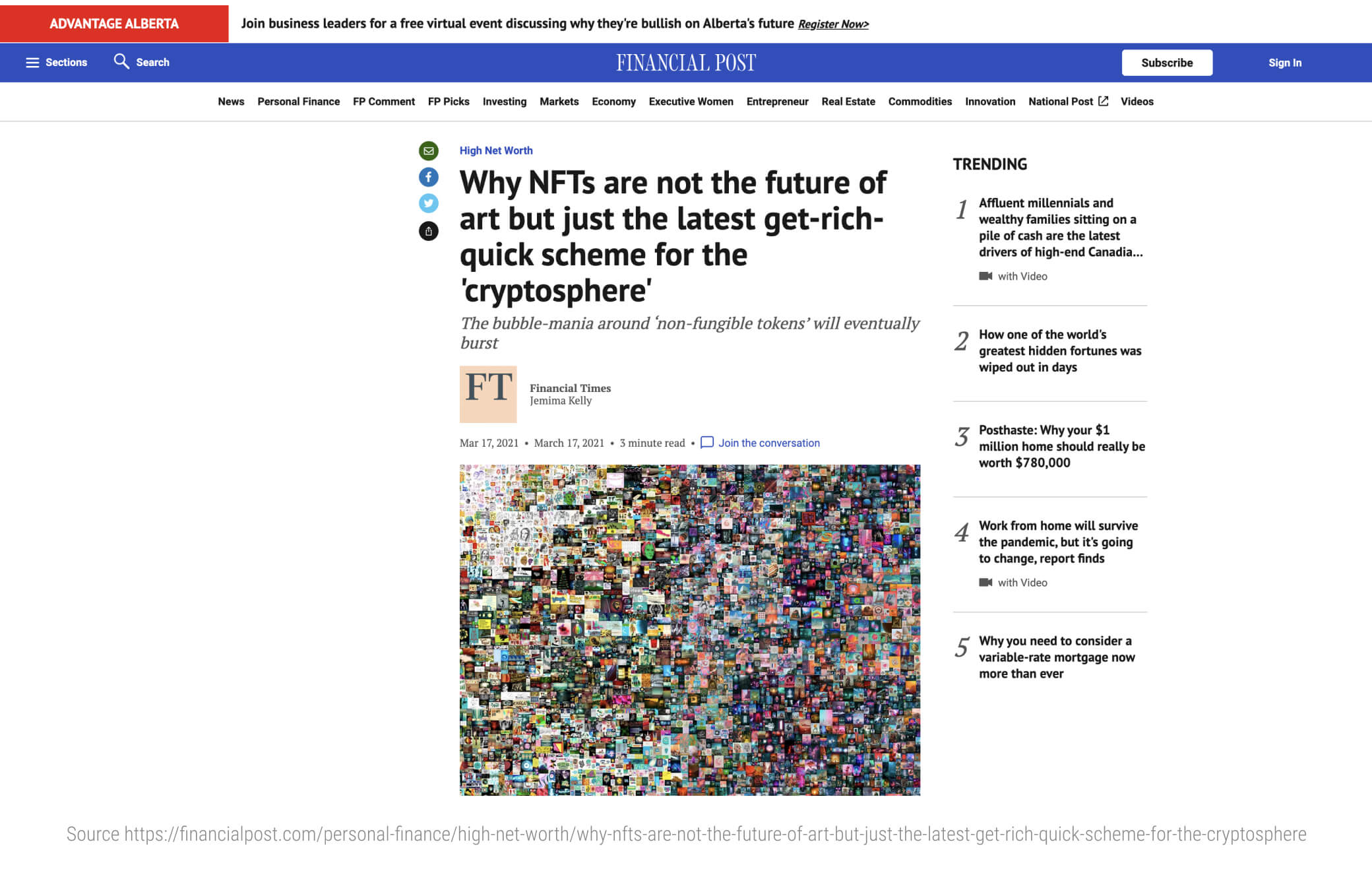 Author: Jemima Kelly
Resource type: Article
Do NFTs represent the future of art? Or is this just about the pure desire to get rich? The author tries to understand the global interest in the term NFT and the crypto sphere in general (including blockchain, bitcoin, and other tokens).
Follow this resource: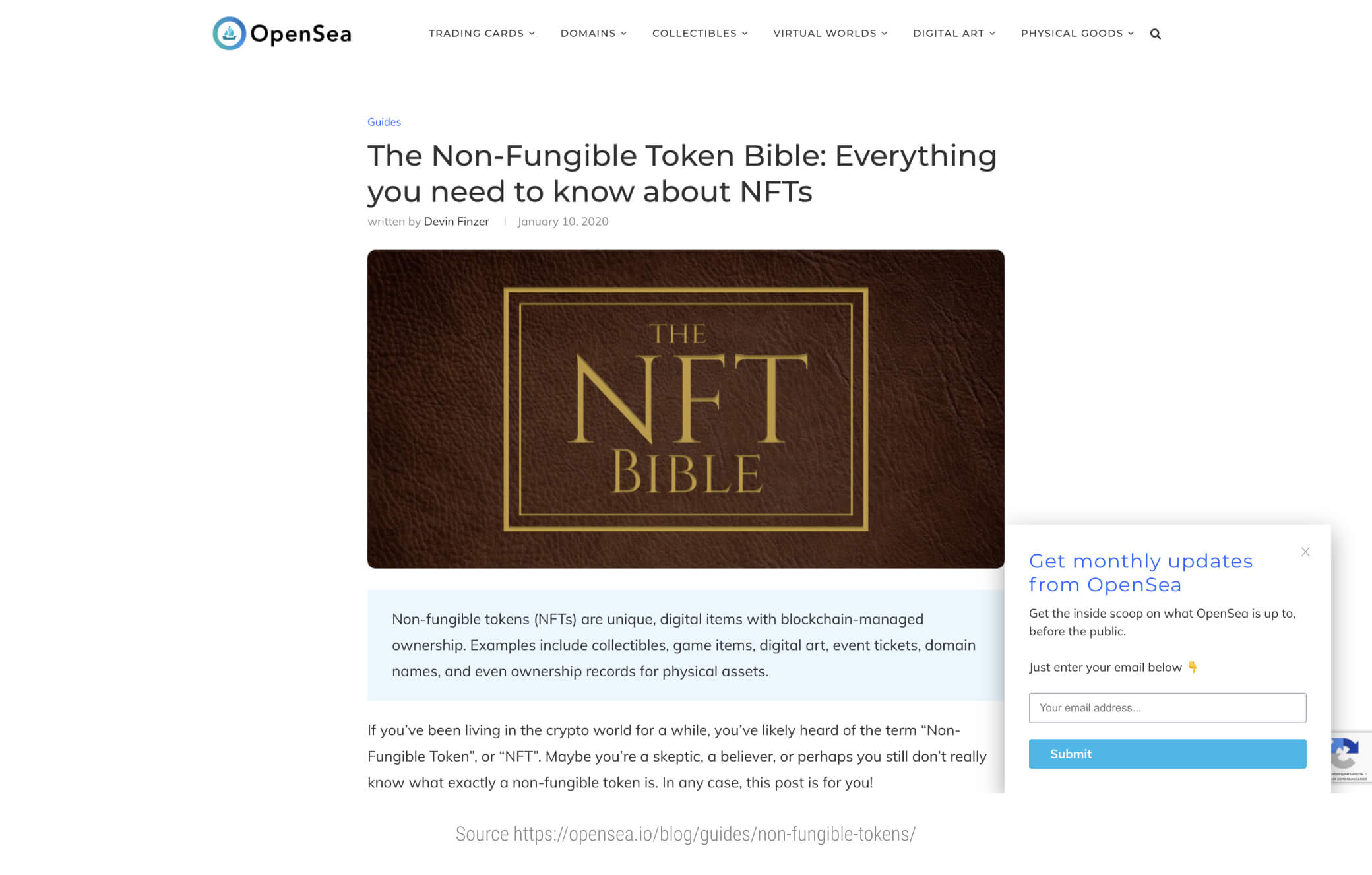 Author: Devin Finzer
Resource type: Article
OpenSea - the largest NFT marketplace was brave enough to create the NFT bible -- something that can give you an in-depth understanding of the NFT. OpenSea has a unique vantage point: the marketplace seen nearly every NFT-related project that has come online since late 2017 when the first NFT standard emerged. That is why the article focuses on the technical anatomy of an ERC721, the history of the NFT, common misconceptions about NFTs, and the current state of the NFT market.
Follow this resource: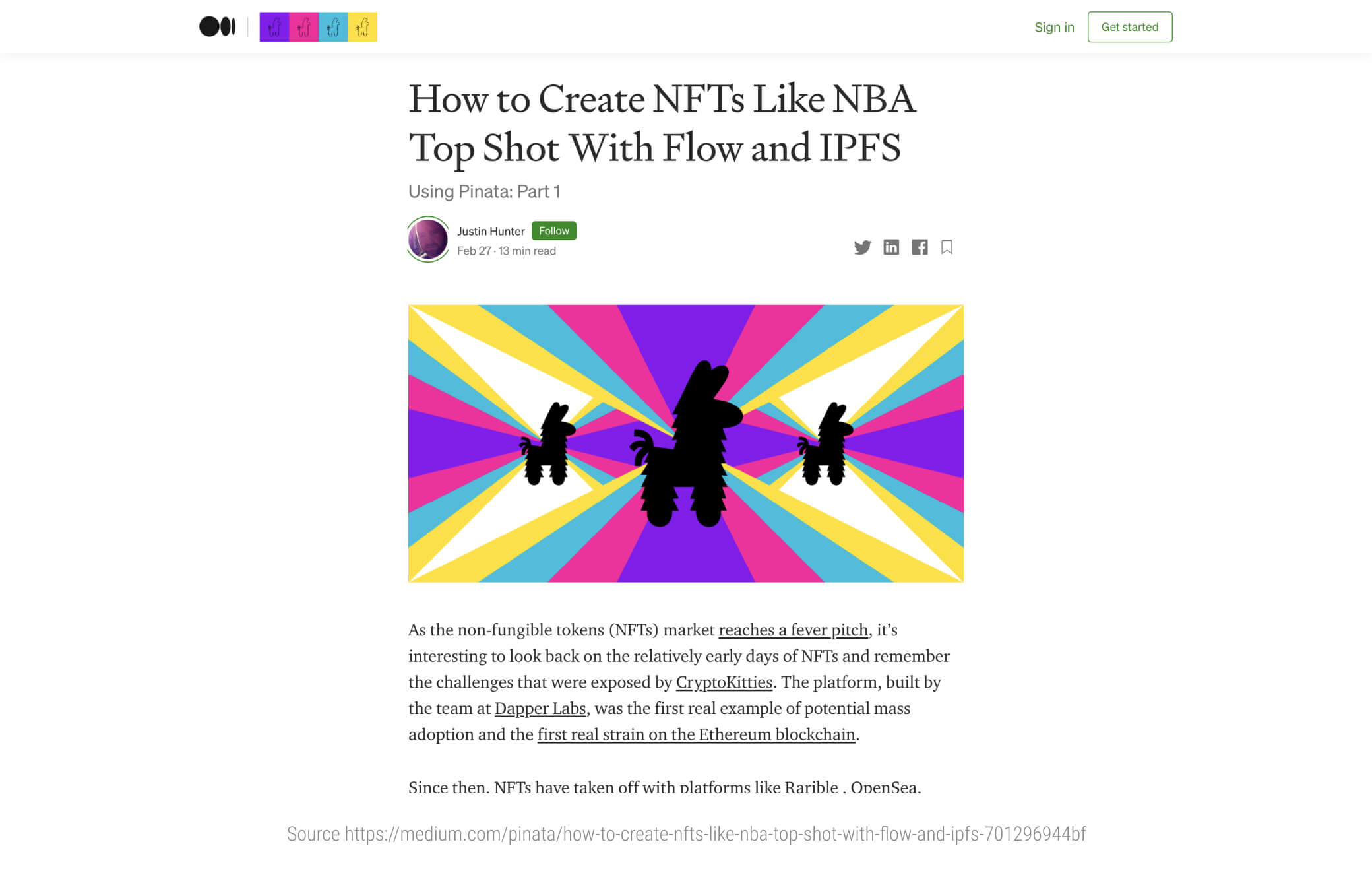 Author: Justin Hunter
Resource type: Article
This article is about creating the contract and mining a token. It's a detailed guide on how to create NFTs on Flow backed by IPFS. One of the major early applications of the Flow blockchain is NBA Top Shot. The author is going to build a very basic replica of the NFT minting process and then back the NFT metadata and assets on IPFS.
Follow this resource: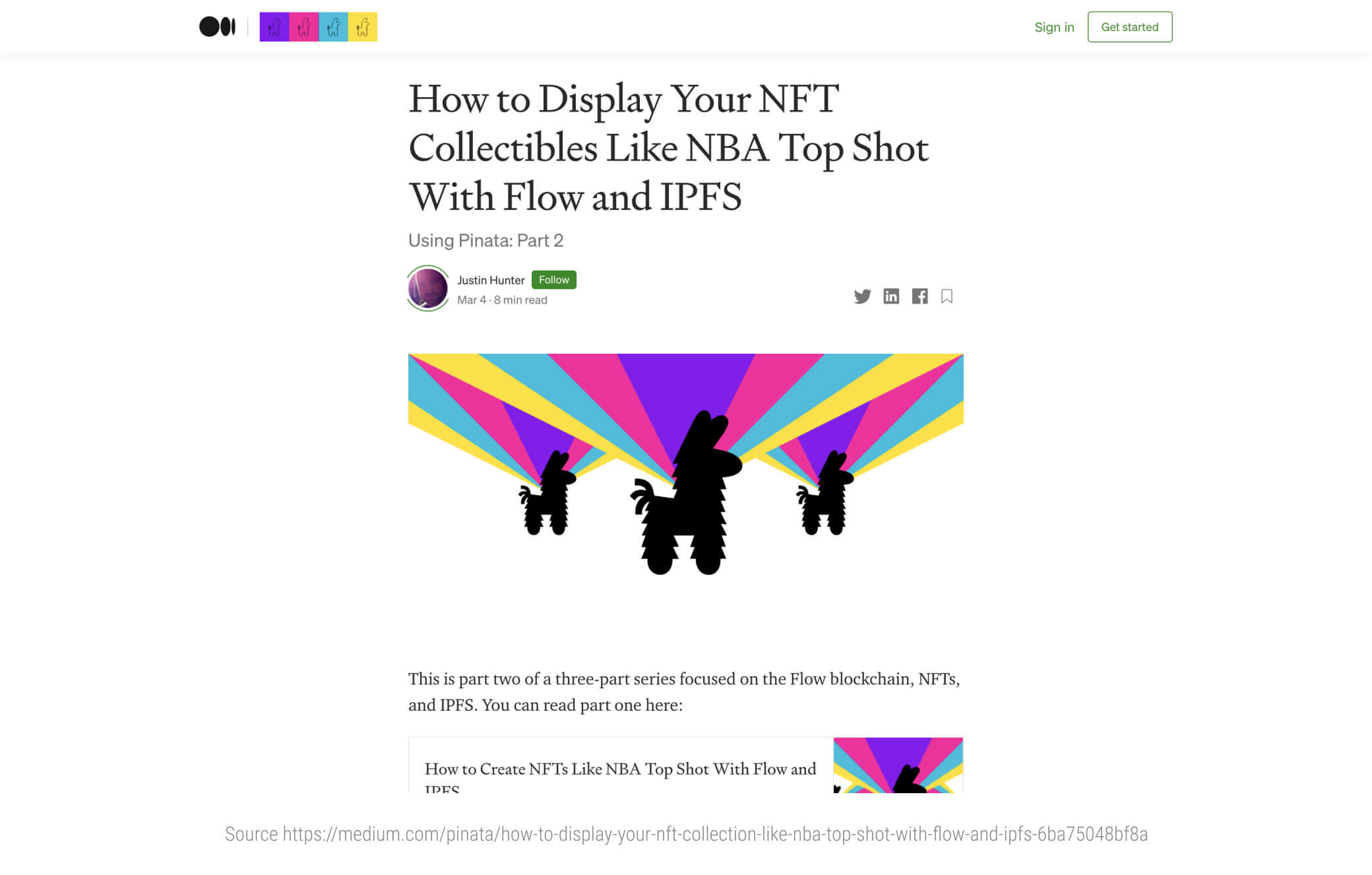 Author: Justin Hunter
Resource type: Article
In this tutorial, the author is going to build a simple React application that interfaces with Flow smart contracts to authenticate and fetch NFTs owned by a user. Then there would be resolved the NFT's metadata to get the IPFS location of the NFT's underlying digital asset (in this case a video).
Follow this resource: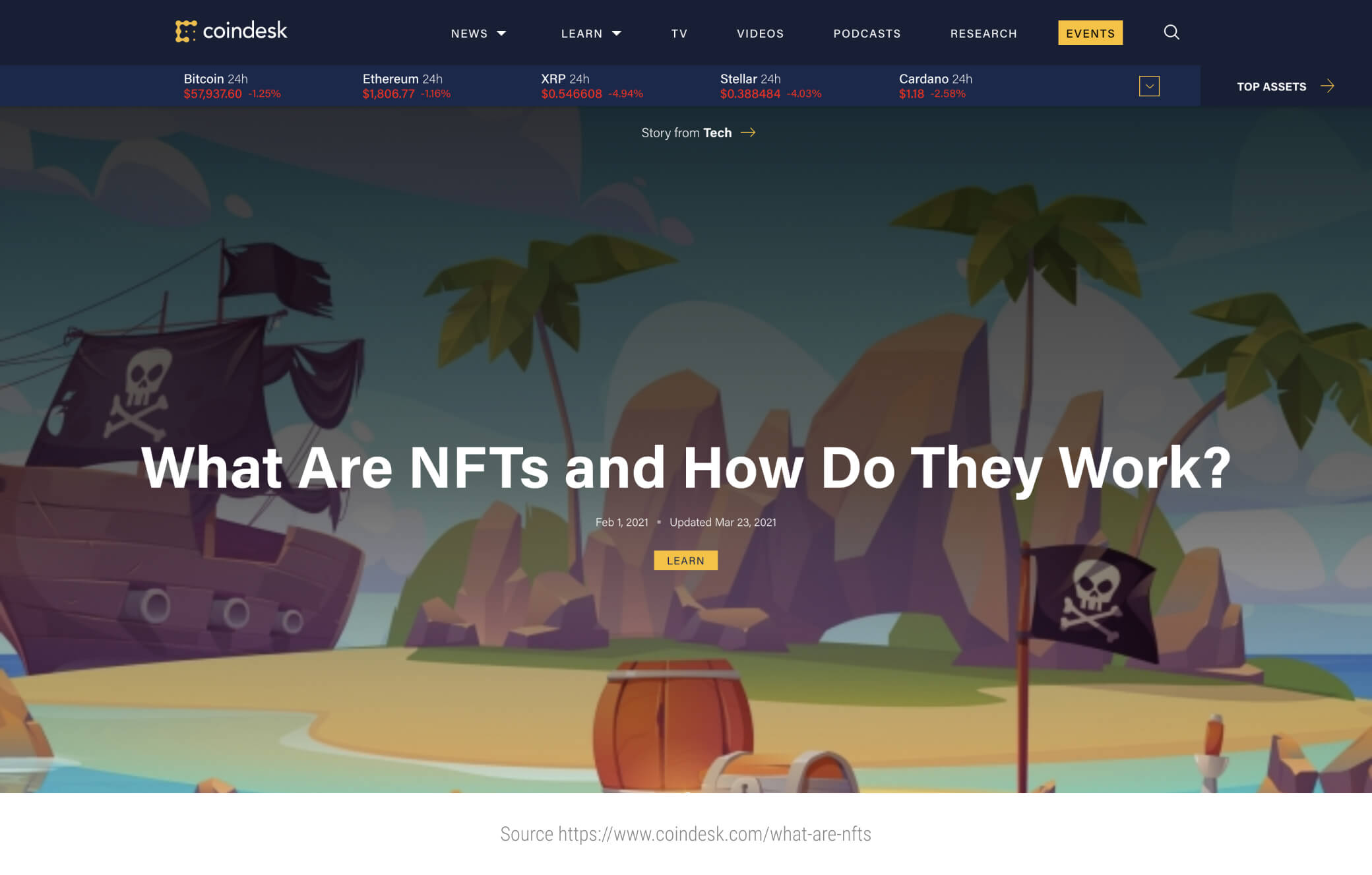 Author: Ollie Leech
Resource type: Article
CoinDesk is leading the conversation on cryptocurrency, digital finance, the future of money and Web 3.0. In this article, the team focuses on the key characteristics of NFTs and why they are important. Plus, if you wonder what is the most expensive NFTs, this article is totally worth reading.
Follow this resource:

Author: Kayleigh Barber
Resource type: Article
Digiday is a community for digital media, marketing, and advertising professionals. They cover the industry with an expertise, depth, and tone you won't find anywhere else. The article creator raises the issues of how brands using NFTs and what are the flaws of the new crypto phenomenon.
Follow this resource: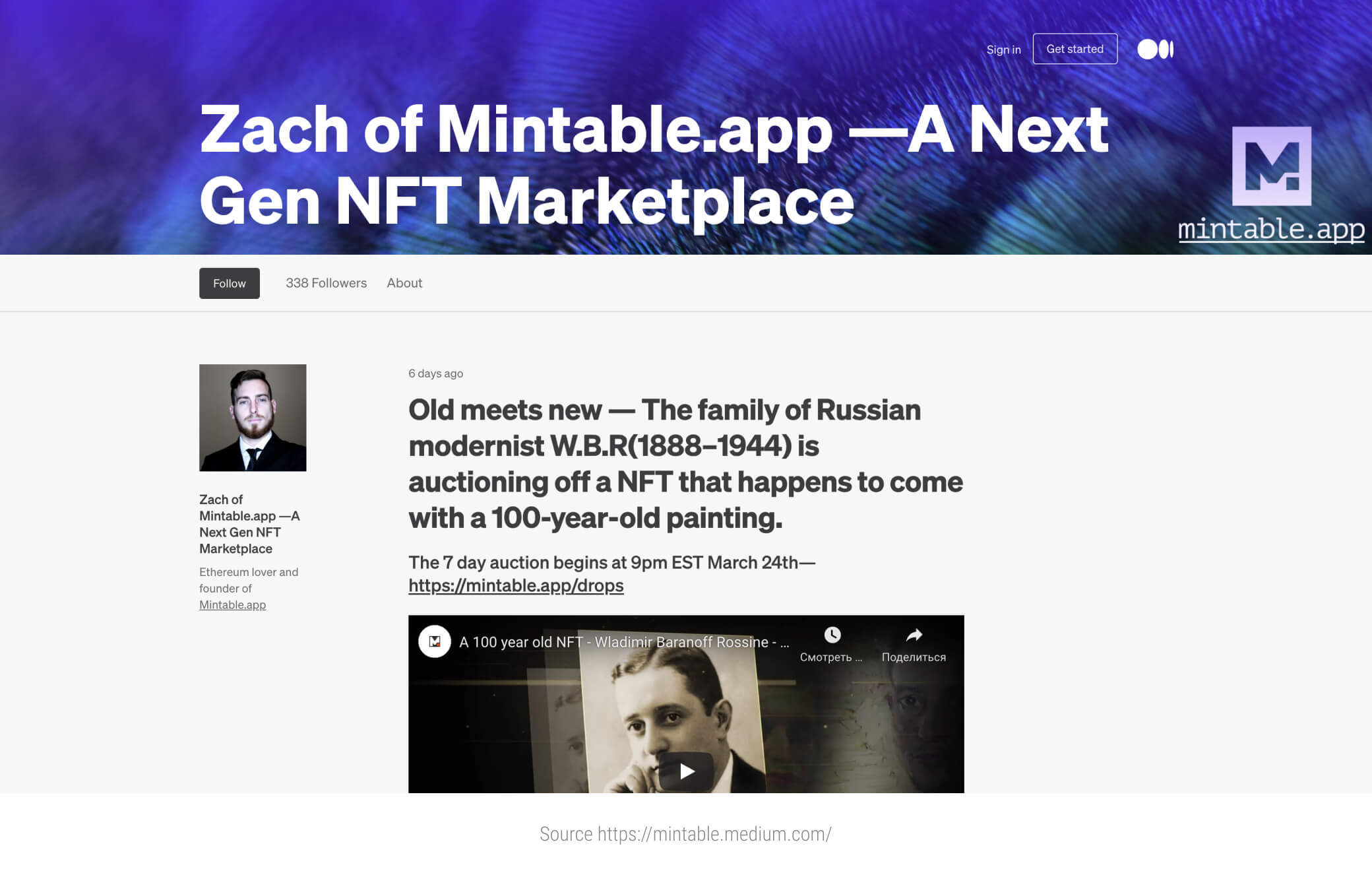 Author: Zach Burks
Resource type: Blog
This blog is the personal project of Zach Burks, founder of Mintable.app - a next generation NFT marketplace for digital blockchain items, minting, and management platform for ERC-721 tokens. So, it's not a surprise that the blog includes articles about crypto art, digital economy and NFTs-related project development.
Follow this resource: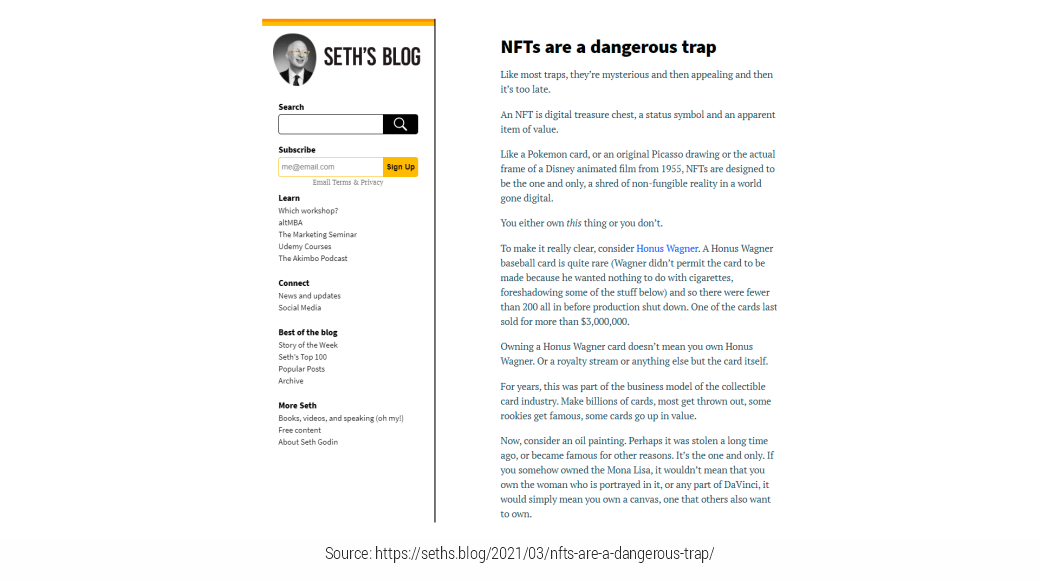 Author: Seth Godin
Resource type: Article
Seth Godin is an entrepreneur, best-selling author, and speaker. Seth claimed that NFTs are a trap due to creators and buyers are then hooked in a cycle. Since creators may rush to start minting NFTs as a way to get paid for what they've created, and buyers of NFTs may be blind to the fact that there's no limit on the supply.
Follow this resource: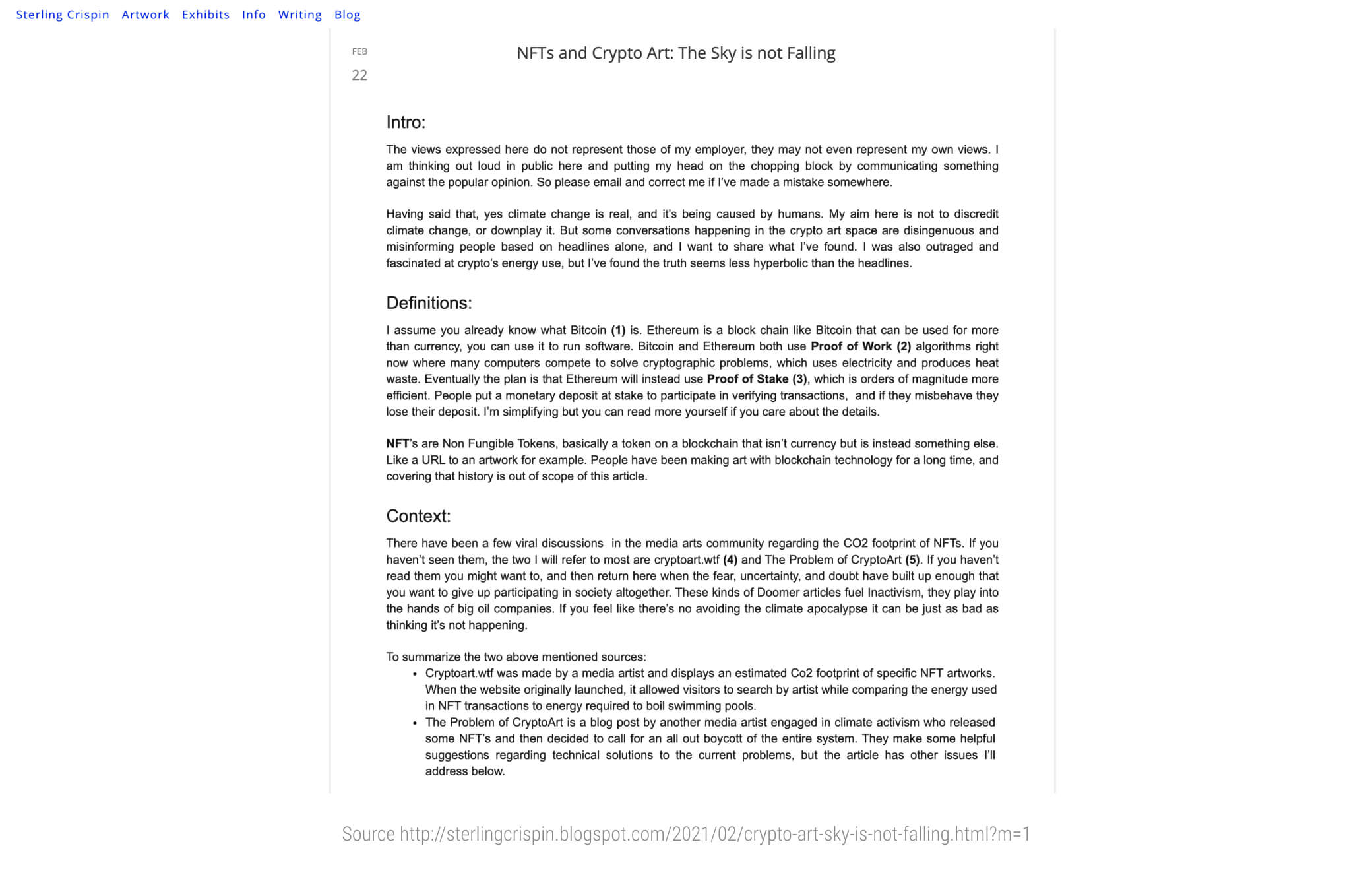 Author: Sterling Crispin
Resource type: Article
Sterling Crispin is an artist and technologist. In the article, he raised a debate about whether Bitcoin, cryptocurrencies, crypto art, and NFT's are that bad for the environment. He claimed that Bitcoin accounts for 0.07% and Ethereum are roughly 0.02% of the total CO2 footprint. The problem of cryptocurrencies is an unsolved one, but it's a known problem that experts are working on solving. NFT's need to move from Proof of Work to Proof of Stake and Ethereum itself is also in that transition.
Follow this resource: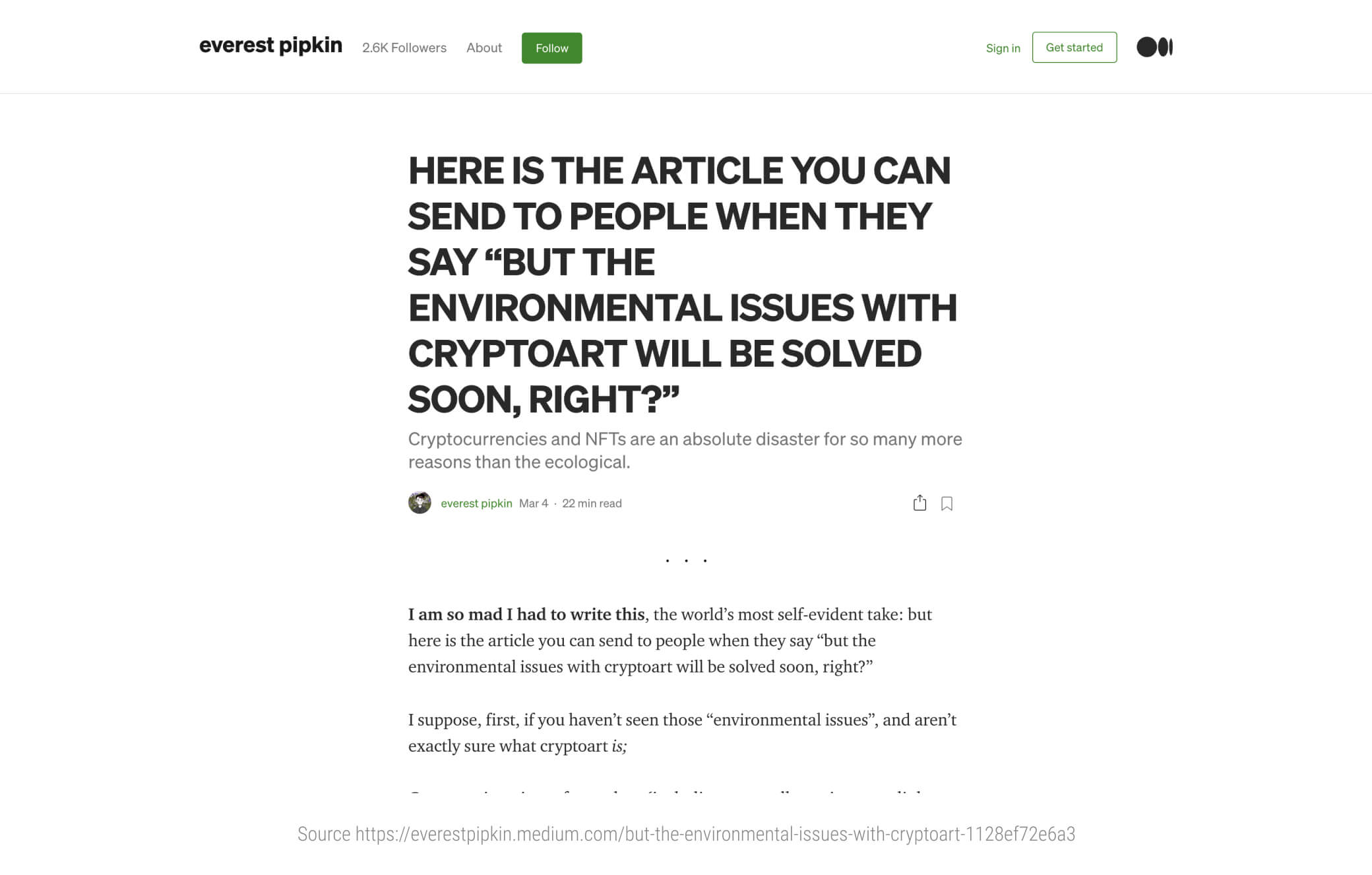 Author: everest pipkin
Resource type: Article
There is an idea that cryptocurrencies and NFTs are an absolute disaster for so many more reasons than the ecological. For example, how does cryptocurrency generate value and why is this a problem? Why does crypto art waste so much energy? Why is ownership in digital space a tricky concept?
Follow this resource: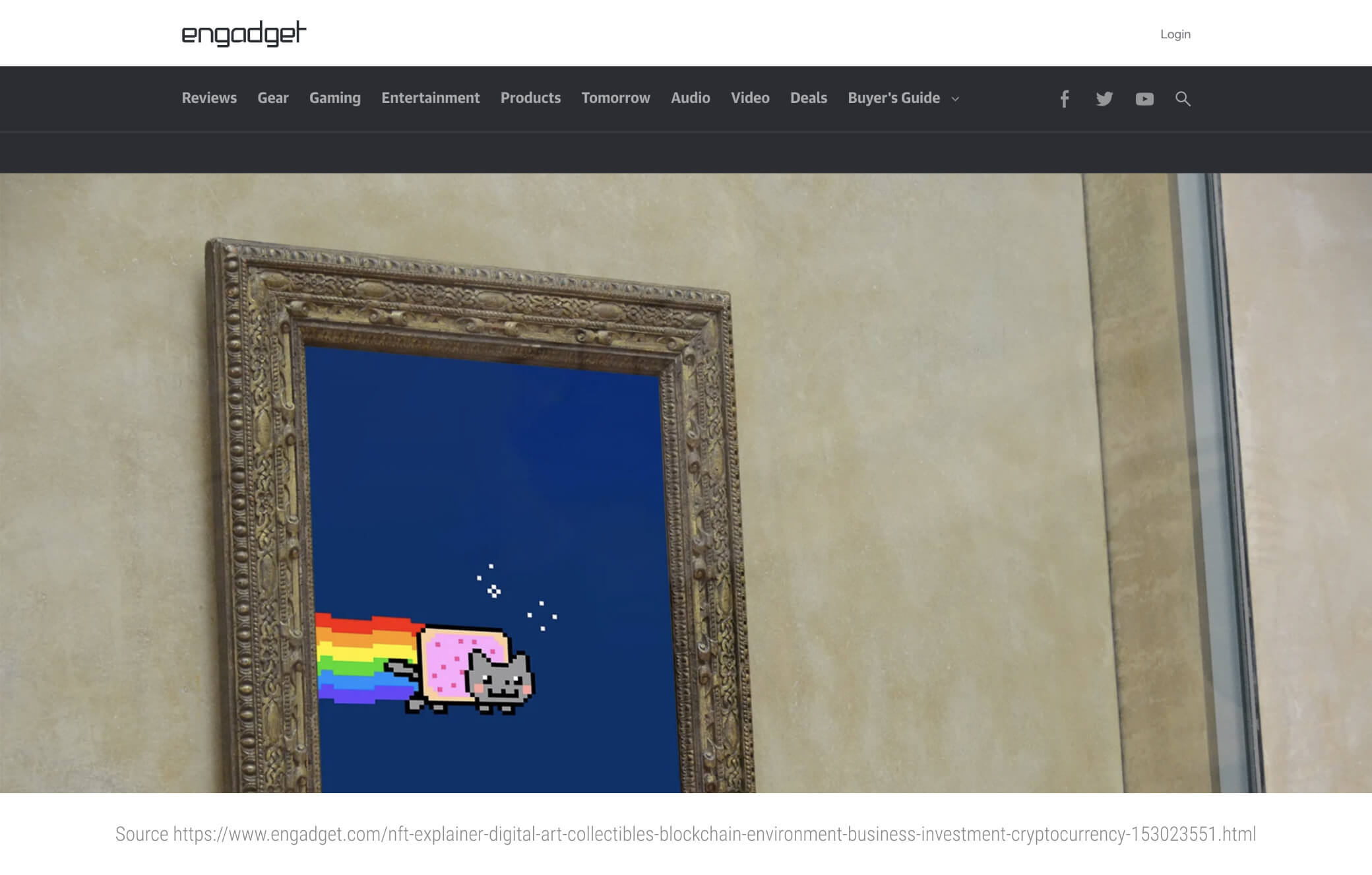 Author: Daniel Cooper
Resource type: Article
Engadget is the original home for technology news and reviews. The author suggests that we are on a tipping point that will see NFTs either become part of many peoples' investment strategy, or go through another cycle of boom and bust. The shift to a more sustainable blockchain could remove one of the biggest objections to NFTs and crypto, in general.
Follow this resource: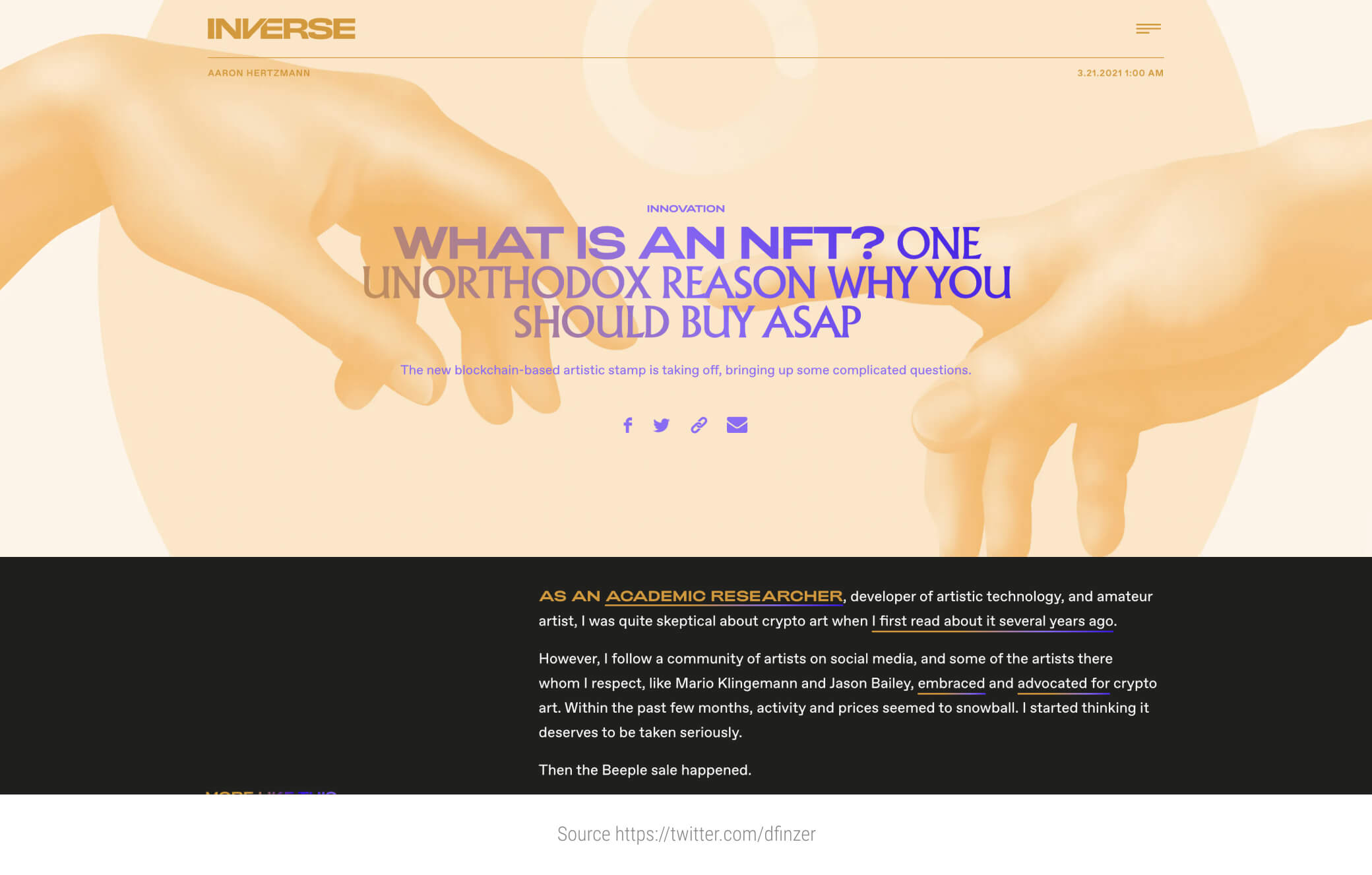 Author: Aaron Hertzmann
Resource type: Article
It might be helpful to think about crypto art in the context of why people buy original works of art. Art is, fundamentally, a social activity. The more our social lives are lived online, the more it may make sense for some people to have their art collections online, too – whether or not the blockchain is involved.
Follow this resource: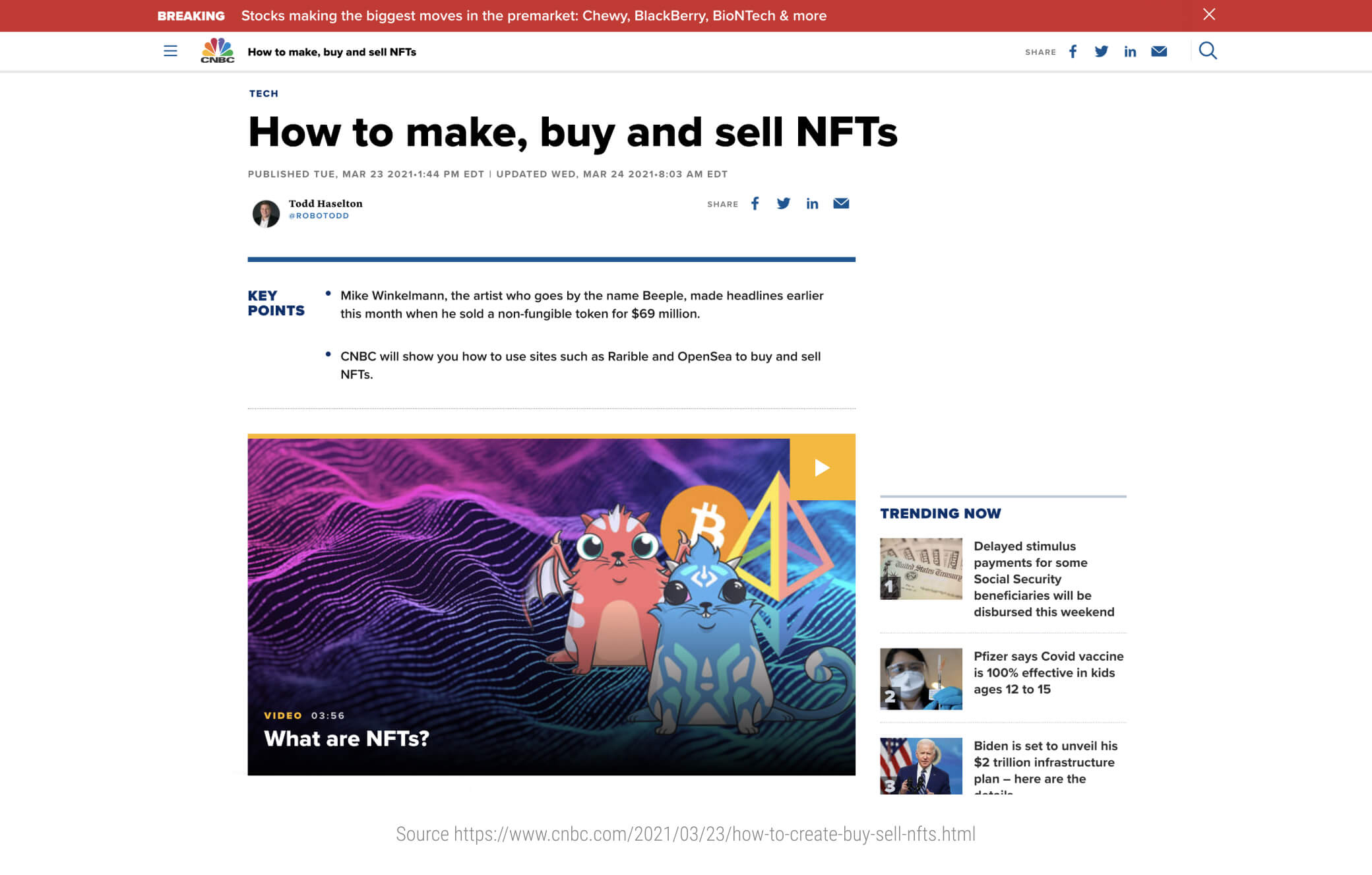 Author: Todd Haselton
Resource type: Article
CNBC is the number one business and financial news network. The article covers the news about Mike Winkelmann, the artist who goes by the name Beeple, who made headlines earlier this month when he sold a non-fungible token for $69 million. CNBC will show you how to use sites such as Rarible and OpenSea to buy and sell NFTs.
Follow this resource: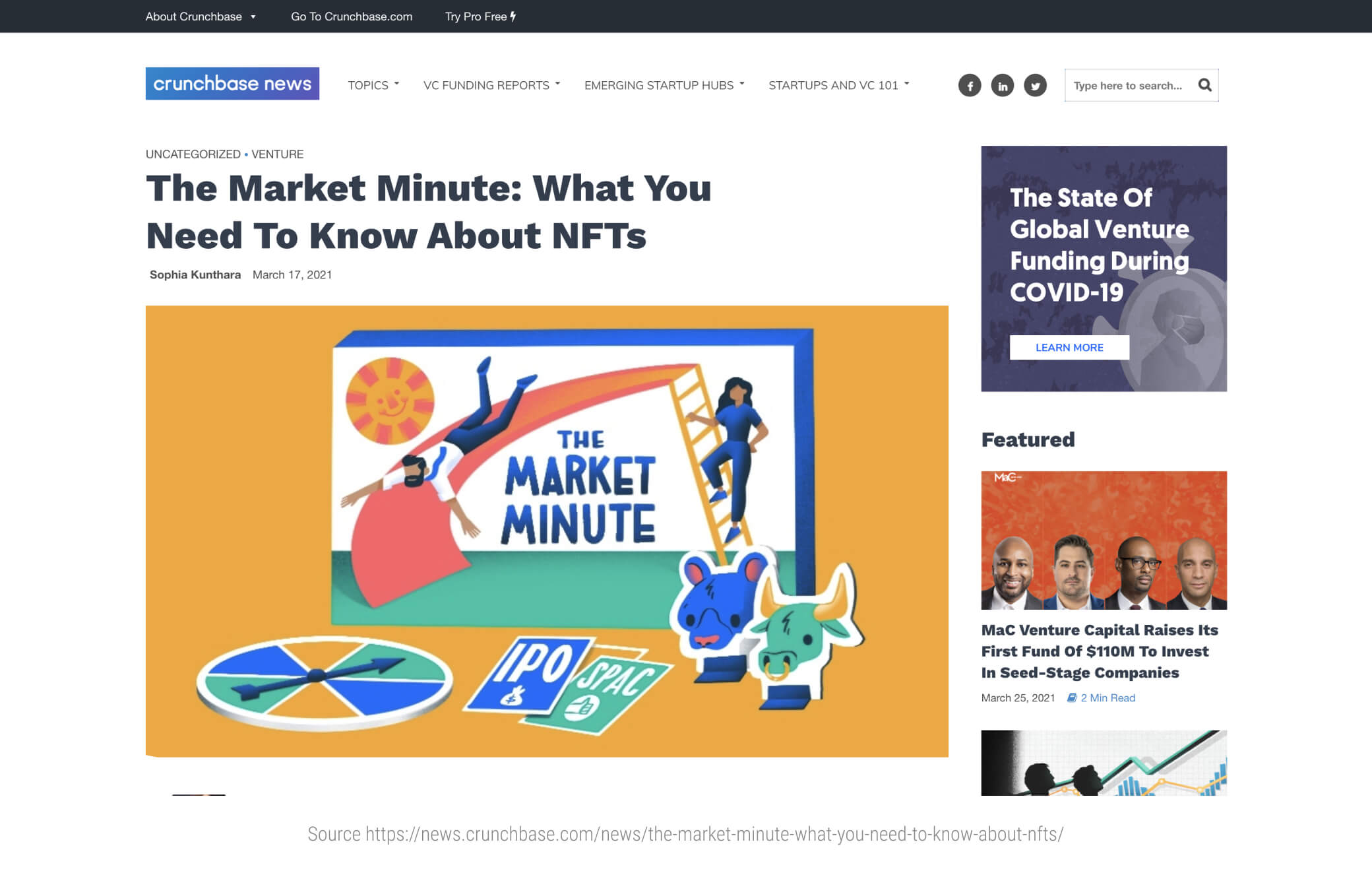 Author: Sophia Kunthara
Resource type: Article
Crunchbase is the leading platform to discover innovative companies and the people behind them. In this article, Crunchbase focuses on why exactly is now the great time for NFTs. And what rights the artists are handing over when minting an NFT and selling it.
Follow this resource: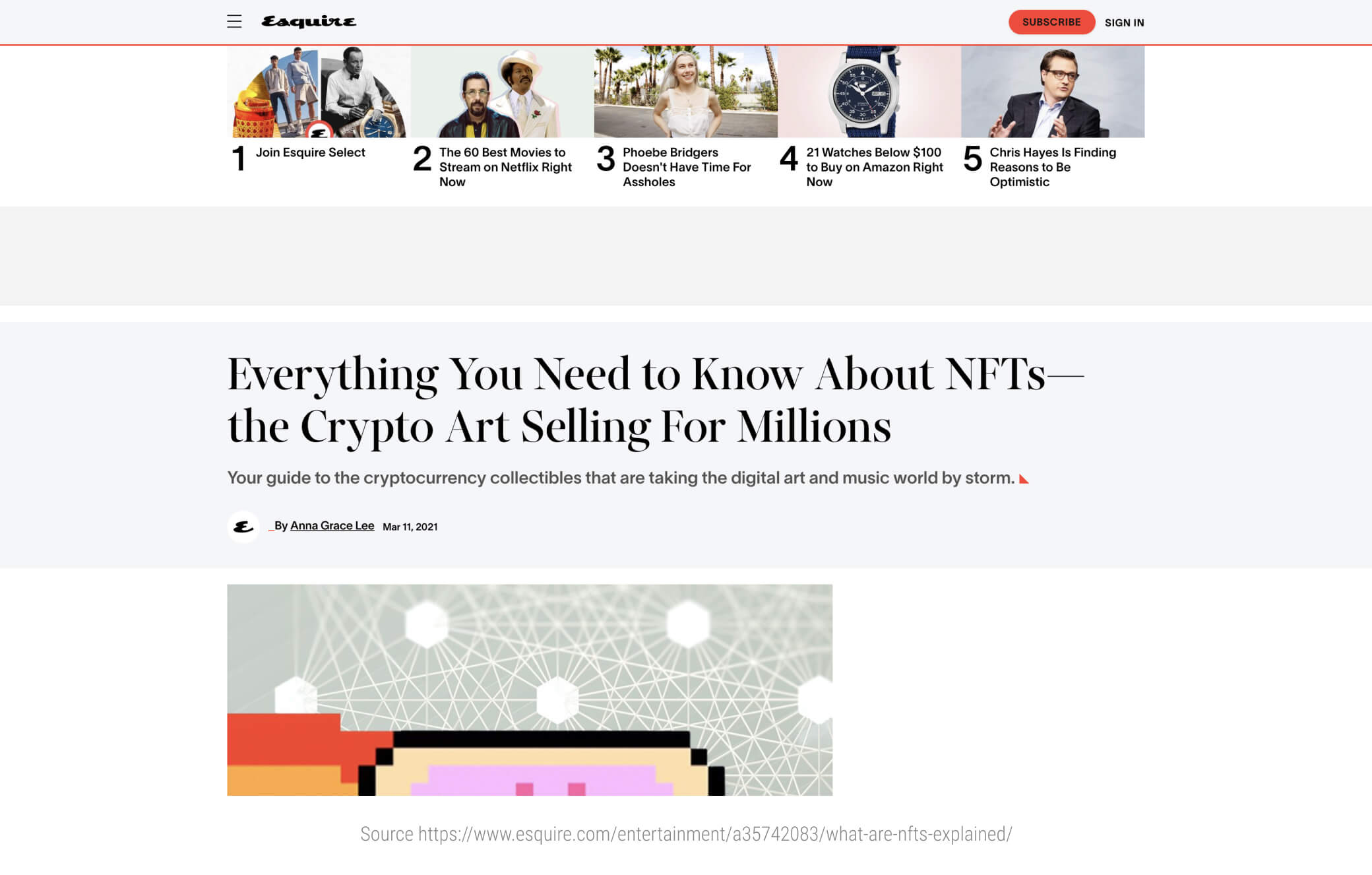 Author: Anna Grace Lee
Resource type: Article
Esquire created their own guide to the cryptocurrency collectibles that are taking the digital art and music world by storm. The article includes discussions about different controversies surrounding NFTs and how NFTs are created in general.
Follow this resource: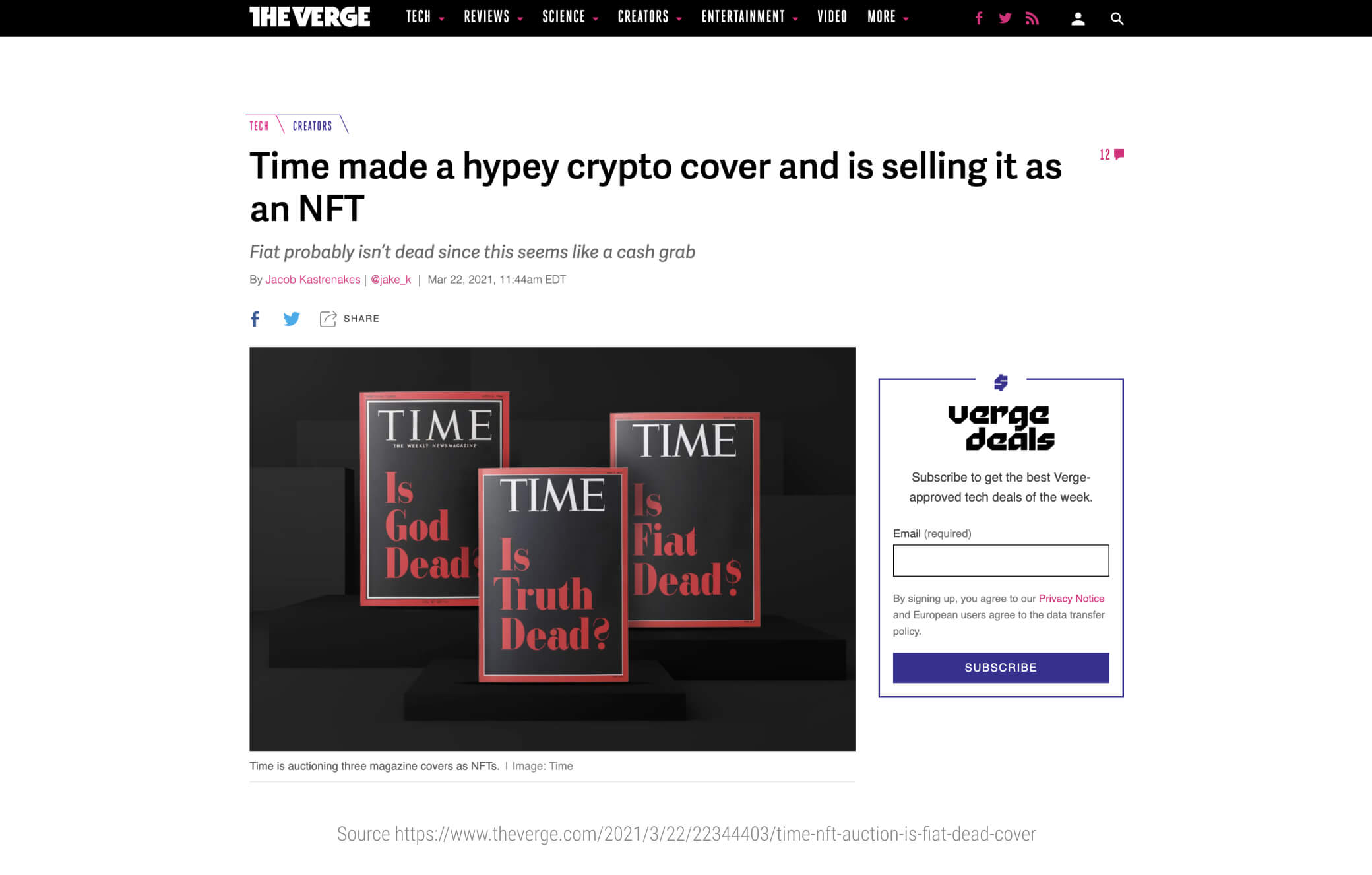 Author: Jacob Kastrenakes
Resource type: Article
The Verge focuses on the big brands that have already used NFTs in their strategies. As the format has exploded, brands have been quick to cash in on the buzz. Taco Bell and Charmin both sold branded NFTs and donated the proceeds. Pringles sold a digital can of chips, and Pizza Hut Canada sold digital slices.
Follow this resource: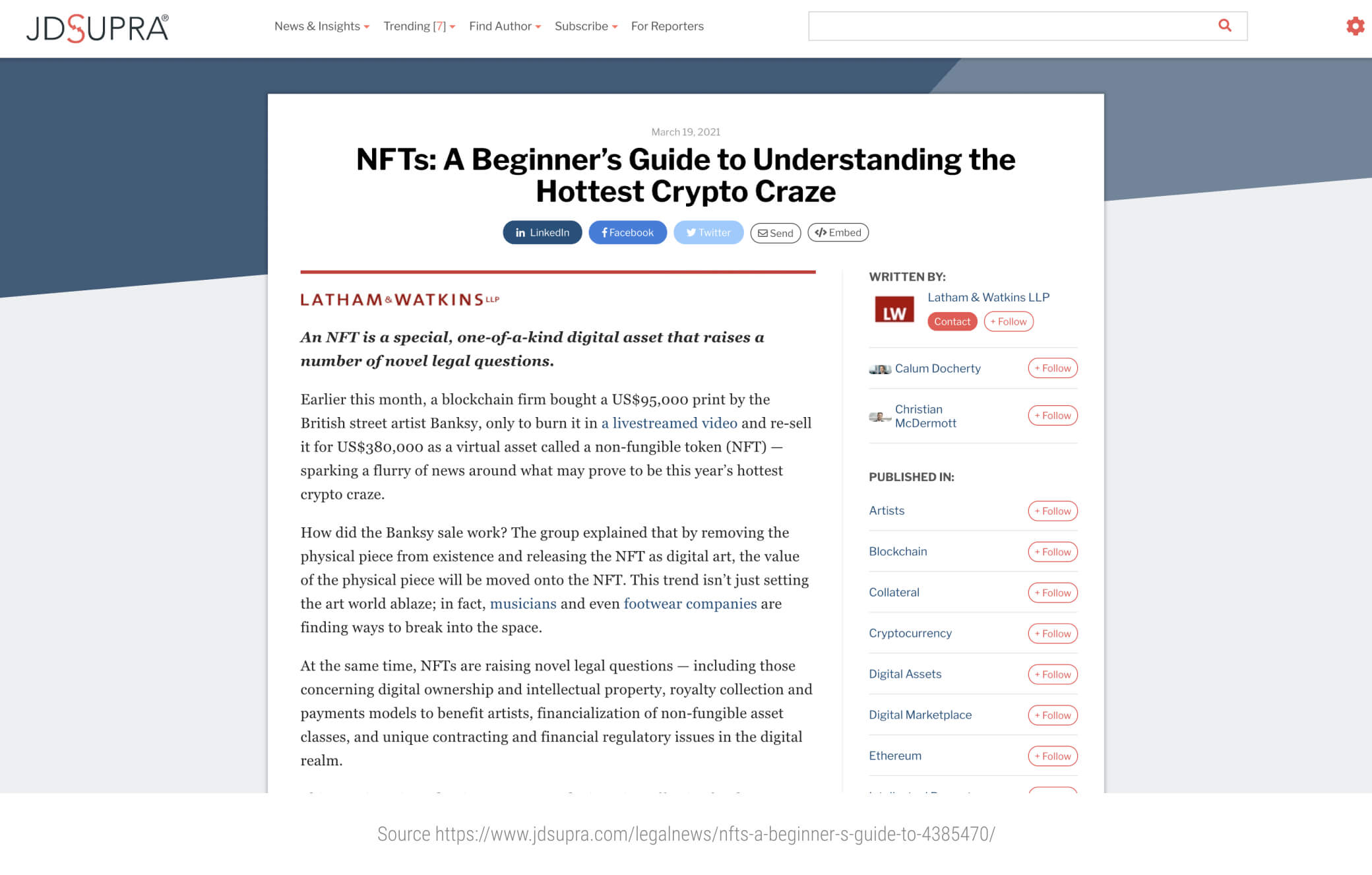 Author: Calum Docherty, Christian McDermott
Resource type: Article
Latham & Watkins is a global law firm with more than 3,000 lawyers in its offices located in Asia, Europe, the Middle East and the United States. The firm has internationally recognized practices in a wide spectrum of transactional, litigation, corporate and regulatory areas. The authors discuss the legal implication of the new phenomenon NFTs. Since NFT is a special, one-of-a-kind digital asset that raises a number of novel legal questions.
Follow this resource: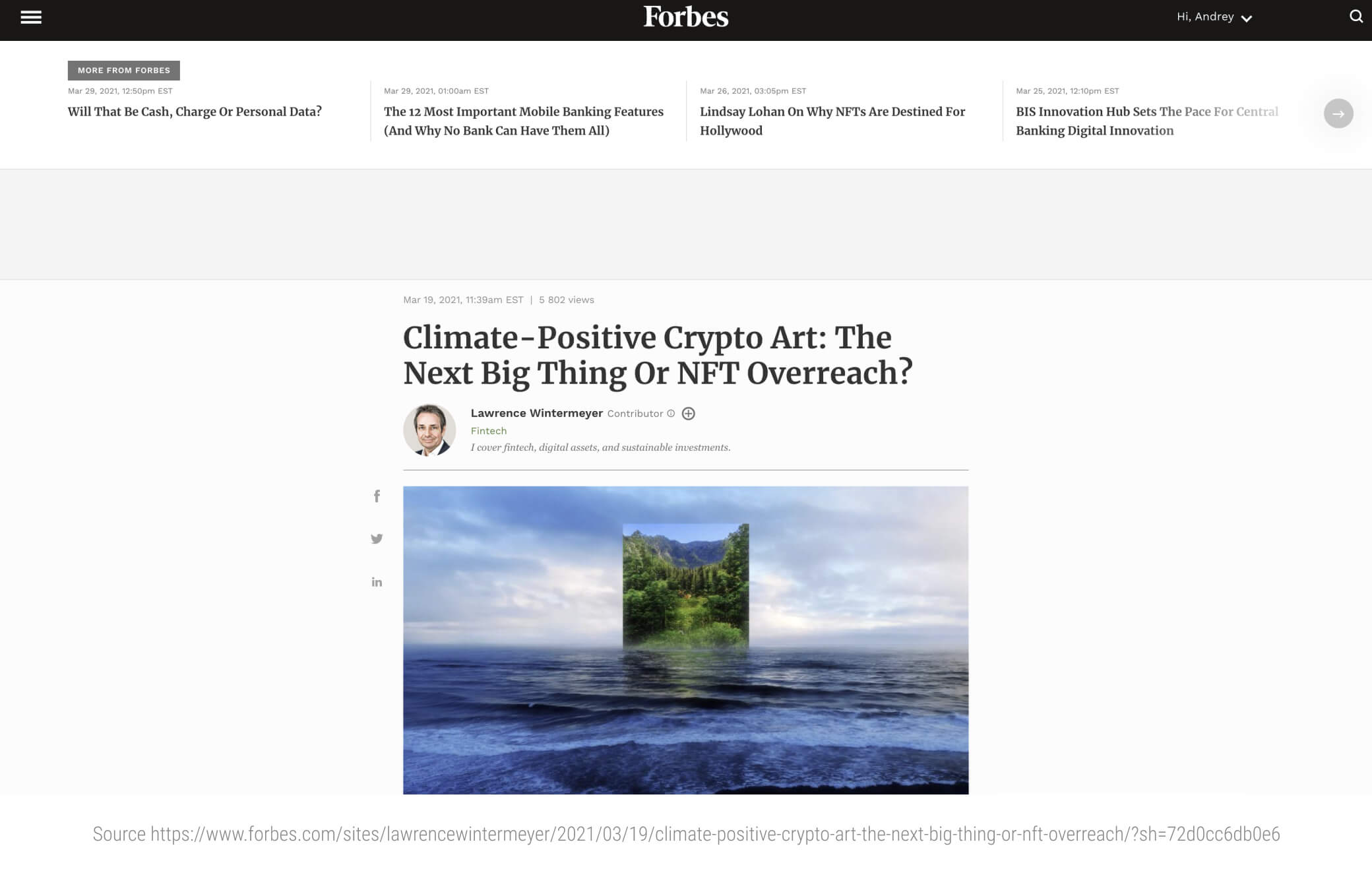 Author: Lawrence Wintermeyer
Resource type: Article
Forbes is the world's leading voice for entrepreneurial success and free enterprise. NFTs have emerged as the solution to a range of problems: facilitating provable scarcity; transforming e-gaming; and powering a burgeoning economy for digital collectibles. But can NFTs really support climate change? That's the main thesis raised in the article.
Follow this resource:
⁉️ Top NFT Frequently Asked Questions (FAQs)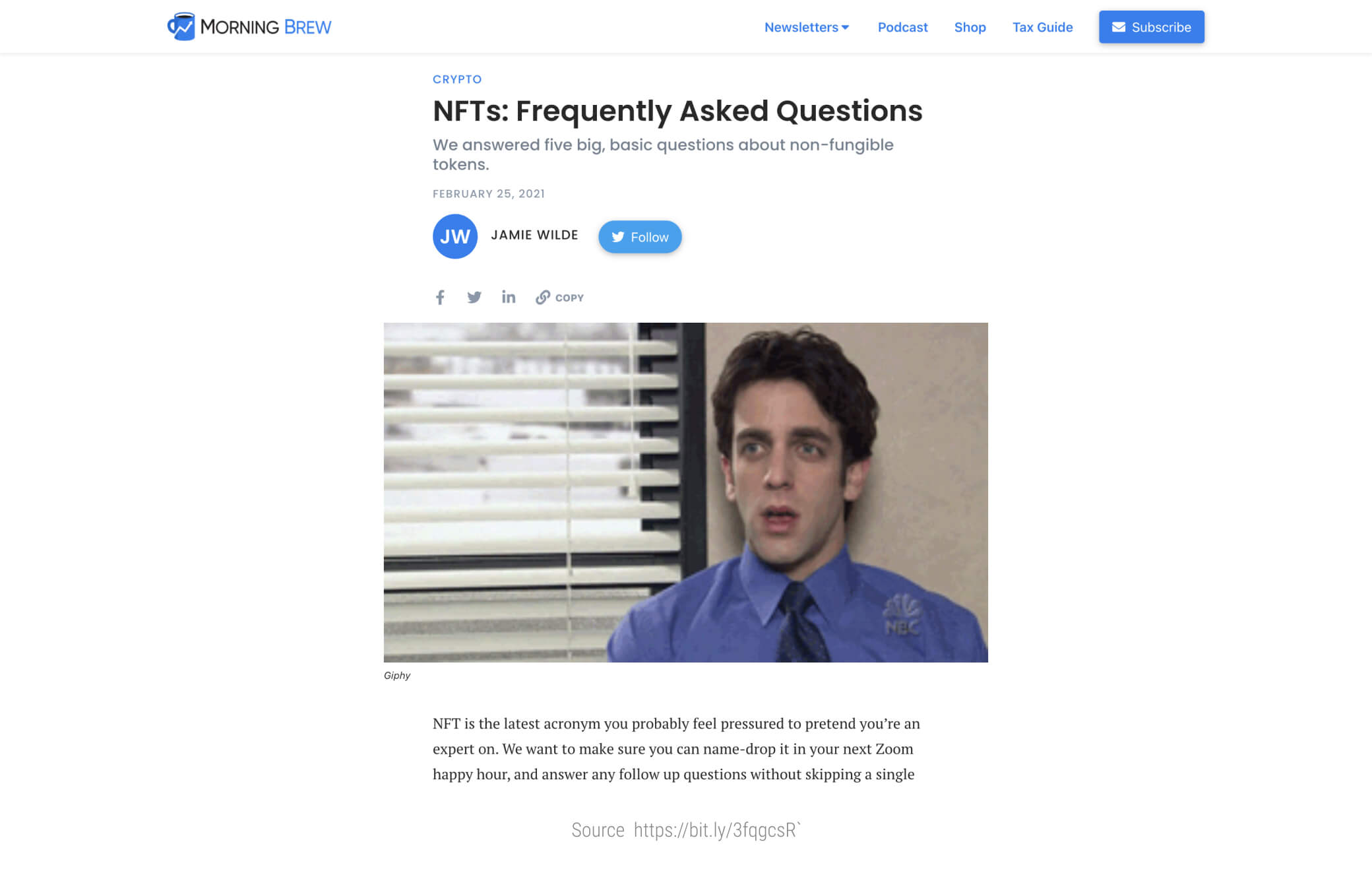 Author: Jamie Wilde
Resource type: FAQ
The blog post is an answer to the basic questions about the NFT: Is NFT a cryptocurrency? Why would you want to own an NFT? How will you buy an NFT? How do you know your NFT is authentic? Are NFTs new?
Follow this resource: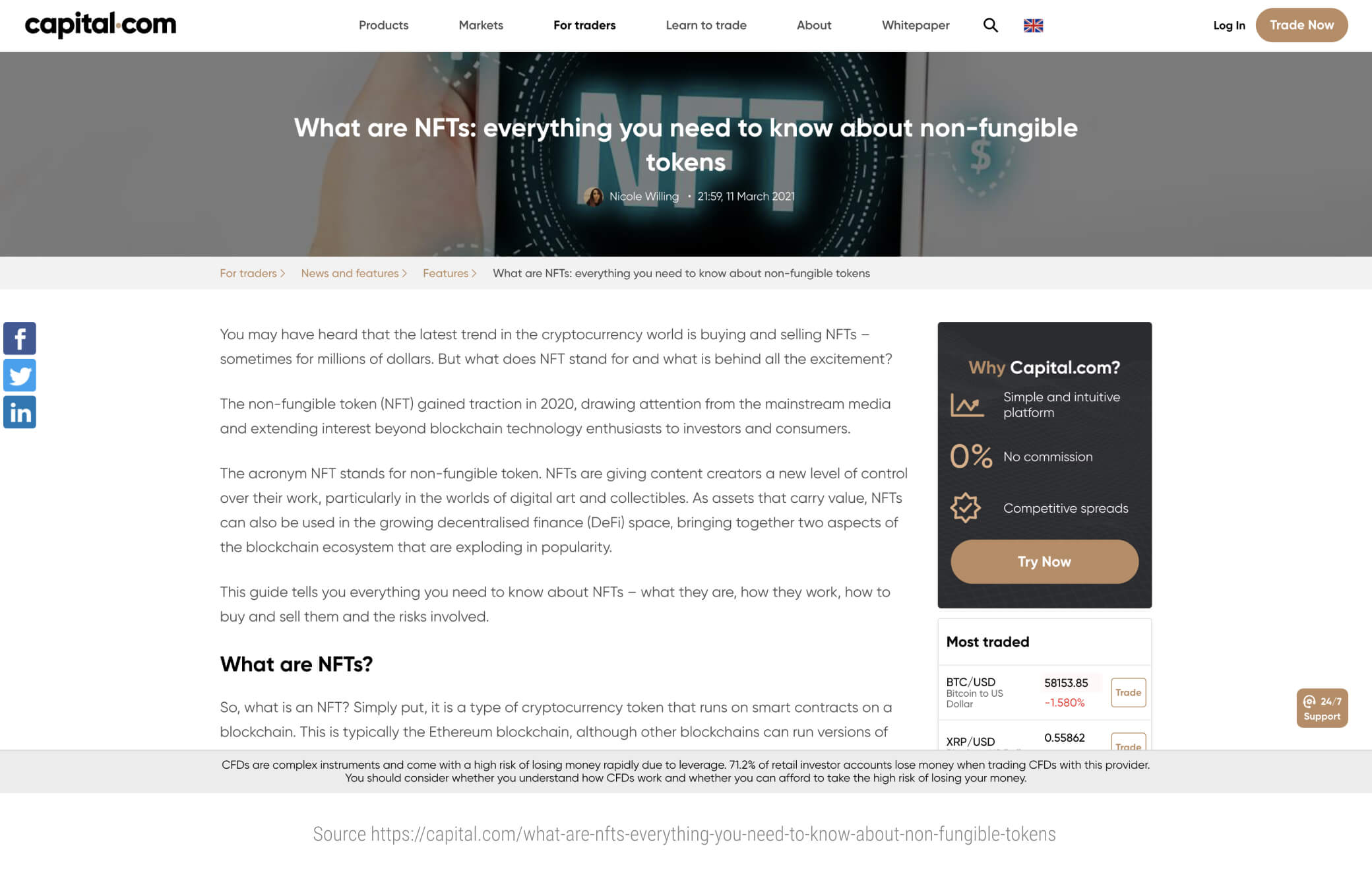 Author: Nicole Willing
Resource type: FAQ
Except for the most common FAQs like what is NFT, the resource answers the question like what are the risks of buying and selling NFTs. Another interesting aspect to consider in the article is -- how much you could've made if you had opened a trade today. Plus, there are insights into how the growth of the NFT will affect the digital economy in the future.
Follow this resource: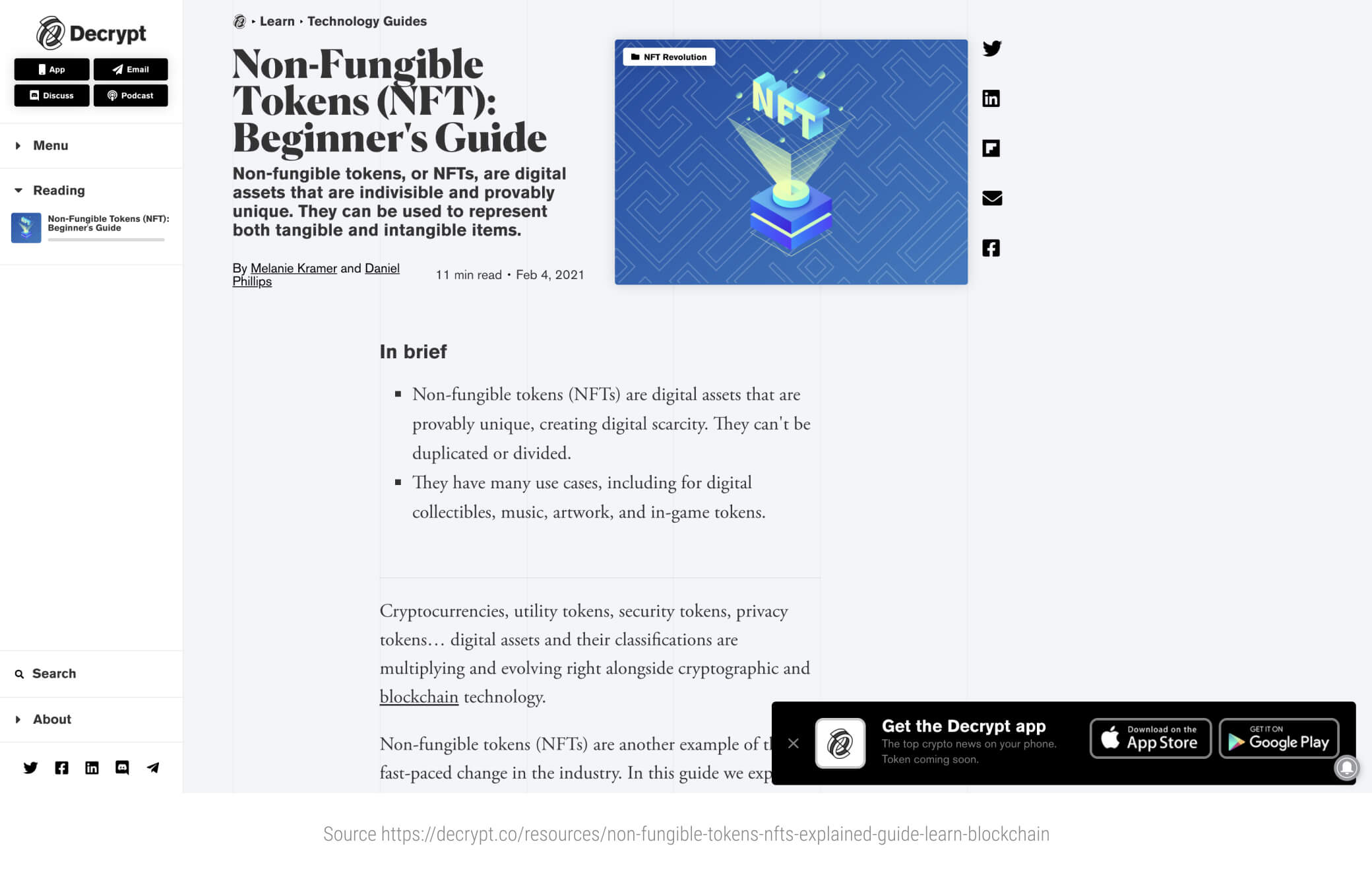 Author: Melanie Kramer, Daniel Phillips
Resource type: FAQ
The article includes a step-by-step guide on how to buy NFT tokens. Authors took as an example NFT marketplace Rarible to show all the nuances the beginner may face.
Follow this resource: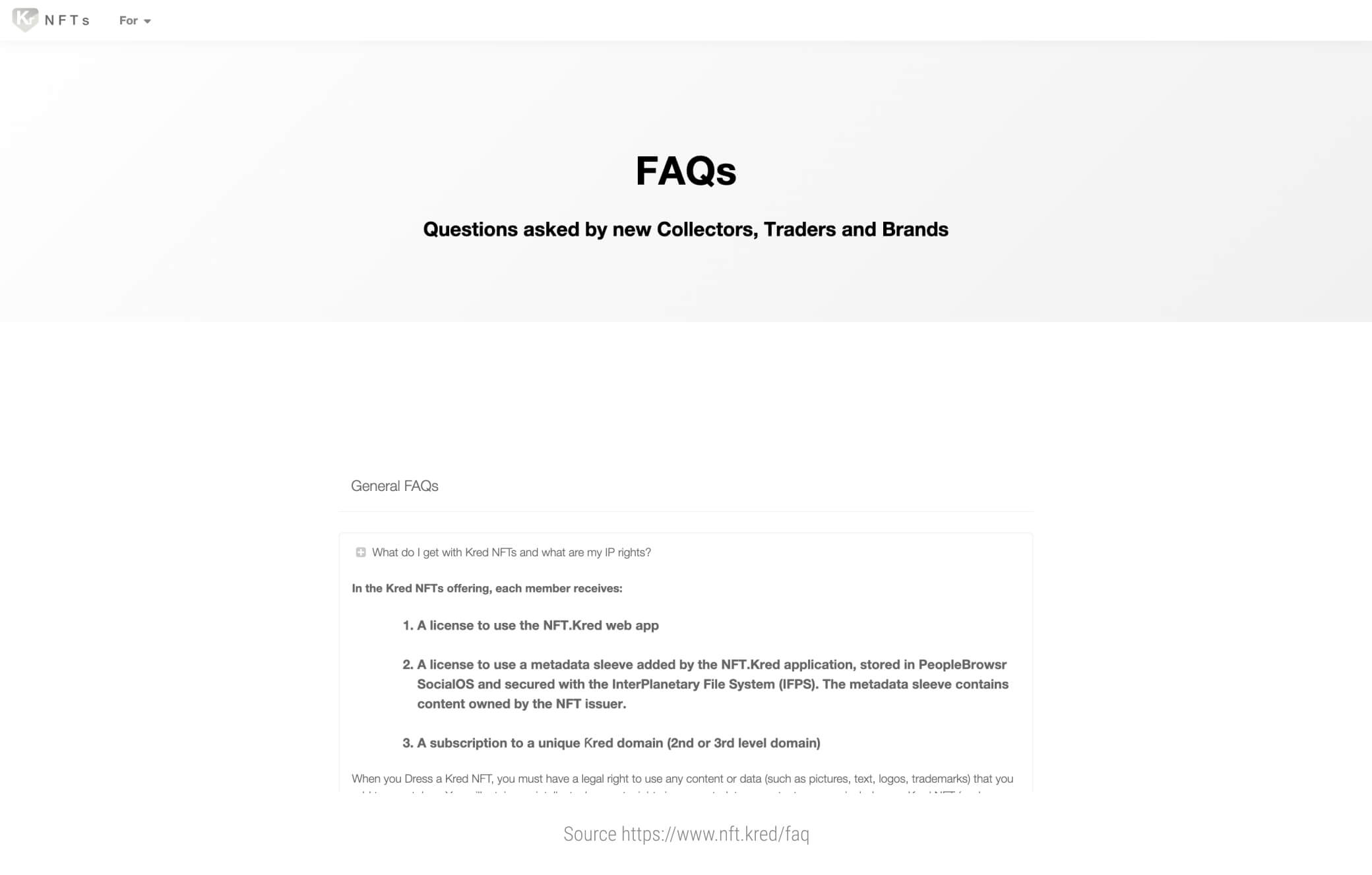 Author: NFT Kred team
Resource type: FAQ
The marketing and distribution platform for NFTs answered the most common NFTs questions. The page is divided into sections like general questions, for members new in blockchain, for brands, how to get started with NFT, questions about crypto wallets, types of trading, and finally how to auction on OpenSea.
Follow this resource: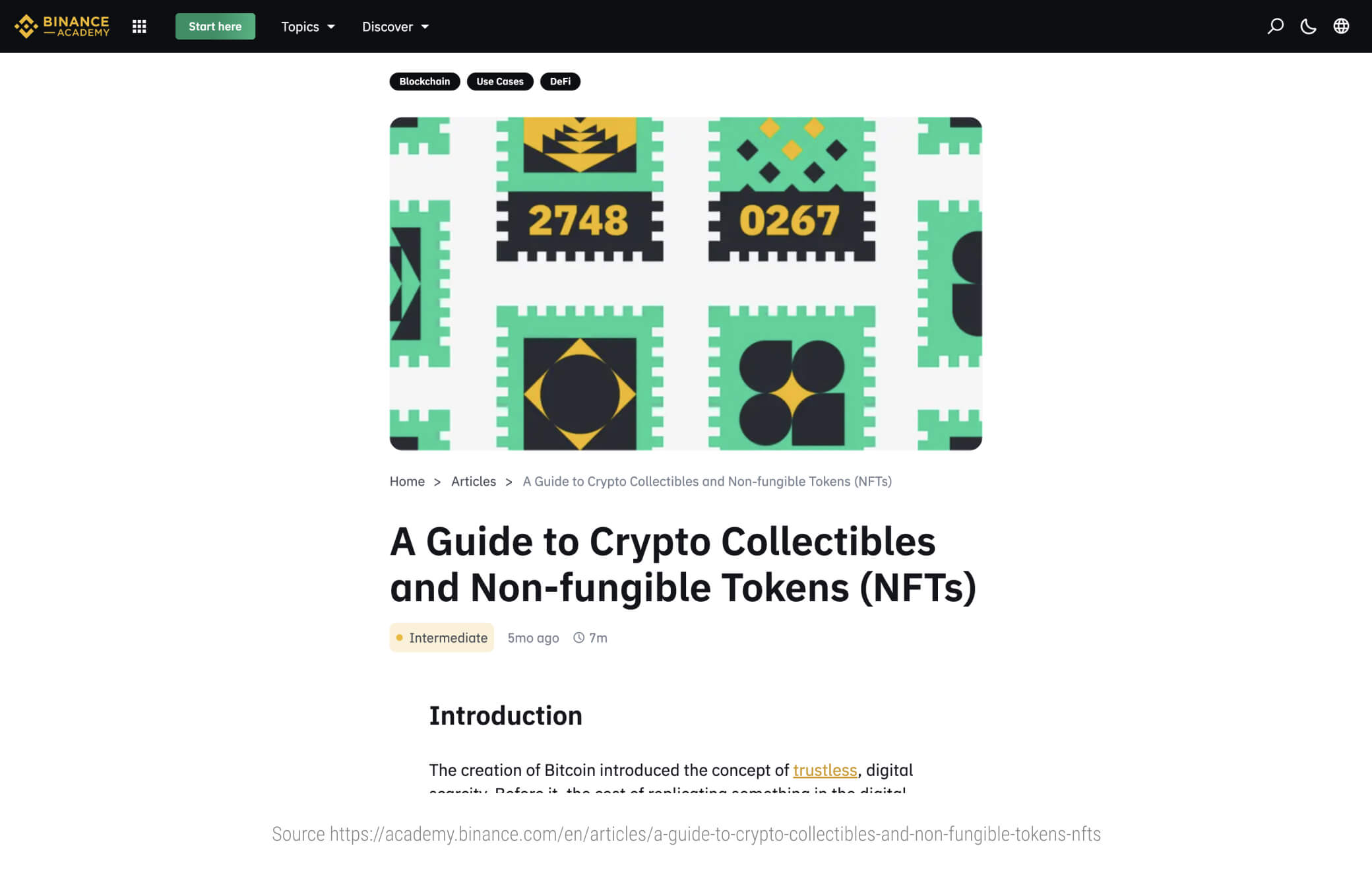 Author: Binance academy team
Resource type: FAQ
The guide explains how the NFTs work comparing to the other tokens. The authors start with the first NFT projects that gained significant traction -- CryptoKitties and discussed in-depth other projects using NFTs and crypto-collectibles.
Follow this resource: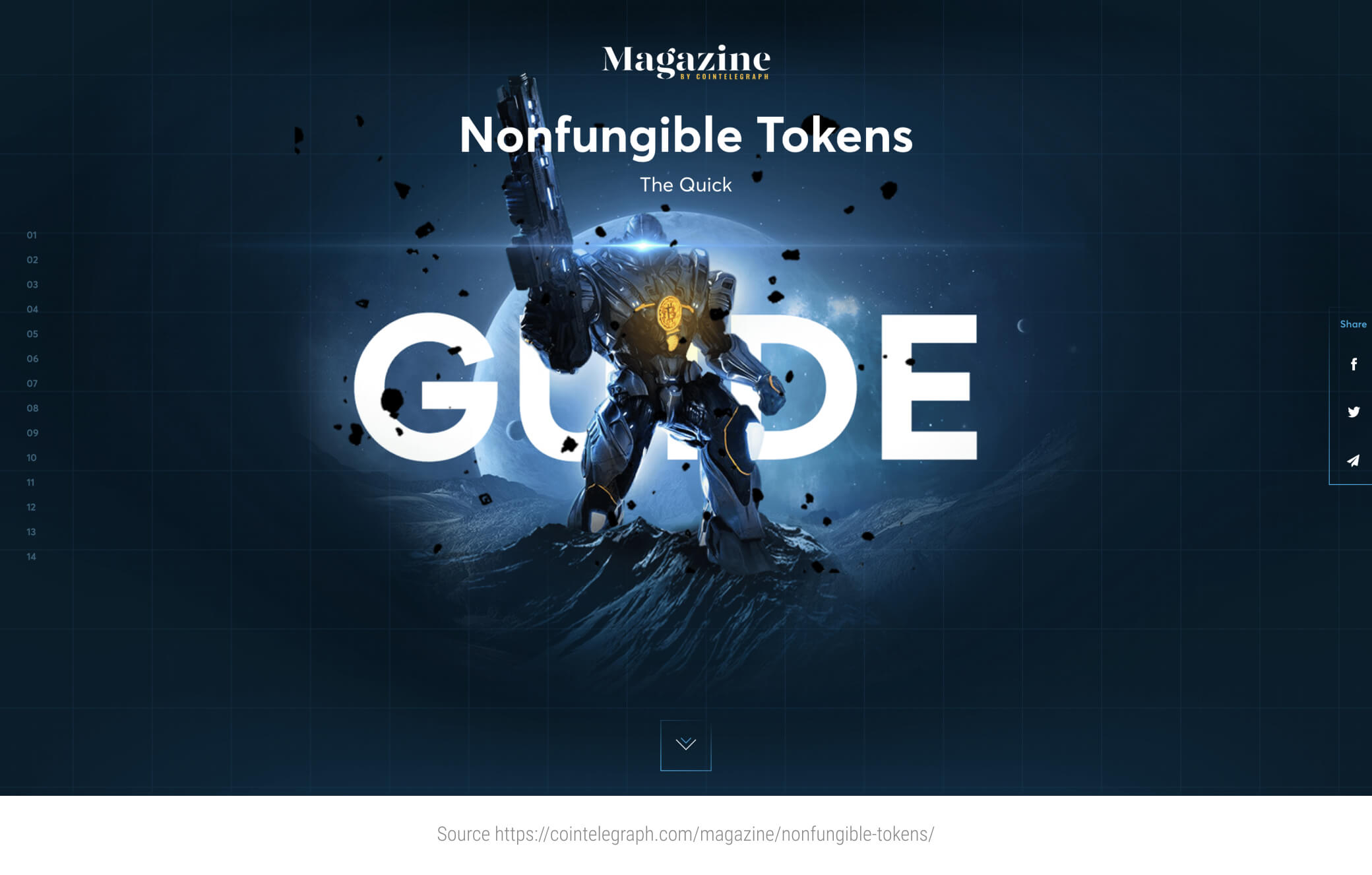 Author: Cointelegraph Magazine
Resource type: FAQ
Cointelegraph Magazine is a new publication that goes beyond the daily news and delves much more deeply into the stories, trends, and personalities that inspire cryptocurrency and blockchain conversations around the world. The article is the ultimate guide on all things NFTs. Why NFT concept is so great for the art community, what are the best-known projects, and what's next for the NFTs.
Follow this resource: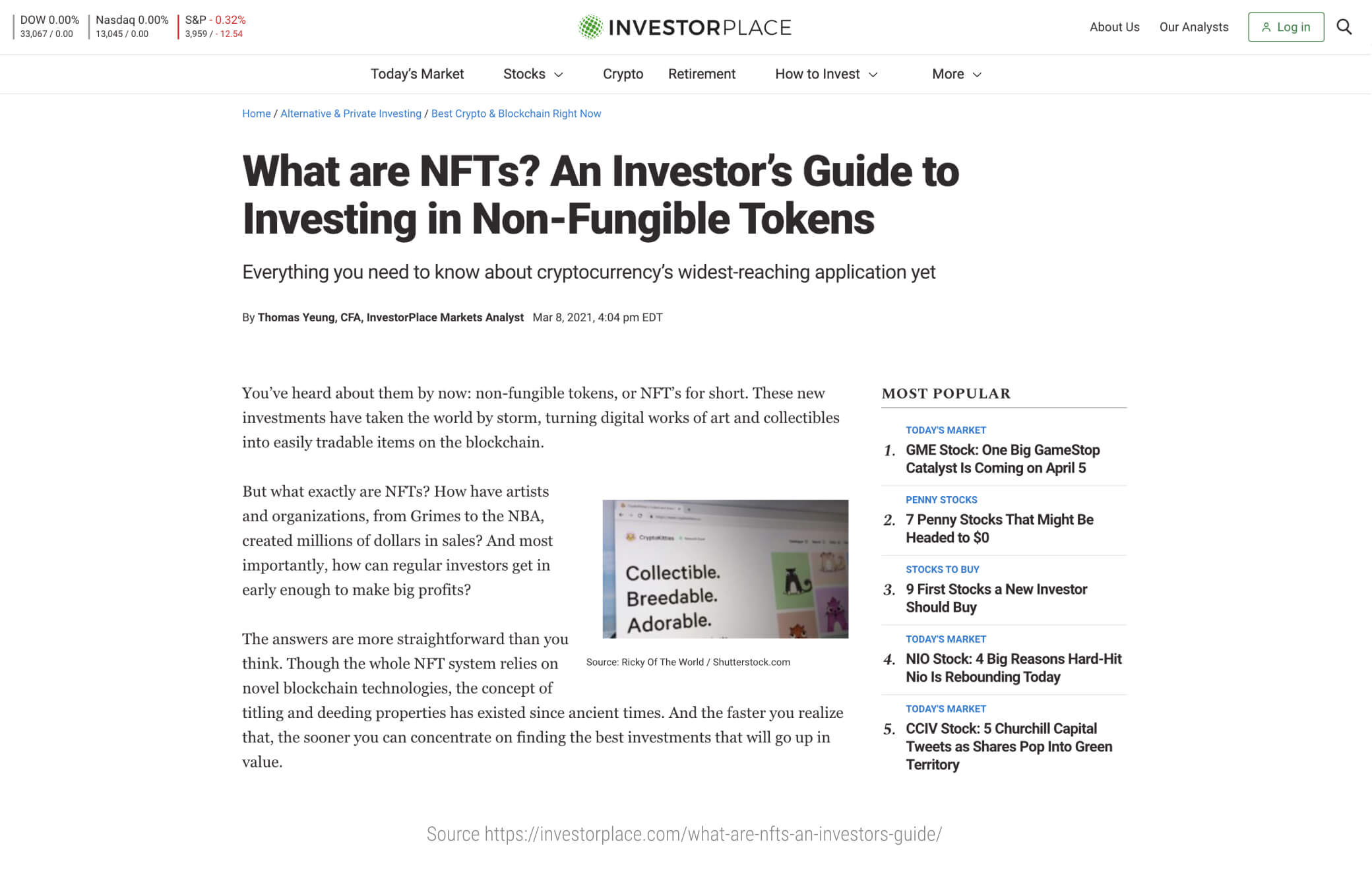 Author: Thomas Yeung
Resource type: FAQ
InvestorPlace published an article written by Thomas Yeung, a market analyst, on the perspective of NFT investments. The traditional world of physical art and collectibles may join the NFT revolution which is estimated at around $1 trillion opportunities. The author talks about whether NFTs are good investments and how to invest in NFTs.
Follow this resource: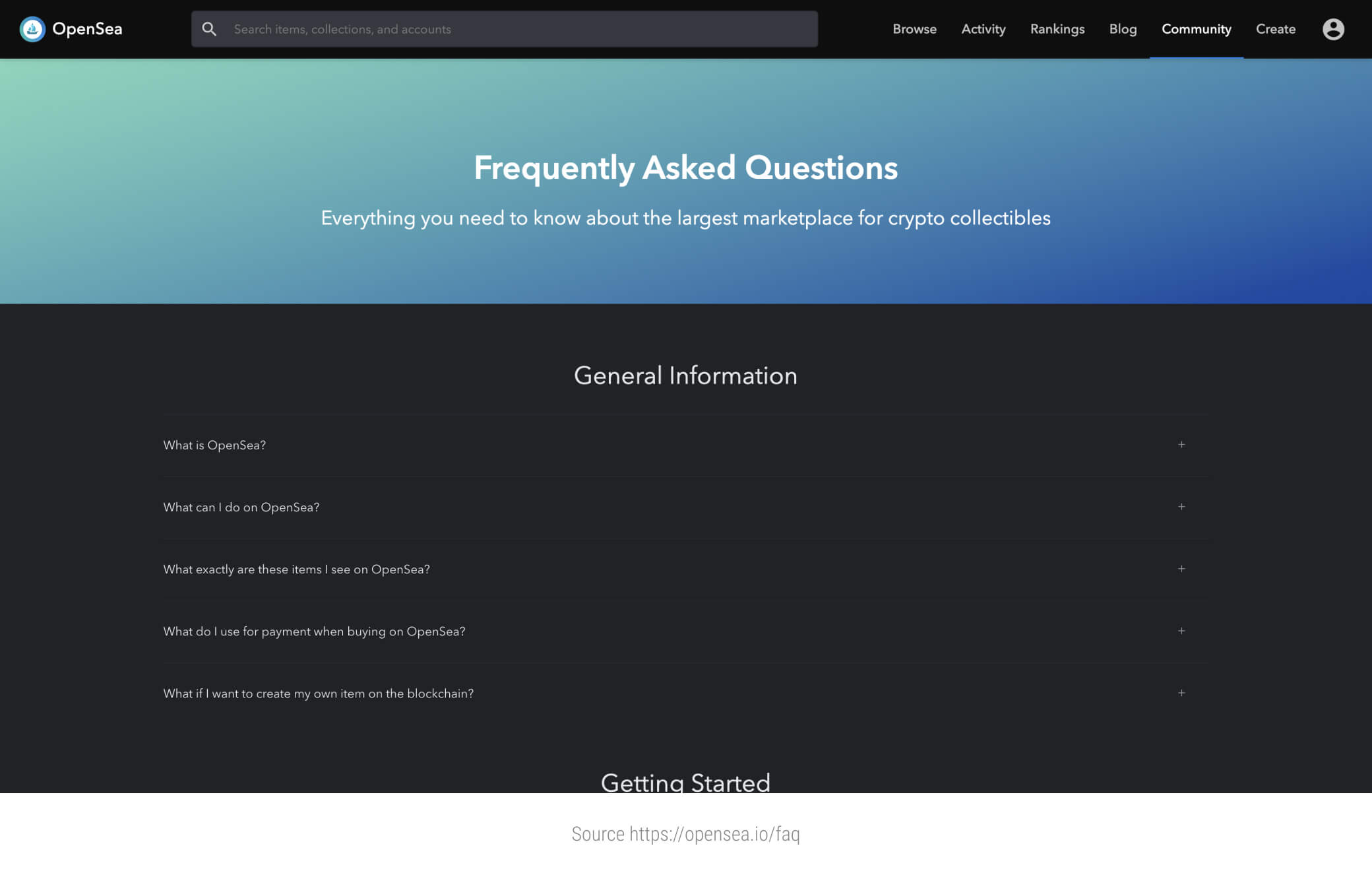 Author: OpenSea team
Resource type: FAQ
Everything you need to know about the largest marketplace for crypto collectibles: what is OpenSea, how to get started, making and accepting offers, common issues, etc.
Follow this resource:
💸 Top NFT Marketplaces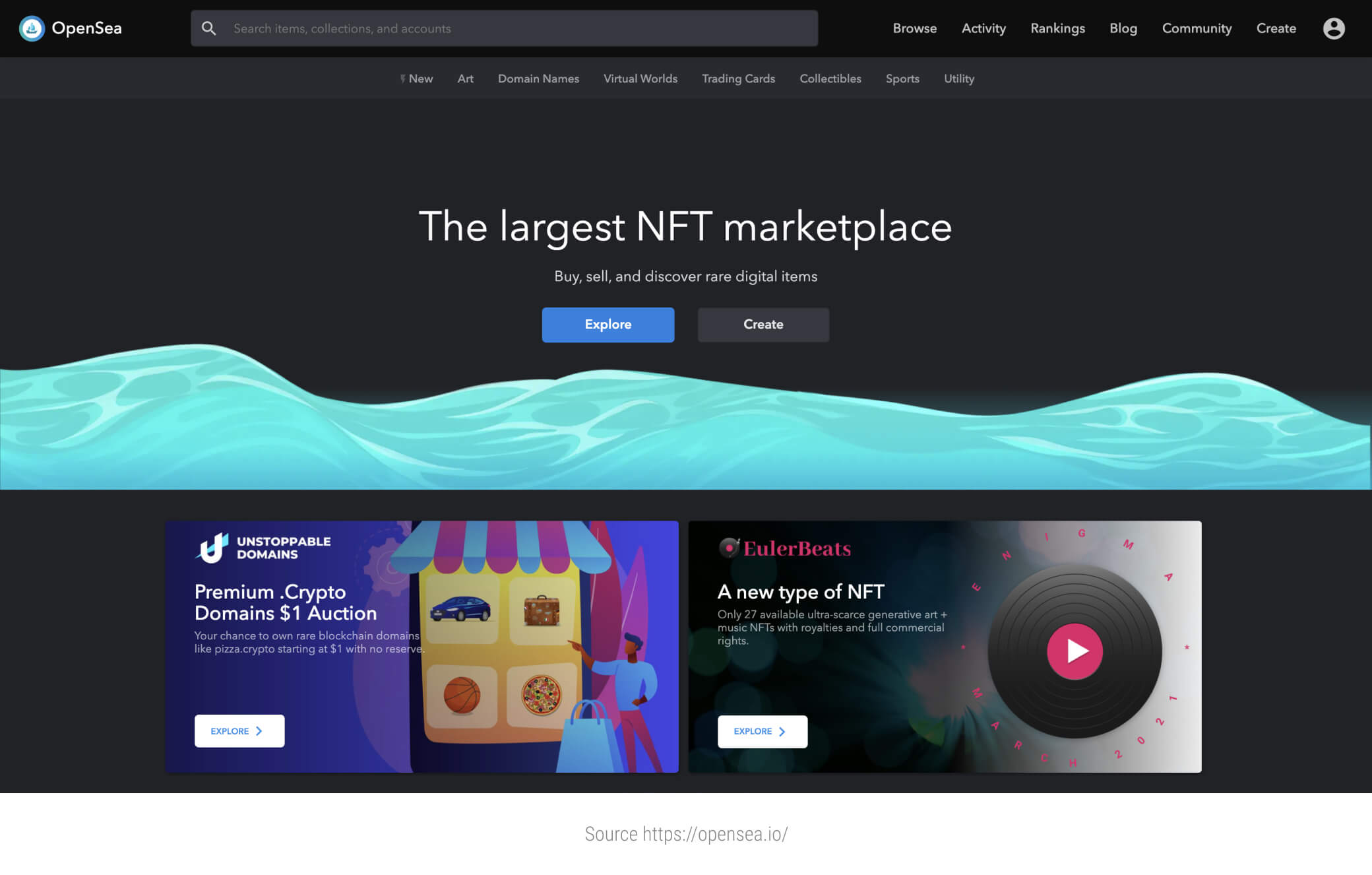 Founder: Alex Atallah, Devin Finzer
Resource type: Marketplace
OpenSea boldly describes itself as being the largest NFT marketplace. It offers a wide range of non-fungible tokens (NFTs), including art, censorship-resistant domain names, collectibles, gaming items, and other virtual goods backend by a blockchain. In a ringing endorsement that the NFT economy is here to stay, traditional investors—not just NFT collectors—are pouring money into OpenSea. The startup has raised $23 million in a new round of venture capital funding led by A16z Crypto, the cryptocurrency-obsessed arm of the Silicon Valley venture capital firm Andreessen Horowitz.
Follow this resource: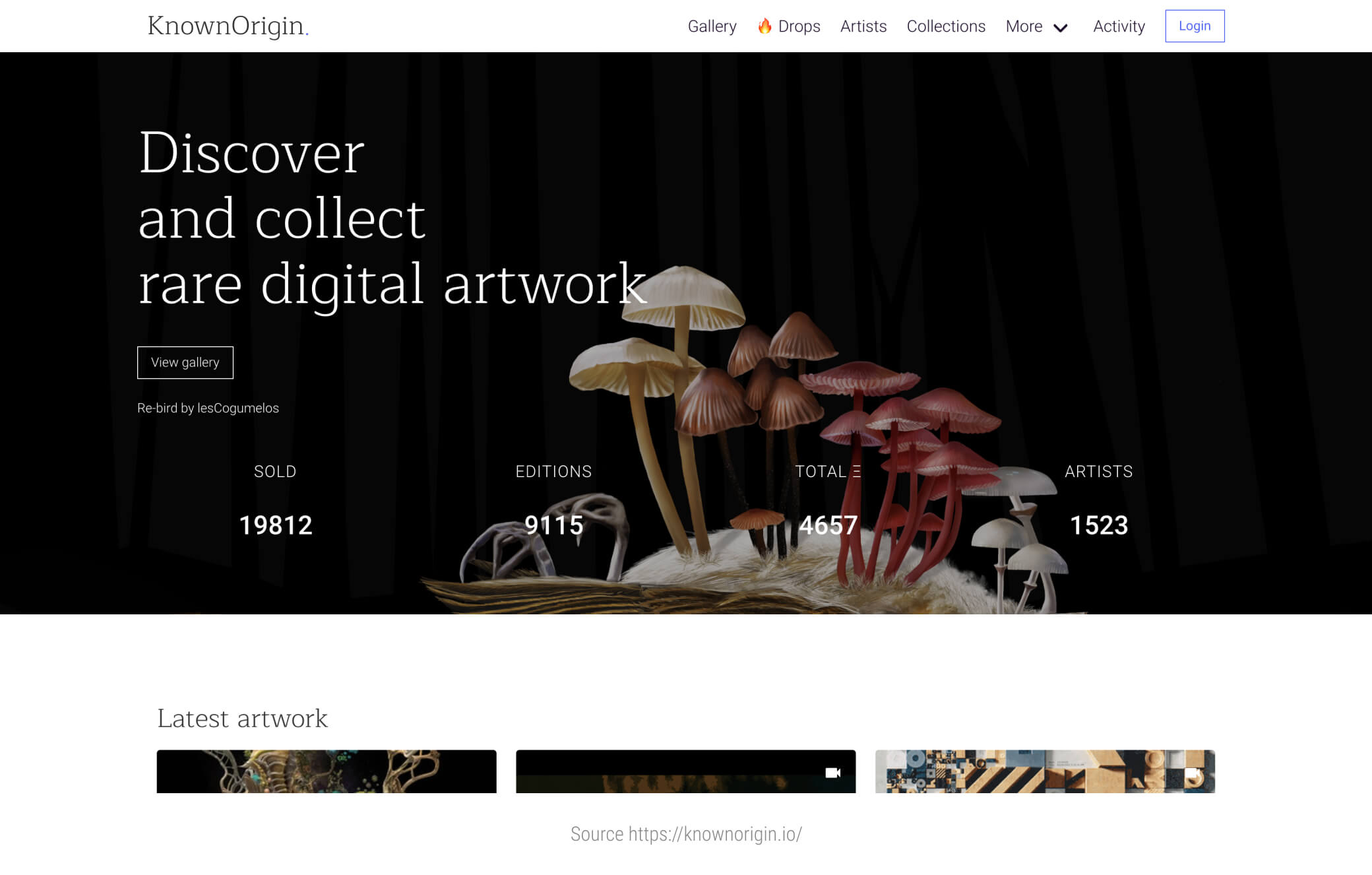 Founder: David Moore, Andy Gray and James Morgan
Resource type: Marketplace
KnownOrigin is an artist-focused platform that lets digital creators authenticate, showcase and sell the artwork they create via non-fungible tokens (NFTs). On each artwork KnownOrigin displays insights into its history, its ownership and the chain of custody. Every user has the access to global insights into both collectors and artists covering purchases and holdings.
Follow this resource: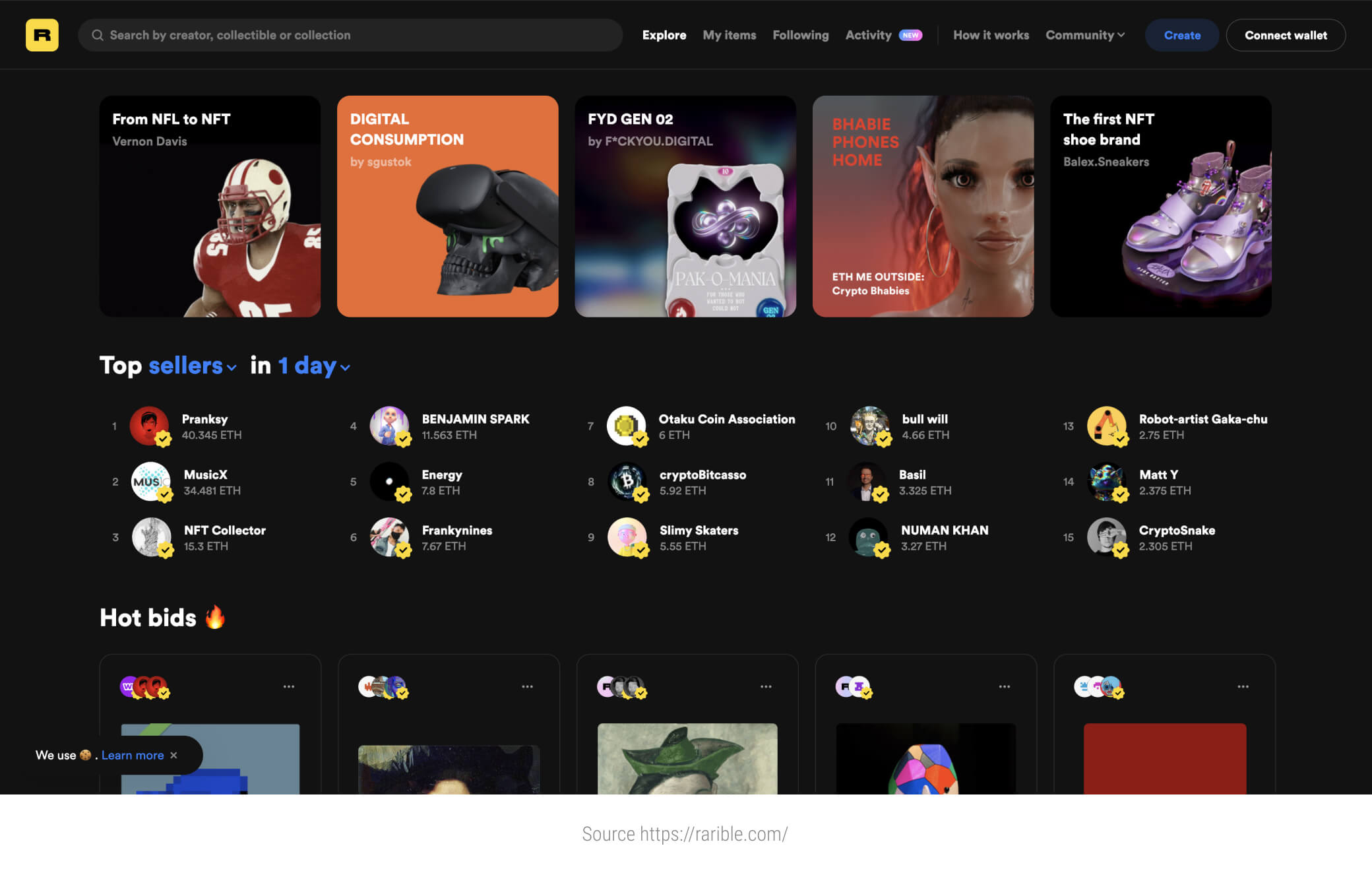 Founder: Alexei Falin
Resource type: Marketplace
The platform allows you to create and sell digital collectibles secured with blockchain technology. Rarible is both a marketplace for those assets, as well as a distributed network built on Ethereum that enables their trade without a middleman.
Follow this resource: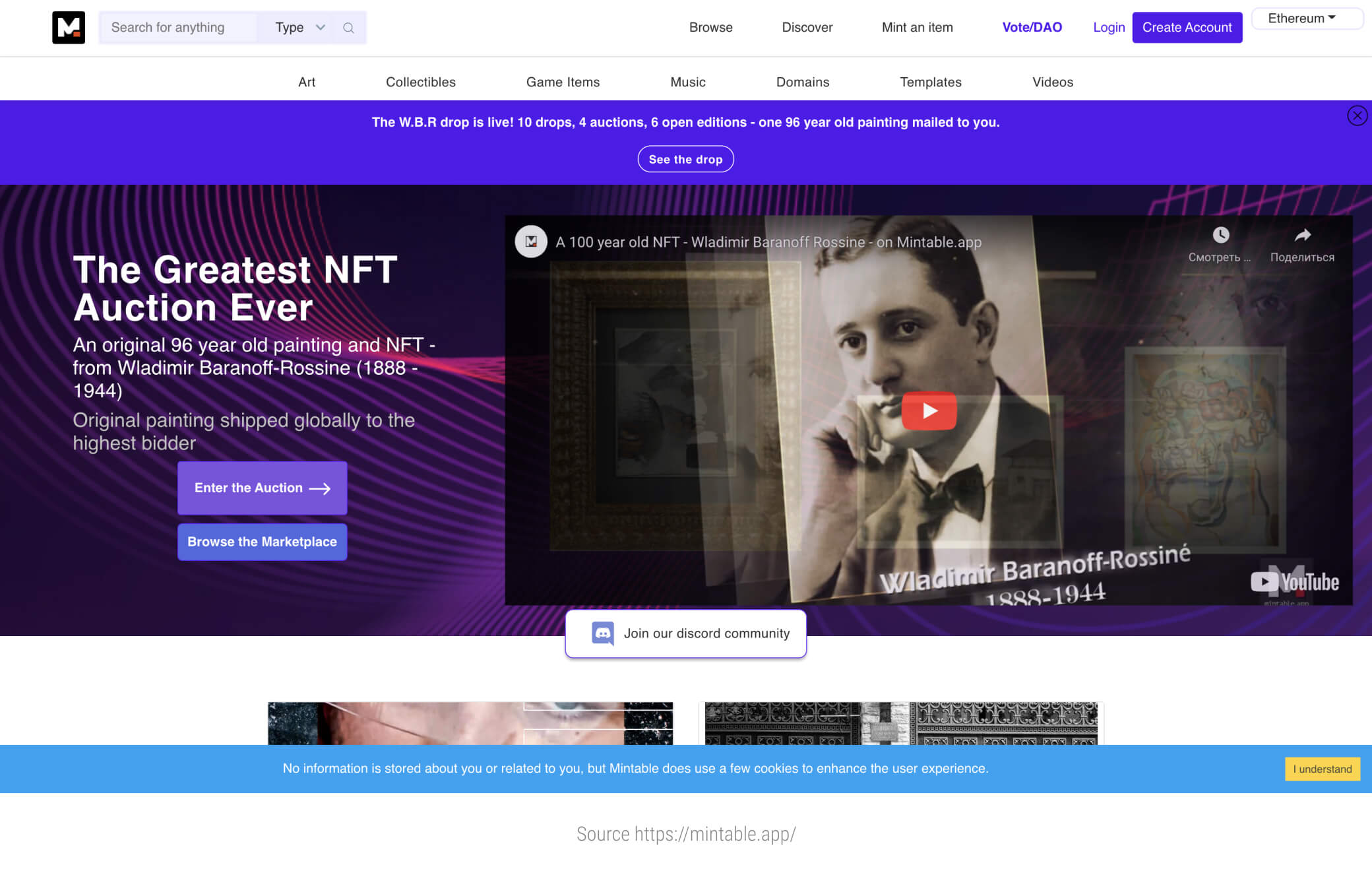 Founder: Zach Burks
Resource type: Marketplace
Mintable is an NFT or nonfungible token marketplace where users can create, buy, and sell digital items for the easiest way to earn and get started with crypto and NFTs. So you can take a picture, add some characteristics, give it a name, make it rare, and sell away for a profit. With each smart contract, you can create multiple tokens and these tokens can be used to represent your digital items.
Follow this resource: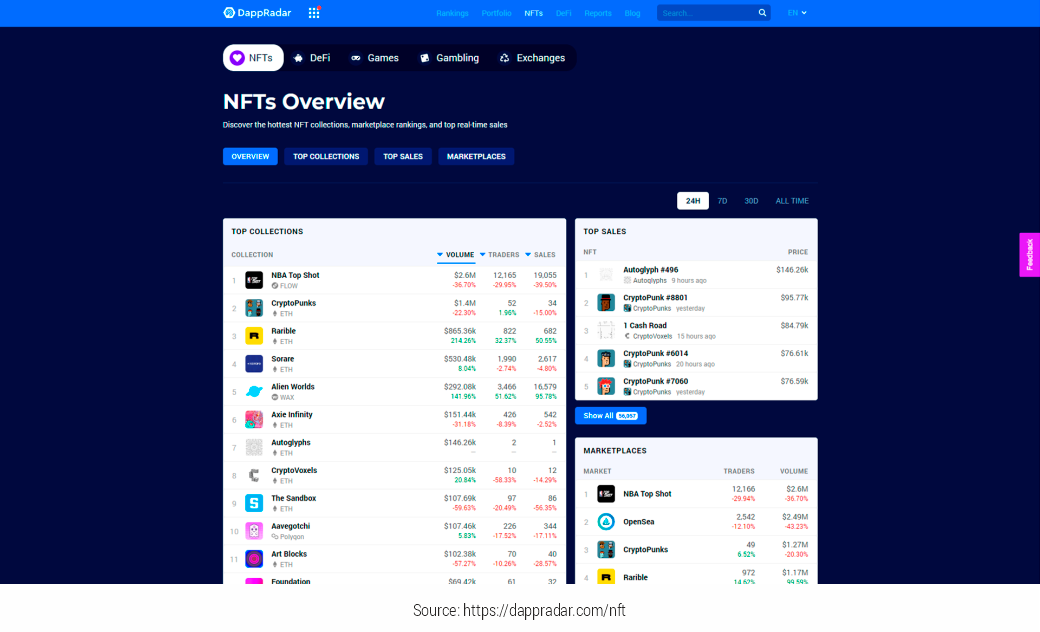 Founder: Skirmatas Januškas
Resource type: Marketplace
DappRadar has become the starting point for a decentralized app (dapp) discovery and acts as a distribution channel for dapp developers. Tracking over 3,000 dapps across multiple blockchains, including Ethereum, EOS, TRON, and ONT, with plans to expand to others. Now, DappRadar is also NFT Marketplaces rankings and analysis. You can find non-fungible token trading volumes, the number of traders per marketplace, and more key metrics.
Follow this resource: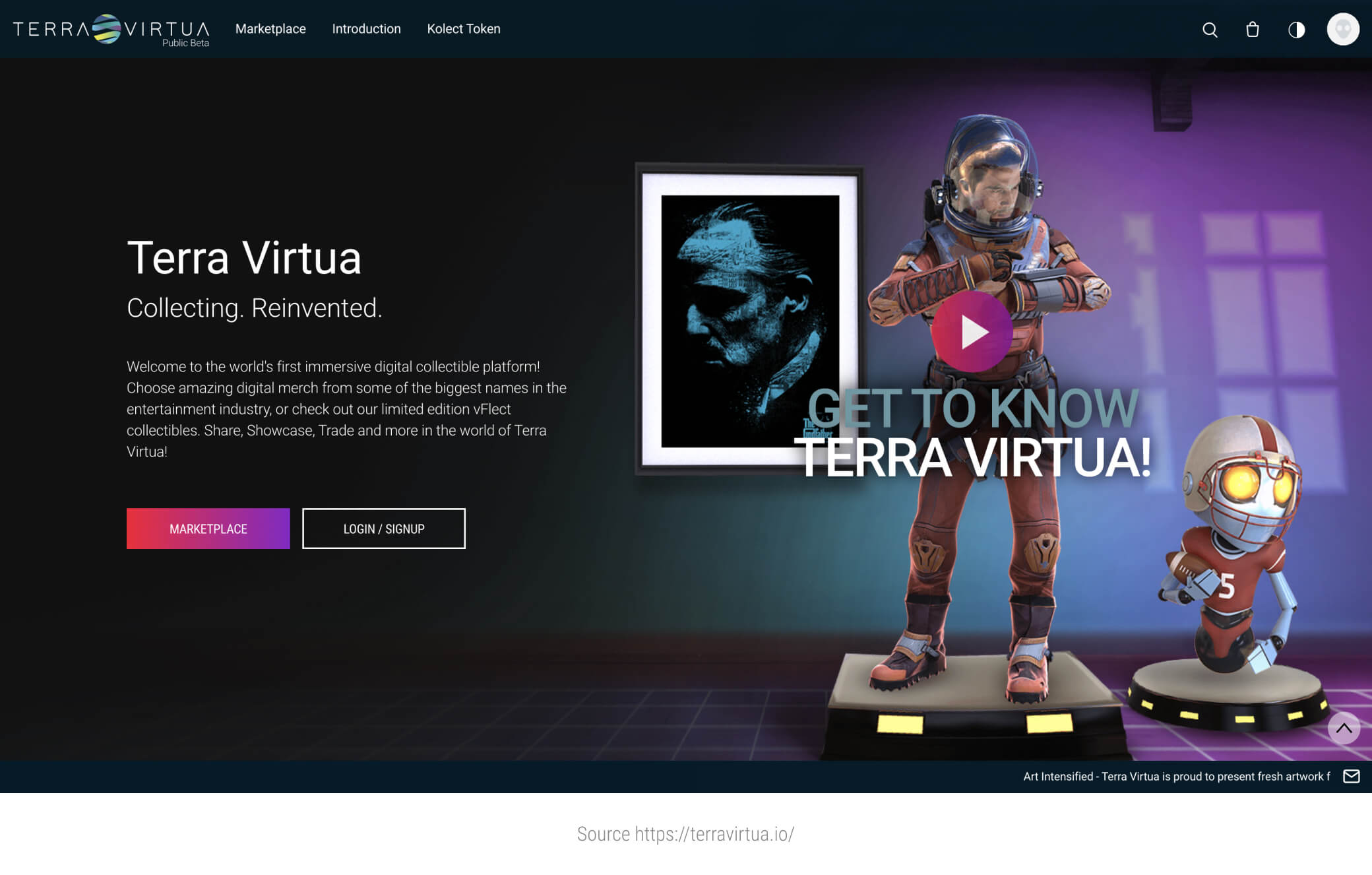 Founder: Gary Bracey
Resource type: Marketplace
A truly immersive digital collectibles NFT platform on PC, Mobile, AR, and VR. Terra Virtua is the one platform to share, trade, and interact with Digital Collectibles from brands and creators in new, social, engaging, and immersive ways.
Follow this resource: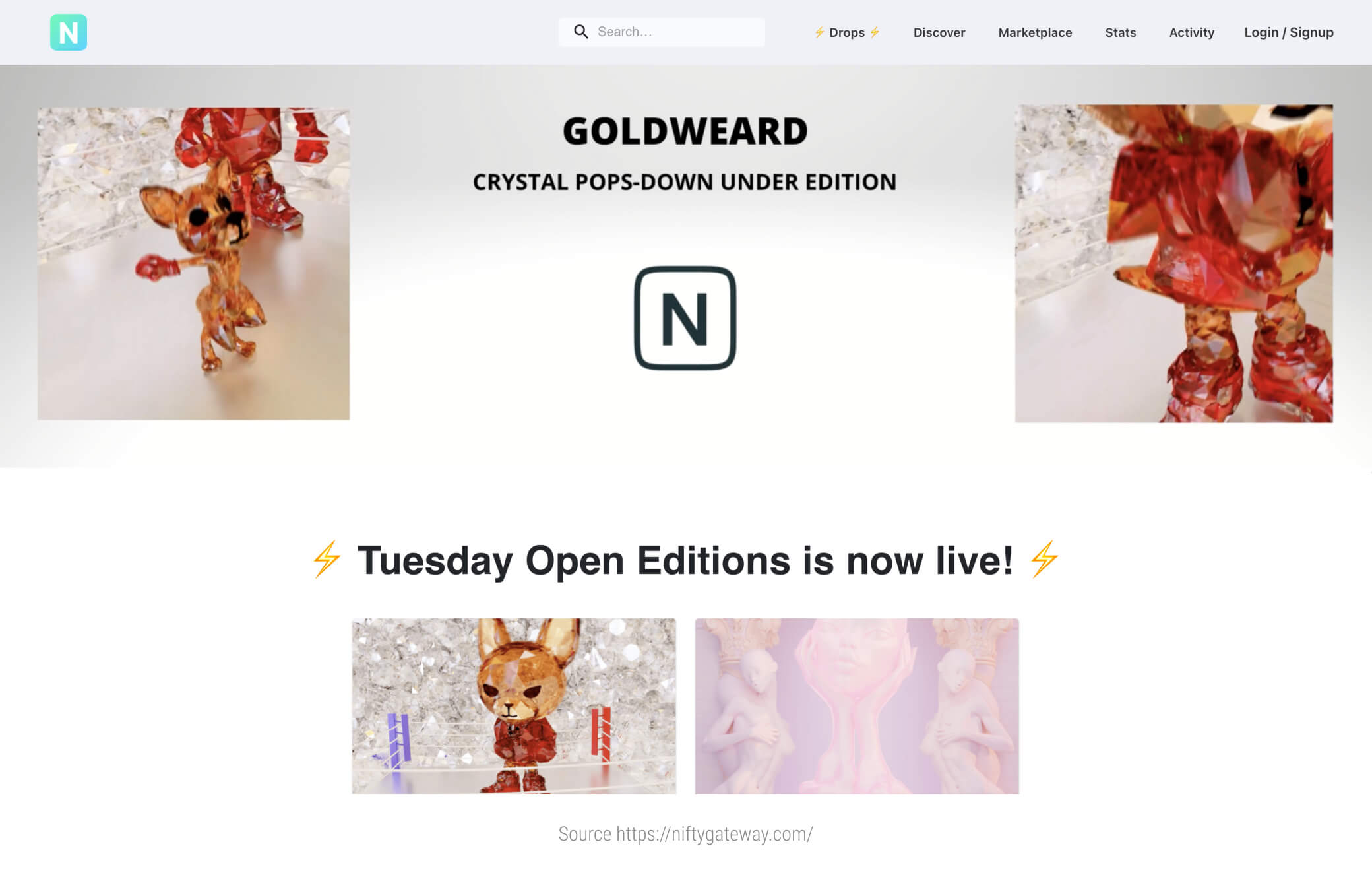 Founder: Duncan and Griffin Cock Foster
Resource type: Marketplace
Nifty Gateway is the premier marketplace for rare digital artworks. Nifty Gateway teams up with top artists and brands to create collections of limited edition, high-quality Nifties, exclusively available on the platform. Each collection will be opened at a specific time (a drop), and will only be available for a limited time.
Follow this resource:
🎥 Top Videos about NFT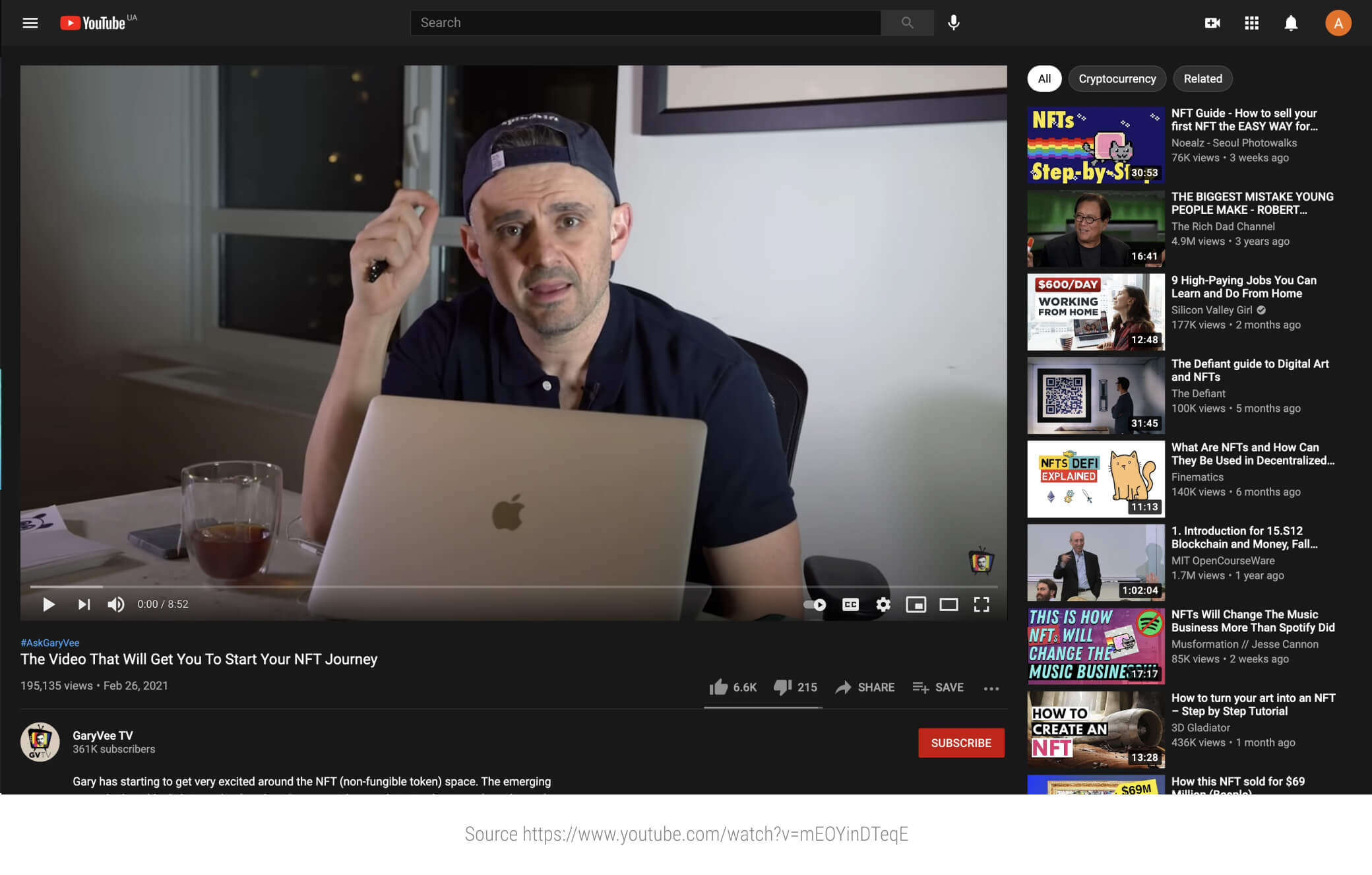 Channel: GaryVee TV
Resource type: Video
Gary Vaynerchuk is a serial entrepreneur and the Chairman of VaynerX, a modern-day communications company, and the CEO and Co-Founder of VaynerMedia, a full-service digital agency servicing. In the video, Gary talks about how NFTs will revolutionize digital art industry and how people make art, buy products digitally and express themselves more uniquely on the internet.
Follow this resource: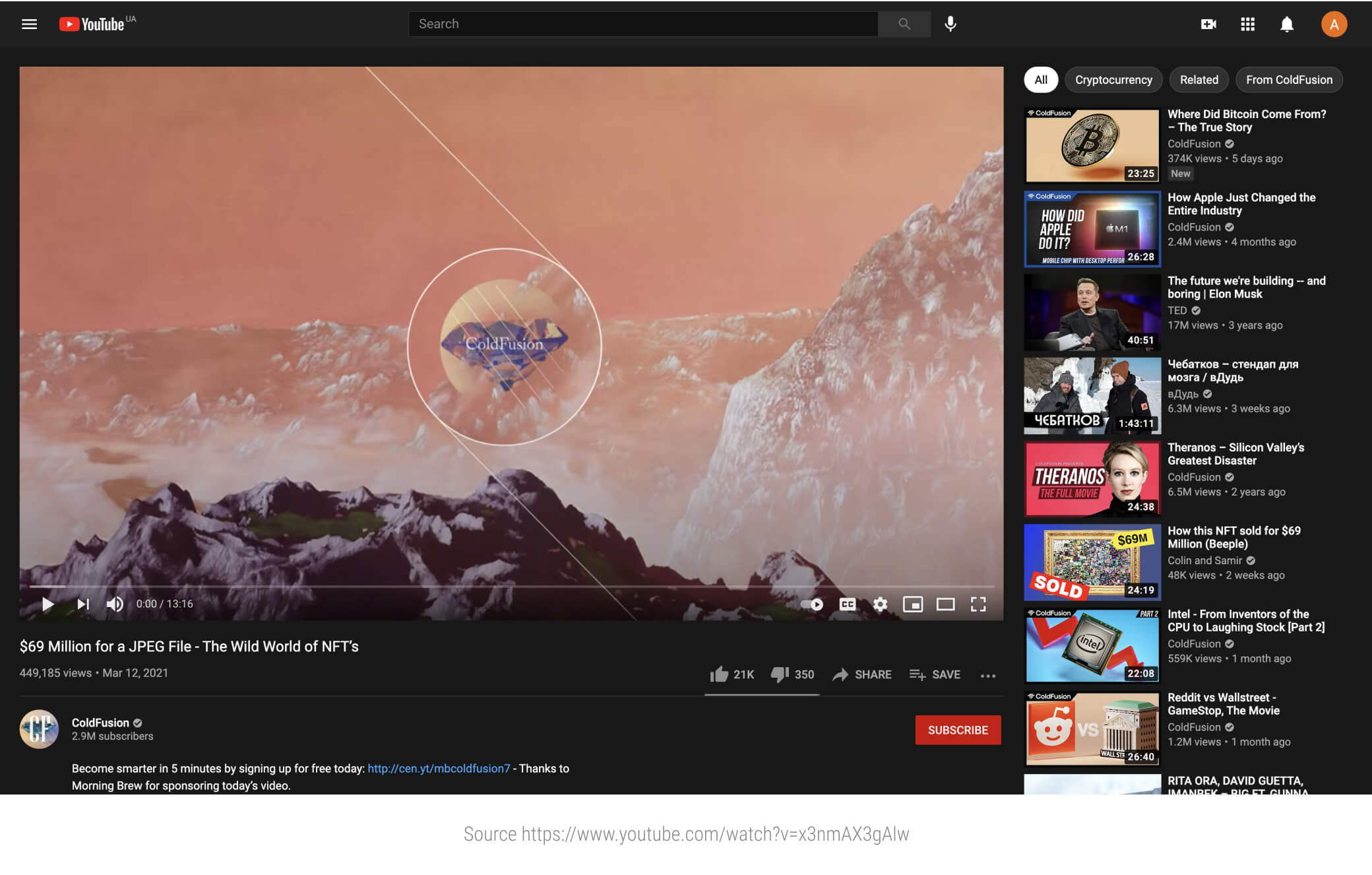 Channel: ColdFusion
Resource type: Video
Let's look inside the digital world of «crypto-collectibles». The video explains why NFTs go viral right now and its potential influence on the development of digital economy and crypto art.
Follow this resource: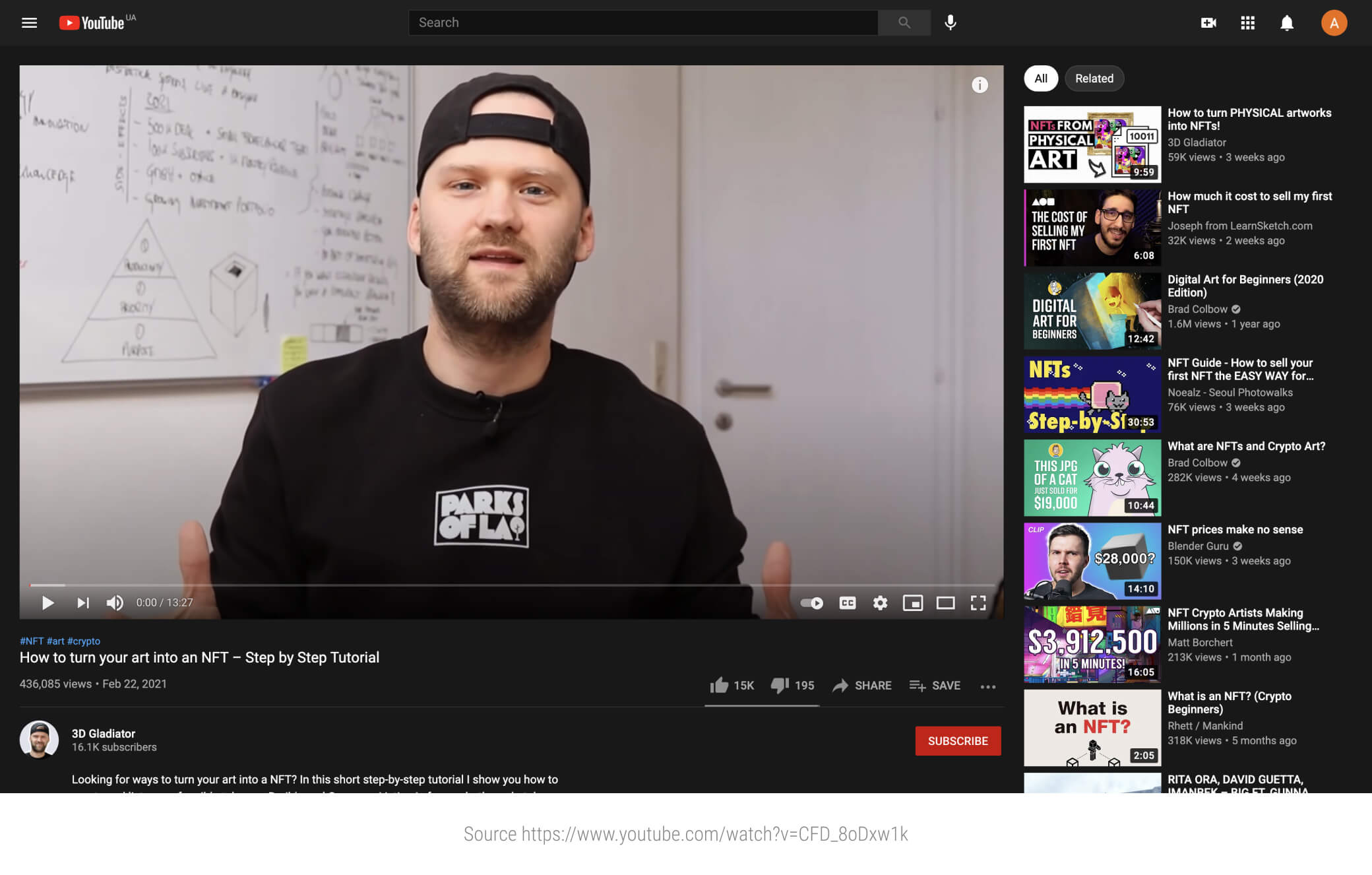 Channel: 3D Gladiator
Resource type: Video
This short step-by-step video tutorial shows you the ways how to turn your art into an NFT. As a result, you can create and list a non-fungible token on NFT marketplaces like Rarible and Opensea. Plus, you learn how to store a unique and immutable highres version of your work in the IPFS network and how to include the unique link as unlockable content in the smart contract.
Follow this resource: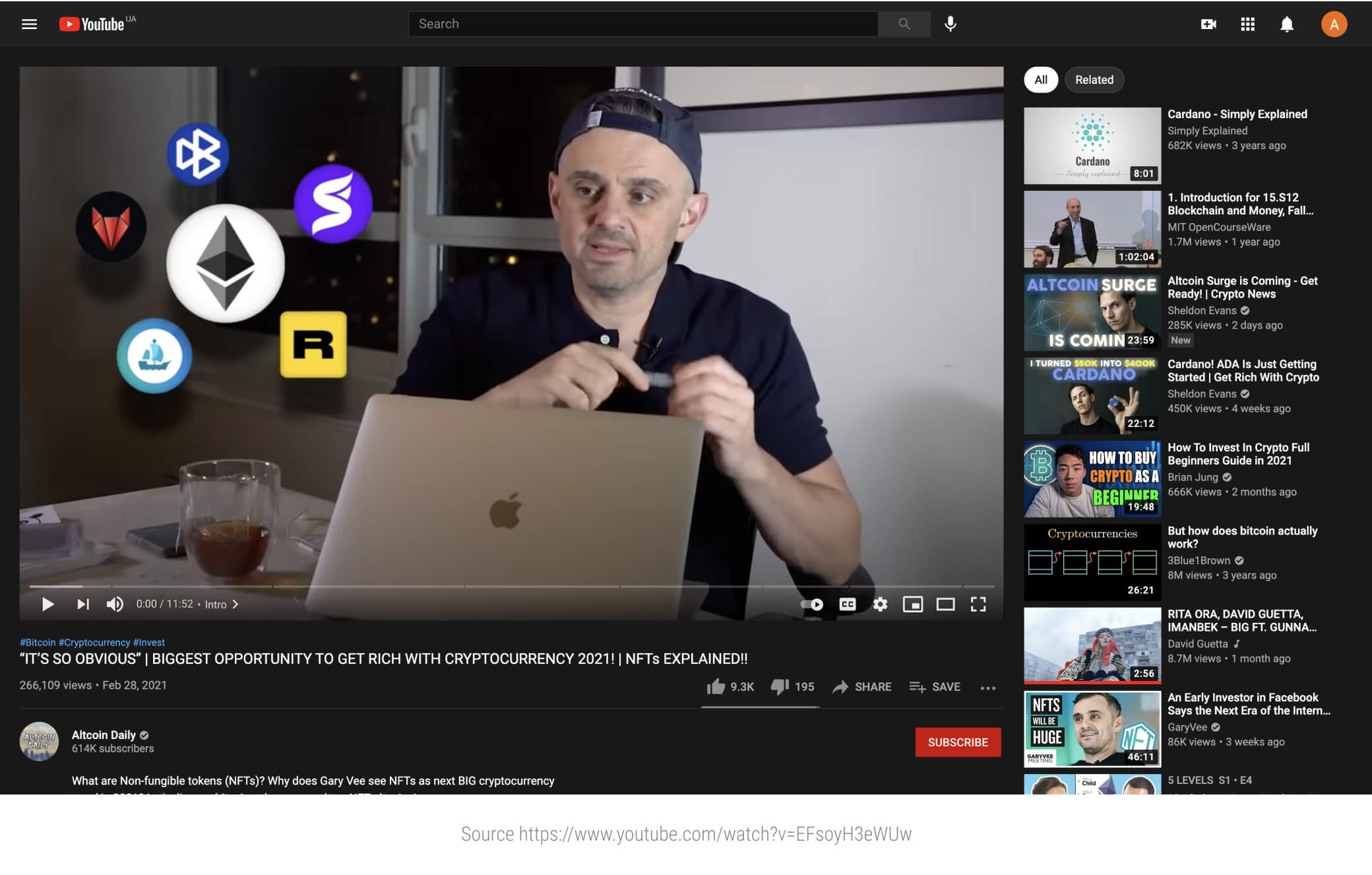 Channel: Altcoin Daily
Resource type: Video
You should expect a discussion about Bitcoin, Ethereum, and top NFT altcoins. This episode will touch upon Why does Gary Vee see NFTs as next BIG cryptocurrency trend in 2021? And details of Shawn Mendez launching NFTs on OpenSea.
Follow this resource: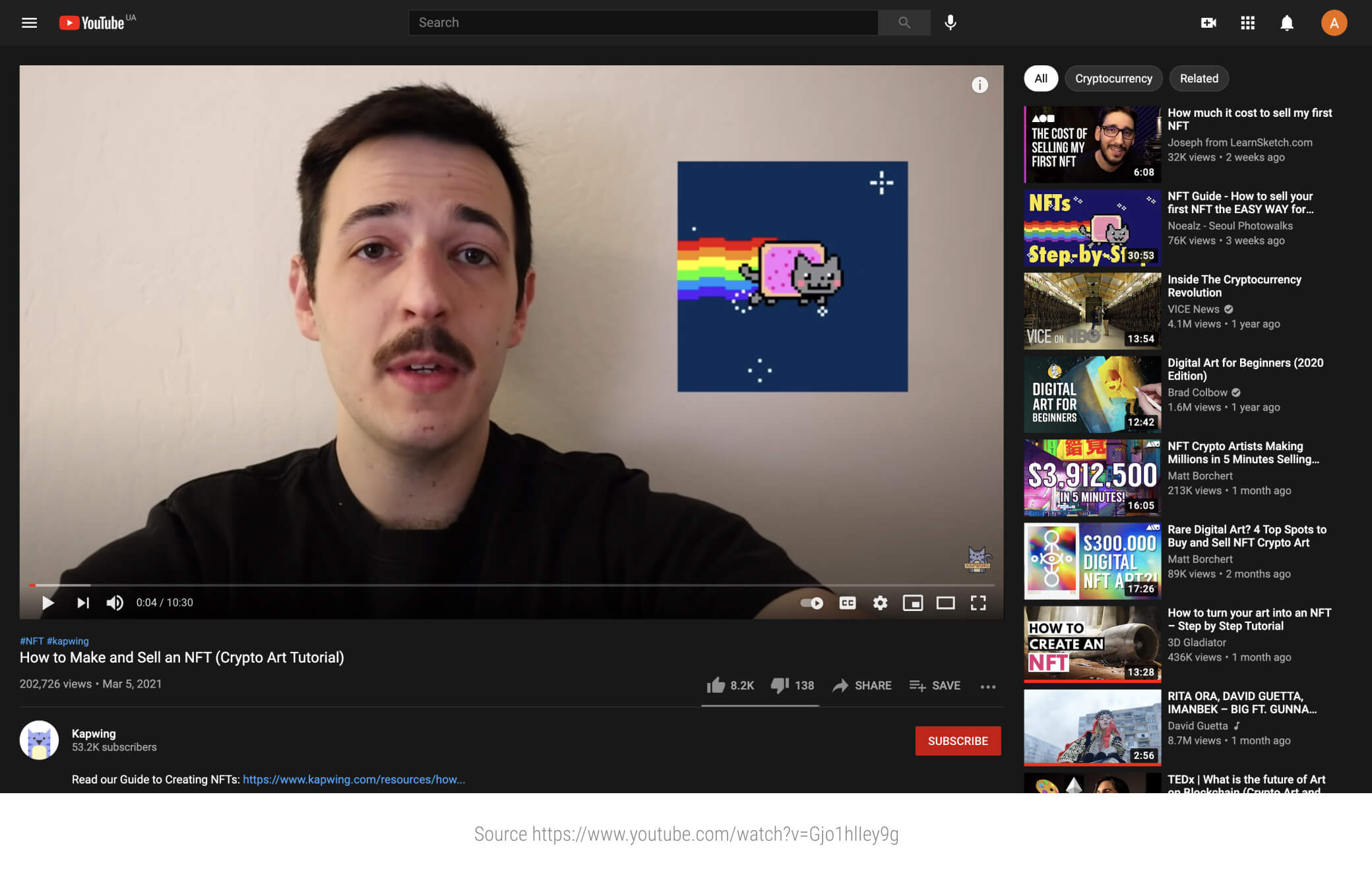 Channel: Kapwing
Resource type: Video
Kapwing is a go-to resource for learning about modern video editing tips, content creation trends, creator news. In this step-by-step tutorial, the team shows how to turn your art into an NFT and start selling it on the Rarible crypto art marketplace in just a few minutes. You don't need any previous experience with crypto to get started.
Follow this resource:
🎧 Top NFT Podcasts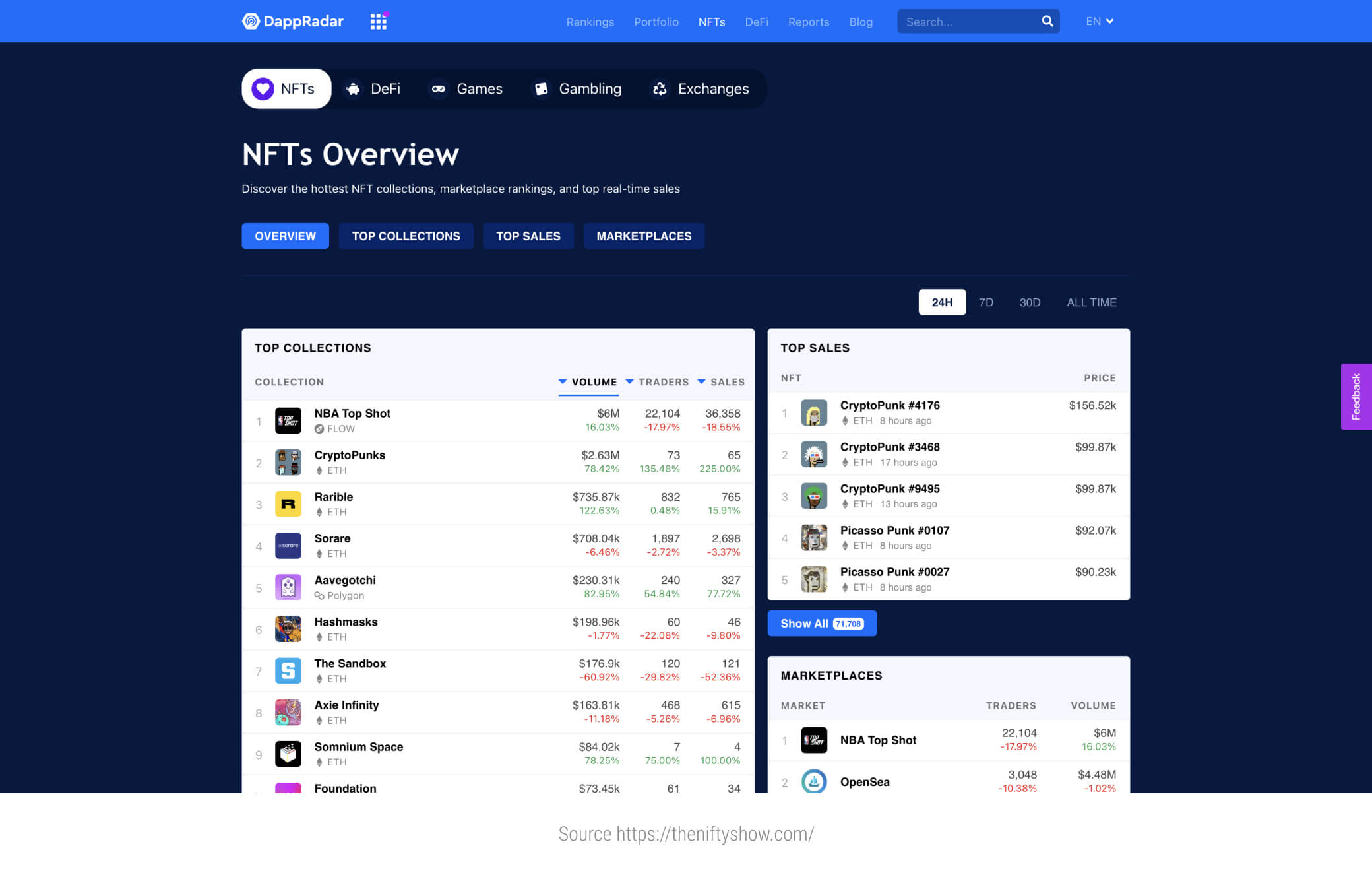 Author: Joel Comm, Travis Wright
Resource type: Podcast
The Nifty Show is the podcast for digital collectibles and non-fungible tokens (NFTs). Every Friday you can learn about upcoming NFT releases and case studies by companies that are using these tokens. From pieces of art and trading cards to business assets and concert tickets, the world is finding new ways to create digital assets which are secure, portable and collectible.
Follow this resource: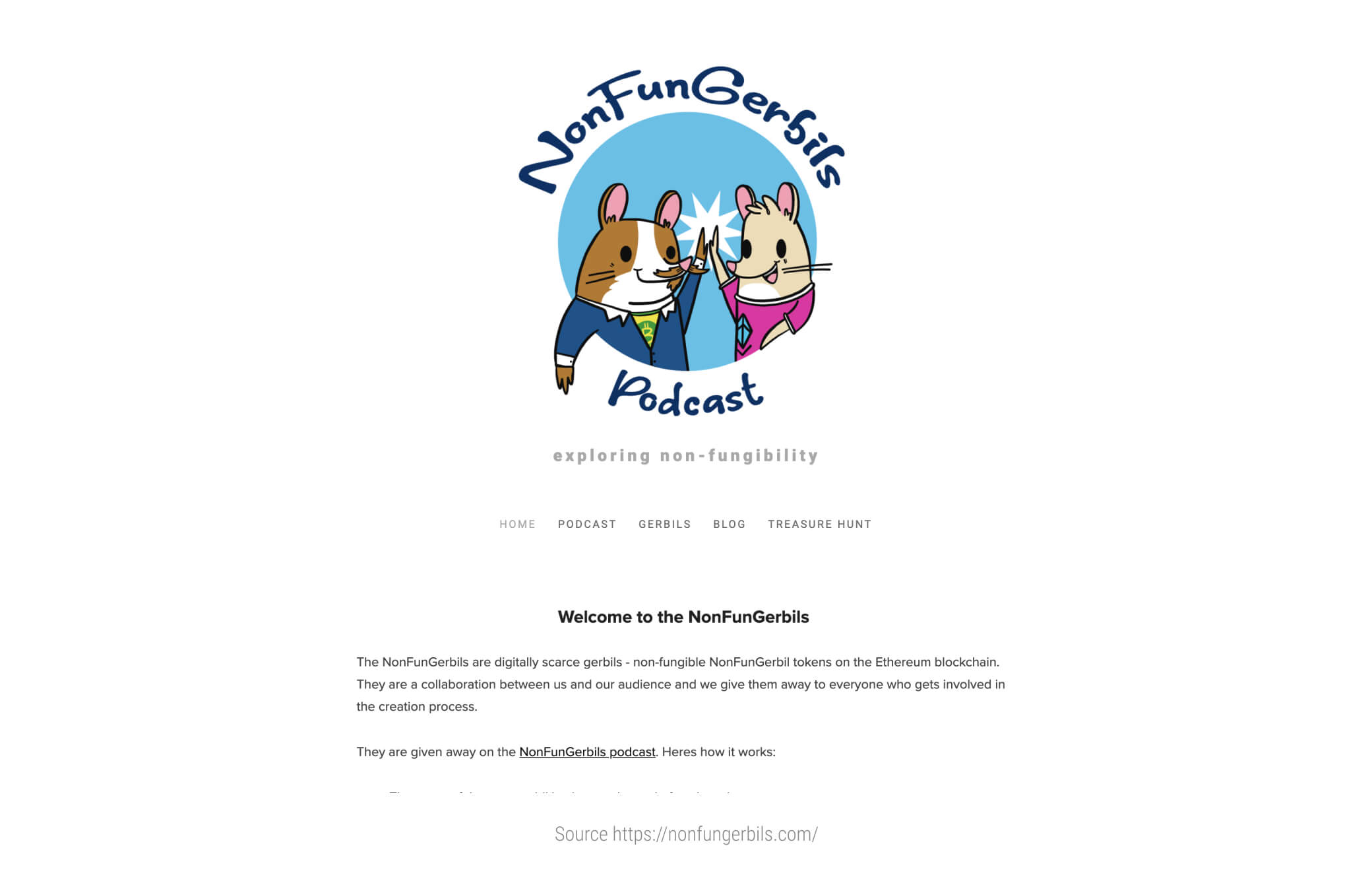 Author: Undisclosed group of enthusiasts
Resouce type: Podcast
The NonFunGerbils podcast recently started. However, they managed to make themselves known quite loudly and successfully invite opinion leaders from the NFT world. Each episode is a separate topic while new guests discuss the topic and act as experts. Among the guests, there are already Alan Carr, Hugo McDonaugh, Ben Nolan, and others. NonFunGerbils conduct treasure hunts and share gerbils. Which is fun.
Follow this resource: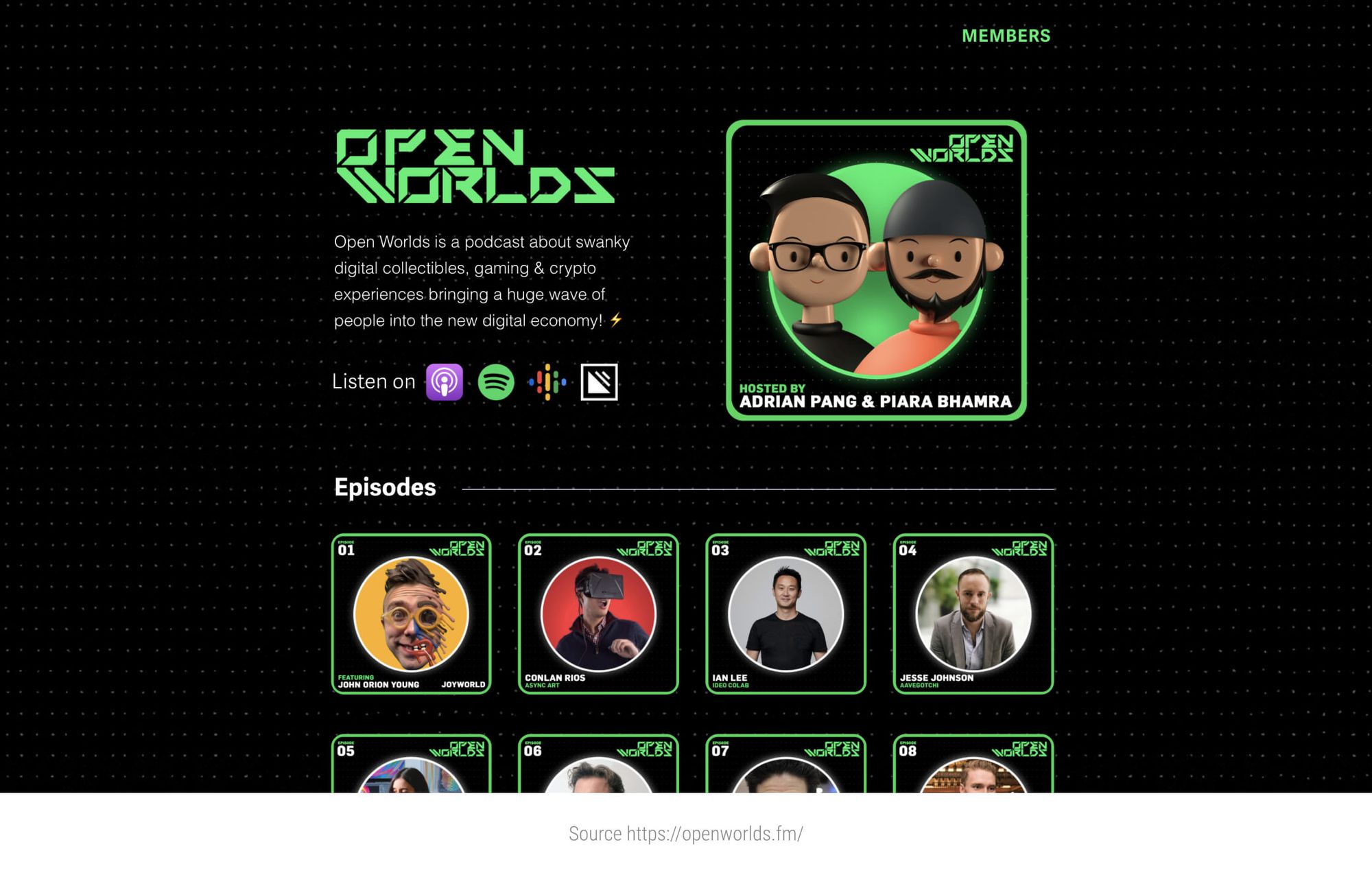 Author: Adrian Pang, Piara Bhamra
Resource type: Podcast
Open Worlds is a podcast about digital collectibles, gaming and crypto experiences bringing a huge wave of people into the new digital economy. Each episode is a new interview from the top experts about digital art, developing AR games, NFTs, blockchain, etc..
Follow this resource: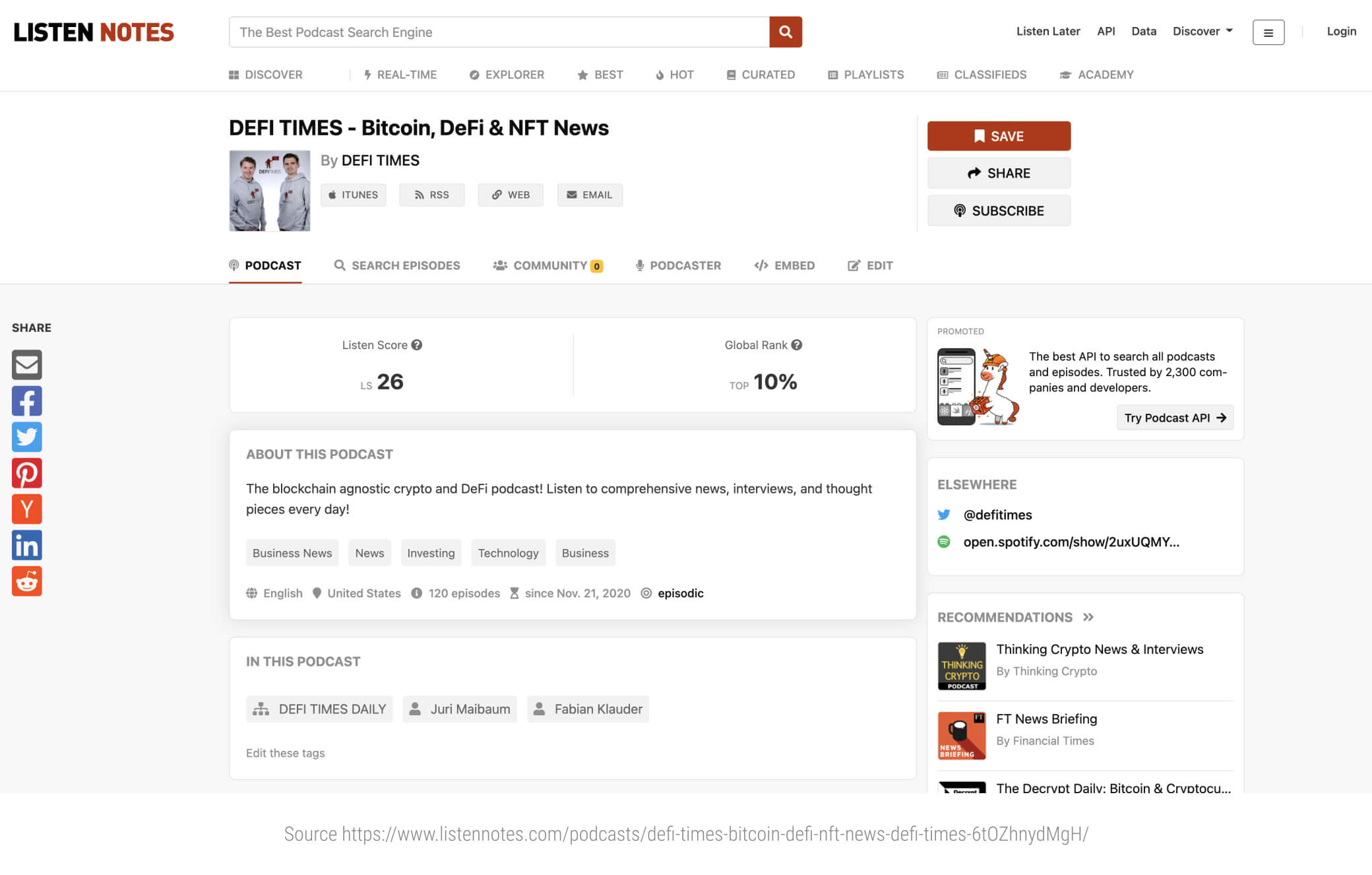 Author: Juri Maibaum, Fabian Klauder
Resource type: Podcast
The DeFi Podcast is for those who envision a new way to provide financial services. Hosts Juri Maibaum and Fabian Klauder sit down with crypto entrepreneurs, developers and investors who build products/services to discuss the breaking news in the crypto industry. E.g., the recent episode is all about Visa's adoption of Ethereum. Visa will settle payments in the USDC stable coin on the Ethereum blockchain which means whenever someone transfers USDC in the Visa payment network, ETH gets burned.
Follow this resource:
🗣 Top NFT Influencers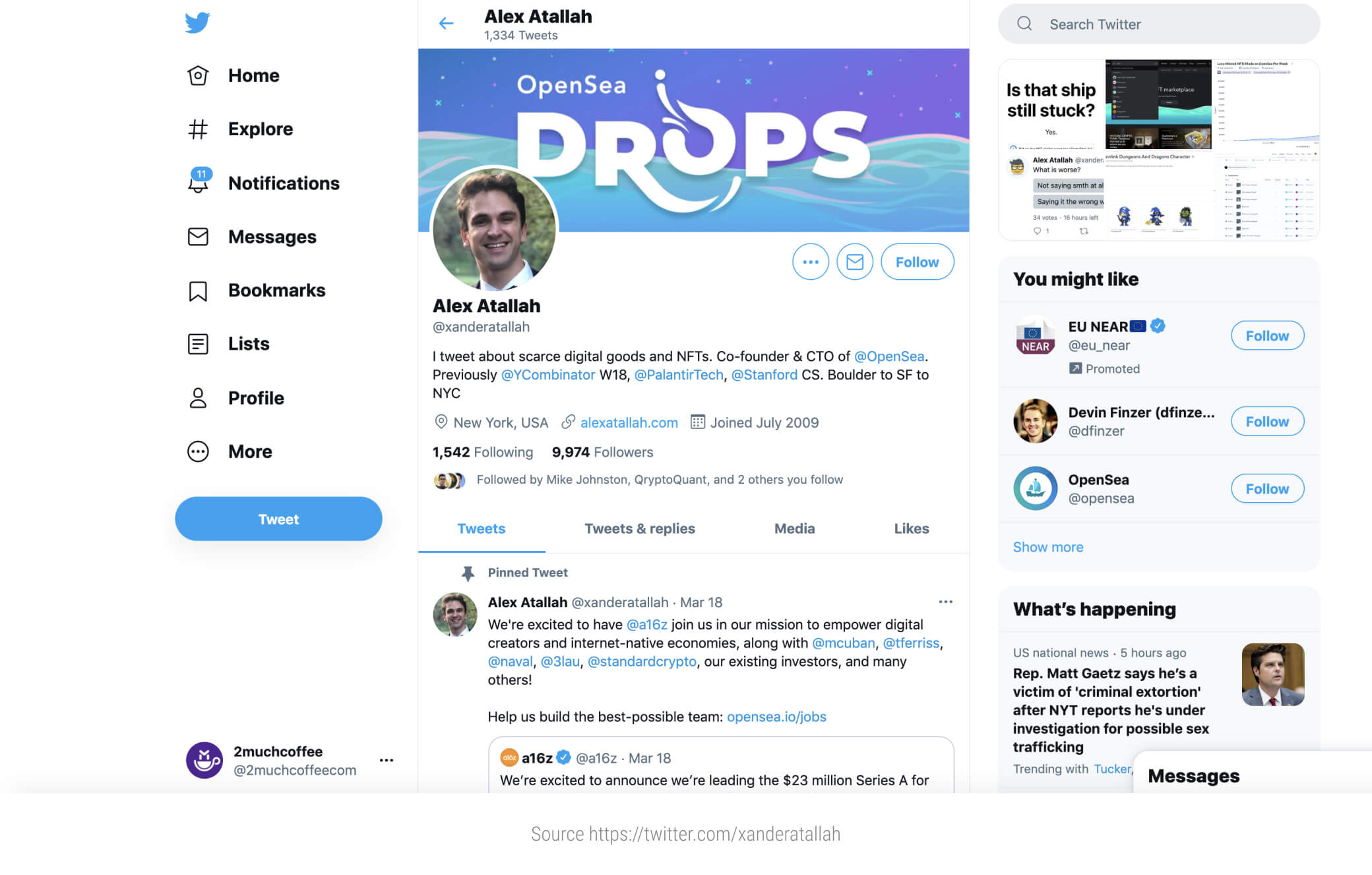 Resource type: Influencer
Co-founder and CTO of OpenSea, a decentralized marketplace for crypto collectibles. OpenSea graduated from the YCombinator W18 batch, raised a seed round from Founders Fund, Blockchain Capital, Coinbase, 1confirmation and others, and now powers the marketplaces or sites for over 200 games and services. Prior to OpenSea, Alex was the CTO of hostess.fm (sold to Beatport in 2014) and built cybersecurity products at Palantir for 2 years.
Follow this resource: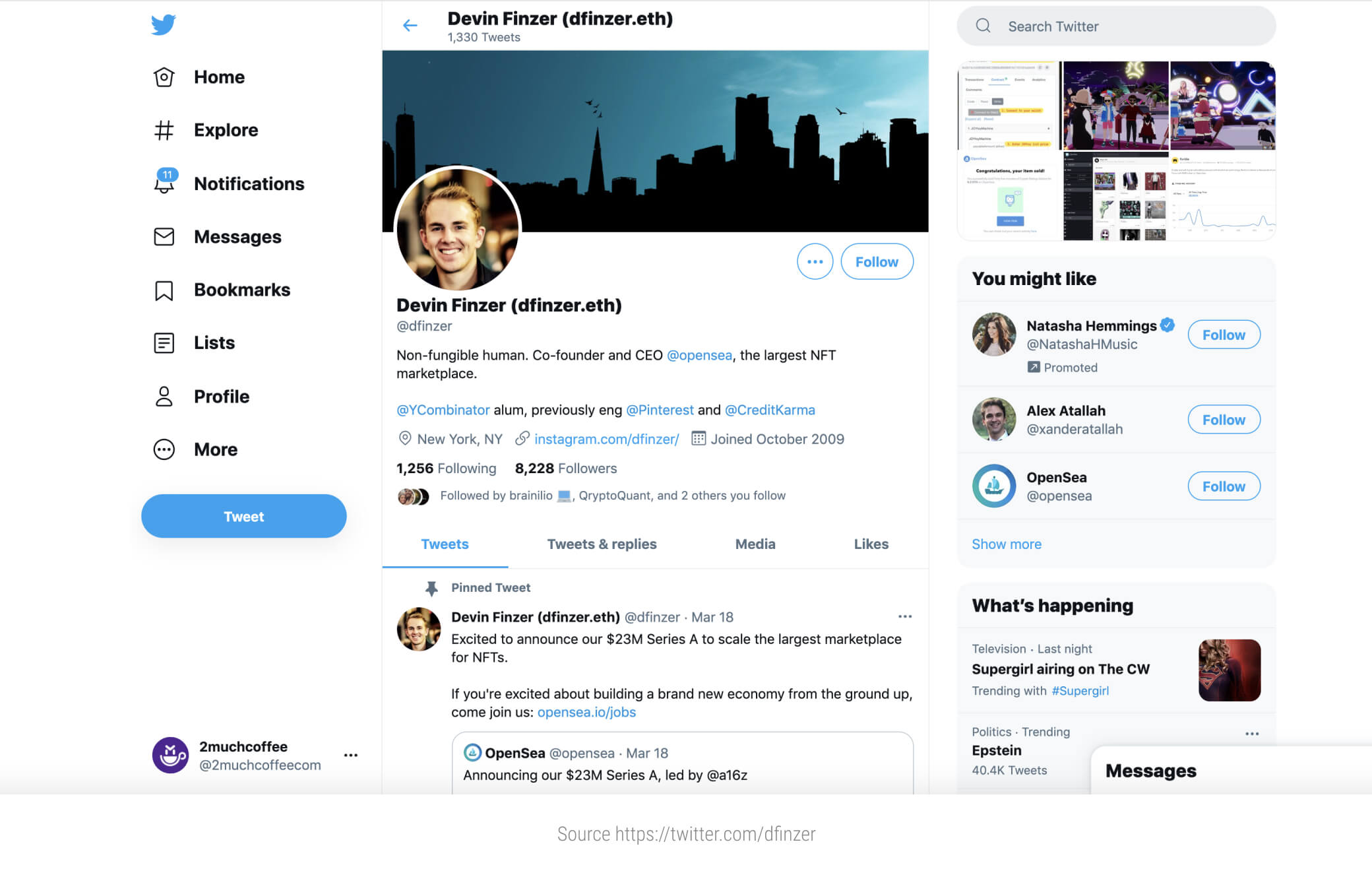 Resource type: Influencer
Devin is a co-founder and CEO of OpenSea, the first peer-to-peer marketplace for blockchain-based assets. Devin previously worked on growth teams at Google, Flipboard, and Pinterest. Also, he co-founded Claimdog, a personal finance app, that was acquired by Credit Karma in 2016.
Follow this resource:

Resource type: Influencer
William M. Peaster, a professional writer and editor who specializes in the Ethereum, DeFi, DAO, and NFT beats. He's among the newer wave of folks that came to the crypto economy through Ethereum first. William did lots of research and has published over 1,250 pieces -- the vast majority of which have been Ethereum-centric -- in publications like Binance Academy, Blockonomi, defiprime, and now Cryptowriter.
Follow this resource: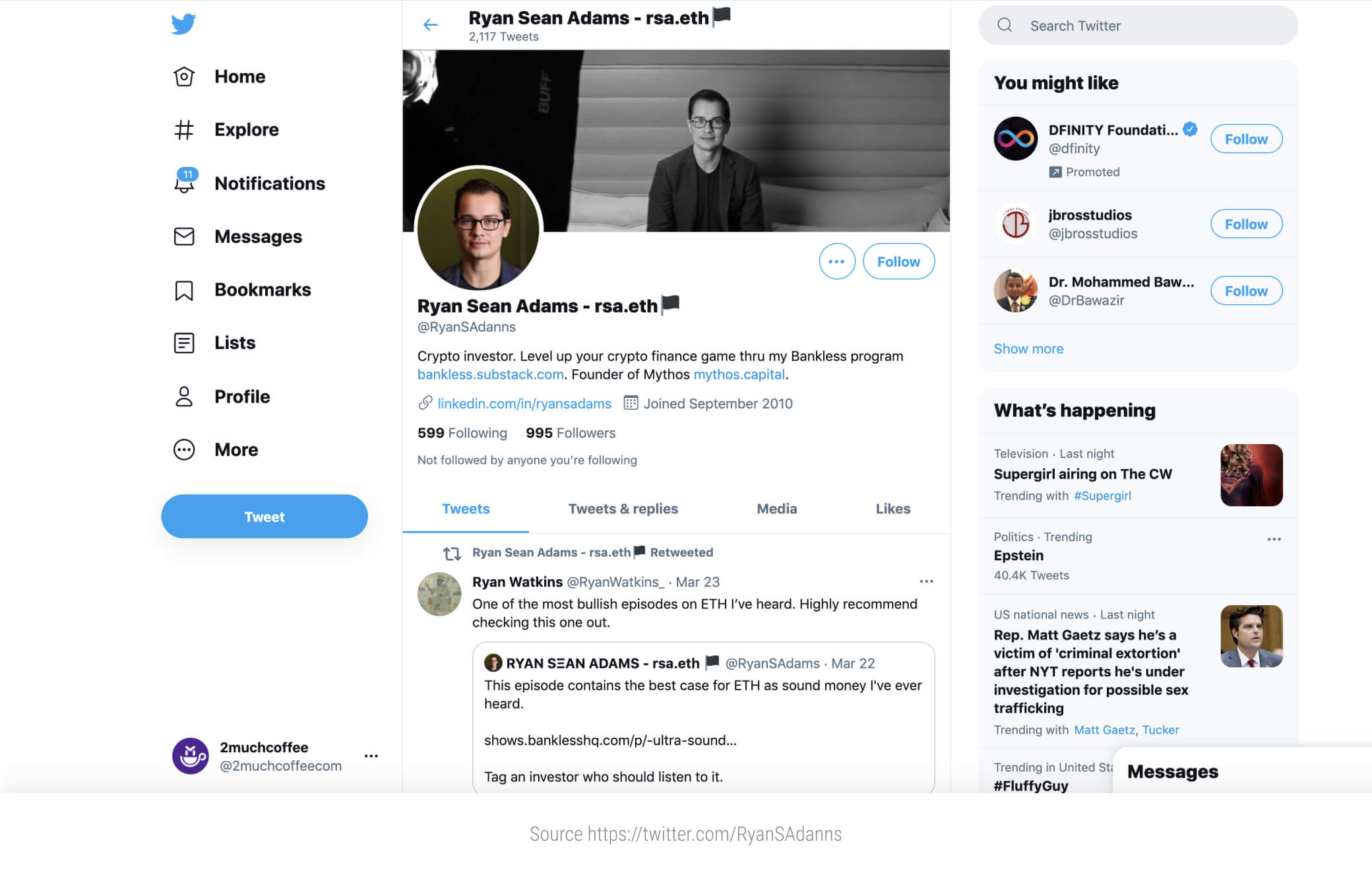 Resource type: Influencer
Cryptoasset investor and entrepreneur. Founder of Mythos Capital, a crypto fund. He also writes the popular DeFi newsletter, Bankless. In addition to providing excellent insights into the ecosystem, Bankless takes a very practical approach to leveraging DeFi. He shares strategies and encourages readers to complete action items to utilize the full potential of decentralized finance and become bankless. He also hosts the Bankless podcast with David Hoffman.
Follow this resource: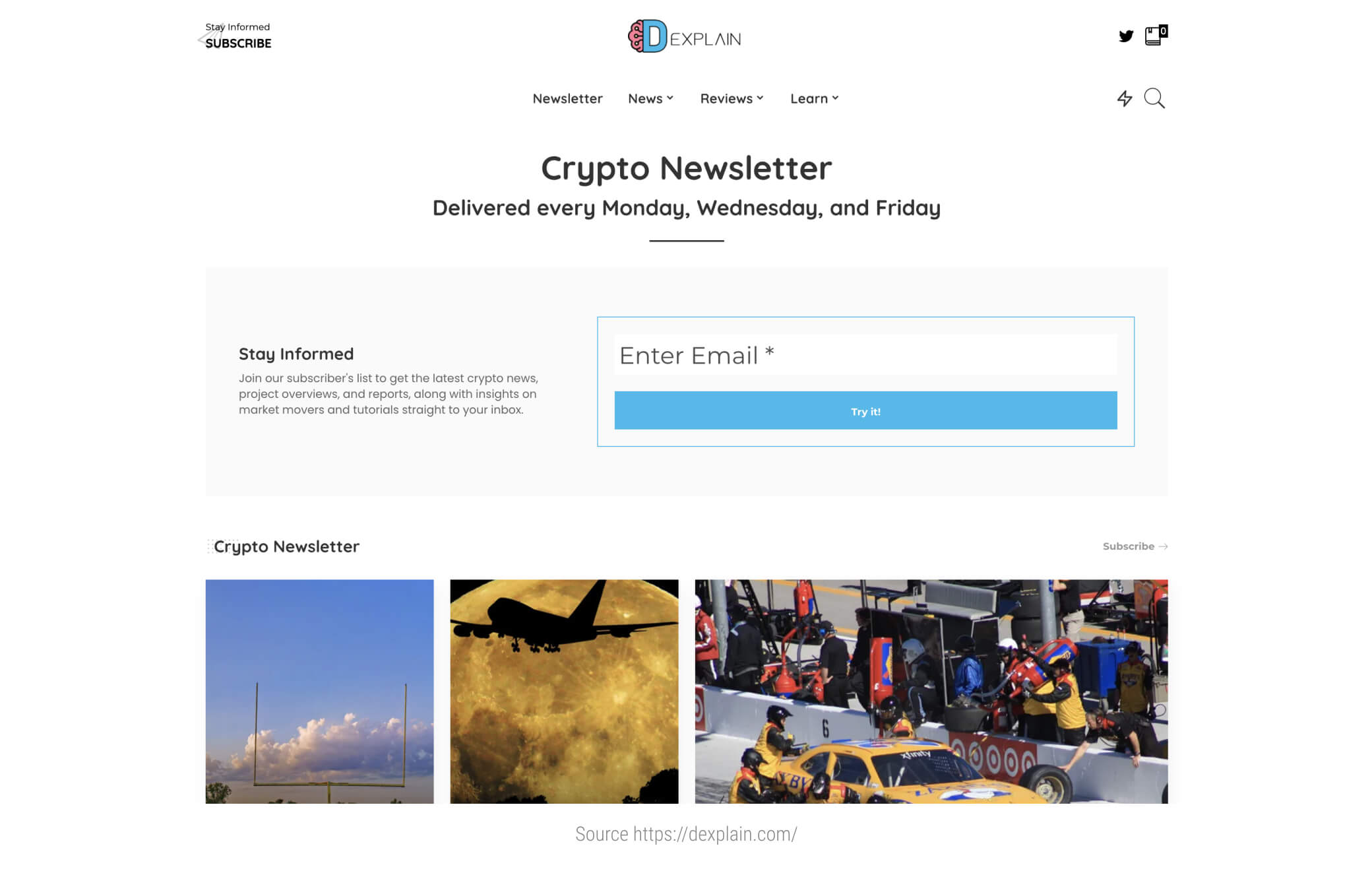 Resource type: Influencer
This is the crypto newsletter delivered every Monday, Wednesday and Friday. The newsletters include the latest crypto news, projects overviews, and reports, along with insights on market movers and tutorials straight to your inbox.
Follow this resource: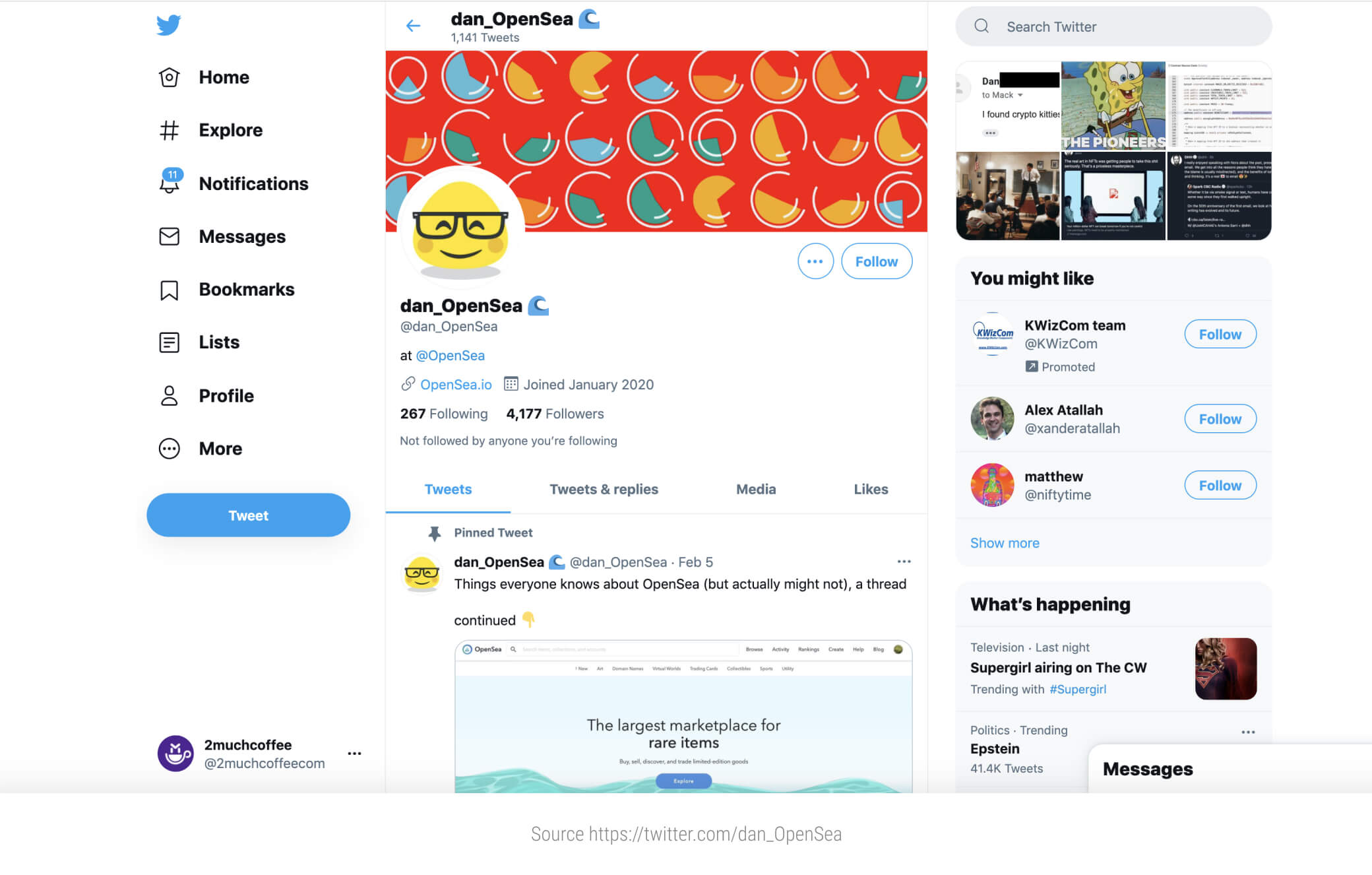 Resource type: Influencer
Dan is a co-founder and CEO of OpenSea, the first peer-to-peer marketplace for blockchain-based assets. He's tweeting about blockchain technology, NFTs, and crypto art.
Follow this resource: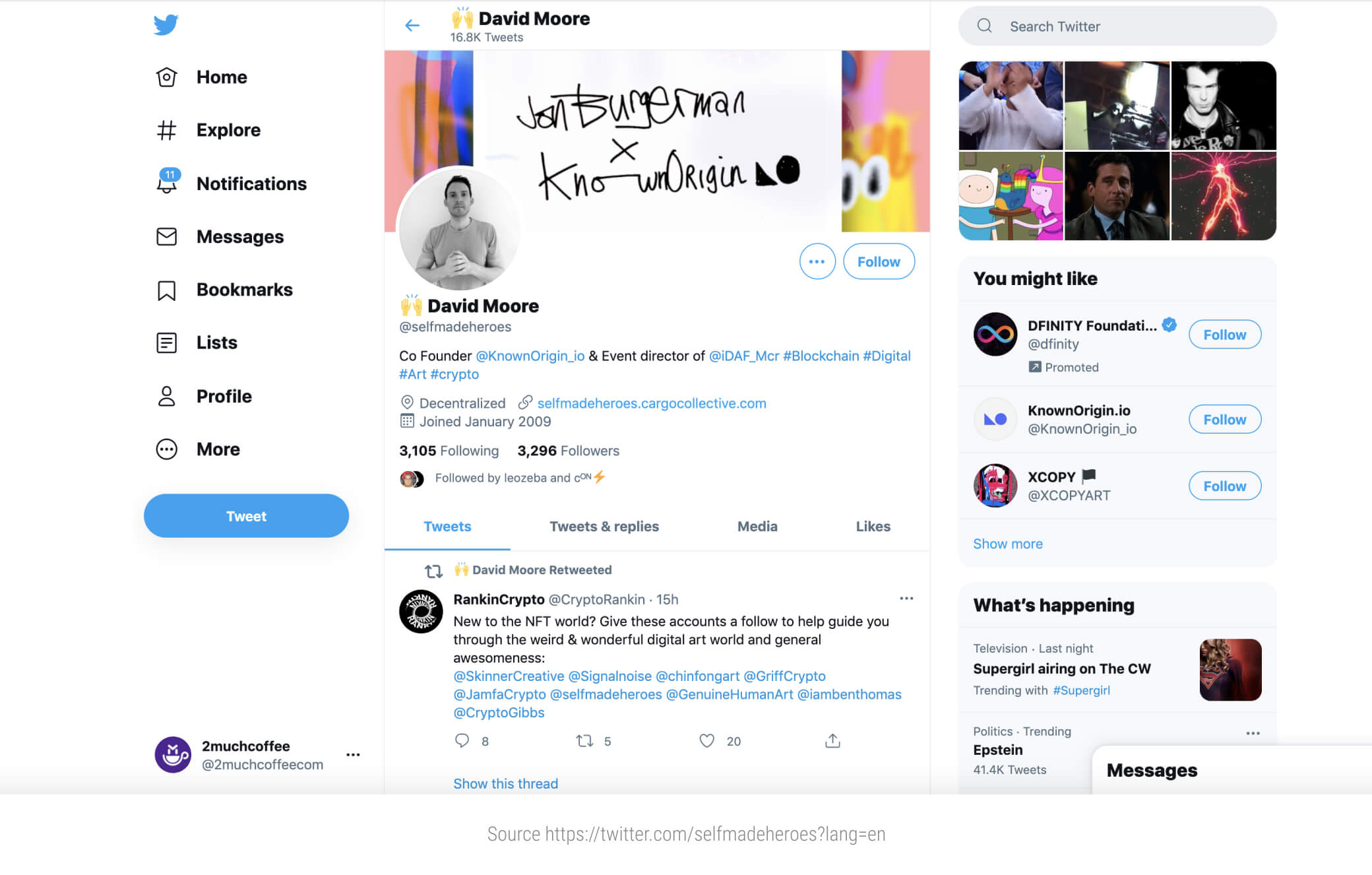 Resource type: Influencer
David is a Co-Founder of KnownOrigin_io and event director of iDAF_Mcr. He's a contributor author of the KnownOrigin blog and Medium platform. He writes about digital art, blockchain and crypto.
Follow this resource: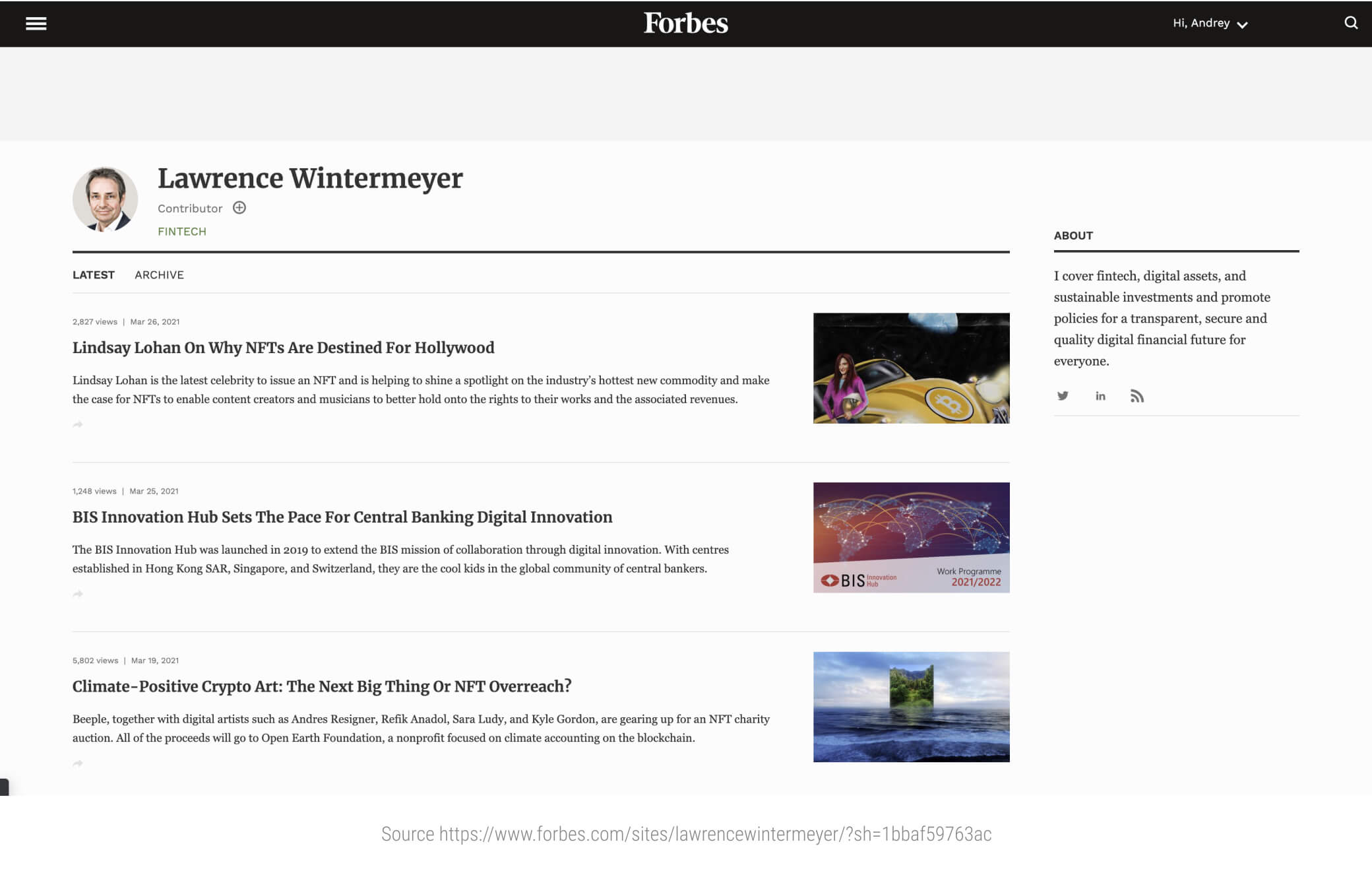 Resource type: NFT writer
Lawrence is a globally recognized digital finance advocate with over 25 years experience as an advisor, executive and board member. He writes articles covering fintech, digital assets, and sustainable investments and promotes policies for a transparent, secure and quality digital financial future for everyone. He works with a broad range of companies from start-ups to global brands and not-for-profits and recently has published a wide range of articles related to NFTs matter.
Follow this resource: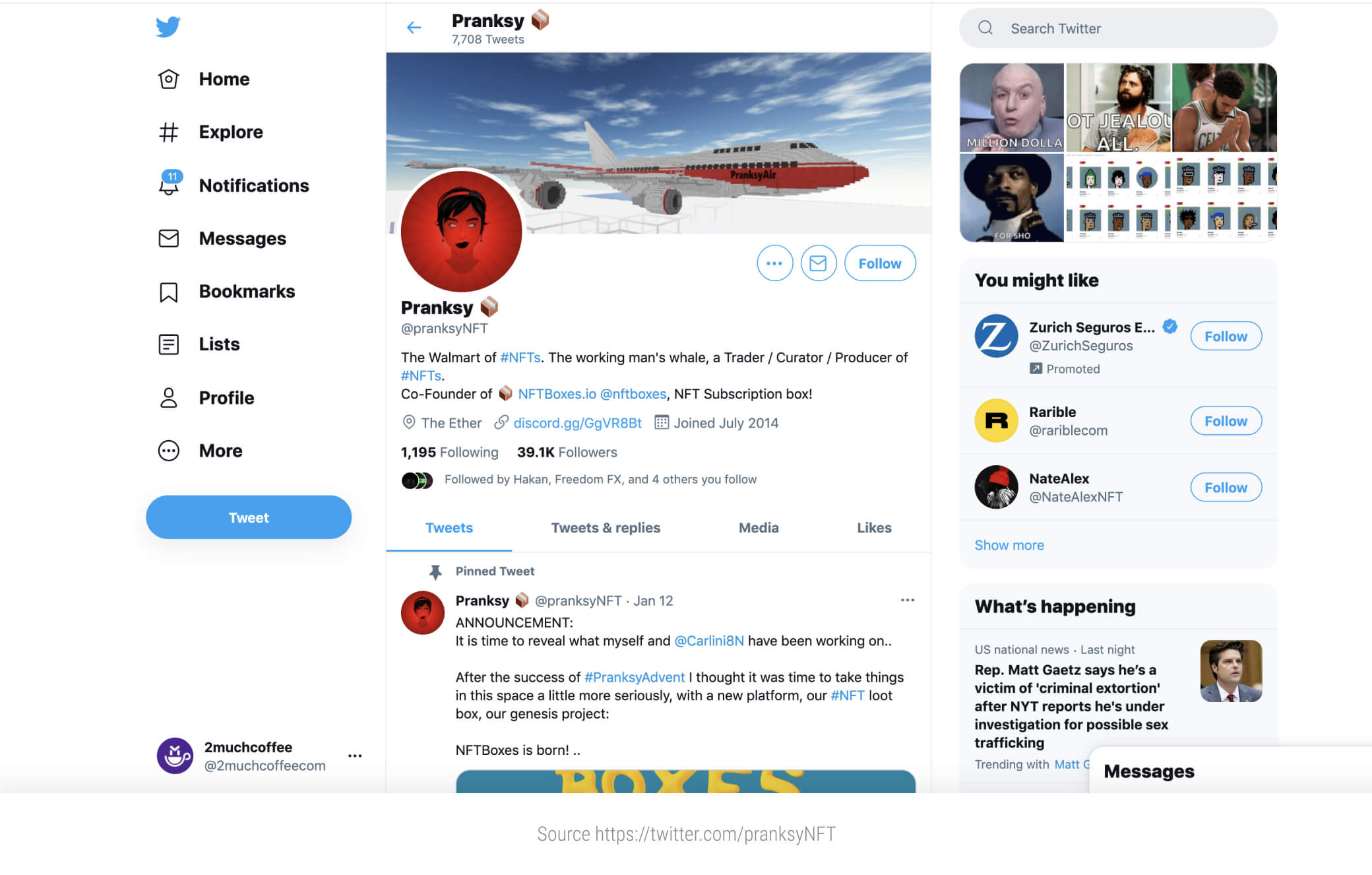 Resource type: Influencer
Digital collector Pranksy has revealed a loot box project for digital collectibles and crypto art, which he named NFT Boxes. The project comes in the slipstream of his advent calendar, which turned out to be a popular attraction among NFT enthusiasts. Even though Pranksy's identity is unknown, he's quite a public figure on Twitter. Currently, he actively tweets about his successful trades and purchases. He's one of the biggest collectors of NBA Top Shot, while he recently did a legendary flip on Cryptopunk 3831.
Follow this resource: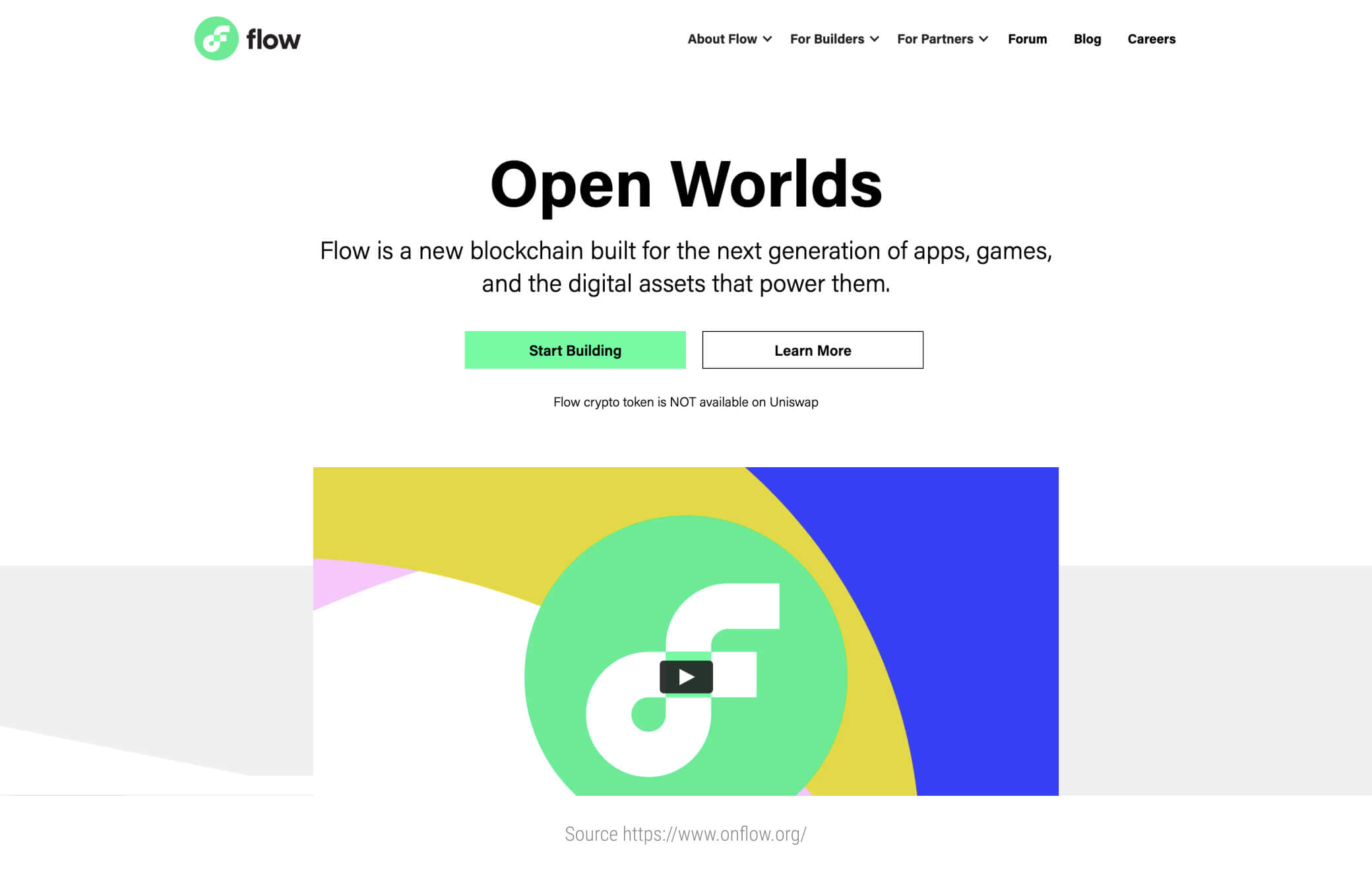 Resource type: NFT blockchain
Flow is a new blockchain built for the next generation of apps, games, and the digital assets that power them. Unique among crypto networks, Flow achieves dramatic improvements in speed and throughput by separating the jobs of a cryptocurrency miner or validator into four different roles, each with its own characteristics. This means anyone with a reliable internet connection should be able to participate as a validator for Flow. In addition, Flow already uses proof-of-stake and can have much less energy usage.
Follow this resource:
Final Thoughts
Right now, we are on a tipping point about the NFTs. On the one hand, NFTs and blockchain technology provide artists with a safer marketplace since their digital works can be proved as being unique and authentic. On the other hand, NFTs raised a lot of questions regarding environmental and legal issues.
We hope you'll find our list of top NFTs materials a useful tool to educate yourself on this new phenomenon. In case you know other resources that will be a perfect fit to the list -- write in the comments!