Mental health is a predominant part of the overall health condition and emotional stability of every human being. That is why it is so important to take care not only about your physical strength but also about the mental resilient from stress and anxiety.
Sometimes we all have been caught up into a hectic routine that ended up with sleepless nights and fatigue. In that case, guided meditation and breathing techniques are great solutions for this problem. Actually, due to modern technological advancement everyone could have a personal assistant and enjoy the benefits of meditation on a daily basis by simply using his smartphone.
Today, the existence of mobile meditation app makes stress management routine as easy as it has never before. There are a lot of options to choose from, like meditation for sleep, morning meditation, zen meditation, chakra meditation, buddhist meditation, etc. In addition, you can choose different levels from the meditation for beginners to an advanced one. Some of the practice accompanied by the meditation music and another one provide you with introductory videos, such as how to meditate.
Find out how to basic practices will fight against stress and anxiety. Our team collected the best meditation apps to help you approach stress and deal with anxiety symptoms effectively.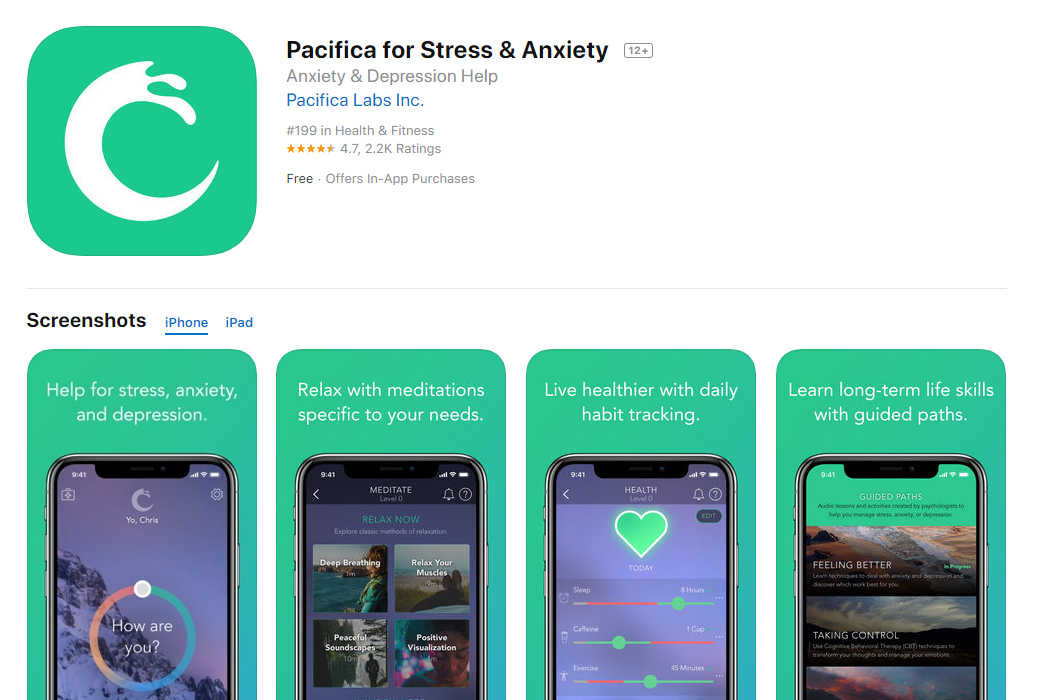 Sanvello (formerly Pacifica)
This mobile app is based on cognitive behavioral therapy which encompasses the elements of meditation. The app will provide you with daily mood and health tracker, guided journey (experience of CBT)and a thought diary. Sanvello is great for both stress management and general anxiety disorder. The app is free to download and use, however, in order to get more extended features you can buy it for a month or the whole year.
Download from Google Play and App Store.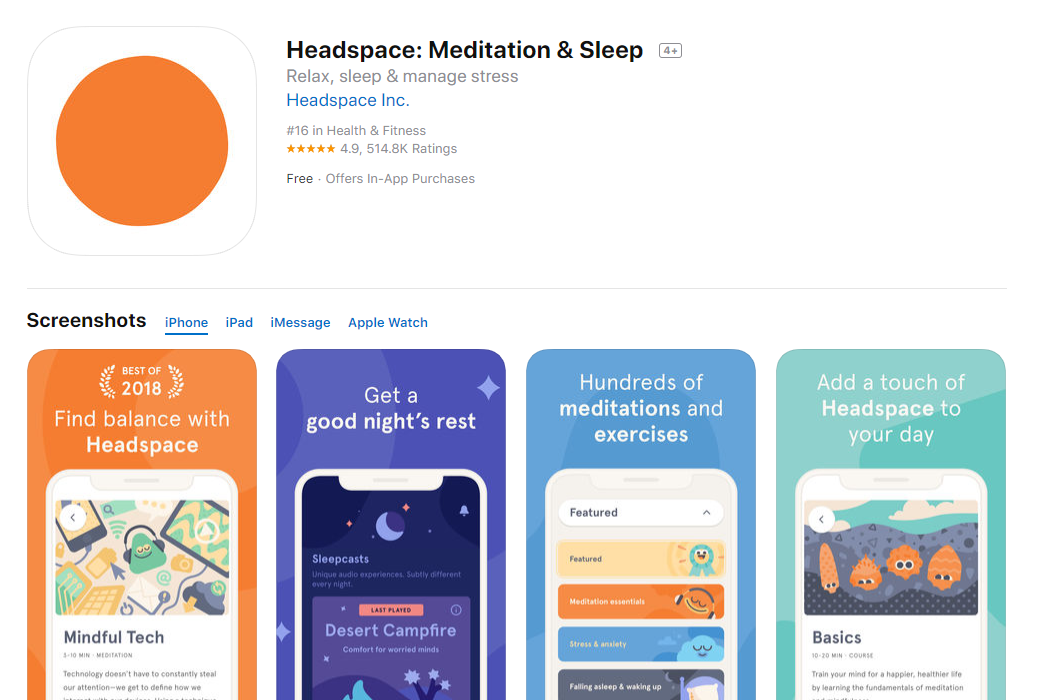 Headspace
Headspace focuses on the life-changing skills and simple practice of daily meditation. It can help you focus, stay calm, breath and create conditions for better night's sleep by practicing meditation. The app provides guided meditation features and mindfulness meditation to help you through all phases of your life. The meditations cover following themes, like stress and anxiety, falling asleep and waking up, personal growth, work and productivity, life challenges meditation, movement and sport, physical health and student meditation. The free app offers ten sessions, with hundreds of hours of extra content if you want to subscribe.
Download from Google Play and App Store.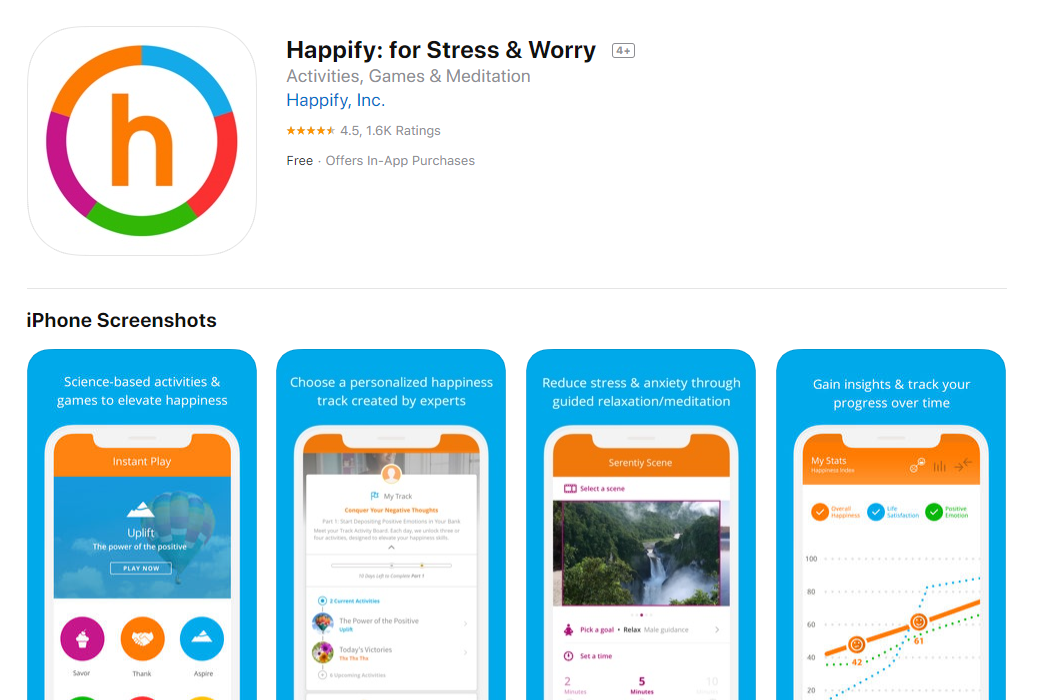 Happify
Happify is based on the fields of positive psychology, mindfulness, and cognitive-behavioral therapy. The app allows such tracks as conquering negative thoughts, coping better with stress, building self-confidence, fueling your career success, achieving mindfulness through meditation, etc. Happify is free to use, but if would like to get more extended version it is an opportunity to buy a subscription.
Download from Google Play and App Store.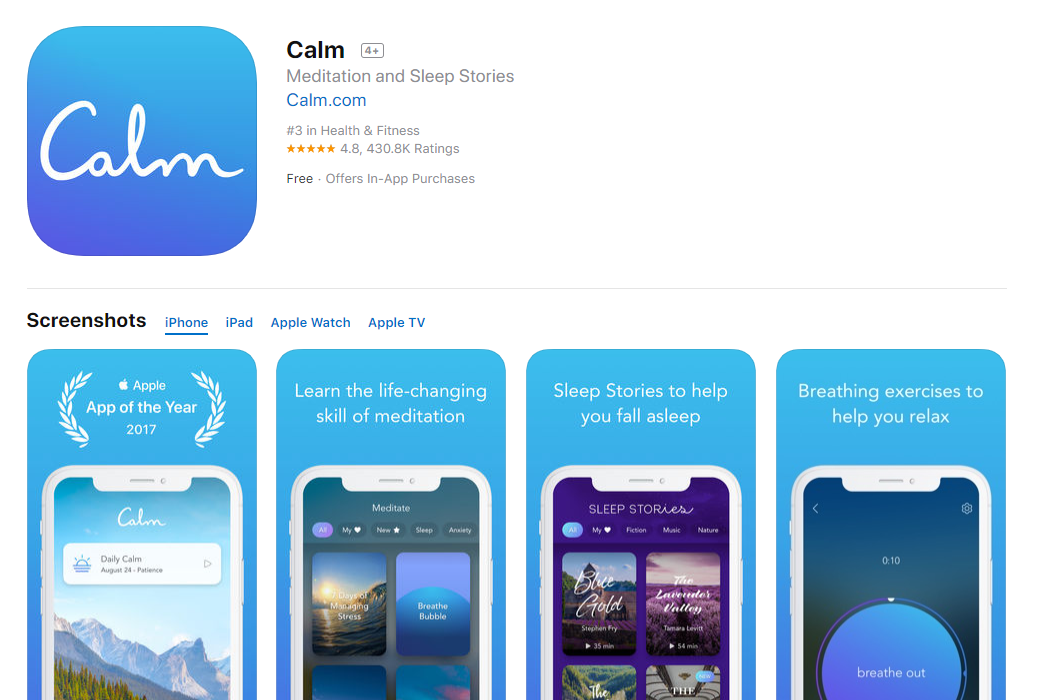 Calm
Calm becomes a leading app in meditation due to a wide range of features. the results of using the app are lower stress. less anxiety and more restful sleep. The app provides sessions in length from 5 to 25 minutes. You can find topics like calming anxiety, managing stress, deep sleep, relationships, happiness, self-esteem, focus and concentration, walking meditation, mindfulness at work/college and much more. Additionally, Calm suggests a 10-minute program Daily Calm to help ease into your day or relax before the bed. Plus, there are Sleep Stories, Calm Masterclasses and many other programs for meditation.
Download from Google Play and App Store.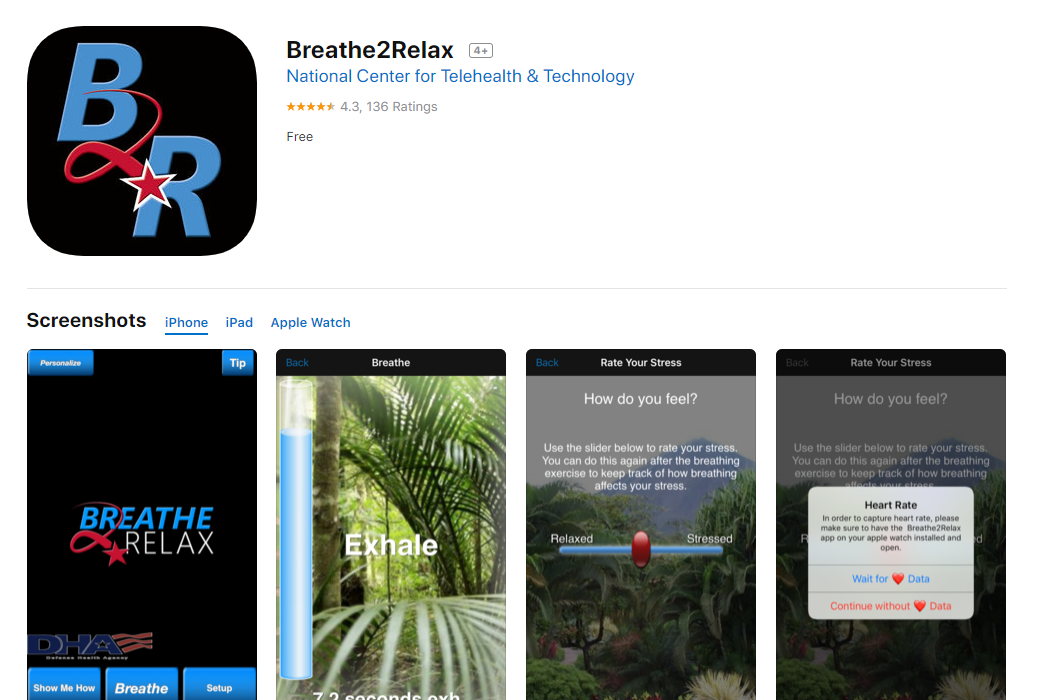 Breathe2relax
This app is a portable stress management tool. it provides detailed instructions on diaphragmatic breathing - which is basically a practice exercise to help you learn stress management skills. In addition, you have the opportunity to know more about the effects of stress on the body and mind. Breathing exercises have been documented to decrease the body's 'fight-or-flight' (stress) response, and help with mood stabilization, anger control, and anxiety management. It is a great tool if you want to master breathing techniques for health benefits.
Download from Google Play and App Store.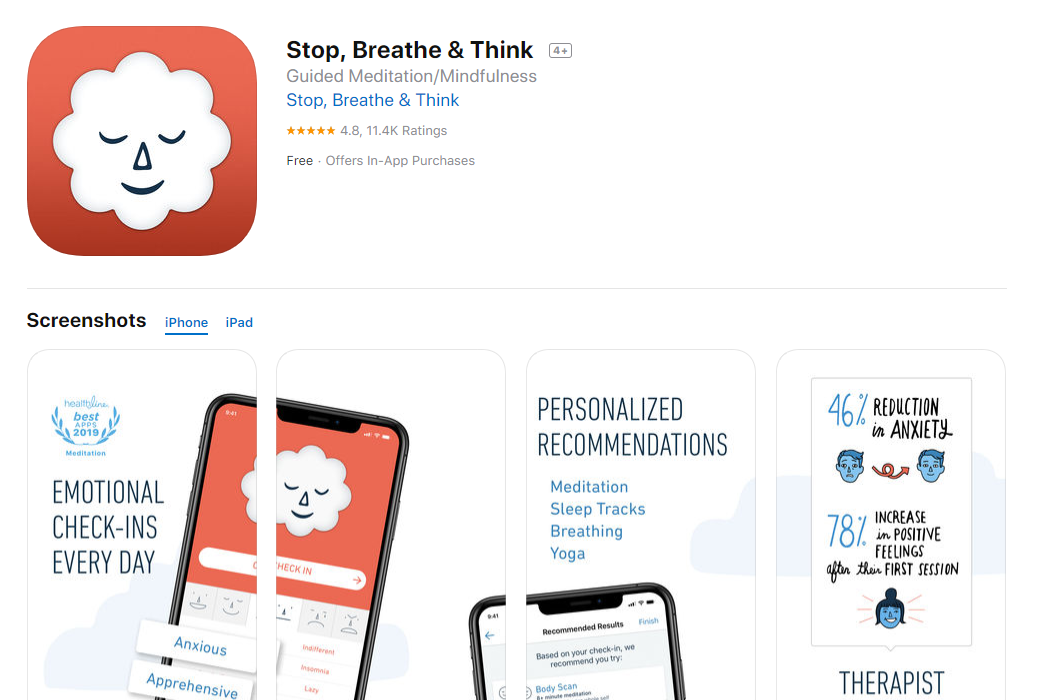 Stop, Breathe & Think
Check-in with your emotions to receive daily meditation and mindfulness recommendations tuned to how you feel. This calming meditation app experience is uniquely designed to help you stay mindful, de-stress, sleep better, and build the emotional strength and confidence to handle life's ups and downs. The app includes such features as knowing your current mood and thoughts, reduce stress by practicing meditations, track your progress and mental well-being, breath mindfully, meditation, and sleep. the meditation section focuses on morning meditation, guided meditation, manage depression, meditation for kids/teens, manage anxiety and meditation for sleep, etc. This is a great tool that potentially could replace the therapist consultancy.
Download from Google Play and App Store.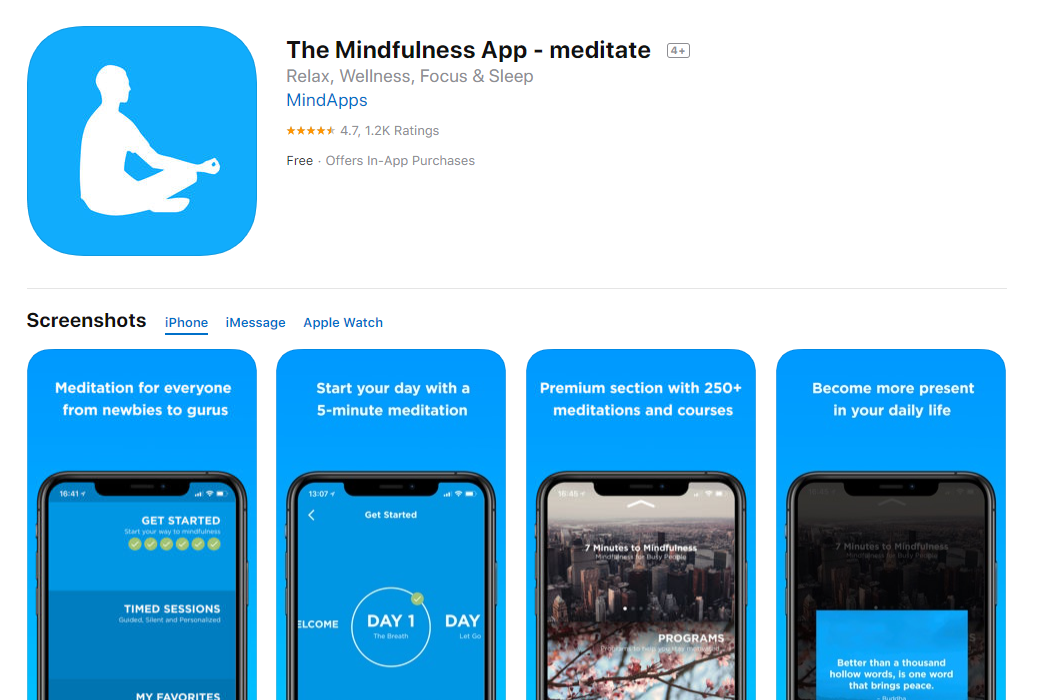 Mindfulness
The app includes breathing meditation for beginners and advanced users as well as the wide range of meditation practices orienteering on kindness meditation, working with difficulties, sleep meditation, etc. The length of sessions is from 5 to 30 minutes, which makes it a perfect solution for busy people who still want to dedicate some time for their meditation. This app contains the best-guided mindfulness meditation audio curated for maximum relaxation, fight stress, anxiety, panic attack, procrastination and gives you clarity and peace of mind. This can be used for everyone from beginners to those who practice mindfulness regularly.
Download from Google Play and App Store.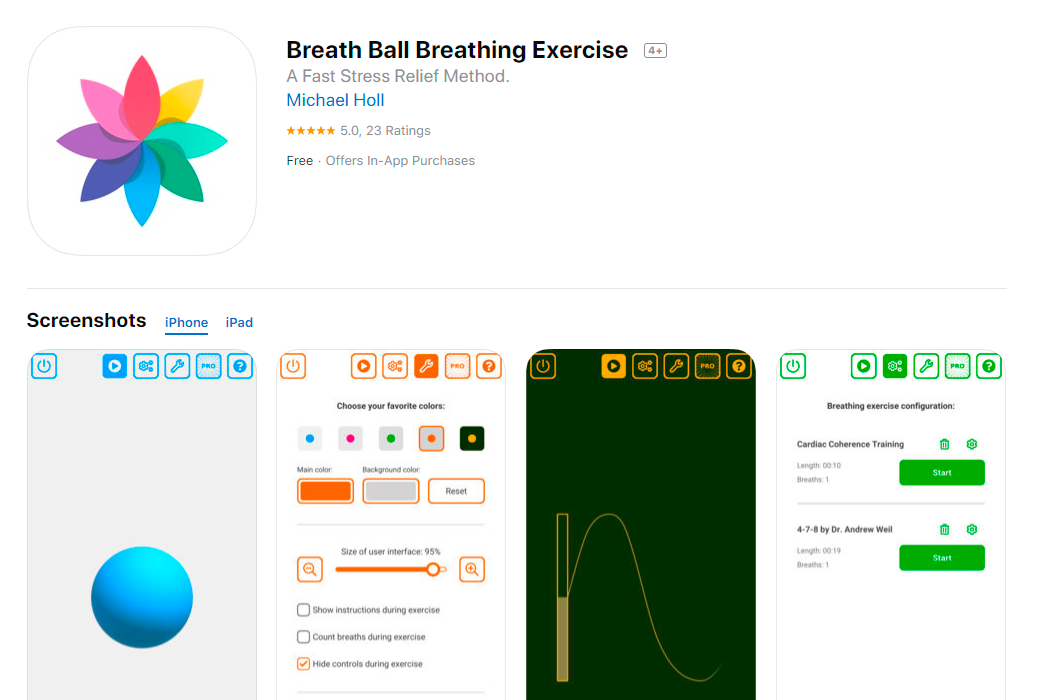 Breath Ball Breathing Exercise
The app positioned itself as an app that incorporates scientific research into breathing practices. Taking 5 minutes a day of breathing will provide better health conditions. Among the benefits are relief stress, anger, sadness, keep calm and restore your peace of mind, increase your awareness, improve your concentration and help you fall asleep. Heavy breathing, circular breathing, and other breathing techniques are covered by the app.
Download from Google Play and App Store.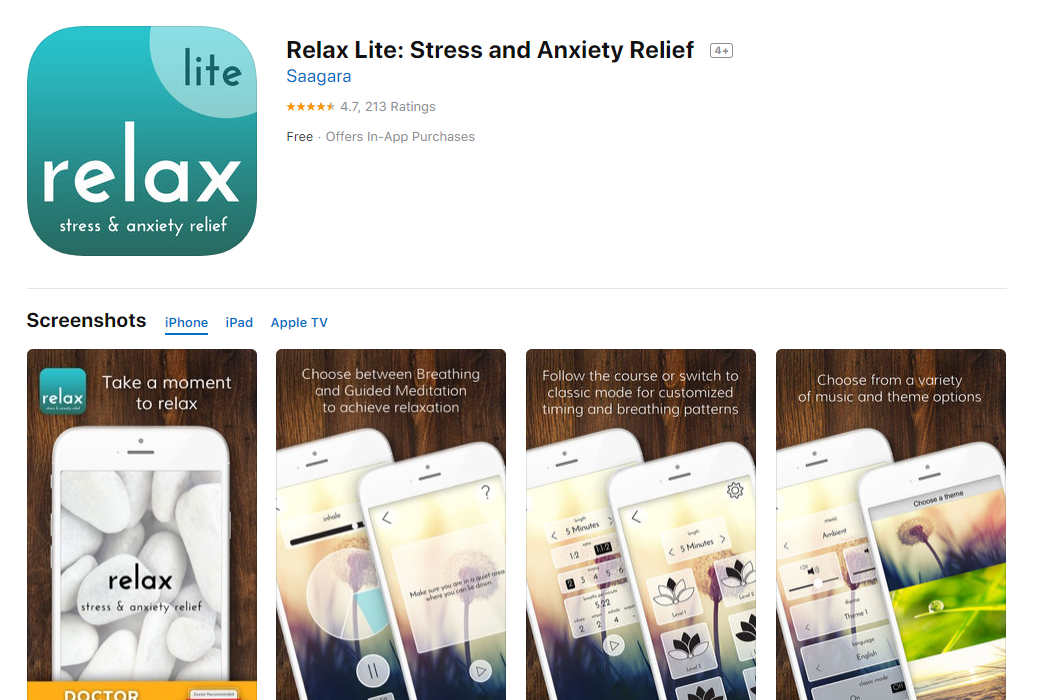 Relax Lite: Stress and Anxiety Relief
Do you have panic attacks or insomnia or you simply interested in the meditation practices for your well-being - this app is for you. Guided meditation along with specific meditation music and deep breathing allows you immediately relax and reduce anxiety. As a result, you can lower blood pressure and heart rate naturally, improve fitness by optimizing the usage of your lung capacity, develop sleep aid for more deep restfulness during the night. If you are looking for an app to manage stress quickly and effectively Relax Lite will do the job perfectly.
Download from Google Play and App Store.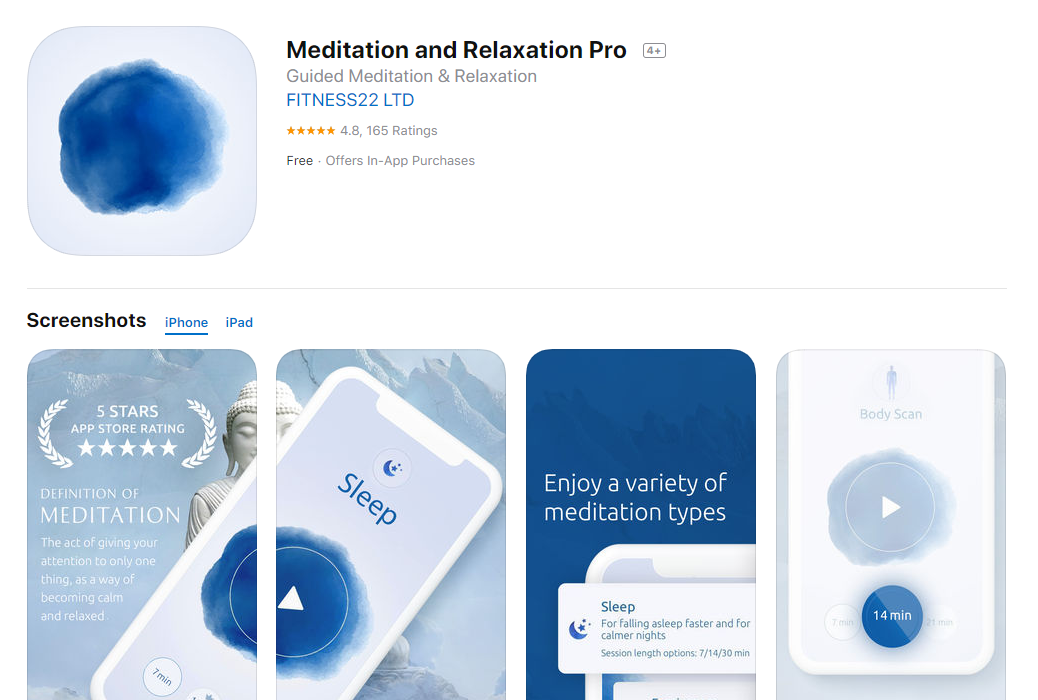 Meditation & Relaxation: Guided Meditation
This mobile app fully devoted to meditation simple practice. During the 7 day program, the app will teach you how to relax, calm and focus easily by means of following effective meditation and mindfulness techniques. The app's sessions include sleeping better, concentration and focus, loving yourself and others, forgiveness, calm and body scans. While following simple practices of meditation you can significantly improve the quality od your life.
Download from Google Play and App Store.
Conclusion
We picked up the best mobile apps so you could easily manage stress and anxiety symptoms. Mentioned apps focus on breathing techniques and meditation practices which altogether would guarantee the stress relief and mental recharge. While some apps focusing on meditation and relaxation of your mind, the other ones are concentrating on understanding and tracking our mood and thoughts in order to manage the stress level.
Take in mind that the mental health and resilience towards the stress as crucial as physical health. We hope that the list above would inspire you to take the meditation journey and incorporate the best practices into your daily routine.
Thinking about your own app for meditation and stress relief? Contact our team and we will assist you in any inquiry.